USA Car Rental to explore the best of America!
Compare and Book Car Rental in the United States of America
If you're thinking about USA car rental, you're in the right place to discover everything you need to know about the best car rental companies, the top tourist attractions alongside plenty of hints and tips to make your visit to the USA a memorable one.
We've made it easy to rent a car in the USA by providing a list of popular car rental agencies and their respective depots, so you can compare prices and search for the best deals just by entering a location into the box to the right of the screen.
Here you'll find all the top brands – Ford, Honda, Toyota, Chevrolet, Nissan, Subaru – in every conceivable style, from hatchbacks to sedans, SUV's to more refined luxury options and everything else in between.
Grab yourself a bargain, search and compare prices, specials and offers from big brand car rental agencies in the USA. Car rental companies like Enterprise, Hertz, Budget, Alamo, Thrifty, Europcar and Avis (plus a hosts of others) so you can start your road trip adventure, safe in the knowledge you got the best price out there!
Rental Car Types Available
Hatchbacks
If you're looking for hatchback rental in the USA, you'll be after a front-wheel driven car, equipped with a small to mid-range engine with three or five doors. The fifth (or third) door is the 'hatchback', providing access to the trunk and the rear seats.
Check engine specifications carefully. Some hatchbacks are deceptively powerful which will ramp up fuel costs; the Volkswagen Golf GTi is one of the more popular models and it's capable of 0-60 in 6 secs and hitting speeds of 240 kph or 150 mph, but has a fuel consumption of about 8L/100 km or 35 mpg.
This is, of course, on account of the power to weight ratio which will suffer if you're planning on carrying a car full of people and luggage and adding even more bucks to the gas bill.
Find all the best deals and special offers on our website in the search box to the right. To help find what you're looking for, here's a list of the most popular hatchback in the United States.
Chevrolet Spark
Ford Fiesta
Chevrolet Cruze Hatch
Mazda 3
Honda Fit
Subaru Impreza
Sedans
These popular midsized vehicles are, largely, front wheel driven and equipped with midsized engines with four doors. Unlike hatchbacks, sedans have a trunk that is separate from the passenger cabin making them a popular choice for rental.
In many respects you're spoilt for choice when it comes to sedan rental in the USA as it's more likely that you'll be hiring a sedan than any of the other vehicles on the list.
They're large enough to tackle long distances without being cumbersome in the city and provide an adequate level of comfort for the vast majority of tourists without the wallet-busting fuel bill on top.
You can find affordable deals and discounts in the right-hand side search box on our website. To help find what you're looking for, here's a list of the most popular models.
Toyota Camry
Honda Accord.
Mazda 6
Kia Optima
Nissan Altima
Subaru Legacy
Station Wagons
If you're looking to rent a station wagon in the USA then you're looking for space to transport four or more people, most obviously a family, in comfort. Most have all-wheel drive, midsize/large engines, five doors and can accommodate as many as eight people.
The station wagon is the ideal choice of vehicle for a family of four or more travelling long distances across the USA, but it's by no means a one size fits all concept.
Station wagon specifications vary in terms of power and accessories (some teeter on the brink of being luxury vehicles) so pay attention to the details to keep costs down.
The list of most popular station wagons in the United States is a case in point, for example, the clubman is potentially capable of 6.2-7.7 litres per 100 km or 31-38 miles per gallon, but the Mercedes could be as much as 10 l/100km or 23 MPG.
Looking for a discount? Enter your details into the right-hand side search box on our website. To start you off, here's a list of the most sought-after station wagons available for hire in the USA.
MINI Cooper Clubman
Volvo V90/V90 Cross Country
Volvo V60
Subaru Outback
Audi A4 Allroad
Mercedes-Benz E-Class
Mini Vans
The minivan is the ultimate vehicle for passengers (to the extent that in Europe they're nicknamed 'people carriers') so if you're looking for minivan rental in the USA, you'll be after a vehicle with between three and five doors and capable of comfortably accommodating eight people with adjustable interiors.
This allows the seating can be tweaked to suit the exact requirements of the passengers. Some of them are just as adept at shifting cargo too, making them an ideal choice if you're intending to lug loads of gear.
Needless to say, the more people in the back, the lower the rental cost per person; giving great savings on having to rent two or more smaller vehicles.
Enter your details into the right-hand side search box on our website to check for specials deals or bargains, here's a list of the most popular US minivans available for hire.
Honda Odyssey
Chrysler Pacifica
Kia Sedona
Toyota Sienna
Dodge Grand Caravan
Ford Transit Connect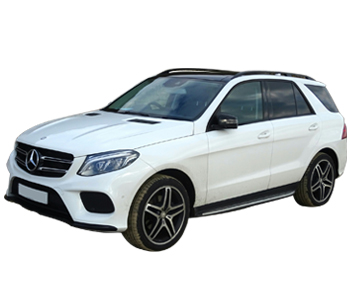 4WD / SUV
SUV rental in the USA could include more traditional 4WD vehicles, but generally speaking an SUV (Sport Utility Vehicle) is a refined version of the humble 4WD, relocated from the fields and mountains and onto our highways and byways.
But, this category of vehicle, doesn't have a clear-cut definition. Take the world's best-selling SUV, the Honda CR-V, it comes in with a 1.5 VTEC engine and front wheel drive, compare that to the 3.6-liter V-6 Jeep Wrangler with four-wheel drive and we're talking about the furthest ends of two extremes, and we're not referring to fuel bills.
However, there is a common concept that unites them, these five door vehicles are all about their go-anywhere potential with more than just a hint of endurance, they instil a natural sense of security and, to that end, are an ideal car rental option in the US. Just make sure you're getting the right 4X4/SUV for your road trip to avoid any unnecessary expenses.
Save money and time by entering your details into the right-hand side search box on our website for the most affordable rates. Here's a list of the most popular rentals available for hire to help you get started.
Honda CR-V
Chevrolet Equinox
Ford Escape
Ford Explorer
Toyota Highlander
Jeep Wrangler
Premium/Luxury
This is probably the easiest category to define because if you're in the market for luxury car rental in the USA then you're not going to be fussed about fuel consumption or how much space you need for the kids; your main focus will be on that perfect combination of comfort and raw power.
We're talking about Sedans or SUVs with performance engines, three to five doors, rear or four-wheel drive transmission and all the mod-cons and gadgets you can imagine.
Enter your details into the right-hand side search box on our website and compare prices and rates to endure you get the best deal out there. Need some inspiration? Here's a list of the most popular luxury vehicles available for hire in the United States.
Tesla Model 3
Lexus RX
Audi Q5
BMW X3
Mercedes Benz GLC Class
Acura RDX
Driving in the United States
In the United States you must drive on the right hand side of the road and have a current driver's license.
The drivers license must be in English. If it is in another language, an international driver's license (IDP) will be required. Some states also require an IDP for all overseas visitors, even if the license is in English. Laws for driving in the United States vary by state and it is important to check the local laws in each State you will be traveling in.
Many USA car rental companies will also look at age of the driver and will only rent a car if the driver is over 25 years old.
One way car rentals are available from all major airports in the US. This way, you can drive to any location in the USA and drop off your rental vehicle at an airport or depot of your choice, without having to drive all the way back to your original pickup location.
This saves you valuable time and money in not having to pay for additional accommodation, fuel and other travel costs.
Things to do in the USA
Pacific Region
States: California, Alaska, Hawaii, Oregon and Washington
There's a lifetime of things to see and do in the Pacific region of the USA, and the best way to connect up the dots is by car rental in America, which may explain why renting a car in this part of the USA couldn't be easier.
Boasting beautiful beaches, majestic forests and exciting cities, the United States' West Coast is a sight to behold and easy to see by car rental.
For many, a self-drive holiday in the USA begins in one of the West Coast's major cities. Having your own rental car in the United States also allows you to travel to so many more places.
A trip across America can include a visit to the Grand Canyon, Mount Rushmore, New Mexico's Carlsbad Caverns and so much more.
With an abundance of places to visit across a scope of terrain – mountains, desert, forests, valley and, of course, miles of white-sand beaches – your biggest concern is deciding what to cross to off your bucket list next.
Alaska Car Rental
There is nothing quite like going on a road trip in America's final frontier. Alaska's awe-inspiring scenic beauty is complimented by an array of unique wildlife; exploring the state is definitely an experience of a lifetime.
The best way to explore Alaska is to go on a road trip. Discover enormous glaciers towering over breathtaking natural attractions and drive scenic Alaskan Highways before hopping on a train and taking a day trip on the famous Alaska Railroad.
Hire Car Companies in Alaska: Alamo USA, Budget USA, Enterprise US, Hertz USA, National USA
Anchorage, Alaska:
A frontier town perched on a peninsula in south-central Alaska, Anchorage is the main tourism and transportation hub in the region. The city has a great mix of urban and natural attractions, making it an excellent travel destination.
The best way to explore Anchorage is through a rental car. From the city, there are excellent attractions and trails that are easily accessible by vehicle, like the Flattop Mountain at Glen Alps, Chester Creek Trail, Kincaid Park, or the Eagle River Nature Center, if you have more time.
From Anchorage, you can also embark on an epic trip to explore other regions including Talkeetna, Denali National Park, Fairbanks, Kennecott / McCarthy, Sheep Mountain, Homer, and Valdez.
Being a popular starting point for exploring Alaska, most car rentals start in Anchorage, so there are plenty of rental companies that offer affordable rates. It is also possible to do a one-way car hire between Anchorage and Fairbanks on the Parks Highway.
Remember, when planning your car hire trip in Alaska, the peak travel time is the short window between June to August when it's mild and dry, between October and April it's cold and snowy so wrap up!
Anchorage Car Rental Locations: Anchorage Airport (ANC), Anchorage City
Day Drives: Hatcher Pass, Turnagain Arm, Matanuska Glacier, Parks Highway, Seward Highway, Arctic Valley Road, Eklutna Lake, Portage Valley & Whittier Tunnel, Old Glenn Highway
Three MUST-DO Things to do in Anchorage.
Alaska Native Heritage Center. Opened in 1999, the centre provides information and a historical overview of Alaska's eleven native American groups through activities and live demonstrations. Compelling.
The ULU Factory. On the one hand, it's a workshop detailing ancient practices of Native American craft folk, on the other, it's a shop where you can purchase the artefacts after you've watched them being made by hand.
Anchorage Market and Festival. Head downtown to soak up the atmosphere of this popular, diverse market selling food, drink, arts and craft, and loads more. With over 200 stalls and 30 food vendors offering global cuisine, this is a great place to stay all day.
Fairbanks, AK
Ready to explore the arctic regions of Alaska? Fairbanks is the gateway to the inner and northern Arctic sections of Alaska on the Dalton Highway. Its Gold Rush heritage gives visitors a taste of Pioneer Living. Fairbanks is about 7 to 8 hours by car from Anchorage but is also accessible by train.
To get an insight into the city's past, a gold mine tour and a historic walking tour of downtown are must-dos. There are plenty of museums in the city like the Fairbanks Community Museum, and the Tanana Valley Railroad Museum.
Don't forget to visit Chena River and hop on the Riverboat Discover. For a chance at interacting with locals, time your visit during Tanana Valley State Fair in August and Midnight Sun Festival in June.
Fairbanks Car Hire Locations: Fairbanks Airport (FAI)
Day Tours: Dalton Highway, Chena River, Alaska Pipeline Viewing Point, Chena Hot Springs, North Pole City, Delta Junction, Arctic Circle Drive, Aurora Pointe
Juneau, AK
The remote state capital of Alaska is only accessible by air and boat, which makes it more appealing to many travellers. This gorgeous city sits right in the middle of the Inside Passage, a popular cruise ship route between the Gulf of Alaska and Puget Sound. Juneau is also a great base for exploring the Southeast region of Alaska.
Like most Alaskan towns, Juneau was established because of gold mining, so there are plenty of gold historical tours and attractions in the area. There are many walks and guided tours in the city but if you want to go at your own pace, you can rent a vehicle and explore other sightseeing highlights and hiking trails including the Mendenhall Glacier, the Juneau Icefield (viewed through a scenic flight), Mount Juneau and Mount Roberts, and skiing at the Eaglecrest Ski Area if you are travelling during winter.
Juneau Hire Car Locations: Juneau Airport (JNU)
Day Routes: Echo Cove, National Shrine of St. Therese, Mendenhall Glacier Visitor Center, Perseverance Trail, Point Bishop-Dupont
California Car Rental
With a seemingly endless summer season, breathtaking coastlines, world-class vineyards, iconic theme parks, and remarkable outdoor experiences, there is no wonder why California is one of the most popular holiday destinations to book car rental in the United States.
There are nearly three hundred state and national parks in the region, making it a dream road trip destination. Drive to some of the most popular parks in the area like the UNESCO World Heritage Sites of Yosemite National Park and Redwood National and State Parks.
Those who came to experience the regions culture and arts will not be disappointed. Beyond the walls of its museums are communities like Laguna Beach, Carmel-by-the-Sea, and Idyllwild that showcase rich artistic heritage. For the music lovers, California is also famous for the Coachella Valley Music and Arts Festival and Monterey Jazz Festival.
Those who want a taste of the region's surf culture, Huntington Beach or the "Surf City," is a must-visit. Don't forget to drive around the Hollywood area and be dazzled by California's movie star magic.
Dominating most of USA's west coast, California has something for every type of traveller.
International Hire Car Companies: Alamo USA, Avis USA, Budget USA, Enterprise US, Europcar US, Hertz USA, National USA
Local USA Car Rental Companies: Fox Rent a Car, Midway Car Rental, Yesaway Car Rental, Mex Rent a Car USA
Los Angeles, California:
One of the most famous, or infamous, cities on the planet, largely because of Los Angeles association with its vast film and music industry, there isn't one single 'best thing to do LA' as it's one of the best places to visit in California.
While indulging in some of the more touristy stuff is inevitable, you may well find a very different LA if you head into some of the neighbouring districts with a USA car rental, and it might not be what you were expecting.
Three MUST-DO Things to see in LA.
Koreatown. Ever tried Korean BBQ? In Los Angeles, Park's BBQ is the most famous but there are a bunch of others, alongside cocktail bars, eclectic architecture and an infectious 24/7 buzz.
Sunset Strip. This notorious road typifies the excesses of the LA rock scene. Drop by the Rainbow Bar and Grill, the Viper Rooms and Whiskey a Go Go for a taste of pure rock 'n' roll.
Mulholland Drive. Not just a movie, this undulating road from north LA to the Pacific, flows past the homes of Hollywood's elite, whilst offering spectacular views of the city from the comfort of your rental car in the United States.
LA Hire Car Branches: Los Angeles Airport (LAX), Downtown Los Angeles, Hollywood, Glendale, West Hollywood, Beverly Hills, Pasadena, Culver City, Northridge
Anaheim, CA
Home to Disneyland Park, Anaheim draws in visitors from all over the world. It is also a great destination for sports fans, who can catch the Los Angeles Angels play professional baseball from April through September at the Angel Stadium.
Other top things to do in the area include the Honda Center where the Anaheim Ducks hockey team play from October to April, the Anaheim Convention Center, the Anaheim Packing House, and the Fashion Island.
If you want to go on a road trip, drive to the Orange County beaches, Universal Studios Hollywood, SeaWorld San Diego, and LEGOLAND. All are easy to find with a car hire in the USA.
3 Must-Visit Destinations from Anaheim:
Hollywood: Less than an hour's drive from Anaheim, Hollywood is the symbol of the entertainment business. Visit the star-studded Walk of Fame and the famous TCL Chinese Theatre.
Catalina Island: Santa Catalina island is famous for its wildlife and dive sites. It's a great place for adventure activities, shopping, or just unwinding after a long day.
Disneyland Park: Dubbed as the "Happiest Place on Earth," this is the only theme park that was designed and built under the direct supervision of Walt Disney. For first time visitors, don't miss the Disneyland Railroad, Market House, Indiana Jones Adventure, and Pirates of the Caribbean.
Anaheim Rental Car Branches: Anaheim, Central Long Beach, Signal Hill
Burbank, CA
Go behind the scenes of famous Hollywood blockbusters and get a chance to see your favourite stars in action. Burbank is dubbed as the "Media Capital of the World."
It is the base of the film industry and houses many of Hollywood's prominent film and television studios, star-filled neighbourhoods, legendary restaurants, and lively markets.
Some of the best places to visit with a United States rent a car are the Hollywood Sign, Magnolia Park, Flappers Comedy Club, Burbank Town Center, Flappers Comedy Club, and the AMC Burbank Theaters.
Don't forget to explore the sets of Warner Bros. Studio or participate in a number of TV shows like "Conan" and the "The Ellen DeGeneres Show."
3 Must-Visit Destinations from Burbank:
Warners Brother Studio: A visit to Burbank is not complete without a tour around the Warners Brother Studio. Experience the excitement of being inside working Hollywood studio and explore backlots, soundstages, exhibits and movie or TV sets.
Walt Disney Studios: Their main studio is not open to the general public however the Burbank Studio is accessible through select Adventures by Disney tours and may be available to D23 members, the Official Disney Fan Club.
Burbank Farmers Market: Just behind the Burbank City Hall, this place is said to be the best amongst all farmer's markets in the region. Vendors from all over California come here which means you can taste some of the best produce from other regions. Don't miss the baked goods from the local bakeries in Burbank!
Burbank Rental Car Branches: Burbank Airport (BUR), Downtown Burbank
Long Beach, CA
Long Beach is one of the busiest cities in California. It hosts a variety of festivals, carnivals, and sporting events. There is so much to do in the city and the most convenient to get around is by rental car in the USA.
Some of the must-see destinations are the Queen Mary, Knott's Berry Farm, Shoreline Village, Aquarium of the Pacific, Harbour Cruise for whale watching, and its many boutique and vintage shops. If you're looking for a nice day drive by car rentals, try surfing at Huntington Beach, visit Disneyland and Disney's California Adventure, Universal Studios, and do some hiking at the Runyon Canyon Park.
3 Must-Visit Destinations from Long Beach:
Rancho Los Alamitos: Learn about the history of Long Beach in this expansive property that is home to historic houses, gardens, and barns.
Naples: Pretend that you are in Italy! Set on three separate islands, Naples is made up of canals, arched bridges, Italian street names, and even mimics the Italian culture.
Anaheim: Home to Disneyland Resort, Knott's Berry Farm, and many other world-class them parks, this city is a must-visit for families. It is located about 30 minutes by USA car rentals from Long Beach.
Long Beach Car Rental Branches: Long Beach Airport (LGB), Central Long Beach, Signal Hill
San Diego, CA
California's second largest city is home to 112 kilometres of beaches and great weather. For a true California beach city experience with lots of fun and creativity, San Diego is the place for you.
San Diego offers a wide range of road trip destinations — from old and historical neighbourhoods to parks, beaches, and deserts. Hiring a rental car in the United States of America, makes getting around so much easier.
If you're looking for adventure, drive to Torrey Pines Natural Reserve to explore its walking trails and enjoy a dramatic view of the Pacific Ocean. California's largest state Park, Anza-Borrego Desert, is also worth the drive, especially in spring when colourful wildflowers are in bloom. Don't miss the city's world-class theme parks like the Mission Bay Aquatic Park and SeaWorld San Diego.
Being located close to Mexico, San Diego's culture is largely influenced by the Mexican. The "Cali-Baja" culture is found in their arts, food, and architecture so a drive around the old towns is a must. A day trip to Mexico is even achievable from San Diego!
Several car hire options are available at San Diego airport and downtown area, with trusted USA rental vehicle companies offering an extensive fleet of vehicles depending on your preference and budget. If you plan to drive to nearby cities like Los Angeles, one way car rentals in the United States are also available.
3 Must-Visit Destinations from San Diego:
Palm Springs About 2 hours drive from San Diego in your USA hire car, Palm Springs is a famous "no-children" getaway destination. It is known for its hot springs, stylish hotels and spas, golf courses, and modern architecture. The surrounding Coachella Valley is home to plenty of hiking and biking trails, and the Palm Canyon Drive features restaurants, vintage boutiques, and interior design shops.
Joshua Tree National Park Named after the park's twisted, bristled Joshua trees, this National Park is a place of surreal geologic wonders. The park has plenty of hiking trails and is a popular place for astronomy and stargazing. Located about 3 hours drive from San Diego with a USA rent-a-car, Joshua Tree National Park makes a great weekend trip.
La Jolla San Diego's "Jewel by the Sea" is just 20 minutes from the downtown area. This beautiful coastal area is the perfect place for swimming, snorkelling, diving, and other water activities. From tacos to modern burgers, La Jolla is also a great spot for food lovers.
San Diego Rental Car Branches: San Diego Airport (SAN), Downtown San Diego, Kearny Mesa, La Jolla, Miramar, Mission Valley, Mira Mesa, Coronado
The Pacific Coast Highway, California:
One of the best things about the Pacific Coast Highway, as it runs from San Francisco to San Diego (just over 656 miles/1055 km), is the 50/50 split of land and ocean.
State Route One is arguably the most famous, iconic, scenic drive in the USA and if you can only do one, this is it. While all the passing towns and villages are undeniably 'Californian', each one will have its very own micro-culture, and all are worth checking out.
Three MUST-DO Things to do on the Pacific Coast Highway.
Venice Beach. Sure, it's touristy and maybe a bit tacky, but it's worth jumping in with both feet and getting into the spirit of it. The 'free' shows are a blast too, get in.
Ocean Beach. A trip into vintage Californian beach life just a stone's throw from San Diego. Expect laid back locals living out the hippy dream and a beach to die for.
Santa Barbara. It looks great, of course, but you'll be coming here for the fantastic food and drink, especially the wine. Plan this one carefully if you're driving or you'll miss out.
Pacific Coast Highway Rental Cars in the USA: Start (or finish) in San Diego, Los Angeles, Anaheim or Long Beach. Finish (or start) in San Francisco, Oakland, San Jose or Sacramento.
San Francisco, California:
The art deco wonder of the Golden Gate Bridge spans San Francisco Bay and the Pacific Ocean and connects the San Francisco peninsula with Marin County, and it's one of the best things to see in San Francisco.
Designed in 1917 by Joseph Strauss, the bridge was intended to cope with increasing amounts of vehicle traffic served only by ferry boat, when it was completed in 1937 it was the longest and tallest suspension bridge in the world. That may not be the case today, but its sheer beauty remains unrivalled.
Three MUST-DO Things to see in San Francisco.
Alcatraz. Needs no further introduction. It's only a few miles to Ryker's Island to visit this semi-legendary clink, fascinating at it is, that view of the bridge is addictive.
Baker Beach. Fisherman's Wharf. Busy, touristy but a load of fun. Grab some great seafood to pick on as you soak up the atmosphere while the bridge looks on in the distance.
Fort Point. It was never used in anger, but Strauss actually designed the bridge around this brick-built civil-war era fort. A great viewing spot with a unique history.
Rental Car Branches: San Francisco Airport (SFA), Central/Union Square San Francisco, Fisherman's Wharf, O'Farrell Street, Richmond District, Financial District, Cesar Chavez
Oakland, CA
This energetic city is the busiest in the San Francisco Bay Area due to its port. It has a rich sporting heritage and is home to Oakland Raiders and the Golden State Warriors. Its proximity to a host of National Parks and natural attractions makes it a great base to explore the rest of the Northern California region.
When visiting, don't miss the city's top sights and attractions including the Oakland County Farmers Market Food Truck Rallies and enjoy the diverse cuisines of the region. Head down to the Oakland Urban Wine Trail, visit the Oakland Museum of California, or visit the Redwood Regional Park to see the majestic 46-metre high trees up close.
3 Must-Visit Destinations from Oakland:
Oracle Arena: Drive 15 minutes south of downtown Oakland to visit the home of the Oakland Raiders. It also hosts major events and concerts.
USS Potomac: Built in 1934, dubbed as the "Floating White House," this 165-foot vessel was Franklin Delano Roosevelt's Presidential Yacht.
Jack London Square: Perched on the edge of San Francisco Bay, this stunning waterfront area is a great place to relax, shop, and dine. Before visiting, don't forget to check the calendar to see what events are coming up.
Oakland Rental Car Offices: Oakland Airport (OAK), Oakland County Airport (PTK), Downtown Oakland, Royal Oak, Southfield, Troy, Birmingham
San Jose, CA
Now recognized as the heart of Silicon Valley, San Jose was once a state capitol and played a huge part in the California Gold Rush. It is now a popular destination mainly for its technological and cultural offerings, but because of its Mediterranean-like climate and topography, visitors are attracted to its sunny and warm weather all year round.
Don't miss the Intel Museum, Computer History Museum, Diablo and Santa Cruz Ranges, Lick Observatory for stargazing, and watch the sun set on the Santa Clara Valley.
One of the best things about San Jose is that it is conveniently located, and many beautiful day trip destinations are easily accessible by car. It is easy to find a car hire company in San Jose that offers affordable rates.
3 Must-Visit Destinations from San Jose:
Alameda: This charming town is about an hour's drive from San Jose. It is famous for its charming streets dotted with mid-century architecture and attractive signage. Alameda is also a great place to hunt for antiques, so don't miss Park Avenue.
Santa Cruz: If you want to experience that perfect "California beach town" with an endless summer vibe, Santa Cruz is the place for you. Walk on the famous Boardwalk, enjoy the rides and games, and explore its many cultural and natural attractions.
Napa Valley: The world-famous wine country of Napa Valley is the nation's favourite destination for everything wine-related. The valley is also a great place to hike because of its breathtaking hills and orchards. It is only two hours from San Jose.
San Jose Rental Car Offices: San Jose Airport (SJC), Downtown San Jose, North San Jose, South San Jose, West San Jose, East San Jose, Campbell
Fresno, CA
Virtually in the middle of the California State, Fresno makes it easier for visitors to explore the inland national wonders of the region. Yosemite, Sequoia, and Kings Canyon National Parks are only approximately 90 minutes with a car rental from Fresno.
The city is also home to a number of wineries and the historic Frestiere Underground Gardens, which is a hand-built network of underground rooms.
3 Must-Visit Destinations from Fresno:
Yosemite National Park: A must-visit when you are in California! About a two-hour drive from Fresno, this area of natural beauty is the perfect day road trip. There is a lot to see in Yosemite National Park but don't miss the Yosemite Valley on your first visit.
Kings Canyon National Park: About an hour's drive from Fresno, this park is part of the Sierra Nevada mountain range. This area is known for its majestic mountain peaks and the huge canyon that cuts through it.
Sequoia National Park: Named after the tall sequoia trees found in the area, this national park is about 1.5 hours away from Fresno. It is home to some of the world's largest trees, including the iconic 80-metre high General Sherman tree.
Fresno Car Rental Branches: Fresno Yosemite Airport (FAT), Fresno City Centre, Clovis
Point Reyes National Seashore, Marin County, California:
This is, essentially, a nature reserve protected by the US Government and at 1,028-acre (287.44 km2) it's big enough to get lost in without having to take weeks out of your schedule, but the best thing to see at Point Reyes National Seashore is the amazing wildlife.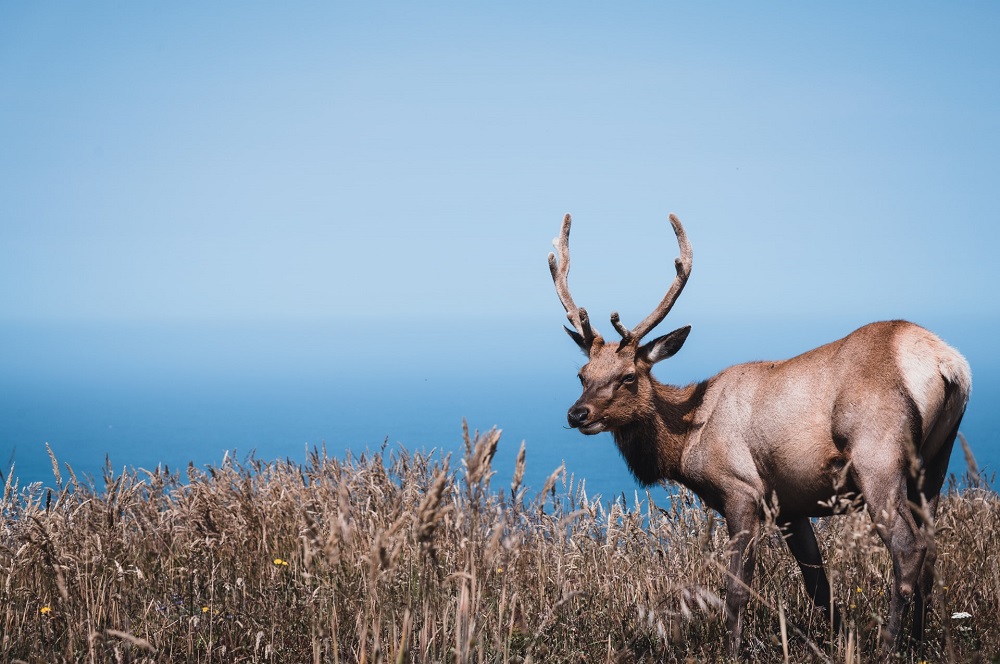 Tule Elk, Elephant Seals, Grey Whales, among thousands of other species, are all visible at different times of the year, and it's only an hour away from San Francisco.
Three MUST-DO Things to do in Point Reyes National Seashore
Tule Elk Preserve at Tomales Point. Late September to October is the best time to visit these graceful creatures, take advantage of the Elk Docents on the Tomales Point Trailhead to learn more.
Point Reyes Lighthouse. Grey Whales pass by the lighthouse twice a year and this is probably the best vantage point to view these wonderful animals in their natural environment.
Chimney Rock. Arguably the best place to see Elephant Seals, especially during breeding and pupping season in the winter and March and April as the adults head off, leaving behind their pups.
Nearest Hire Cars in the USA to Point Reyes: San Francisco CA, Oakland CA, San Jose CA and Sacramento CA
Sacramento, North California:
California's capital city was firmly established during the gold rush of 1848 and gradually evolved from there.
These days Sacramento is the administrative heart of California, the Capitol Building is home to the government of the state of California, and the city boasts an impressive array of historic landmarks, parks, restaurants and bars.
3 MUST-DO Things to do in Sacramento
Sutter's Fort: Visit John Sutter's 1839 agricultural establishment that quickly became the heart of the American Gold Rush and features in the infamous tale of the Donner Party.
Crocker Art Museum: Californian art from the Gold Rush to the present, in addition to a host of visiting collections and exciting events. Discover California from the view of its masters.
Effie Yeaw Nature Center: To the east of Sacramento, and still very much within the city, this oasis of calm features nature and wildlife trails, exhibits and animal displays. A great spot to lose yourself for a few hours.
Sacramento Rental Car Depots: Sacramento International Airport (SMF), Downtown Sacramento
Redwood National and State Parks, North California:
Discover 139,000 acres (350miles/217km) in temperate rainforest plus a heap of things to see and do in Redwood National and State Parks.
Home to the mighty Redwoods, predominantly Sequoia and Douglas-fir, the park features some specimens so wide you can drive your rental car right through them!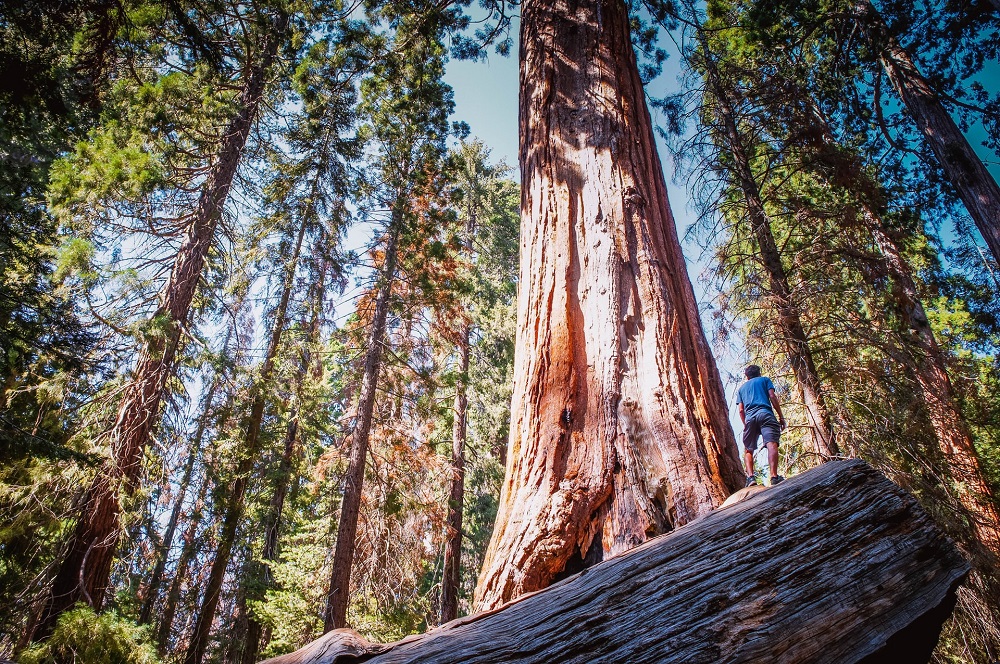 3 MUST-DO Things to do at Redwood National and State Parks:
Newton B Drury Scenic Park Driveway: It's only 10 miles (14kms) but this the best way to see the Redwood from the car, stop frequently to admire these wonders of nature and, if lucky, native Elk herds.
Gold Bluffs Beach Campground: Looking for a place to stay? With all the facilities you need, these RV/hiker-friendly campsites allow you to pitch up between the sand dunes and enjoy a spectacular ocean view.
Fern Canyon: Steven Spielberg described Fern Canyon as 'an unforgettable natural wonder' and chose it as the location of Jurassic Park 2. Try to walk among the 50-foot pines without tripping over your jaw.
Nearest Rental Cars in the USA to Redwood National Park: Portland OR, Seattle WA, San Francisco CA, Oakland CA, San Jose CA, Sacramento CA and Reno NV
Other California Rental Car Locations: Santa Ana John Wayne International Airport (SNA), Palm Springs Airport (PSP), Santa Barbara Airport (SBA), Monterey Airport (MRY), Ontario Airport (ONT), Santa Rosa Airport (STS)
Hawaii Car Rental
With spectacular beaches, cool highlands, waterfalls, lush valleys and jungles, and active volcanoes, there is so much to see and do in the islands of Hawaii, and the best to discover the region is to explore it in a hire car. Drive through breathtaking landscapes that are unlike any other in the United States.
There are six major islands in Hawaii namely, Kauai, Maui, Molokai, Lanai, Oahu, and Hawaii Island or the "Big Island." Oahu is the state capital, home to Honululu, which is the gateway to Hawaii.
Each island has its own personality and features different activities and sights. There are plenty of routes you can take to enjoy the islands including the Road to Hana in Maui, the North Shore of Oahu, the Saddle Road from Hilo to Kona, Mauna Loa Road (Volcano Village) on Big Island, and many others!
Explore the islands' rich culture and don't be afraid to explore the off-the-beaten-path.
3 Must-Visit Destinations from Hawaii:
North Shore, Oahu: Famous for its larger than life waves in winter and spectacular coastlines. Must visit surf spots are Sunset Beach, Waimea Bay, and Banzai Pipeline (Ehukai Beach).
Kalalau Trail, Kauai: This 11-mile trail from Ke'e Beach to Kalalau Beach in Kauai is located inside the Napali Coast State Wilderness Park. This incredible hike takes you through to 5 valleys, majestic ridges, unspoilt beaches, and offers magnificent views of the Pacific.
Garden of the Gods, Keahiakawelo, Lanai: A 45-minute drive from the city of Lanai, this rock garden features a mysterious windswept landscape. Best time to see it is during dusk, when the rock towers and formations look very enchanting.
International Hire Car Companies: Alamo USA, Avis USA, Budget USA, Enterprise US, Hertz USA, National USA
Local United States Car Rental Companies: Yesaway Car Rental
Honolulu, HI
Most Hawaii road trips begin in Honolulu, where the state's major airport is located and serves as the entry point for most visitors. Most popular for its surfing swells, world-class wave riders are seen in town all throughout the year.
When you are in the city, don't miss the Waikiki Beach, Pearl Harbor, Chinatown, Diamond Head State Monument, USS Missouri, Honolulu Beerworks, and if you're bold enough swim with the sharks in the Pacific!
It is easy to explore the rest of the island from Honolulu as there are major USA rental car companies in the city. Some of the best road trip destinations from the city are the Central Oahu and The North Shore, Diamond Head, Hanauma Bay and Windward Oahu, Napali Coast, Road to Hana, and the active Kilauea Volcano.
3 Must-Visit Destinations from Honolulu:
Diamond Head Crater: An absolutely beautiful site that is only 20 minutes by car hire from Honolulu. Stunning views of the Pacific Ocean await after a 2-hour hike.
Pearl Harbour: Learn about the devastating events of December 1941, which the changed the course of history. There are free tours from 8am-3pm daily (except on certain holidays). Visit Pearl Harbor Tours for more information.
Waikiki Beach: A visit to Honolulu is not complete without seeing or surfing the waves of Waikiki Beach. Drop by the statue of Duke Kahanamoku, who is the person credited for making surf popular.
Rental Car Branches: Honolulu Airport (HNL), Downtown Honolulu, Waikiki, Alamoana
Hawai'i Volcanoes National Park, Hawaii:
USA's only island state and the only one located outside of North US, Hawaii features some the most amazing natural phenomena found anywhere on the planet and some of the best things to see are at Hawaii Volcanoes National Park.
505 square miles (1308 kms) of parkland dotted with a bunch of volcanoes, with two of them active and one of the two being the largest on volcano earth. A true step back in time. Pick up your car rental at Honolulu Airport and explore the best of Hawaii.
Three MUST-DO Things to do in Hawaii Volcanoes National Park.
Mauna Loa. Well served by local tourist guides, this enormous volcano hasn't erupted since 1984, nonetheless, the erupting Kilauea, visible from Mauna Loa's lava tubes, is as spectacular as it is unsettling.
Kīlauea Iki Crater. You can hike there and back in a day; drop through lush rainforests until you're walking on a solidified lava lake, a sobering experience if nothing else.
Nahuku – Thurston Lava Tube. This cave built of lava is spectacular, not just for the awe-inspiring tube, but for the array of nature that surrounds it, prepare to be staggered into silence.
The Waimea Canyon, Kaua'i:
Are you looking for things to see and do in the Waimea Canyon? Look no further, this 10mile (16 km) long canyon is also known as 'the Grand Canyon of the Pacific' but it's considerably smaller.
This is a positive, the Waimea Canyon is far more user friendly because you can see most of it without paying for a helicopter ride, and a little effort on your behalf goes a very long way (you don't even have to get out of your rental car).
Three MUST-DO Things to do in the Waimea Canyon.
Iliau Nature Loop & Kukui Trail. This relatively gentle trail takes you on a journey through some of Hawai'i's most beautiful fauna flora, plus a waterfall or two.
Waimea Town to Koke'e State Park Scenic Drive. A 14-mile (22 km) road leading from Waimea town, past the Waimea Canyon Lookout and into Koke'e State Park is one of the best in the world. End of.
Waimea Canyon lookout. This is the perfect spot to just sit and look until you're full. The lookout offers canyon, gorge and waterfall views from three viewing platforms.
Nearest Rental Cars in USA to Waimea Canyon: Lihue Airport (LIH)
Other Hawaii Rental Car Locations: Hilo Airport (ITO), Kahului Airport (OGG), Kona Airport (KOA), Lihue Airport (LIH), Molokai Airport (MKK)
Washington State Rental Cars
The land of wild, rugged scenery, hip city attractions, and espresso shops. The Washington State has plenty of natural attractions and you don't need to drive far.
The natural scenery of Washington is some of the most breathtaking in the country. Its diverse terrain includes volcanoes, forests, and islands. The cities are equally as impressive as the natural attractions, with Seattle as the state's largest city and serves as the gateway to the Pacific Northwest region.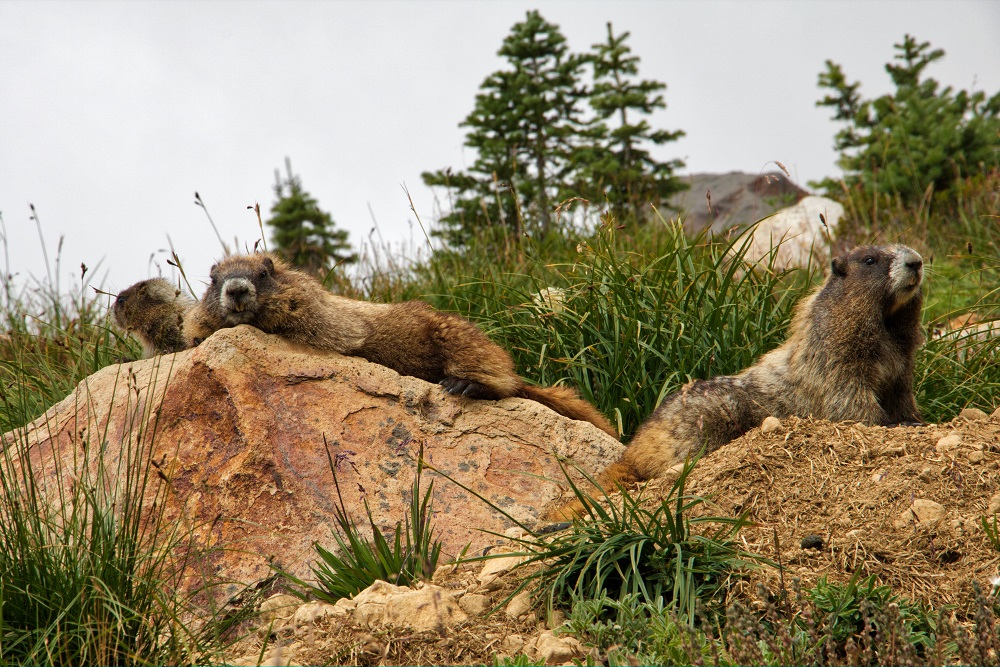 Two of the most popular national parks include Olympic and Mount Rainer. If you're going on a USA road trip, don't miss La Conner & Anacortes, the town of Bellingham, and the Silver Lake.
3 Must-Visit Destinations in Washington State:
Olympic National Park: Located in Port Angeles, this park features mineral springs that are great for swimming. You can stay overnight in comfortable lodges to enjoy the serenity of the great outdoors.
Mount Rainier National Park: One of the world's oldest national parks, it is home to the slumber giant, Mount Rainer. Drop by the Sunrise Visitor Center to get your maps and books and enjoy some fantastic views before you set off to explore the rest of the park.
North Cascades Scenic Highway: This 700-kilometre byway traverses massive peaks and turquoise-coloured lakes. Dubbed as the "American Alps," many visitors argue that is it the most scenic highway in Washington State.
International Hire Car Companies: Alamo USA, Avis USA, Budget USA, Enterprise US, Hertz USA, National USA
Local United States Rental Cars Companies: Fox Rent a Car
Seattle, WA:
Clasped between two peninsulas of land, to people of a certain age, Seattle will be forever remembered as the birth of grunge but this city, Washington State's largest, offers a tantalising range of activities from city to seashore.
At once futuristic and rural, Seattle is one of the must-see cities of the USA with an abundance of activities to enjoy.
3 MUST-DO Things to do in Seattle, Washington
The Museum of Pop Culture: This fascinating institution may only be twenty years old, but it's already established itself as one of the leading lights of popular culture, music or otherwise. The exhibitions are outstanding.
Space Needle: This futuristic tower was built in 1962 for the World Fair's and is now its most famous icon. Jump inside the elevator and head for the restaurant at the top in time for sunset.
Washington Park Arboretum to Seward Park scenic drive: You don't even have to leave the city to enjoy this one. Drive through the trees, clip Lake Washington, glance a view of Mount Rainier before enjoying the delights of Seward Park. Short and sweet.
Seattle Rental Car Branches: Seattle-Tacoma Airport (SEA), King County International (BFI), Downtown CBD Seattle, University District, South Seattle
Spokane, WA:
The Spokane region is blessed with amazing outdoors and natural attractions. The cities also offer world-class performing arts and delectable culinary experiences.
Spokane city is a great base for day drives to top locations like Mount Spokane, Little Spokane River Natural Area, Riverside State Park, Nine Mile Falls, Dry Falls, Grand Coulee Dam, Colville National Forest, Post Falls, and Missoula.
3 Must-Visit Destinations in Spokane:
Mount Spokane: Only an hour's drive from Spokane City, this is one of the best outdoor recreational spots in the region. It features miles of hiking trails to walk in the summer and world-class ski resorts in winter.
Riverside State Park: Located along Spokane River, this park is favourite hiking and camping area. Don't miss the Bowl and Pitcher for some fantastic views of the river.
Win Tur Bison Farm: Did you know that Bisons once roam the Great American Plains? Their numbers have drastically declined since the settlement of the Europeans, but you can see a few of these lovely creatures roaming freely at the Win Tur Bison Farm and learn about their near extinction. The farm is around an hour's drive from Spokane.
Spokane Rental Car Branches: Spokane Airport (GEG), Spokane Valley, Downtown Spokane
Other Washington State Rental Car Locations: Bellingham Airport (BLI), Pasco Airport (PSC)
Oregon Car Rentals in the USA
Oregon is a paradise for outdoor and adventure enthusiasts with its diverse landscapes featuring stunning coasts, snow-capped mountains, lakes, forests, and farmlands.
Oregon has a lot of scenic routes than most states in the US, so going on a road trip is a great way to see the region. Oregon is huge, so we have listed a few of the best driving routes that you can take on your first few visits.
The Pacific Coast Scenic Byway is the ultimate Oregon day trip that takes you from border to border, all the way from Astoria to Brookings. Every inch of the Pacific coastline is open to the public, so stop as frequently as you can and enjoy the views!
If you want to see America's deepest river gorge, Hells Canyon, then a scenic road trip on the byway from La Grande to Baker City is a must. Another highlight on this route is the Wallowa Mountains, which offer stunning views and is often dubbed as the "Little Switzerland" of Oregon.
For some history, the Historic Columbia River Highway Scenic Byway, is an excellent short drive that takes you along the Columbia river gorge, which is on the 7 Wonders of Oregon list. This is America's first scenic highway and a National Historic Landmark.
There is so much more to do in Oregon, you can check out Travel Oregon for more information.
3 Must-Visit Destinations in Oregon:
Bagby Hot Springs, Clackamas: A 45-minute beautiful drive from Estacada and about 1.5 hours from Portland, these natural hot springs are located inside the remote Mount Hood National Forest. You need a hike a short beautiful trail from the carpark to reach the bath houses.
Thor's Well, Yachats: This natural hole in the Oregon coast that seems to be draining the sea… This natural wonder is a 3-hour drive from Portland and is quite a sight to behold. It's best to see it during hightide or storms but be careful!
Enchanted Forest, Turner: This family-owned 20-acre amusement park is a great place for families with young children. Don't miss the Big Timber log ride, the medieval-themed Challenge of Mondor, and the Ice Mountain bobsled roller coaster. The park is only about 15 minutes by car rental from Salem.
Oregon Hire Car Companies: Alamo USA, Avis USA, Budget USA, Enterprise US, Hertz USA, National USA
Portland, OR:
It may have a reputation as a hipster-friendly party town, but there is so much more to Portland than beards and craft beer.
Considered to be one of the best places to live in the USA, check out Washington Park with its zoo, Japanese Garden and miles of trails, a great place to relax on your road trip.
3 MUST-DO Things to do in Portland Oregon:
The Shanghai Tunnels: This tunnel may have been used to spirit unsuspecting souls from the street above to merchant ships in the port bound for the Orient. Intrigued?
Portland Art Museum: The oldest art museum on the West Coast has a decent smattering from the masters' but its core strength lies in its extensive Native American and Asian Art collections.
Pittock Mansion: A French, Renaissance-style château built for a British born publisher and designed by San Francisco architect. No wonder it's as eccentric as it is enormous and well worth a visit.
Portland, OR Rental Car Branches: Portland Oregon International Airport (PDX), Downtown Portland, Clackamass, Beaverton, Milwaukee
Other Oregon Rental Car Locations: Eugene Airport (EUG), Medford Airport (MFR), Redmond Airport (RDM)
West USA
States: Colorado, Idaho, Montana, Nevada, North Dakota, South Dakota, Utah and Wyoming.
With specific regions broadly defined, the Western side of the USA is just as varied when it comes to both climate and landscape, but 'semi-arid' – in essence, warm/hot summers and mild winters – incorporating russet deserts, emerald forests and miles of white coastline, is as good a guide as any.
Colorado Rental Cars in USA
A nature lover's paradise, Colorado has a diverse landscape of river canyons, arid deserts, and snow-covered mountains. The place with the highest altitude in the US, the state offers an unbelievable range of natural wonders and a rich cultural heritage, making it one of the best places in the US for a self-drive vacation with a rental car in America.
Colorado is a great place to explore national and state parks. We recommend the following for a great road trip: Rocky Mountain National Park, Colorado National Monument, Black Canyon of the Gunnison National Park, Mesa Verde National Park, Great Sand Dunes National Park and Alamosa, Ridgway State Park, and the Eldorado Canyon State Park.
Besides its breathtaking national parks, Colorado also has amazing small towns that are worth visiting. Some of the best small towns for a road trip include Durango, Silverton, Aspen, Burlington, and Crested Butte.
3 Must-Visit Destinations in Colorado: 
Mesa Verde National Park:  The park is home to some of the best-preserved Ancestral Puebloan archaeological sites in the US. Visit the Long House, which is the 2nd largest of the cliff dwellings at the national park.
Comanche National Grassland:  Explore a fascinating landscape of prehistoric sea beds, ancient lake shores, and learn about the different species of wildlife that are found in the park. Don't miss the dinosaur track at the Picketwire Canyon.
Rocky Mountain National Park: A place of spectacular mountain environments, this national park is famous for the Trail Ridge Road that features breath taking views, starry nights, and hiking trails. In winter it becomes a premier ski destination.
International Hire Car Companies: Alamo USA, Avis USA, Budget USA, Enterprise US, Europcar US, Hertz USA, National USA
Local USA Car Rental Companies: Fox Rent a Car
Denver, CO
Denver is the capital city of Colorado and a well-known cultural hotspot of the state and also a base to explore the rest of the Rocky Mountains region, which is just a short drive from the city, using a car rental in the USA. There are plenty of options here for the adventure seeker – you can ski, climb, and hike.
Those who are looking for top attractions for a great day trip, we recommend the Red Rocks and Ampitheatre, Bear Creek Canyon, Evergreen and Golden towns, Manitou Springs, and the Garden of the Gods.
Denver Car Rental Locations: Denver Airport (DEN), Downtown Denver, Northglenn, Arvada, Wheat Ridge, Denver Northeast
3 Must-Visit Destinations in Denver: 
Red Rocks Ampitheatre:  A unique landscape with towering sandstone formations. The amphitheatre is carved into the rocks and is quite an attraction. It holds concerts throughout the year, so make sure you check out their website for upcoming events.
Strawberry Park Natural Hot Springs:  Nestled inside the Rocky Mountains, this park is the ultimate relaxation destination. It's only a 3-hour drive from Denver, making it a perfect getaway from the city.
Mount Evans Scenic Byway: The highest paved road in North America is only less an hour's drive from Denver. The road takes you on a spectacular journey through the Colorado Mountains.
Colorado Springs, CO
This city is one of the first resort destinations in the US and attracts thousands of visitors to this day.
Colorado Springs natural landscape is the biggest attraction however there are plenty of other things to do in the city like the Cheyenne Mountain Zoo, Colorado Springs Fine Arts Center, and the Broadmoor Resort, among others.
Colorado Springs Car Rental Locations: Colorado Springs Airport (COS), Colorado Springs City
3 Must-Visit Destinations in Colorado Springs: 
Garden of the Gods: A quick drive from downtown Colorado Springs, this park is home to breathtaking sandstone formations, spires, and snow-capped mountains. Its landscape is a fascinating mix of woodland, grassland, and alpine forest, making it one of the most unique parks in the country.
Black Canyon: Explore spectacular and historically significant geologic formations, including some of America's steepest cliffs. The Black Canyon is part of the Gunnison National Park which is located about 2 hours north of Colorado Springs. It has some of the world's oldest exposed rocks, some dating back to the Precambrian period – nearly 2 billion years old.
Pikes Peak Highway: Known as "America's Mountain," Pikes Peak is the second most visited mountain the world, after Japan's Mount Fuji. From Colorado Springs, take the 30-km scenic Pikes Peak highway which leads you to the summit. The journey takes about 2-3 hours.
Other Colorado Rental Car Locations: Aspen Airport (ASE), Durango Airport (DRO), Eagle County Airport (EGE), Grand Junction Airport (GJT), Gunnison Airport (GUC), Hayden Airport (HDN), Montrose Airport (MTJ)
Boise, Idaho:
Because of its vast rocky landscapes and recreational areas, it would seem the best things to do in Idaho are only for outdoorsy types and fitness fanatics.
And while there is plenty to do to sate the adventurous, Idaho has some must-see quiet spots with some of the best found in Boise, the capital city of this naturally beautiful state on the border of Oregon.
3 MUST-DO Things to do in Boise, Idaho
Old Idaho State Penitentiary: Opened in 1972 and closed almost a hundred years later, this is an imagination riot courtesy of the enthusiastic tour guides and their tales of inmates' past. Creepy, but in a good way.
Mountain Towns: These pretty towns are sprinkled around the outskirts of Boise and are easily accessible by car. McCall and Stanley are worth prioritising, but the real draw is the view from the road.
6th and Main: This historic downtown hotspot is chock-full-of bars, clubs, restaurants with some quirky surprises: this could be your only chance to ride a mechanical bull at a cowboy hoedown!
Boise Car Rental Locations: Boise Airport (BOI), Downtown Boise
Montana
Wild and wide, Montana is a paradise for outdoor enthusiasts and its sheer size makes it a great place for a USA rental car road trip. It is also is a playground for the adventure seekers – from winter to water sports, hiking to biking, Montana has it all.
One of the most popular destinations to take with a car rental in the USA in Montana is the Glacier National Park, which features a scenic 80-km Going to the Sun Road. The spectacular drive takes you across the park's bisection and crosses the Continental Divide of the Americas.
Other noteworthy Montana road trip destinations are:
Skalkaho Pass – This primitive winding drive on mostly gravel road that traverses the Sapphire Mountains
Beartooth All-American Road – Dubbed as the most beautiful drive in the US, this 3-hour drive is one of the highest elevation roads in the country.
3 Must-Visit Destinations in Montana: 
Glacier National Park:  A virtually untouched region home to one of the most intact ecosystems on Earth. It has more than a thousand kilometres of hiking trails and an abundance of wildlife including moose, black bears, elk, and mountain lions.
Flathead Lake:  This is the largest natural freshwater lake by surface area. There are plenty of things to do in the lake including sailing, swimming, fishing, power boating, and camping.
Ringing Rocks: This unique geological formation features a pile of rocks that chime or "ring" when tapped or struck. The drive is challenging, and the huge rocks may require a bit of climbing.
Montana Rental Car Companies: Alamo USA, Avis USA, Budget USA, Enterprise US, Hertz USA, National USA
Billings, MT
Billings is the largest city in Montana and is considered the trailhead to the rest of the state. The city is located along the Yellowstone River, where you can also find the magnificent Rimrocks.
Some of Billings top attractions are the Pictograph Cave State Park, Yellowstone River, Dan Walt Garden, Pompeys Pillar, and Moss Mansion Historical House.
Most of the Montana road trip itineraries start in the city, where you can find many USA rental car companies like Hertz, Enterprise, Avis and Alamo.
3 Must-Visit Destinations in Billings: 
Little Bighorn Battlefield National Monument:  Learn about the battle that happened in 1876 between the Lakotas and Cheyennes and the US Army's 7th Cavalry, in one of the Indian's last armed efforts to protect their traditions. There is a museum and a visitor centre that provides an insight into the history of the battle, weapons used, archaeology, and many more.
Museum of the Rockies, Bozeman:  Recognised as the world's finest history and research museums, the MOR features breath taking exhibits of dinosaur fossils, including a T. rex skeleton!
West Yellowstone:  Take your rental car from Billings and drive west to this town. This town is an excellent base if you want to explore Yellowstone National Park.
Billings Car Rental Locations: Billings Airport (BIL), Downtown Billings
Other Montana Rental Car Locations: Bozeman Airport (BZN), Bute Airport (BTM), Great Falls Airport (GTF), Helena Airport (HLN), Kalispell Airport (FCA), Missoula Airport (MSO)
Yellowstone National Park:
This iconic park is located in (mainly) Wyoming and areas of Montana and Idaho.
Yellowstone National Park is almost 3,500-sq miles of beautiful, rugged wilderness, home to thousands of wild species including two actual bears: the black bear (ursus americanus) and the grizzly or brown bear (ursus arctos horribilis). Note 'horribilis' and not 'Yogi'.
3 MUST-DO Things to do in Yellowstone National Park
Go on a Bear Hunt: First off, don't do this alone, take an official guided tour and you'll be rewarded with unforgettable views of unique creatures in their natural habitat. One for the bucket list.
Grand Prismatic Spring: This eye-popping spring is so-called because of the frankly ludicrously beautiful rainbow of colours that emit from, er, bacteria. Either way, it has to be seen to be believed.
Old Faithful: Is this the most famous geyser in the world? 'Faithful', because it erupts regularly, 'Old' because it was discovered in 1870. One of America's national treasures.
Nearest Rental Cars in USA to Yellowstone National Park: Billings MT, Boise City ID, Salt Lake City UT, Casper WY, Cheyenne WY, Denver CO, Seattle WA, Portland OR, San Francisco CA, San Jose CA, Sacramento CA, Reno NV, Las Vegas NV
Nevada
There is no better way to experience Nevada than to go on a road trip across the state's vast open spaces. It is home to the "Loneliest Road in America" that takes you through spectacular mountain ranges and landscapes.
Besides the famous US Highway 50, other Nevada road trip attractions include the Great Basin National Park, Lake Lahontan, Lake Tahoe and Pyramid Lake, Las Vegas, Fort Churchill, and the International Car Forest in Goldfield.
If you want to explore this magnificent state, there are international and US rental car agencies in most cities that offer great deals, depending on your budget.
3 Must-Visit Destinations in Nevada: 
Valley of Fire: Famous for its bright red Aztec sandstone formations, the state park is home to petroglyphs and ancient petrified trees that are more than 2,000 years old. Schedule your road trip around the Annual World Atlatl Competition, where participants can test their skills in creating replicas of an ancient spear.
Great Basin National Park: Camp under the stars and enjoy the alpine environment in this incredible natural treasure located in the eastern region of Nevada. If you want great scenery without the crowds, this is a great place to visit.
Red Rock Canyon National Conservation Area: Located in Nevada's Mojave Desert, this area is famous for its towering red sandstone peaks, Native American petroglyphs, and plenty of great hiking trails. If you have a US rental car, don't miss the 20-km Red Rock Scenic Byway for spectacular views.
International Hire Car Companies: Alamo USA, Avis USA, Budget USA, Enterprise US, Europcar US, Hertz USA, National USA
Local USA Car Rental Companies: Fox Rent a Car, Green Motion US
Las Vegas, NV
The city that was made for entertainment and a place for everyone that needs a quick getaway, Las Vegas attracts millions of tourists every year. It is the go-to place to dine, shop, experience nightlife, and give the gaming tables a try.
There are many convenient US car hire locations around Las Vegas, so if you are looking forward to exploring the city on wheels, there are many options here for you.
If you're looking for entertainment, The Strip is something you can't miss. There are plenty of things do to here for everybody. If you want to explore other areas in the city, other Las Vegas top attractions worth visiting are Fremont Street, the Mob Museum, and the Neon Museum.
Looking for day trips? The Grand Canyon National Park is only a about a 4-hour drive from Las Vegas. The Bryce Canyon National Park is another noteworthy attraction, also a 4-hour drive north east of the city.
If you don't want to drive too far, there are plenty of places to see that are only about 30 minutes from the city. Take your rental car to Lake Mead National Recreation Area, Hilton Lake Las Vegas, and the Hoover Dam.
3 Must-Visit Destinations in Las Vegas: 
Area 51:  The area itself is not a tourist attraction but a heavily guarded US Air Force Base. If you insist on finding some UFO Sightings, take your vehicle to the Extraterrestrial Highway and prepare for the one of the weirdest road trips on the planet.
Death Valley National Park:  Contrary to its name, Death Valley is quite alive with unique wildlife and wildflowers, and is home to some of the most breath-taking natural scenery in the region. The park is located in California but is only about 2 hours northwest of Las Vegas.
Zion National Park: Utah's first national park is another great day trip destination outside Nevada. If you have a car rental in the USA, the scenic Zion Canyon Scenic Drive is a must-visit.
Las Vegas Car Rental Locations: Las Vegas McCarran Airport (LAS), Downtown Las Vegas, Paradise, Winchester, Spring Valley, North Las Vegas, Summerlin, Henderson, Sunrise Manor
Reno, NV
Most tourists think of Las Vegas when they think of casinos and entertainment, however those who dare to explore the state further will come across this beautiful city that offers more than just entertainment.
Located near Lake Tahoe and the Sierra Madre Mountains, Reno is the perfect out-of-town trip. Plan your road trip ahead by getting a USA rental car from any of the major depots in the city and get ready to check off that bucket list with some of the best day trip destinations from Reno.
3 Must-Visit Destinations in Reno: 
Fly Geyser:  This man-made wonder was created by accident when the previous property owners drilled a hole into the ground to see if it was possible to irrigate the area. They found so much water but unfortunately it was 93 degrees Celsius. The Fly Geyser is in a private property so you must book a tour to see it.
Lake Tahoe:  A short drive south of Reno will take you to the clear waters and great beaches of Lake Tahoe. You can rent a paddleboard or a kayak and enjoy this natural wonder up close or just relax by the lake and stay until dark to see some of the clearest night skies in this region.
Carson City:  Explore many of its funky coffee shops and check out live music and cultural events that happen all throughout the year. The city and the valley are best explored on your Reno rental car but the central district is also very walkable.
Reno Car Rental Locations: Reno Tahoe Airport (RNO), Downtown Reno, Meadowood Mall, East Reno
Other Nevada Rental Car Locations: Elko Airport (EKO), Sparks
Hoover Dam, Boulder City, Nevada:
There are plenty of things to see and do around Hoover Dam, aside from marvelling at a spectacular feat of engineering.
Built between 1931 and 1936 this concrete arch-gravity dam nestling between the US states of Utah and Nevada contains enough concrete to span the whole of the USA.
3 MUST-DO Things to do at the Hoover Dam.
Hoover Dam Museum: Located in the Boulder Dam Hotel on the first floor, this permanent exhibition details the creation of the Dam from its design to its completion.
Tom Devlin's Monster Museum: Devlin has amassed a great collection of costumes and props on some of the movies he's worked on. Loads of spooky fun.
Nevada State Railroad Museum: This is a living museum in so far you can clamber aboard an antique steam train and go for a once-in-a-lifetime trip through the desert!
Nearest Hire Cars in USA to Hoover Dam: Las Vegas
North Dakota
Theodore Roosevelt once called this place "a world of beauty and colour and limitless space." Not much has changed since his time, so if you're looking to take your US car hire somewhere to see amazing wildlife and awe-inspiring nature, look no further than North Dakota.
Follow the footsteps of many legends that crossed the state by retrace the expedition of Lewis and Clark and discover Native American arts and culture. If you're looking for a great adventure, head out to the Theodore Roosevelt National Park.
Whether you are staying in the cities or driving out to explore the outdoors, you will definitely have great self-drive road trip vacation experiences in North Dakota.
3 Must-Visit Destinations in North Dakota: 
Theodore Roosevelt National Park:  Explore a virtually unchanged rugged landscape that is home to wild horses, bisons, Badlands, and breath-taking canyons. There are plenty of opportunities here to camp, hike, and rock climb.
Knife River Indian Villages Historic Site:  One of the oldest inhabited villages in North America, this historic site preserves the remains of three large villages of the Hidatsa people. In the site there is a museum and a full-scale reconstructed Hidatsa earth lodge, garden, and drying racks. There are also hiking trails that lead to the three villages.
Medora Musical: Set in the beautifully rugged Badlands of North Dakota, this musical is a high-energy western-style show dedicated to Theodore Roosevelt. The musical normally opens every June.
North Dakota Hire Car Companies: Alamo USA, Avis USA, Budget USA, Enterprise US, Hertz USA, National USA
Fargo, ND
Located near the Canadian border, North Dakota's largest city offers great culinary experiences and an energetic nightlife.
Fargo City has deep Scandinavian roots so don't miss the The Hjemkomst Center, that houses exhibits about the community's culture and heritage. There are a host of other museums to visit including the Fargo Air Museum, Plains Art Museum, Bonanzaville pioneer village, and Roger Maris Museum.
For an unforgettable culinary experience, check out Mezzaluna, Vinyl Taco, and drop by the watering holes along Broadway.
Looking for Fargo road trip attractions? We have listed our top three recommendations below.
Fargo Car Rental Locations: Fargo Airport (FAR), Downtown Fargo City
3 Must-Visit Destinations in Fargo: 
Bison Monument & Frontier Village:  Take your US rental car about 1.5 hours east of Bismarck to see the world's largest Buffalo monument. Nearby, visit the Frontier Village to see antiques, artefacts, and old buildings.
Fort Mandan: Step back in time through this reconstructed fort that was used as a winter home of the Lewis and Clark Expedition. The site features fully furnished quarters, exhibits about coal combustion products, walking and ski trails, and many more.
Bismarck: The capital of North Dakota lies about three hours west of Fargo. Don't miss the Dakota Zoo, North Dakota Heritage Center, and the Lewis and Clark Riverboat.
Other North Dakota Rental Car Locations: Dickinson, Grand Forks Airport (GFK), Minot Airport (MOT)
Mount Rushmore, South Dakota
If you're thinking of things to see and do at Mount Rushmore, doubtless you'll instantly think of John Gutzon de la Mothe Borglum's depiction of George Washington, Thomas Jefferson Theodore Roosevelt and Abraham Lincoln carved into an enormous rock in the middle of South Dakota, just North of Nebraska, but there's so much more to it than that.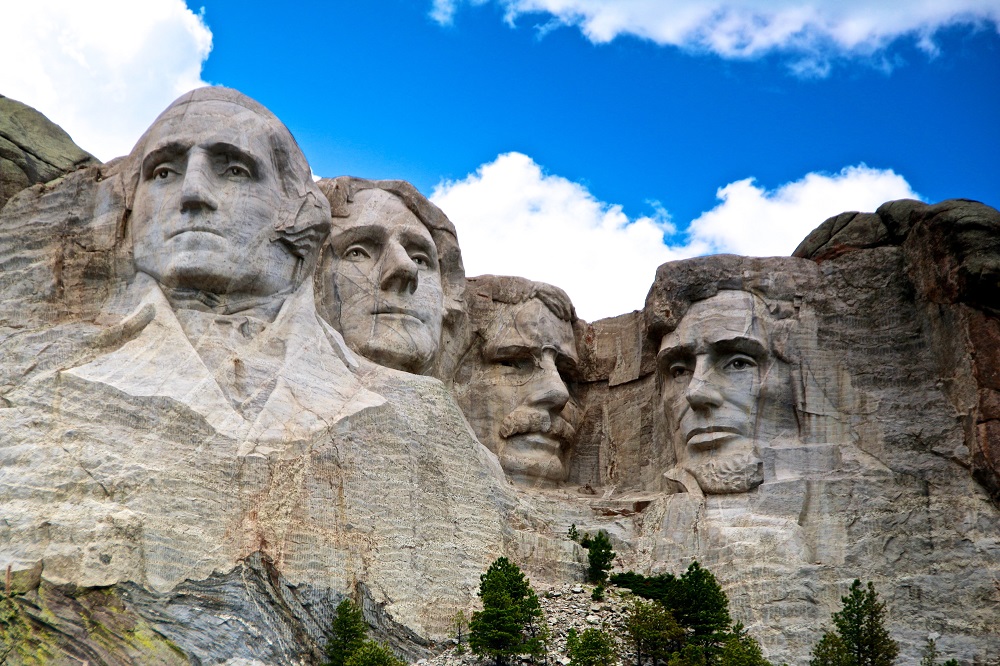 A huge tourist attraction such as this will always throw up some additional, local, surprises (especially if you're a fan of monumental sculpture) but this relatively isolated part of the USA is also located in between a National Park and vast Grassland ensuring that you have a raft of scenic drives to choose from when planning your USA car rental trip.
Three MUST-DO Things to do at Mount Rushmore:
Iron Mountain Road: US Route 16A is 36 miles (58 km) undulating mountain road offering spectacular views of Rushmore, en route drive to Custer State Park, a beautiful nature reserve with roaming Bison, Elk, Coyotes, Deer etc.
Sculpture's Studio: Learn how Mount Rushmore went from an idea to a National Memorial by visiting Borglum's studio, with spectacular views of the presidential heads thrown in for good measure.
Crazy Horse: Less than 30 minutes drive from Rushmore is a huge carving of a Native American Hero (when completed it'll dwarf the four presidential heads) which has been under construction since 1948.
Nearest Rental Cars in USA to Mount Rushmore: Rapid City Airport (RAP), Casper WY
Arches National Park, Utah:
There isn't much to do at Arches National Park aside from being blown away by 2000 natural rock arches spread over 119.811 sq mi (310.31 sq km).
This sensational park is all about stunning geological formations, a natural sculpture display 300 million years in the making, and it makes a fantastic venue for a spot of hiking and camping.
3 MUST-DO Things to see at the Arches National Park:
Power Avenue and Courthouse Towers: It may seem quite a leap of the imagination to attribute a modern city features to ancient monoliths, come and find out why it just works.
The Windows Section: This is arguably the most scenic (if not iconic) section of the park, the North Window, Turret Arch and Double Arch are all here. Just outstanding.
Bring on the Night: The Arches National Park is one of the most spectacular places to stare at the majesty beauty of an unadulterated night sky. Bring a tent and gaze to your heart's content.
Closest Rental Cars in United States to Arches National Park: Grand Junction Airport (GJT), Salt Lake City UT
Bryce Canyon National Park, Utah:
Frequently usurped by the popularism of the Grand Canyon that lies to the south, there are things to do in Bryce Canyon National Park that, arguably, make it a better destination.
As if a vast forest has turned to orange, pink and red stone, this breath-taking natural amphitheatre of beauty has the largest collection of hoodoos in the world.
3 MUST-DO Things to do in Bryce Canyon:
Navajo Loop: Wall Street, Twin Bridges and Thor's Hammer are some of the more creative names for the hoodoo's that populate this fascinating 1.3 miles (2.1 kms) walk
Queen's Garden Trail: Not to be outdone, and a little longer, this stunning trail even features a hoodoo that looks like Queen Victoria, with a bit of imagination anyway.
Inspiration Point: The clue is in the name of this look-out point along the Rim Trail. The view is simply stunning: once seen, never forgotten.
Closest Rental Cars in USA to Bryce Canyon: Grand Junction Airport (GJT), Salt Lake City UT, Las Vegas NV, Albuquerque NM, Denver CO, Los Angeles CA
Southwest USA
States: Arizona, New Mexico, Oklahoma and Texas
If you're after stunning, natural scenery, then the Southwestern USA could be the best venue in the world. A backdrop of geological formations exploding with vibrant colours await, all connected by so many eye-popping scenic drives that we've lost count.
While there is not standard boundary the undisputed heart of the region is Arizona and Utah, but could reach as far south as California.
Arizona Car Rental
The vast and ancient landscapes of Arizona attract visitors from all over the world. The Grand Canyon National Park, one of the 7 Wonders of the Natural World, is almost on every travel book and is a very good reason to drive to Arizona.
Besides its breathtaking geology, Arizona is also known for its Native American history and Old West tales. About 22 American Indian communities reside in Arizona, including the Navajo Nation and White Mountain Apache. You can even take a tour inside their communities and learn about their life and culture.
The cities are also worth driving to, if you're a fan of food and wine, art galleries, and luxury spas. Some points of interest include Phoenix for its great fine dining experiences, Sedona for wellness and new-age vibes, and Tucson Museum of Art for its display of Western artwork.
3 Must-Visit Destinations in Arizona: 
Grand Canyon National Park: Marvel at 2,000 million years of geological history. If you have more time, take a short, guided boat trip along the Colorado River that makes it away across the canyon. This UNESCO World Heritage Site is about a 4-hour drive with a car rental in the USA from Phoenix.
Flagstaff:  Just two and a half hours' drive north of Phoenix on the spectacular Red Rock Scenic Byway, this city is loved for its hip and friendly vibe. There's great night life, music, and clubs all over the city and its skies are great for stargazing.
Petrified National Forest: Walk through 225 million years of cultural and geological history. This remote region of western Arizona is home to ancient stones, looming spires, fossils, wildlife and wildflowers. Its winding roads are perfect for a road trip. Check out Kachina, Tiponi, and Whipple or Lacey for amazing views.
International Hire Car Companies: Alamo USA, Avis USA, Budget USA, Enterprise US, Europcar US, Hertz USA, National USA
Local USA Car Rental Companies in Arizona: Fox Rent a Car
Phoenix, AZ
Often referred to as the starting point for exploring Arizona, however this vibrant state capital also has its breathtaking attractions that are worth a visit.
Some of the best things to do in downtown Phoenix include a helicopter flight over the city, a visit to Arizona Science Center, Roosevelt Row, Heritage Square, Orpheum Theater, Phoenix Art Museum, and many others.
If you want to go on a road adventure, Grand Canyon should be on top of your list. Other attractions to include are Tucson Mountain Park, Saguaro Lake Marina and National Park, Montezuma Castle, Lake Mead, Sedona, Apache Trail, and the Meteor Crater.
You can also drive to the nearby cities of Las Vegas and Los Angeles with a hire car.
3 Must-Visit Destinations in Phoenix: 
Sedona:  This wonderful town is about a 2 hours' drive north of Phoenix. It is most famous for its dazzling red sandstone formations and tall pine trees. Don't miss the Red Rock State Park, the Oak Creek Canyon, and the Slide Rock State Park.
Montezuma Castle National Monument:  One of the oldest and most interesting attractions in Arizona, the castle is an amazing preserved prehistoric cliff dwelling. Only less than 2 hours by rental car from Phoenix, this is an attraction you don't want to miss.
Jerome: One of Arizona's copper mining towns, Jerome was once dubbed as the "most sinful and wicked town" in all the wild west because of its "prostitution row." It's an interesting destination to learn about the copper mining industry of the state.
Phoenix Rental Cars Branches: Phoenix Sky Harbor Airport (PHX), Phoenix Mesa Airport (AZA), Downtown Phoenix, Maryvale, East Phoenix, Ahwatukee, North Phoenix
Tucson, AZ
The largest city in Arizona is located in the state's hot, dry desert near the border of Mexico. Tucson has a diverse cultural heritage rooted in Mexican, Spanish, and Western influences.
The best way to experience their culture is to try the Southwestern cuisine, explore its historic ruins, settlements, abandoned ghost towns, and its many museums like the Arizona-Sonora Desert Museum and the Arizona State Museum.
A drive around this vast sandy region will take you to beautiful National Parks and historical sites that feature canyons, mountain ranges, and a maze of underground caves.
Some of the best places to explore are the Saguaro West and East National Parks, Kartchner Caverns, Colossal Cave Mountain Park, Sabino Canyon, Chiricahua National Monument, and Tombstone town.
3 Must-Visit Destinations in Tucson: 
Tombstone:  Established in 1897 by silver miners, this ominously named town was where the infamous OK Corral gunfight happened. Tombstone can be reached by car rental in about 1.5 hours northeast of Tucson.
Tucson Mountain Park:  Just 20 minutes west of downtown Tucson, this 20,000-acre park is one of the largest government owned and managed natural resources in the US. Excellent for hiking, biking, and horse riding.
Kartchner Caverns State Park: About an hour from Tucson, this caverns park is an absolutely beautiful day trip destination. It is home to some of the longest stalactites in the world. Descend into the dark caverns to experience the best of this underground paradise.
Tucson Hire Car Offices: Tucson International Airport (TUS), East Tucson, North Tucson, Northwest Tucson, South Tucson
Mesa, AZ
Mesa is the third largest city in Arizona and is an important region for the Mormon religion. The town is a great alternative if you wish to be close to Phoenix but want to avoid the crowd. Its proximity to Phoenix also makes it a great base for a road trip in this region.
Some of the best day drives from the city are Scottsdale, the Grand Canyon, Sedona, Tempe, Apache, Mexicali, and the Organ Pipe Cactus National Monument.
3 Must-Visit Destinations in Mesa: 
Saguaro National Park:  Named after the majestic saguaro cactus, which is the largest in the US. Head out to the Gates Pass for stunning views of the park and the Desert Discover Trail at dusk for an unforgettable sunset view.
Scottsdale: This town is Arizona's premier shopping destination, with a selection of outlets, boutiques, and luxury shops.
Apache Trail: An interesting attraction that offers a great insight into the Wild West culture and the unique Native American heritage of the Southwest without the tourism and fanfare. Don't miss the Goldfield ghost town and the Superstition Mountain.
Mesa Rental Car Branches: Mesa Falcon Field Airport (MSC), Phoenix Mesa Airport (AZA), Downtown Mesa
Kayenta–Monument Valley Drive, Kayenta, AZ:
There are loads of things to do on the Kayenta–Monument Valley drive. The action takes place in the Navajo Tribal Park, 27 miles (42 km) gradually closing in on Monument Valley, so-called by the huge clusters of sandstone buttes that grow out of the desert, turning your world into a western movie.
3 MUST-DO Things to do on the Kayenta–Monument Valley Drive.
Hang out with the Navajos: The route is punctuated with museums and buildings that date back to pre-colonisation. Check out the Navajo Cultural Centre for more information.
Mystery Valley: Discover million-year-old formations lying against ancient Puebloan ruins; this is sacred land requiring accompaniment by an official Diné guide. You won't be disappointed.
Navajo Code Talkers Display: During WW2 the US Intelligence used the Navajo language as indecipherable code, this fascinating display (in a Burger King!) tells the whole story.
Nearest Rental Cars in USA to Monument Valley Drive: Albuquerque NM, Flagstaff AZ, Phoenix AZ, Tucson AZ, Las Vegas NV, Salt Lake City UT, Denver CO
Petrified Forest National Park, AZ:
There isn't much to do at the Petrified Forest National Park, a vast area of some of the most spectacular natural formations on the planet.
This is 230 square miles (600 square kilometres) of stunning eye-treats and all you have to do is show up in your rental car and look at it to your heart's content. Located right on Route 66 in Arizona, Petrified Forest National Park is not to be missed.
3 MUST-DO Things to see at the Petrified Forest:
Giant Logs Trail: Hundreds of fossilized plants from the Triassic period (251-199 million years ago) gathered in one place make for an unforgettable, formidable sight.
Blue Mesa: The bluish bentonite clay that lends its name to this fantastic trail features petrified wood that punctuates the eye-popping scenery. Not to be missed.
Route 66: The only national park Route 66 passes through is the Petrified Forest Park, so, if you're not planning to stay, find time to drive through it!
Nearest Rental Cars in USA to Petrified Forest National Park: Albuquerque NM, Flagstaff AZ, Phoenix AZ, Santa Fe NM, Tucson AZ, Las Vegas NV, El Paso TX
Other Arizona Rental Car Locations: Flagstaff Airport (FLG), Chandler, Gilbert, Glendale, Scottsdale, Tempe, Peoria AZ
New Mexico
Dubbed as the "Land of Enchantment," this southwestern mountain state is known for its Native American culture, alleged alien crash sites, and many, many secrets. Beyond the hype, New Mexico is a place of awe-inspiring landscapes and outdoor activities.
Some of the best road trip attractions the region include the Rio Grande, Blue Hole, Carlsbad Caverns, Bisti Badlands, Shiprock, Taos Pueblos, Chaco Culture National Historical Park, Mesa Prieta Petroglyphs, and Echo Amphitheater.
3 Must-Visit Destinations in New Mexico: 
Carlsbad Caverns National Park:  This is one of the largest cave systems in the world that feature a variety of formations and picturesque rooms.
White Sands National Monument:  Located in the Tularosa Basin, this very dynamic gypsum dune field is the largest in the world. Enjoy sledding, driving, or hiking on this seemingly endless waterless sea.
Gila Cliff Dwellings National Monument: This unique national monument lies deep within the Gila National forest, about 5-6 hours from Albuquerque. This unique area offers a glimpse into the lives of the Mogollon people who lived here some 700 years ago. Nearby area features other attractions like hot springs, national forest trails, and more ancient sites.
New Mexico Car Rental Companies: Alamo USA, Avis USA, Budget USA, Enterprise US, Hertz USA, National USA
Albuquerque, NM
This high-altitude city is New Mexico's art and culture hub with plenty of museums and cultural attractions. It sits in the heart of the state and provides easy access to many stunning destinations that are perfect for a day trip.
For history and culture, visit attractions like Acoma Pueblo, Madrid, Taos, and Santa Fe.
If you're looking for breathtaking natural wonders, head out to Jemez Springs, Valles Caldera National Preserve, Bandelier National Monument, Tent Rocks National Monument, and El Malpais National Conservation Area.
3 Must-Visit Destinations in Albuquerque: 
Petroglyph National Monument: Only about a 15-minute drive from downtown Albuquerque, is a monument that contains more than 20,000 images of animals, people, and other mysterious figures. It is an interesting insight into the lives of people who once inhabited and travelled through the valley of Rio Grande.
Montezuma Castle National Monument:  A 6-hour drive from Albuquerque will take you to the Montezuma Castle, which is one of North America's best-preserved cliff dwellings. Nearby is the Montezuma Well, a natural limestone sinkhole that is home to some unique flora and fauna.
Acoma Pueblo: Dubbed as the "Sky City," Acoma Pueblo is the oldest continually inhabited community in the country. It is believed to have been established around the 12th century. Today, there are about 50 tribal members who still call these earthen houses their homes. Don't forget to play at the Sky City Casino and enjoy the food at the Huwak'a Restaurant.
Albuquerque Rental Car Branches: Albuquerque Airport (ABQ), East Albuquerque, North Albuquerque, South Albuquerque
Santa Fe, NM
This city is a great place to explore the remnants of the Spanish colonial life in the US. It is also home to ancient buildings, museums, galleries, and open-air marketplaces.
Named by Conde Nast Traveler magazine as the "Best Small City," its temperate climate and breathtaking scenery have attracted hikers, writers, and artists from all over the world.
Drive around the city and stop by the Palace of the Governors and the Native American art market.
If you are looking for a nice day trip, visit the Bandelier National Monument or drive the High Road to Taos, which takes you through the Sangre de Cristo Mountains where you will find a few Spanish Colonial and Pueblo Indian Villages.
Santa Fe Rental Car Branches: Santa Fe Airport (SAF), Downtown Santa Fe, Buffalo Thunder
3 Must-Visit Destinations in Santa Fe: 
Bandelier National Monument: Imagine petroglyphs and pictographs, ancient dwellings, steep narrow canyons with amazing wildlife, majestic mountains, and a vast unspoilt backcountry. This national monument is located less than an hour by hire car from Santa Fe.
Taos Pueblo: This living Native American community is both a UNESCO World Heritage Site and a National Historic Landmark. It is the oldest inhabited community in the US. Catch the Annual San Geronimo Feast Day every September to experience a traditional feast.
High Road to Taos: This scenic byway is a 2.5-hour drive (longer with stops) from Santa Fe to Taos. Travel through awe-inspiring scenery and remote Old Spanish colonial mountain villages.
Lincoln, NM:
Aside from visiting the stamping ground of Billy the Kid, there's plenty of other things to see in Lincoln.
This unassuming, semi-inhabited town even features the courthouse where Billy was tried, in addition to a handful of contemporary buildings that haven't changed in over 200 years.
3 MUST-DO Things to do in Lincoln:
Tunstall Store Museum: This general store even contains unopened dry goods and hardware from the days of Billy the Kid, experience a proper peek into recent history.
Visitor's Center and Museum: Discover Lincoln's history, learn about Pueblo culture, the bloody Lincoln County War plus plenty more on Lincoln's favourite son, Billy the Kid.
The Torreon: Built in the 1850s to protect Spanish-Americans sharpshooters against the mighty Apache, this is one of Lincoln's oldest structures.
Nearest Rental Cars in USA to Lincoln: Roswell Airport (RAP) NM, Albuquerque NM, Santa Fe NM, El Paso TX
Carlsbad Caverns National Park, Chihuahuan Desert, New Mexico:
Most of the things to see at Carlsbad Caverns National Park are within and around the cave system itself.
This UNESCO world heritage site is renowned for a collection of over 100 or so spectacular caves, featuring Lechuguilla Cave that boasts more than 100 miles (160 km) of passages making it one of the longest in the world.
3 MUST-DO Things to do at Carlsbad Caverns:
Visitor Center: Get an in-depth overview of how the caves were formed and meet some of the plants and critters that live in and around the Cavern
Ranger Guided Tour: You're free to self-guide your way around the caverns but a Ranger Tour provides a more detailed insight into this unique environment.
Bats Flight Programme (May to October): The spectacle of hundreds of bats pouring out of Carlsbad cave is a truly profound experience, plan your trip according.
Nearest USA Rental Cars to Carlsbad Caverns: El Paso TX, Roswell Airport (RAP) NM, Albuquerque NM, Santa Fe NM
Other New Mexico Rental Car Locations: Roswell Airport (ROW), Farmington Airport (FMN), Las Cruces
Oklahoma USA Car Rental
Known as the "Land of the Red Man," Oklahoma is home to a fascinating mixture of Western and Native American history, and an abundance of stunning natural attractions, making it a worthy road trip destination.
About 39 Native American tribes call Oklahoma their home, which makes it largest Native American population in the country. Experience its rich heritage by going to a powwow or visiting its many museums like the Chickasaw Cultural Center and the Red Earth Art Center.
Oklahoma also covers the largest section of the historic Route 66, including the "ribbon road" which is a 9-feet wide pavement laid out in 1922.
3 Must-Visit Destinations in Oklahoma: 
Wichita Mountains National Wildlife Refuge: Get a chance to see buffalo's, bison, Texas longhorn cattle, elk, and deer in the wild. This 59,000-acre area is also great for hiking, rock climbing, and mountain biking. It is easily reachable by rental car, about 2 hours from Oklahoma City.
Chickasaw National Recreation Area: Awarded by Travel and Leisure Magazine as the best camping site in Oklahoma. It's a stunning oasis with beautiful plants and wildlife. Visit the Travertine Nature Center to see exhibits and learn more about the park.
Washita Battlefield National Historic Site: You can learn about the tragic clash of cultures in the 1800s during the Indian Wars era. There is also a self-guided trail around the park overlook that is open to visitors.
Oklahoma Car Rental Companies: Alamo USA, Avis USA, Budget USA, Enterprise US, Hertz USA, National USA
Oklahoma City, OK
Head out to OKC and live out the cowboy in you by exploring the city's Old West heritage through its cowboy-themed shops and restaurants.
Don't forget to visit Stockyards City auction house to witness a live cattle auction, Cattleman's Steakhouse for a hearty dinner, and Rodeo Opry. Oklahoma is also known as the "Horse Show Capital of the World" and you can catch competitions at the State Fair Park.
Drive around the city and drop by a few of its interesting museums like the unusual Museum of Osteology, which houses more than 300 human and animal skeletons.
3 Must-Visit Destinations in Oklahoma City: 
Museum of the Great Plains: Learn about the cultural and natural history of the Great Plains region in this family-friendly museum. Located in Lawton, this is an easy day drive from Oklahoma City.
Oklahoma City National Memorial Museum:  This memorial honours the people who died in the April 1995 bombing of the Alfred P. Murrah Federal Building. There is a self-guided interactive exhibit if you want to learn more about the events on that day.
Medicine Park: A great place for fishing, kayaking, or just pampering yourself. Don't forget to drop by Mrs. Chadwick's Bakery and try their ice cream or frozen coffee!
Oklahoma City Rental Car Depots: Oklahoma Will Rogers Airport (OKC), Oklahoma Wiley Post Airport (PWA), West Oklahoma City, North Oklahoma City, South Oklahoma City
Tulsa, OK
The second largest city in Oklahoma, Tulsa is a dynamic metropolitan with an unparalleled sense of Southern hospitality.
Drive around town to visit some of its best attractions including the Blue Dome district on Route 66 for stylish restaurants and food truck festivals, and the upscale Brookside District for fantastic farmer's markets.
You can also explore the city's landmarks like the Philbrook Museum of Art, Gilcrease Museum, Tulsa Zoo, the Cave House, and the Tulsa Air and Space Museum.
Tulsa Rental Car Depots: Tulsa International Airport (TUL), Downtown Tulsa, North Tulsa, East Tulsa, South Tulsa
3 Must-Visit Destinations in Tulsa: 
Philbrook Museum of Art: This museum is where you will find beautiful Italian gardens. It used to be the residence of Oklahoma oil pioneer Waite Phillips and his wife.
Red Rock Canyon State Park:  A 2-hour drive from Tulsa will take you to this unique state park. It is named after the canyon's bright red walls. If you're feeling adventurous, you can go on a guided or an independent rappel activity.
Turner Falls Park: Head out to Davis, about 3 hours from Tulsa, for an unforgettable nature-filled day trip at Turner Falls. The park features swimming holes, hidden caves, climbing spots, and plenty of hiking trails.
Other Oklahoma Rental Car Locations: Norman OK, Broken Arrow, Lawton Fort Sill Regional Airport (LAW)
Texas Hire Cars in the USA
The largest state in the southern region of the US, Texas definitely is an excellent choice for a road trip. Whether you are looking for a good time in the cities or an adventure out into its rugged and gorgeous terrain, the Lone Star State will not disappoint.
Due to its size, driving around the state needs some planning. We have listed some of the best cities and attractions for to help you prepare your ultimate Texas road trip.
3 Must-Visit Destinations in Texas: 
Big Bend National Park: A paradise for the adventure-seeker and nature lover, this national park features about 450 species of birds, fossils, cacti, and miles of hiking trails. This place is quite remote, but you can rent a car from either Midland/Odessa or El Paso airports. 
Guadalupe Mountains National Park:  This park is home to the world's most extensive Permian fossil reef, as well as four of the highest peaks in Texas. It's another excellent destination for hiking, backpacking, and camping. Visit during fall to enjoy the foliage.
Padre Island National Seashore: A 15-minute drive from Corpus Christi will take you to a stunning 113-kilometre white sand beach. The beach is ideal for swimming, windsurfing, camping, and bird-watching.
International Rental Car Companies: Alamo USA, Avis USA, Budget USA, Enterprise US, Europcar US, Hertz USA, National USA
Local USA Rental Cars Companies: Fox Rent a Car
Houston, TX
The 4th largest city in the US and the largest city in the state, Houston lives up to the saying that "Everything is bigger in Texas." The city attracts local and international visitors due to its inspiring mix of world-class arts, award-winning cuisine, and professional sports.
A visit to the 30-acre Menil Collection museum and the 180-seat restaurant, Underbelly, is a must.
There are also plenty of things to see and do outside the city that can be easily reached by a rental car in Houston.
3 Must-Visit Destinations in Houston: 
Space Centre Houston:  You can't leave Houston without going to the NASA Space Center. Head out to the Starship Gallery Artefact Museum where you can touch an actual moon rock!
Galveston:  The best coastal holiday in destination in Texas is only an hour's drive from Houston. From the island, you can hop on a boat to the Gulf of Mexico to see some dolphins.
USS Lexington: Learn about the US Navy by going on a tour inside this 11-decked ship. It is located closer to San Antonio but is also a good day trip destination, about 3-4 hours from Houston.
Houston Car Rental Locations: Houston George Bush Airport (IAH), Houston William P Hobby Airport (HOU), Houston David Wayne Hooks Airport (DWH), Ellington Airport (EFD), Downtown Houston TX, Astrodome, Houston Medical Centre, Galleria, Memorial City Mall
San Antonio, TX
This historic city was once a frontier settlement in the Wild West. Today, it is one of the best shopping destinations in the country with its high-end boutiques, shopping malls, and its Mexican market that is the largest in the US.
Some of the top attractions in the city are the San Antonio River Walk, Six Flags Fiesta, and the Natural Bridge Caverns.
If you have more time, take your rental car outside the city and visit nearby attractions like the Davy Crockett National Park, Port Arthur, Sabine National Forest, Canyon Lake; as well as the nearby cities of Houston and Dallas.
3 Must-Visit Destinations in San Antonio: 
San Antonio's River Walk:  This network of walkways along the San Antonio River is a great place to dine, shop, and relax. Hop on a riverboat to learn more about this area.
The Alamo:  This historic mission and fortress was the site of the "Battle of the Alamo," the Texan's fight for independence from Mexico that lasted 13 days.
San Antonio Missions Historic National Park: This National Historical Park and UNESCO World Heritage Site preserves four of the Spanish missions found in the city. These outposts were used by Catholic religious orders to spread Christianity amongst local natives.
San Antonio Car Rental Locations: San Antonio International Airport (SAT), Downtown San Antonio TX, Alamo Heights, Stone Oak, Northeast San Antonio, Northwest San Antonio, South San Antonio
Dallas, TX
Home to the world-famous Dallas Cowboys, this 3rd most populous city in Texas has a modern, metropolitan vibe and houses the biggest art district in North America. At night, the downtown area lights up like Las Vegas with its stylish bars, sophisticated nightclubs, and premium restaurants.
Whilst in the city, don't miss the Reunion Tower GeO Deck, 6th Floor Museum, Dallas Farmers Market, Dallas Arts District, and hop on an EFrog It to discover the best secrets around the downtown area.
Driving around the city may not be a great idea but there are plenty of day trip destinations waiting to be explored. For spectacular scenery, head out to Beavers Bend State Park, Lake Whitney State Park, or Lake Texoma.
3 Must-Visit Destinations in Dallas: 
Sixth Floor Museum:  Located at the Dealey Plaza, this museum chronicles the events around the assassination of the US President John F. Kennedy in 1963.
Jefferson: About a 3-hour drive east of Dallas, this historic town is filled with scenic streets, charming restaurants, and picturesque landscapes. Perfect for a relaxing day trip or two.
Athens TX: The birthplace of the great American burger! Try the Clocked diner's burger and malted milkshakes.
Dallas Car Rental Locations: Dallas Fort Worth Airport (DFW), Dallas Love Field Airport (DAL), Downtown Dallas TX, Northwest Dallas, Aviation Place, Dallas Far North
Fort Worth, TX
The place "Where the West Begins."
Fort Worth is another great destination for a road trip across the Texas State. Some notable attractions include the Fort Worth Cultural District, which features five world-famous museums set in a beautiful park-like environment.
For a true American West experience, head out to the Stockyards National Historic District.
Car Rental Locations: Dallas/Fort Worth International Airport (DFW), Downtown Fort Worth
3 Must-Visit Destinations in Fort Worth: 
Stockyards National Historic District: Experience the Texas cattle culture in this iconic district located north of downtown Fort Worth. Historic buildings and honky tonks await the eager visitor!
Fredericksburg: Travel back in time in this quaint German-influenced town famous for its wine cellars and breweries.
Wichita Falls: Visit the local boutiques where you can pick-up Texan-style clothing, furniture, and art. Don't forget to sample their Tex-Mex and barbecue!
Austin, TX
Everybody used to go to Austin for the music but now it is also becoming a bustling capital city with great festivals, glittering skyline, and world-class attractions.
Whether you want to spend your time museum-hopping, watching live music, or enjoying the city's outdoor spaces, Austin definitely has something for every type of traveller.
Austin is also strategically placed, making it a great road trip base.
3 Must-Visit Destinations in Austin: 
Texas State Capitol: This massive 3-storey granite structure is the largest capitol building the the US. Take a guided tour and drop by the basement cafeteria for some affordable treats.
Wimberley:  Tucked into the Texas Hill country, 60km southwest of Austin, this small town is famous for its two swimming holes – Jacob's Well and Blue Hole.
Natural Bridge Caverns: See massive, otherworldly formations inside this underground wonderland. If you're feeling adventurous, climb, crawl, and rappel your way in and around the caverns.
Austin Car Rental Locations: Austin Airport (AUS), Downtown Austin TX, Sunset Valley, Hornsby Bend, Oakhill, Austin North, Manchaca
Arlington, TX
Located just 20 minutes east of Fort Worth, Arlington is home to big theme parks and sports stadiums. For the sports enthusiasts, you can catch a Rangers Baseball Game at the Globe Life Park.
For arts and culture, stop by the Arlington Museum of Art and the Arlington Music Hall.
3 Must-Visit Destinations in Arlington: 
Dallas Cowboys at AT&T Stadium:  Catch a Cowboys football game or a once-in-a-lifetime experience. Did you know that this stadium is one of the most expensive sports venues ever built?
Six Flags over Texas:   A visit to Arlington is not complete without trying the rides at this world-famous theme park. Don't miss the Catwoman and the Titan!
Waco: Visit the Magnolia Market for your home décor fix and marvel at enormous mammoth sub-fossils at the Waco Mammoth National Monument. The town is about 2 hours south of Arlington.
Arlington Car Rental Locations: Downtown Arlington, North Arlington
El Paso, TX
With an average of 302 days of sunshine, the "Sun City" is a great road trip stop for some history and culture. It is located across the border from Chihuahua, Mexico so there are a lot of Mexican influences in the city.
It is also a great place to stay if you want to explore the amazing parks and natural attractions that surround the city. Some of the top day trip destinations are Franklin Mountains, Hueco Tanks State Park, Guadalupe Mountains National Park, and Ruidoso.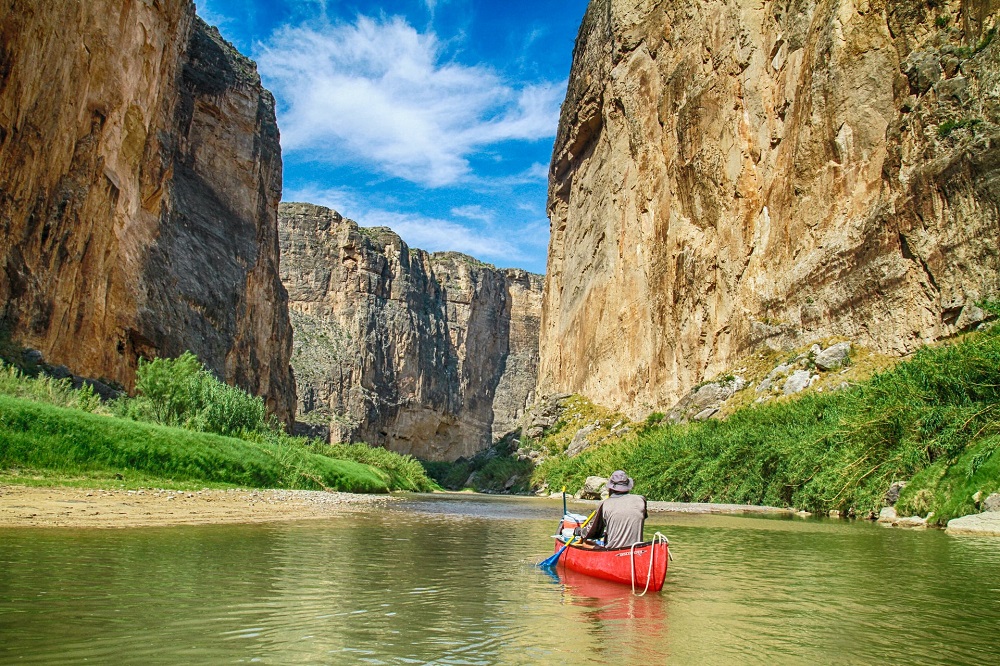 3 Must-Visit Destinations in El Paso: 
Mission Trail & Ysleta Mission:  Known as the oldest continuously operated parish in Texas, this mission has existed for over 300 years.
Aguirre Springs:  If you're looking for a place to hike and camp without driving too far, this recreation area is only 35 minutes from El Paso.
Big Bend National Park: If you have more time, explore this breath-taking park located about 6 hours from the city. This national park is home to over 1,000 plant species, over 400 bird species, and many other animals.
El Paso Car Rental Locations: El Paso Airport (ELP), West El Paso, North El Paso, East El Paso, Fort Bliss
Other Texas Rental Car Locations: Midland International Air & Space Port (MAF), Lubock Airport, (LBB), Amarillo Airport (AMA), Amarillo Tradewind Airport (TDW), McAllen Airport (MFE), Corpus Christi Airport (CRP), Harlingen Valley International Airport (HRL)
Midwest USA
States: Illinois, Indiana, Iowa, Kansas, Michigan, Minnesota, Nebraska, Ohio and Wisconsin.
The Midwest USA is sufficiently large enough to be divided into two: The East North and West Central Regions or The Great Lakes Region and Great Plains Region respectively.
Unsurprisingly this creates an enormous variation in the weather across the states and seasons, from scorching hot summers to bitterly cold winters; there is no such thing as a casual visitor to these parts of the USA.
However, those that are prepared to venture into the Midwest will be richly rewarded with some of the best things to see and do the USA, particularly if you're up for an epic road trip adventure.
Illinois
Best known for the big city Chicago, Illinois is a diverse state with plenty of quaint small towns, vineyards, and scenic highways.
The historic "Mother Road," Route 66, also cuts across Illinois. If you're planning to drive this route, you will discover plenty of nostalgic roadside attractions, drive-in theatres, museums, and old-school diners.
Some of the other highlights of your Illinois road trip include the Great River Road along the Mississippi, the national scenic byways from the Lincoln Highway to Illinois River Road, and eccentric attractions like the Superman Square and the Gemini Giant.
3 Must-Visit Destinations in Illinois: 
Springfield:  Visit Abraham Lincoln's presidential home and tomb and drop by the famous Hoogland Center for the Arts and Springfield Theatre Center.
Starved Rock State Park:  Locate on the Illinois River, this wilderness area is well-known for its steep sandstone canyons. It is an easy 1.5-hour drive by rental car from Chicago.
Garden of the Gods, Shawnee National Forest: A must-visit for nature lovers with plenty of backpacking trails and a great camping area. Try a fresh catfish at the nearby floating E-Town River Restaurant.
International Hire Car Companies: Alamo USA, Avis USA, Budget USA, Enterprise US, Europcar US, Hertz USA, National USA
Local USA Car Rental Companies: Dollar Rent a Car US
Other Illinois Rental Car Locations: Bloomington Airport (BMI), Decatur Airport (DEC), Williamson Marion Airport (MWA), Peoria Airport (PIA), Quincy Airport (UIN), Rockford Airport (RFD), Springfield Abraham Airport (SPI)
Chicago IL
On the shores of Lake Michigan is Illinois most populated city, and with so many great things to see and do in Chicago in the so-called Windy City, whittling them down to just three is no mean feat.
For a start Chicago is old; its first recorded name dates back to 1688 when it was known as Chigagou (an Algonquian word meaning 'onion field') and it pretty much founded by a French-Haitian trapper called Jean Baptiste Point du Sable who established the first trading post in the region.
These days Chicago is home to 26 miles of lakefront with 25 beaches, 8,800 acres of green space, over 200 miles of bike lanes and has the largest rail hub in the USA, but it's still a great city to drive through, just avoid rush hour.
Three MUST-DO things in Chicago
Art Institute of Chicago: Packed full of classics, notably George Seurat's A Sunday on La Grande Jatte which featured in that memorable art gallery scene in Ferris Bueller's Day Off. One of the best galleries in the world among the many greats in Chicago.
Wrigley Field: Probably the most famous, if not the oldest, baseball ballpark in the USA. Home to the Chicago Cubs and maybe the last manually operated scoreboard in the world. You don't need to be a fan of the sport to relish the unique atmosphere.
Take a Chicago Pizza Tour: The Chicago deep-dish pizza is a gastronomic icon, take a bus tour of the city and learn about the origins of this classic take on an Italian favourite and get a chance to sample to your heart's content.
Chicago Car Rental Locations: Chicago O'Hare Airport (ORD), Chicago Midway Airport (MDW), West Chicago DuPage Airport (DPA), Downtown Chicago, South Chicago, North Chicago
Other Illinois Rental Car Locations: Bloomington Airport (BMI), Decatur Airport (DEC), Williamson Marion Airport (MWA), Peoria Airport (PIA), Quincy Airport (UIN), Rockford Airport (RFD), Springfield Abraham Airport (SPI)
The Great River Road
With so many great things to see and do on the Great River Road, it's no surprise that this scenic drive from Minneapolis to New Orleans is considered to be one of the best in the USA.
The road itself is more of a collection of highways that follow the Mississippi, but if you follow the National Scenic Byway incarnation of the trip, we're talking a mere 2070 miles (3330 km) that take us through all but ten of the twelve states that make-up the Midwest region.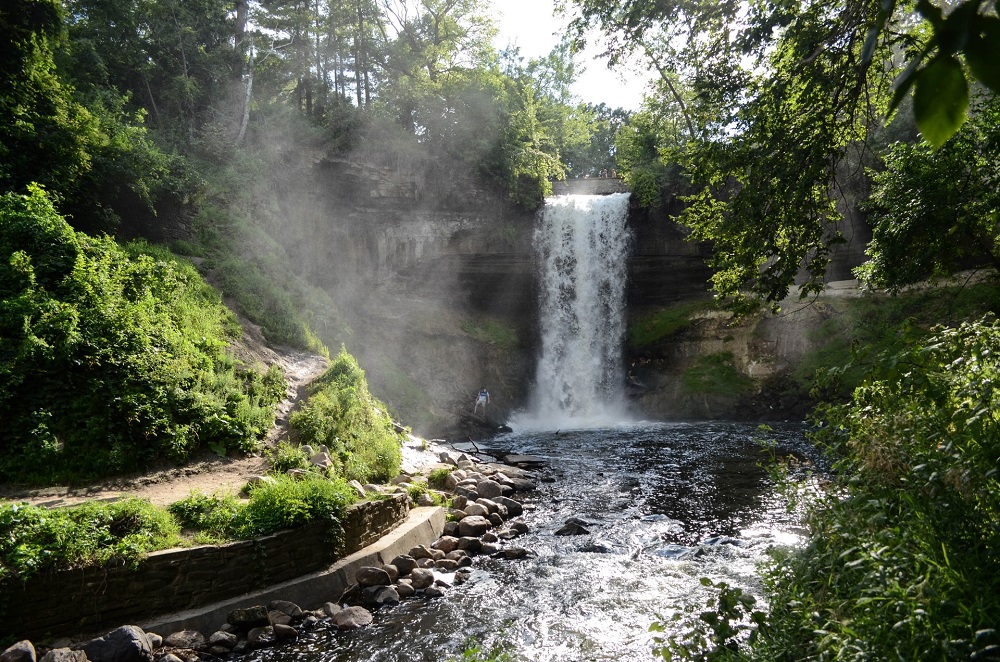 You don't want to rush this one, plan meticulously and you'll bag yourself an unforgettable experience.
Three MUST-DO Things on the Great River Road:
Mark Twain's Home and Museum, Hannibal, Missouri: This exhibit-packed destination features Twain's actual typewriter and desk from where he breathed life into the legends that are Tom Sawyer and Huckleberry Finn.
Minnehaha Park, Minnesota: Featuring a waterfall that appears in Longfellow's epic Song of Hiawatha, this is 150 sq. miles of beautiful country to relax, unwind and let off steam, especially if you're travelling with kids.
Historic Downtown Cairo, Illinois: Cairo was once a bustling town, but now lies eerily abandoned following years of economic depression and racial tension. A profound testament to the dark side of the American Dream and definitely worth your time.
Indiana
Located in the heart of the Midwest, Indiana is home to vibrant cities and lovely small towns. It features a mix of natural attractions, significant landmarks, and historical towns.
A few of its must visit attractions include the Brown County State Park, Antique Alley, The Children's Museum of Indianapolis, Parke County's Covered Bridges, Elkhart Quilt Gardens, Parkview Field, and the Indiana Caverns.
3 Must-Visit Destinations in Indiana: 
Marengo Cave: An underground hideout that is great for families looking for an adventurous day out. Great for walking, hiking, camping, and picnics.
Brown County State Park:  Indiania's Playground is a great place to reconnect with nature. Stay at romantic cabins or go camping and enjoy its many hiking and biking trails.
Conner Prairie Interactive History Park: Experience what Indiana life was like in the 19th century. Plan your day trip around its candlelight tours, country fairs, and Civil war re-enactments.
International Hire Car Companies: Alamo USA, Avis USA, Budget USA, Enterprise US, Hertz USA, National USA, Thrifty US
Local USA Car Rental Companies: Dollar Rent a Car US
Indianapolis, Indiana
Until a decade ago most of the things to see and do in Indianapolis revolved around motor racing and, aside from its celebrated Native American history that pre-dates its 1816 founding, there wasn't much else to say about Indiana's state capital.
Cut to the present and it's one of the hippest towns in the region, local beer, great food crossed with a thriving music scene have transformed Indianapolis into a genuine must-stop destination for those who want their downtime to pop. And it's still got the most iconic, oldest (1909) motor race circuit in the USA.
Indianapolis Car Rental Locations: Indianapolis Airport (IND), Downtown Indianapolis, Castleton
Three MUST-DO Things to do in Indianapolis:
Indianapolis Motor Speedway: Aka 'The Brickyard', so-called, because the track once comprised of over 3.2 million bricks, today only a three-foot strip remains, marking the start and finish.
The Children's Museum of Indianapolis: The largest children's museum in the world isn't just for children! With five floors of (largely) interactive exhibits, you're going to need at least a day to see it all. Terrific fun, with or without the kids.
Fountain Square: If you're looking for some night-time action, a few drinks, great places to eat, then this is the best place to start. Sure, it's a bit on the trendy side but there is plenty of space for all tastes here.
Fort Wayne, IN
The hub of Northeast Indiana, Fort Wayne is the second largest city in the state. The city is a great road trip stop for families and visitors who are interested in agritourism experiences.
Some of the city's top attractions for families include the Children's Zoo, Science Central, and the Vortex Indoor Karting & Games. For the arts and culture lovers, there is the Museum of Art, Fort Wayne Philharmonic or Ballet, Coney Island, and Embassy Theatre.
Don't forget to enjoy a local brew on the city's Brewery Trail and explore its many wineries.
3 Must-Visit Destinations in Fort Wayne: 
DeBrand Fine Chocolates Tour:  Join a tour to see chocolatiers in action and finish off with a hot chocolate or an espresso!
Historic Fort Wayne: About 2.5 hours by car from downtown Fort Wayne, is this historical site now hosts Civil war re-enactments, flea markets, concerts, and civic events.
Parke County Covered Bridges: An interesting driving route that tracks the colourful covered bridges around Indiana. Jackson Covered Bridge is the longest and Portland Mills is the oldest amongst the covered bridges.
Fort Wayne Car Rental Locations: Fort Wayne Airport (FWA), North Fort Wayne, West Fort Wayne, East Fort Wayne
Other Indiana Rental Car Locations: Bloomington IN, Evansville Airport (EVV), Lafayette IN, South Bend Airport (SBN)
Iowa
Bordered by the Mississippi and Missouri rivers, the state of Iowa is best known for its breathtaking rolling plains and cornfields. It's a less popular road trip destination but it's an off-the-beaten-path gem waiting to be explored.
Some of the most popular attractions in the state are the covered Bridges of Madison Country, Field of Dreams, and the American Gothic set.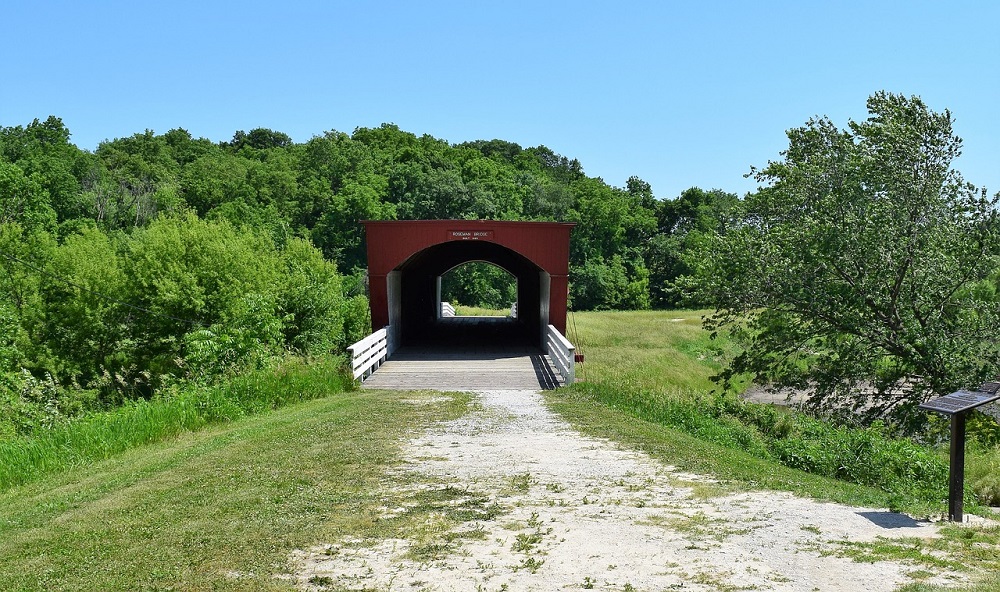 Driving around the state, you will encounter some interesting roadside attractions like the tallest corn stalk, largest concrete bull, biggest Swedish coffee pot, a gigantic popcorn ball, and many others.
Because of its fertile farmlands, it is also a great idea to visit farmers markets, distillery, and restaurants. A few places worth visiting are the Des Moines Downtown Farmers' Market, the Gathering Table at Wallace House, the Goliath Brewery, and the Prohibition-era Templeton Rye Whiskey distillery.
3 Must-Visit Destinations in Iowa:
Maquoketa Caves State Park: About a 3-hour drive east of Des Moines, this unique natural attraction has great "otherworldly" tails that can explore on foot. Don't forget to walk under the park's natural bridge that towers 50 feet above the Raccoon Creek.
Davenport: This city is popular for its arts, entertainment, and river music. Visit the River Music Experience, Freight House Farmer's Market, and the world-famous Figge Art Museum.
Pikes Peak State Park: This park offers some of the best views of the Mississippi River. Visitors can also spend their day hiking, fishing, and fossil hunting. The park is about a 3-hour drive from Des Moines.
International Hire Car Companies: Alamo USA, Avis USA, Budget USA, Enterprise US, Hertz USA, National USA, Thrifty US
Local USA Car Rental Companies: Dollar Rent a Car US
Des Moines, IA
The capital city of Iowa is a place of old and new. The city is home to historic museums and mansions, great live entertainment, visual arts.
Enjoy the city's artsy vibe by visiting the Historic East Village, which is home to diverse shops and restaurants. If you're looking for antique shops, the Valley Junction and the Brass Armadillo Antique Mall are great stops. If you like festivals, catch the Iowa State Fair in August.
The city also hosts plenty of attractions and activities for families, like the Pappajohn Sculpture Park, Blank Park Zoo, Gray's Lake Park, and the Greater Des Moines Botanical Garden.
3 Must-Visit Destinations in Des Moines:
Amana Colonies: Founded by German immigrants in 1855, the Amana Colonies offer visitors a unique experience and an insight into the lives of seven villages that make up this community. You can indulge in hearty home-cooked meals, and purchase antiques, locally made beer and wine, and handwoven wares. The community is about a 2-hour drive east of Des Moines.
Pella: About an hour's drive from Des Moines, this city is reminiscent of Holland, with its wooden shoes, tulips, delicate Dutch pastries, an authentic canal, and a working drawbridge. Plan your visit in May, when the tulips are in bloom.
Shrine of the Grotto of Redemption: This man-made grotto, that depicts the life of Christ, is the largest in the world. It is made out of gems and stones from around the world.
Des Moines Car Rental Locations: Des Moines Airport (DSM)
Iowa State Fair, Des Moines, Iowa
If you want to experience the huge variety of things to see and do at the Iowa State Fair, you'll need to plan your trip around the event, which usually takes place over eleven days in the mid to latter part of August.
Since 1886 the fair has played out in the same grounds in 445 acres of wooded campground, and with over a million international visitors every year, the State Fair is one of the biggest draws on the state.
Be prepared for long, hot afternoons and evenings, just remember to stop once in a while to people-watch.
Three MUST-DO Things to do at the Iowa State Fair:
State Fair Museum: It's worth tracking down the museum in the early part of your visit, just to give the event some historical context. It also acts as a crash course of some of the more unusual highlights. Hint: there are plenty.
Food and drink: Apart from the people, the food and drink are the only excuses you need to be here. From proper pig-out spots to gourmet delicacies with local beer and wine to wash it all down. Happy days indeed.
Ride the Skyglider: If you only have to do one ride out of the many on offer, take the Skyglider, a cable car ride that gives a bird's eye of the fair, and the perfect spot to work out where you're headed next when you land.
Other Iowa Rental Car Locations: Cedar Rapids Airport (CID), Dubuque Airport (DBQ) , Iowa City, Sioux City Airport (SUX), Waterloo Airport (ALO)
Kansas
Take a bite of classic America and explore the state's rugged cowboy culture, sweeping prairies, and homemade pies. In Kansas, visitors can stay on farms and cattle ranches and discover the rich American Indian history that dominated the state's past.
Wichita is in the heart of the state, making it a great place to start your road trip.
Top destinations and attractions to include in your big Kansas road trip are Kansas City on the Missouri border, Kansas Cosmosphere and Space Center in Hutchinson, Sedgwick County Zoo in Wichita, Monument Rocks the Chalk Pyramids in Oakley, and the Tallgrass Prairie National Preserve in Strong City.
Other cities are also within driving distance from Kansas like Oklahoma City, Denver and Colorado Springs, Dallas, and Beaver Lake in Arkansas.
3 Must-Visit Destinations in Kansas:
Monument Rocks National Natural Landmark: These large chalk formations stand up to 70 feet high, resembling the Stonehenge in England. Known as the "Chalk Pyramids," these formations are some of the most fascinating attractions in the state. It is located about 4 hours south of Nebraska or about 4.5 hours northeast of Wichita.
Mushroom Rock State Park: This is the smallest but one of the most unique parks in Kansas. The mushroom-shaped rock formation was once a meeting place for Native Americans and early pioneers.
Cheyenne Bottoms Wildlife Area: Up to a quarter million migrating birds stop at this marsh to rest. It is a great place to relax and learn about the wildlife in the area. From Wichita, it is an easy 2-hour drive.
International Hire Car Companies: Alamo USA, Avis USA, Budget USA, Enterprise US, Hertz USA, National USA, Thrifty US
Local USA Car Rental Companies: Dollar Rent a Car US
Wichita, KS
The largest city in the state of Kansas features an impressive mix of history, culture, and nature. There are plenty of landmarks, national parks, and museums in this vibrant city but is also serves as a great starting point for a road trip across the state.
From Wichita, there are a lot of great destinations for a day trip including the "Peach Capital" of Haysville, Junction City, Cedar Point Mill, Winfield, El Dorado, and Hutchinson.
3 Must-Visit Destinations in Wichita:
Drinkwater and Schriver Flour Mill, Cedar Point: Featuring a beautiful old stonework, this structure was built in 1875. The mill can only be viewed outside due its poor condition. Best time to visit is during fall when the leaves change colour. This attraction is easily accessible by rental car from, about an hour's drive from Wichita.
Wichita Sedgwick County Historical Museum: Learn about the local history of Wichita and the Sedgwick County. The building itself is an artefact and has a lovely courtyard.
Great Plains Transportation Museum: This museum has a wide range of railroad equipment. You can even climb up on the trains!
Wichita Car Rental Locations: Wichita Dwight D Eisenhower National Airport (ICT), Downtown Wichita, West Wichita, Northwest Wichita, Northeast Wichita, East Wichita
Other Kansas Rental Car Locations: Hayes Airport (HYS), Kansas City, Manhattan Airport (MHK), Salina Airport (SLN), Topeka
Michigan Car Rentals in the United States
Stunning lakeshores, dramatic cliffs, deep forests, and majestic waterfalls await you at every turn. Michigan is made up of two peninsulas that offer a great combination of nature, history, art, and culture.
Drive around its eclectic small towns and Dutch-style villages, visit its idyllic islands and romantic lighthouses like the state's most-photographed Big Red.
Some top road trip destinations in Michigan include Grand Rapids, Lansing, Ann Arbor, Dearborn, Mackinaw City, Mackinac Island, Traverse City, and the Sleeping Bear Sand Dunes.
3 Must-Visit Destinations in Michigan:
Marquette: A major port on Lake Superior, this beautiful city is home to plenty of natural attractions and rich history. Visit its many beautiful sandy beaches. Drive to the Big Bay Road, north of Marquette, if you want to avoid the crowd. The Annual Blueberry Festival is an interesting event that happens every July. Watch out for the blueberry beer and pizza!
Charlevoix: A favourite destination in North Michigan, this laid-back city is home to unspoilt beaches and crystal clear fresh waters. It's a great place for nature lovers with its relaxing water activities and natural trails. For history and architecture lovers, the Earl Young Mushroom Houses and the majesty of Castle Farms are a must-visit. The downtown area is also known for its boutique shops, restaurants, and world-famous events.
Frankenmuth: Known as Michigan's Little Bavaria, this small town is has year-round festivities. It is home to indoor waterparks, festivals, unique shopping experiences, and rich culture. Catch the Bavarian Festival every June. Before visiting, check out this page for other events.
International Hire Car Companies: Alamo USA, Avis USA, Budget USA, Enterprise US, Hertz USA, National USA, Thrifty US
Local USA Car Rental Companies: Dollar Rent a Car US
Detroit, MI
One of the country's most historically significant locations, Detroit is home to authentic neighbourhoods with diverse cuisines, world-class museums, and great shopping.
Some of the must see attractions in the city are the Diego Rivera frescoes and the museum at the Detroit Institute of Arts, the Motown Museum, The Henry Ford, and the Michigan Science Center. The Main Street at Greenfield Village is a great scenic stop.
There are also great day trip destinations just outside the city. If you're a foodie a beer enthusiast, drive 2 hours west of Detroit to Kalamazoo. A little further away will take you to Grand Rapids for more drinking and eating!
Other top road trip destinations are Cuyahoga Valley National Park, Silver Lake State Park, and Tahquamenon Falls.
3 Must-Visit Destinations in Detroit:
Ann Arbor: Join the Fairy Door hunt and search the town for tiny doors that. Some doors open to miniature railings leading more tiny doors and windows. Ann Arbor is less than an hour's drive from Detroit.
Bay City: About 2 hours north of Detroit is the freshwater playground of Bay City. There are plenty of water activities in the area to fill your day. If you're staying the night, don't forget to go on a dinner or stargazer cruise.
Belle Isle State Park: If you're looking for something fun to do without leaving the city, this iconic park is a great stop. Make sure you visit the Aquarium and bring out your inner kid by riding down the Giant Slide.
Detroit Car Rental Locations: Detroit Metro Airport (DTW), Downtown Detroit, Greater Novi, Oakland, Wayne, Macomb, Sterling Heights, Warren
Grand Rapids, MI
The second largest city in Michigan sits next to the beautiful Grand River. There are plenty of things to do in the city however it is best known for its art galleries, museums, and annual art competitions.
The most notable attraction is the museum dedicated to Gerald R. Ford, the 38th President of the US. The best time to go on a road trip to Grand Rapids is during summer, when the city is jam packed with festivals, parties, and concerts.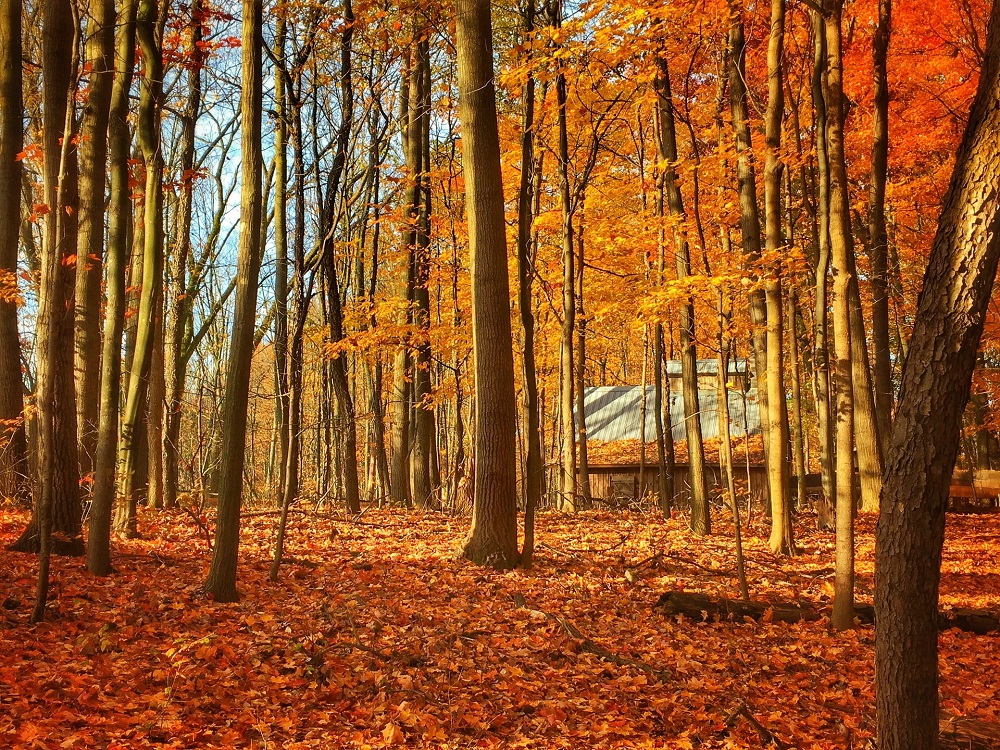 There are also a lot of great road trip destinations nearby like Traverse City, Three Oaks or New Buffalo, Indiana Dunes State Park, Pictured Rocks National Lakeshore, South Haven, and Nordhouse Dunes.
3 Must-Visit Destinations in Grand Rapids:
East Lansing: An hour's drive from Grand Rapids, the city is home to the Michigan State University. Spend your time relaxing around the Grand River Avenue, famous for its tree-lined boulevard. Visit the Impression 5 Science Center for the most amazing exhibits, like the giant Light Mosaic.
Holland: The city is famous for its magnificent beaches at Lake Michigan. Plan your trip around some of its biggest annual events like the Tulip Time Festival in May and the Winter Market that happens every 1st and 3rd Saturdays of January to April.
Gerald R Ford Presidential Museum: This museum documents the life, career, and presidency of Gerald Ford, who was the 38th president of the US. Don't miss the full-scale replica of the Oval Office.
Grand Rapids Car Rental Locations: Grand Rapids Airport (GRR), Grand Rapids Itasca County Airport (GPZ), Downtown Grand Rapids, North Grand Rapids, South Grand Rapids, Grandville, Plainfield
Other Michigan Rental Car Locations: Flint Airport (FNT), Freeland Airport (MBS), Kalamazoo Airport (AZO), Lansing Airport (LAN), Traverse Airport (TVC)
Lake Michigan
Strictly speaking, if you're looking for things to see and do by Lake Michigan, you should also include Lake Huron, as both are connected by the 3.5 miles (5.6 km) wide Straits of Mackinac making it/them by far the largest of the so-called Great Lakes.
As it stands, Lake Michigan is the only freshwater lake out of the five great lakes that owns the entire Midwest region and is 100% in the USA, it's the second-largest lake by volume and third-largest by surface area at 22,404 sq mi (58,030 km2).
Over many years several ports have sprung up around the lake, Green Bay, Wisconsin, Gary, Muskegon, Michigan and Chicago, each with their own identities deriving from this enormous body of water.
Three MUST-DO things by Lake Michigan:
Manistique to St Ignace: Forming a small portion of the famous US-2 scenic drive, this 85 miles (137 km) stretch of the lakeside drive is arguably the highlight of the whole road, especially when undertaken in the glorious colours of Autumn.
Mackinac Bridge: This 4.995 miles (8.038 km) long suspension bridge connects the upper and lower peninsulas of the USA making it the world's longest between anchorages and provides a stunning view of both Lake Michigan and Lake Huron.
Sleeping Bear Sand Dunes: Climb up on 450-foot-tall dunes for spectacular views over Michigan's Lower Peninsula, head over to Platte River Point where the river joins the lake or take a dip the pier at Glen Haven.
Minnesota Hire Cars
Bordering Canada and Lake Superior, Minnesota the "True North," is known for its breathtaking scenery, magnificent forests, and sparkling blue lakes that are found all over the region.
The Mississippi River that runs through the state is a great place for adventure activities like hiking and biking. Highway 61, an All-American Road along Lake Superior's coast, features state parks, waterfalls, scenic overlooks, and the iconic Split Rock Lighthouse. If you're looking for a vibrant harbour town, visit Duluth.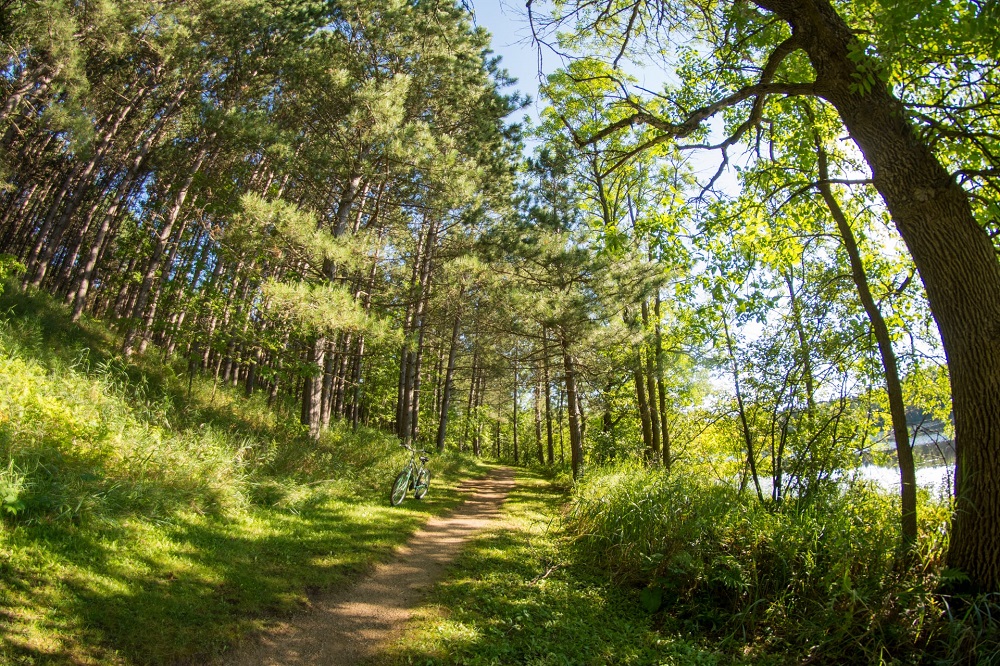 Other famous road trip attractions in the state includes the city of Minneapolis, the Voyageurs National Park, Mississippi National River and Recreation Area, Boundary Waters Canoe Area, Lake Vermilion-Soudan Underground Mine State Park, Jeffers Petroglyphs, and Grand Marais.
3 Must-Visit Destinations in Minnesota:
Heritage Hjemkomst Interpretive Center: This Scandinavian culture and heritage center in Moorhead is a definite must-see while in Minnesota. It houses a full-scale burial ship modelled after the Gokstad. There are also festivals and cultural events through the year, including the annual Midwest Viking Festival in June.
Itasca State Park: This Mighty Mississippi begins in a small-fed lake in this park. According to legend, walking the famous stone path across the source of Mississippi will ensure a long and happy life.
Jeffers Petroglyphs, Comfrey: Explore 7,000 year old Native American carvings that tell stories of ancient humans and wildlife. You can also learn Native American skills like using an atlatl, which is a traditional spear.
International Hire Car Companies: Alamo USA, Avis USA, Budget USA, Enterprise US, Hertz USA, National USA, Thrifty US
Local USA Car Rental Companies: Dollar Rent a Car US
Minneapolis, MN
A beautiful modern metropolis, Minneapolis features plenty of beautiful parks and top attractions like the American Swedish Institute and the Minneapolis Institute of Art.
There are also great day road trip destinations from the city like the Taylor Falls, which is only less than an hour's drive from Minneapolis.
Red Wing is another charming city home to the most iconic shoe companies in the US. The Owatonna settlement provides a great insight into the past and is only about an hour away from Minneapolis.
3 Must-Visit Destinations in Minneapolis:
Hopkins: Famous for its Raspberry Festival, the city is a great place to shop for antique and paintings made by local artists. Don't forget to enjoy a meal at the longstanding Hoagies Family Restaurant.
Mankato: About 1.5 hours from Minneapolis, this city is a famous day trip destination due to its abundance of natural attractions and a wide range of adventure activities. In winter, it becomes a favourite ski and snow destination.
Buffalo: A short drive from Minneapolis is this charming downtown lakeside beauty. There are plenty of things to do for all ages. The Sturgess Park on Buffalo Lake is a great place to rent equipment for water activities. If you like food and wine, check out the Buffalo Rock Winery.
Minneapolis Car Rental Locations: Minneapolis Saint Paul Airport (MSP)
Other Minnesota Rental Car Locations: Bemidji Airport (BJI), Duluth Airport (DLH), Rochester Airport (RST)
Nebraska Hire Cars in USA
With vast prairies and sand dunes, and majestic cliffs dominating the state's landscape, Nebraska is another great destination for a scenic road trip. There is also a wealth of history to be learned and culture to be explored in the state to make your journey more meaningful.
Nebraska is the place where rodeo was born, and it is also home to pioneer-era attractions and historic byways that led to the Old West. There is plenty of ranches owned by warm, friendly locals that offer farm-to-table dining options – don't turn it down when they offer you steak!
Some interesting road trip attractions in the state are the Carhenge in Alliance, the The Villagers in Taylor, "America's Smalles Town" Monowi, and the Chimney Rock in Bayard.
3 Must-Visit Destinations in Nebraska:
Agate Fossil Beds National Monument: This park is home to the most well-preserved Miocene fossils in the world. There is about 20 million years of natural history in this place. Visit the James H Cook gallery to learn about Native American objects like tools, clothing, and utensils.
Nebraska Pioneer Trail: Follow a trail of historical villages and preserved log cabins. If you visit during spring, you can catch half a million of blue-grey sandhill cranes along the Platte River.
Carhenge, Alliance: This cool replica of England's Stonehenge is made of painted vintage American automobiles. It is less than 10 minutes by car from downtown Alliance.
International Hire Car Companies: Alamo USA, Avis USA, Budget USA, Enterprise US, Hertz USA, National USA
Omaha, NE
This city is the largest in Nebraska is located on the Missouri River which makes it a great stop for enjoying natural attractions. Omaha is close to plenty of delightful attractions, so you don't have to drive too far to enjoy your holiday.
Some of the best places for a day road trip are Lincoln, Lauritzen Gardens, Des Moines, Bob Kerrey Pedestrian Bridge, Old Lincoln Highway, the World's Largest Indoor Desert, Eugene T. Mahoney State Park in Ashland, Brownville and the Indian Cave State Park in Shubert.
3 Must-Visit Destinations in Omaha:
Old Lincoln Highway: You can drive the Old Lincoln Highway, one of the first transcontinental highway routes for automobiles across the country, from Omaha which starts in Douglas St. by the Missouri River. The 3-mile section between Omaha and Elkhorn in Nebraska still have the same the brick-paved road from a century ago.
Brownville: This charming historical town, located about an hour south of Omaha, is another worthy day road trip destination. Between Mid-May to Mid-October, the city hosts plenty of special events. Don't miss its museums and the Whiskey Run Creek Vineyard and Winery where you can sample wines inside its century-old barn.
World's Largest Indoor Desert: The Desert Dome located inside the Omaha Henry Doorly Zoo and Aquarium is the largest indoor desert in the world. It features some plants from the deserts of Namib in southern Africa, Sonora in Mexico, and Red Centre in Australia.
Omaha Car Rental Locations: Omaha Airport (OMA), Central Omaha, Midtown Omaha, North Omaha, West Omaha, East Omaha, Ralston, South Omaha
Other Nebraska Rental Car Locations: Lincoln Airport (LNK), Bellevue NE
Ohio Rental Cars in the United States
This Midwestern state is home to diverse people, cultures, and experiences. The major urban centres of Cleveland, Columbus, and Cincinnati have excellent music, arts, cuisine, and world class attractions.
The Buckeye State has over 300 wineries and plenty of dining options, making it a great road trip stop for foodies. The Iron Chef star Michael Symon runs a restaurant in Cleveland called Mabel's BBQ.
Some of the most beautiful attractions we can recommend in Ohio are the Corkscrew Falls, Lighthouse in Marblehead State Park, The Dexter Mausoleum, and Mentor Headlands Beach.
Another must-visit event is the annual Ohio River Paddlefest in Cincinnati that happens at the end of July or the beginning of August.
3 Must-Visit Destinations in Ohio:
Cuyahoga Valley National Park: This beautiful valley features deep forests, open farmlands, and rolling hills. Get a glimpse into the past by exploring the remains of the Ohio & Erie Canal, which used to travel across the valley in the 19th and early 20th centuries.
Hocking Hills State Park: This park is stunning in every season. Discover its many scenic attractions and spend your time hiking, fishing, and swimming. Don't skip the Ash Cave, which is a massive natural cavern that features a beautiful waterfall.
Ohio Caverns: One of Ohio's most popular attractions, this 35-acre park features stunning limestone caverns. Join a guided Historic or Natural Wonder tour and explore its many passageways.
International United States Car Hire Companies: Alamo USA, Avis USA, Budget USA, Enterprise US, Hertz USA, National USA, Thrifty US
Local Car Rentals Companies in Ohio, USA: Dollar Rent a Car US
Columbus, OH
"The biggest small town in America" is the largest town in Ohio. It is known for its Midwestern friendliness, relaxed pace, and reasonable prices. The city itself is a great destination for all occasions and a visit to its top attractions is a must.
The top 5 Ohio attractions include the Franklin Park Conservatory and Botanical Gardens, North Market Farmer's Market, Ohio Theatre, Ohio Stadium, and the Short North Arts District.
If you are looking for other fun posts and other historic attractions worthy of a day trip, Columbus is also a great place to start and you don't have to drive too far from the city.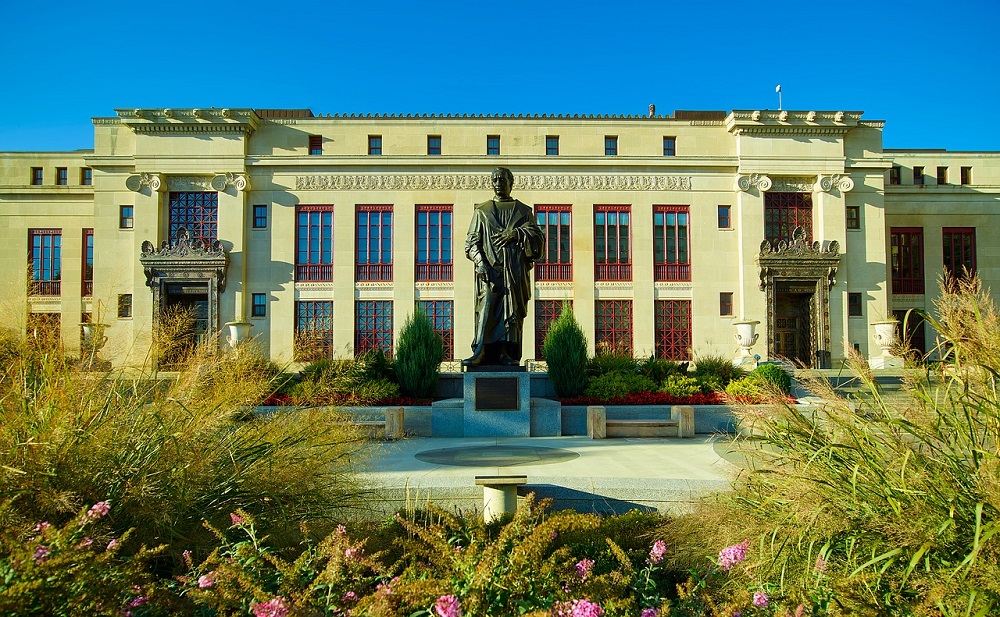 3 Must-Visit Destinations from Columbus:
Marietta: This town about 2 hours southwest of Columbus, is located along the Ohio River which offers magical sunset views. Jump aboard a historic stern-wheeler, explore the town's brick streets, art galleries, and cool shops.
The Wilds, Cumberland: Get closer to nature on your visit to this safari park. See your favourite animals up close and for the best experience, stay overnight at a luxury yurt while immersing in the sights and sounds of the outdoors.
German Village, Columbus: Another historic attraction wort visiting in Ohio is located just south of downtown area. This beautiful atmospheric village was built by German settlers in the mid-1800s. Today the restored brick houses, shops, and sidewalks create a charming atmosphere that will surely delight any visitor.
Columbus Car Rental Locations: John Glenn Columbus Airport (CMH), Downtown Columbus, Westside, Northeast, Northside, Northwest, Polaris, Groveport, Fifth by Northwest
Cleveland, OH
Less than a 3 hours' drive from Columbus is another hub that is well-known for the legendary Rock & Roll Hall of Fame. To experience Cleveland, drive around the revitalized downtown area, relax at the lakefront, and explore its food and drink scene.
Some of the must-see attractions in the city include the Gordon Square, Whiskey Island, Duck Island, the Flats, and the Cleveland Museum of Art where you can see some of works of famous artists like Monet and Dali.
If you want to go on a road trip outside the city, head out to Cedar Point, the German Village, Toledo, Mill Run (Fallingwater), Cooksburg (Cook Forest), and Holmes Country.
3 Must-Visit Destinations in Cleveland:
Charm in Amish Country: Ohio is home to the largest Amish community in the world. One of the towns worth visiting is Charm, which is located just about an hour and a half's drive from Cleveland. Visit Heini's Cheese Chalet & Country Mall, a unique place that produces about 70 varieties of cheese.
Toledo: The "Glass City" is located about 2 hours east of Cleveland. Situated at the western top of Lake Erie, Toledo is a great destination for families and art lovers.
Mike's Place, Kent: Simply one of the best places to eat in Kent! Breakfast is served all day, plus there's a wide range of food and drinks to choose from. Every Wednesdays and Fridays, they offer an all you can eat fish or shrimp.
Cleveland Car Rental Locations: Cleveland Hopkins International Airport (CLE), Downtown Cleveland, Shaker Heights, Cleveland Heights
Cincinnati, OH
Home to a curious mix of American industrialism, baseball fanaticism, and BBQ heritage, Cincinnatii or "Cincy" is another great roadtrip destination.
While in the city, don't miss the Cincinnati Zoo to see endangered gorillas, dining at the BLOC Coffee Company, learn about America's dark history at the National Underground Railroad, and catch a Major League Baseball at the Great American Ball Park.
If you want to explore the nearby towns, there are plenty of great day trip destinations that are only a few hours away from Cincinnati.
3 Must-Visit Destinations in Cincinnati:
Chateau Laroche, Loveland: Also known as the Loveland Castle, this museum was originally built as an expression and a reminder of the strength and grandeur of the mighty men who lived in the time of Knighthood. It is a beautiful place to admire architecture and have a picnic by the river.
American Sign Museum: This is the largest public sign museum in the US. There are over 200 signs and other objects that date back to the late 19th century.
Yellow Springs: About an hour's drive northeast of Cincinnati, this village offers some of the best dining experiences in the Dayton area. It is also a great place to explore Ohio's natural attractions like the John Bryan State Park and Glen Helen.
Cincinnati Car Rental Locations: Cincinnati Lunken Airport (LUK), Downtown Cincinnati
Dayton, OH
Dayton is home to the National Museum of the United States Air Force, and the place where Orville Wright of the Wright brothers, who were some of the pioneers of aviation.
This town is famous for its association with aviation however there are hosts of other things to do in the city that are worth your time.
Once you have visited the aviation centres and museums, explore other attractions like the The Paul Laurence Dunbar House Historic Site, Hawthorn Hill, Aullwood Audubon Center and Farm, Dayton Opera, and the Dayton Philharmonic.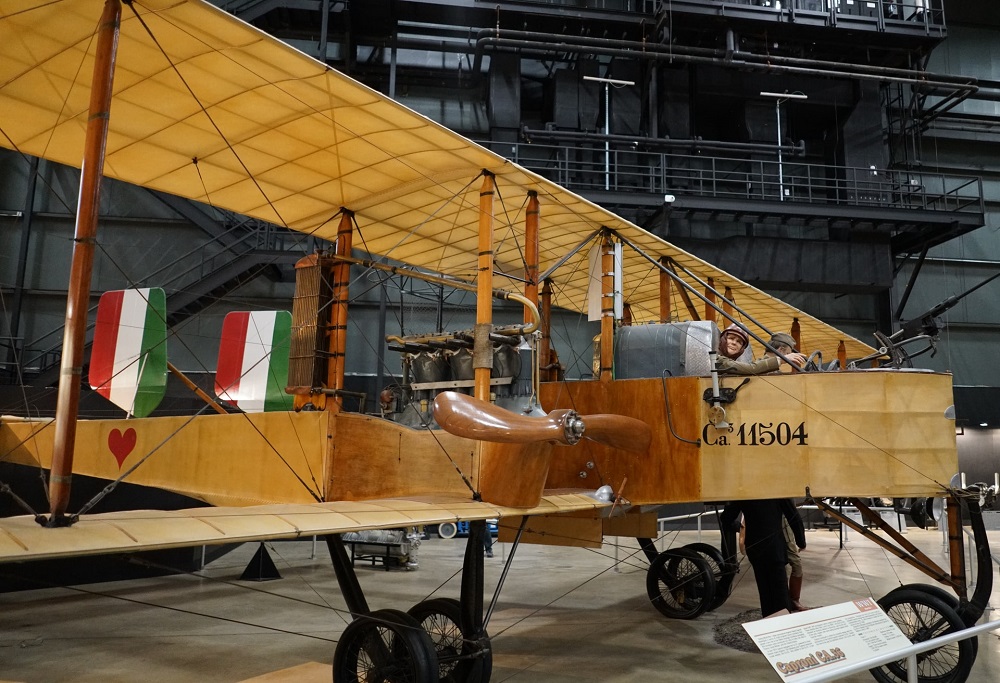 3 Must-Visit Destinations in Dayton:
Wright-Dunbar Interpretive Centre: Learn about the Wright brothers and their journey into the aviation industry. This attraction is free and is open from Wednesday to Sunday.
Hocking Hills State Park: Explore the park's over 40 kilometres of hiking trails, waterfalls, rock formations, and caves. If you want to say overnight, there are plenty of cabins and campgrounds around the park.
National Museum of the US Airforce: Learn about the rest of the aviation history in the world's largest and oldest military aviation museum. If you're feeling adventurous, try your hand at the simulator ride!
Dayton Car Rental Locations: James M Cox Dayton International Airport (DAY), Downtown Dayton, Miamisburg, Kettering, Vandalia, Beavercreek, Centerville
Other Ohio Rental Car Locations in the USA: Akron Canton Airport (CAK), Toledo Express Airport (TOL), Youngstown Warren Airport (YNG)
Wisconsin RV Rentals & Campervan Hire
The birthplace of the famous architect, Frank Lloyd Wright, and the home of Harley-Davidson, the state of Wisconsin doesn't always end up in people's road trip bucket list but those who make it this far will find an endless amount of attractions to see and adventures to do.
Wisconsin is also known as the cheddar cheese capital of the US. You can visit the National Historic Cheesemaking Center in Monroe to learn about the history of the industry. If you like beer, there are plenty of great microbreweries around the state. Some of the best are: Lakefront Brewery, 3 Sheeps, New Glarus Brewing, and Capital Brewery.
If you are looking outdoor attractions, Wisconsin will not disappoint. Some of the best natural attractions in the state include the Cave of the Mounds, Interstate State Park, and the Apostle Islands.
3 Must-Visit Destinations in Wisconsin:
Amnicon Falls State Park: You can find a series of lovely waterfalls and rapids along the river of Amnicon. It is a great place to hike, camp, or just relax by the river.
Wisconsin's Great River Road: This road is the only designated national scenic route in the state. Take your rental car and cover over 400 kilometres of scenic road. There are 33 cities along the way and plenty of stops, especially if you are an outdoor enthusiast.
Cave of the Mounds: Located in Blue Mounds, this cave has been "the jewel box" of caves because of its beautiful limestone formations.
International Hire Car Companies: Alamo USA, Avis USA, Budget USA, Enterprise US, Europcar US, Hertz USA, National USA, Thrifty US
Local USA Car Rental Companies: Dollar Rent a Car US
Milwaukee, WI
Laced with lovely walkable streets and authentic neighbourhoods, the city of Milwaukee is a great place to experience the modern Midwestern USA. Plan your road trip around summer to experience the biggest outdoor music festival in the world, Summerfest.
If you want to explore other areas, there are a lot of worthy day trip attractions nearby. Some of the best things to see on a day trip from Milwaukee include the Milwaukee Mile, Six Flags, Old World Wisconsin, Racine lighthouse, and the Kettle Moraine State Forest and Ice Age National Scenic Trail.
3 Must-Visit Destinations in Milwaukee:
Old World Wisconsin: Set in the 19th century, this open museum lets you experience history through hands-on exploration. You can tour at your own pace, discovering gardens and even trying your hand at crafts, cooking, and helping with household chores. The museum is located about an hour's drive east of Milwaukee.
Milwaukee Mile: Also known as "America's Legendary Oval," this speedway is the oldest operating motor speedway in the world.
Cedarburg: Just half an hour's drive from Milwaukee, this picturesque quaint village takes you back in time with its meticulously maintained limestone historic buildings.
Milwaukee Car Rental Locations: Milwaukee Mitchell International Airport (MKE), Downtown Milwaukee, Glendale, North Milwaukee, South Milwaukee
Madison, WI
The capital city of Wisconsin is famous for its extensive networks of lakes, parks, and hiking trails. There are heaps of things to see in Madison like the Chazen Museum of Art, Olbrich Botanical Gardens, Wisconsin Historical Museum, and the Monona Terrace.
Don't forget to also visit the striking State Capitol that was designed after the US Capitol Building in Washington D.C.
3 Must-Visit Destinations in Madison:
Wisconsin State Capitol: Join a tour and explore the stunning marble and granite building and learn about its history and architecture. Inside the building are beautiful decorative murals that are also worth your time.
Devil's Lake State Park: This park is a great year-round destination. It is a great place to bike, climb, hike, and ski in the wintertime. It also features two large sandy beaches that are great for picnics.
Wisconsin Dells: About an hour north of Madison, this city is famous for its glacier-carved sandstone formations. There are also a few theme parks that are worth visiting like the Mt. Olympus Water and Theme Park, and Noah's Ark Water Park. Visit the Mirror Lake State Park if you're looking for a place to hike and camp.
Madison Car Rental Locations: Madison Dane County Airport (MSN), Downtown Madison
Other Wisconsin Rental Car Locations: Appleton Airport (ATW), Eau Claire Chippewa Valley Airport (EAU), Green Bay-Austin Straubel International Airport (GRB), La Crosse Airport (LSE), Central Wisconsin Airport (CWA)
Northeast USA – New England & Mid-Atlantic
States: Connecticut, Delaware, Maine, Maryland, Massachusetts, New York, New Jersey, Vermont, Massachusetts, Rhode Island, New Hampshire, and Pennsylvania.
There may be over 60 million people in the Northeast of the USA, but the vast majority are stuffed into the big cities, New York, Boston, Philadelphia etc., but it's also populated by thousands of miles of lakes, forests, beaches and mountains, in fact, the very opposite – an antidote to the bustling streets of downtown Manhattan or Center City, Philadelphia, say.
Cold in the winter and warm in the summer, Northeast USA is an area defined by contrasting environments that are never that far away, making it an ideal location for easy access between countryside and cityscape.
New York:
There are so many great things to see and do New York they named it twice. NYC is a melting pot of cultures, making it far more cosmopolitan than some of its neighbouring states and, outside of Paris and London, it's arguably the most famous city in the world.
NYC is comprised of five boroughs, Staten Island, Brooklyn, The Bronx, Queens and Manhattan, the latter alone has over 20 million citizens making it the most densely populated city in the USA.
New York Car Rental Locations: New York LaGuardia Airport (LGA), New York JFK Airport (JFK), Manhattan, Midtown, Lower Manhattan, Brooklyn, Queens, Bronx, Staten Island, Upper Manhattan
Three MUST-DO things to see in New York:
Manhattan Island: It's only 22.7 square miles (59 km2) but the only part of NYC you have to see if you're pressed for time. It's like walking on a movie set with world-class galleries and museums at every turn.
Coney Island: It's been a go-to seaside resort for New Yorkers for almost 100 years, it's bit tacky but if you're after 'Americana' in context, it's a must-see destination.
MoMI: The Museum of Moving Image is a smorgasbord of everything to do with the media, movies and TV, this huge institution in Queens is a bucket-list must for film fanatics.
New Haven, Connecticut:
Home to the renowned Yale University, there's a whole variety of things to see and do in New Haven. Looking towards Long Island over the Sound, New Haven nestles conveniently between New York and Boston on the east coast
A mecca for great museums and galleries with its long US history and famous University, New Haven has a bookish feel to it inland, but easy access to plenty of sandy beaches assures its place as a great city of pleasing contrasts.
New Haven Car Rental Branches: Tweed New Haven Airport (HVN), West Haven, East Haven
Three MUST-DO Things to see in New Haven:
Lighthouse Point Park: Yes, you will pay well for parking, but once there this is a beautiful spot enjoyed by the locals and is great for families.
Yale Center for British Art: The greatest collection of work outside of the UK of British artists and her residents (e.g. Hans Holbein) this is also a great excuse to visit Yale University.
Shore Line Trolley Museum: If the kids are fed up with yet another museum trip, they'll love this, take the shoreline track from River St to Short Beach in an open-sided antique trolley, fun and fascinating.
Boston, Massachusetts:
What are the best things to see in Boston? For a start it's one of the oldest municipalities in the US and the heart of the American Revolution and it features some of the oldest non-Native American buildings in the whole of the States.
Today, Boston is renowned for a broad range of business practices, as a centre for scientific research and is home to the oldest seat of learning in the USA, and one of the most prestigious universities in the world, Harvard University.
Boston Car Rental Locations: Boston Logan International Airport (BOS), Downtown Boston, Allston Brighton, Cambridge, Medford, Malden, Somerville, Dorchester, Revere
Three MUST-DO Things to see in Boston:
Freedom Trail: A leisurely 2.5 Mile (4 Km) stroll through some of the milestones that contributed to the birth of the United States. Some are free but the best charge a small fee.
Boston Common: The oldest park in the USA (1634) is fifty acres of landscaped garden and, most interestingly, the Central Burying Ground: est. 1756 and home to some of America's earliest painters and poets.
Watch a Red Sox Game: It might require a bit of planning, but to be at the semi-legendary Fenwick Park soaking up the atmosphere of Major League Baseball is as good as it gets in this unique town.
Cape Cod, Massachusetts:
There may be plenty of things to see and do at Cape Cod, but this crescent-shaped peninsula located to the east of New York and Boston is the perfect jumping-off spot to visit a collection of neighbouring islands, namely Martha's Vineyard and Nantucket.
Defined by its maritime history, largely through whaling and subsequent trades, these days Cape Cod is celebrated for its stunning beaches and pretty villages meaning that it can get quite crowded in the summer months, so plan your trip around peak times.
Three MUST-DO Things to see at Cape Cod:
Hit the Beach: Even in low season, the beaches around the Cape are stunning: Marconi, Race Point and the Head of the Meadow are all worth a trip, and Dowses Beach is one of the many haunts for a spot of fishing.
Martha's Vineyard: Only a 45-minute ferry ride from the Cape, it's most famous for being the location for the filming of Jaws but this stunningly pretty island is worth it just for the local food and drink.
Nantucket Whaling Museum: These days whaling is a controversial topic, in the 1900s, however, it was a way of life and this fascinating museum tells the tale of its bloody history and the scrimshaw is outstanding.
Gulf Islands National Seashore, Mississippi, Massachusetts:
White sands, spectacular views and plenty of things to do at Gulf Islands National Seashore, this is a veritable by-the-sea playground, especially for nature lovers.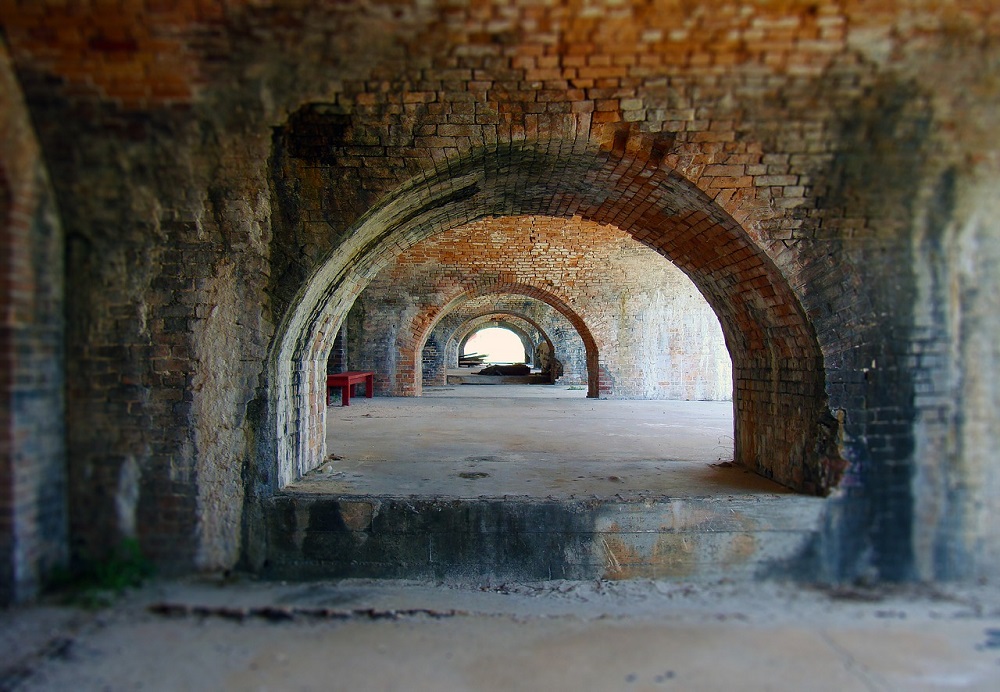 Travel across Biloxi Bay and take a trip to Deer Island, coastal reserve, and meet its enchanting inhabitants.
3 MUST-DO Things In Gulf Islands:
Fort Pickens: During the American Civil War Fort Pickens was one of the few forts in the South that remained in Union hands for the whole time. It's not been used since 1947 but still feels imposing.
John Beasley Park: Or more specifically, a beach park, with white sandy beaches and conveniently served by bathrooms, showers and a picnic area.
National Aviation Museum: This military and aerospace museum is great for young and old alike, check out the giant screen theatre and the hair-raising flight simulator!
Gettysburg, Pennsylvania:
There are so many things to see and do in Gettysburg you'll need at least a few days to make the most of it. Gettysburg is famous for Abraham Lincoln's stirring address at the soldiers National Cemetery, months after the historic clash between Union and Confederate forces in 1863, changing the course of the American Civil War.
A mere 60 miles (96 km) from Baltimore, Gettysburg is defined by its history, even those with a passing interest in the past will find this little town fascinating, just don't be deceived by its size, Gettysburg is a testament to big things coming in small packages.
Gettysburg Car Rental Locations: Gettysburg Airport (GTY), Downtown Gettysburg
Three MUST-DO Things to see in Gettysburg:
Gettysburg National Military Park: Tour of the battlefield that changed the course of US History. With over 1,400 monuments and statues and sprinkled with markers indicating the positioning of units as they fought in battle.
Museum and Visitor Center: Stuffed full of all-you-need-know information about the battle and worth the entrance fee alone for the Gettysburg Cyclorama that virtually depicts Pickett's Charge in 3D.
David Willis House: One of many historic houses that are open to the public, this is where Lincoln stayed before delivering his address, and it's been retrospectively restored to how it looked in 1863.
Philadelphia, Pennsylvania:
With countless things to see and do in Philadelphia, 'Philly' or the 'city of brotherly love', is the largest in the state of Pennsylvania and, as we've seen in this region, one of the oldest. Founded in 1662, the city became a key player in the American Revolution and later, at the turn of the last century, a refuge for African Americans during the Great Migration.
Philly was the first city in the USA to have a library and hospital which foretold of a city that is renowned for its education, arts and culture, with plenty of green spaces to kick back and relax.
Philadelphia Car Rental Locations: Philadelphia Airport (PHL), Downtown Philadelphia, Bensalem, Philadelphia Far Northeast, Philadelphia Railway Station
Three MUST-DO Things to see in Philadelphia:
Check out the Liberty Bell: Cast in 1752 in Whitechapel, London, follow the bells fascinating journey through time complete with apocryphal tales alongside key moments in the history of the US.
Reading Terminal Market: One for the foodies, this world-famous market is packed with goodies local to Philly. It can get busy so try and hit it in-between breakfast, lunch and dinner.
The Franklyn Institute: Fun and educational family entertainment, this institutional stalwart takes a fascinating look at science in our day to day lives and flips it on its head.
Vermont:
There are now loads of things to see and do in Vermont, thanks to a group of English settlers in 1777 who, following a brief period of occupation by the French (before the 'disbandment' of Native Americans, notably, Mohawks) established the Vermont Republic.
Today, Vermont is one of the six so-called 'blue states', reflecting its innately liberal culture (it was the first to abolish slavery and, far more recently, the first to recognise civil union in same-sex couples) and remains one of the most beautiful states in the USA, typified by rich forests, cool lakes and laws preventing buildings from being over 124 feet (38 m) tall.
Hire Car Companies: Alamo USA, Avis USA, Budget USA, Enterprise US, Hertz USA, National USA
Three MUST-DO Things to see in Vermont:
Cornish Windsor Bridge: Covered bridges are famous in Vermont, and the Cornish Windsor Bridge, connecting Vermont with New Hampshire, is the longest of its kind in the USA.
Follow the Vermont Cheese Trail: The region is famous for its dairy and Vermont Cheese is so sought after you can follow organised trails to sample them, or just jump in the car and make up your own.
Green Mountain Byway: The mountains in question are a feature of Vermont, and this short but decidedly sweet trip (especially if you visit a famous ice cream manufacturer en route) provides a great chance to enjoy Vermont's beautiful countryside.
Washington DC, Washington:
There's more to see and do in Washington DC than the Lincoln Memorial and The Tidal Basin – though both are spectacular in their own right.
The National Gallery of Art and Smithsonian National Museum of Natural History are mandatory for culture-lovers. Just don't forget the International Spy Museum…
Washington DC Car Rental Locations: Ronald Reagan National Airport (DCA), Washington Dulles International Airport (IAD), Baltimore/Washington International Thurgood Marshall Airport (BWI), Washington DC Railway Station
3 MUST-DO Things to do in Washington DC:
John F Kennedy for Performing Arts: This world-class venue showcases the best in Theatre, Ballet, Dance, Contemporary Music, comedy and loads more besides, all doing the great man proud.
Rock Creek Park: This historical park that bisects the northwest of Washington was created by an Act of Congress in 1890 and features over 2,000 acres (3 sq mi / 8 km2) of family-friendly leisure.
National Archives: If you have to do one thing in DC, then this is it. See the Constitution, the Bill of Rights and the Declaration of Independence all contained within this beautiful building.
Southeast USA
States: Alabama, Arkansas, Florida, Georgia, Kentucky, Louisiana, Mississippi, Missouri, North Carolina, South Carolina, Tennessee, Virginia, and West Virginia
If you're looking for great things to do in the USA, usually accompanied by warm weather and plenty of sunshine, the Southeast USA could be for you.
With roughly 540, 500 sq mi (1,400,000 km2) packed full of tourists' attractions, an abundance of things to see and do with scenic drives galore, all you have to do is book your trip and get out there.
Old Alabama Town, Montgomery, Alabama:
Step back in time into the old Southeast and discover things to do in Alabama as it was almost 200 years ago.
This outdoor museum features more than fifty historic buildings, including the First Whitehouse of the Confederacy, beautifully preserved to provide a snapshot of times past in the deep south.
3 MUST-DO Things In Old Alabama Town:
Visit a Cotton Gin: Featuring genuine 1890's machinery, discover how cotton was manufactured over 130 years ago.
See inside a 19th Century home: From log cabins to shot-gun style homes, these are more than museum pieces, they're actual homes where people lived.
Go back to School: Young and old alike will love the charm of the old schoolhouse, it's so authentic you can almost hear the chalk running over the blackboard.
The Ozarks, Missouri, Arkansas, Oklahoma, Kansas
You'll find a lot more to see and do at The Ozarks than the eponymous American crime drama. The 'real' Ozarks is a physiographic region of roughly 50,000 square miles (an area the size of Florida) located across four states and ninety-three counties, characterised by the Boston and St Francois Mountains, intersected by the Salem and Springfield plateaus.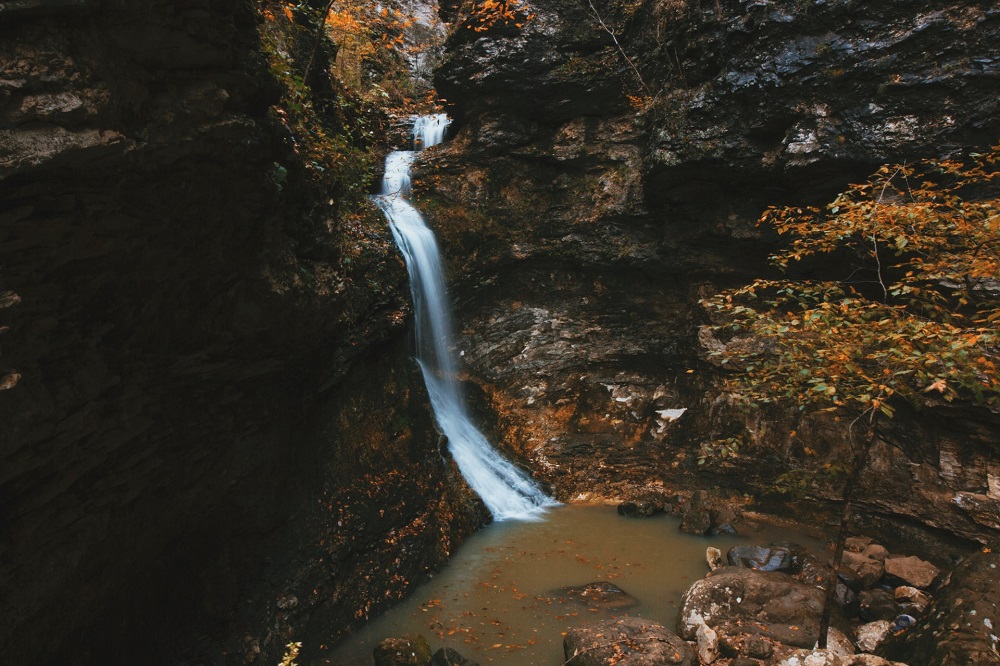 The economy is known for farming and food processing but, lately, it's become a hub for tourists keen to explore areas of outstanding natural beauty and maybe to satisfy any curiosities they have regarding this intriguing, even mysterious, area of the USA.
Three MUST-DO Things to do in The Ozarks:
Crystal Bridges Museum of American Art, Arkansas: It may be less than a decade old, but this homage to Colonial to contemporary era American art looks as good on the outside (it perfectly complements its surroundings) as the exhibits within.
Titanic Museum, Missouri: It's an odd place for such an institution but it's so well presented it's worth a look, either way, its located at Branston which is rapidly becoming the place to be seen.
Whitaker Point, Arkansas: There's no single area of outstanding natural beauty in the Ozarks, but the sensational view from the edge of this famous rocky outcrop gets pretty close. The walk there and back is incredible too.
South Beach, Miami, Florida:
There are loads of things to do in South Beach in Miami, and while its reputation as 24/7 party town is justified, there are plenty of quiet spots to be found on this seven-mile-long promontory from which to view the eye-popping sunsets over the Gulf of Mexico.
With a tropical climate and all-season sunshine, South beach is where it's at.
3 MUST-DO Things In South Beach:
Art Deco District: Visiting this collection of colourful, art deco, houses located between 5th Street and 23rd Street, Ocean Drive, Collins' and Washington Ave, is mandatory!
Espanola Way: Eat and drink your way through this historic street on 14th and 15th. Great fun during the day but it's when the sun goes down that things really light up.
World Erotic Art Museum: Located on the corner of Washington Ave. and 12th St. is a fascinating collection of erotic art dating from Roman times to the present. Bring an open mind.
Blue Ridge Parkway – Virginia, North Carolina:
There are so many things to do on the Blue Ridge Parkway, if you have to do one scenic drive in the Southern Eastern States then this is it.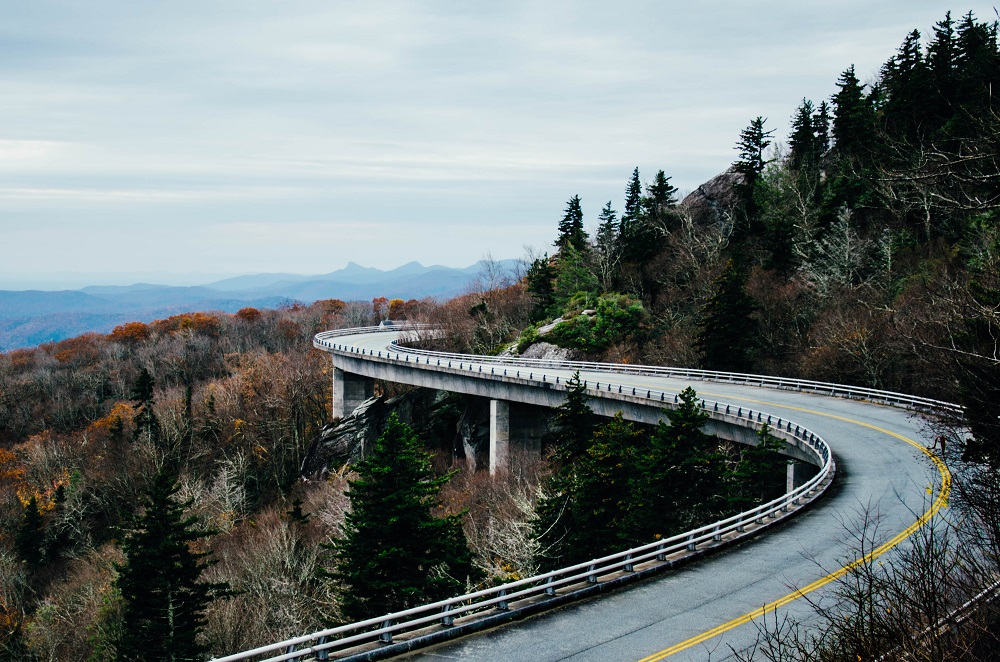 Known as 'America's Favourite Drive' this is 496 miles (798 km) of relaxed driving that connects Shenandoah National Park and Great Smoky Mountains National Park. Simply stunning.
3 MUST-SEE Things On The Blue Ridge Parkway Drive:
Beacon Heights: With spectacular views of the Blue Ridge Mountains, this is a great little trail for hikers of every age and experience.
Linville Falls: This spectacular three-tiered waterfall that erupts into Linville Gorge isn't to be missed. Find it at milepost 316.4.
Grandfather Mountain: Grandfather Mountain is less than a mile from Highway but it's a must-see destination, the views from the swinging bridge are breathtaking.
Charleston, South Carolina:
There are plenty of things to see and do in Charleston, one of the oldest towns in the USA.
Charleston was founded in 1670 by English Colonists and, while many of the original buildings have faded into the past, the 'later' Antebellum-style houses are a sight to be seen, with some even providing board and lodgings for the weary road-tripper.
Charleston SC Car Rental Locations: Charleston Airport (CHS), Charleston Executive Airport (JZI), Downtown Charleston SC
3 MUST-DO Things In Charleston:
Rainbow Row: The characteristic paintwork may come from the 1930s but these house date back as far as 1778, making them some of the oldest buildings in the USA.
South Carolina Aquarium: This is the deepest tank in North America, holding more than 385,000 gallons of water with more than 700 animals and 1000 plants.
Waterfront Park: Eight acres of award-winning parkland running a half-mile alongside the Copper River, the perfect location to unwind and relax after a day sightseeing.
Memphis, Tennessee:
The first thing to do in Memphis is to pay homage to the King of Rock n Roll in his former home.
Graceland has been open to the public since June 1982 and in May 2016 welcomed its 20 millionth visitor, including Mohammed Ali, Bob Dylan and Paul McCartney. Next up, you.
Memphis Car Rental Depots: Memphis Airport (MEM), Downtown Memphis, Bartlett, Memphis East, Cordova, Memphis Southeast, Collierville, Memphis Southwest
3 MUST-SEE Things At Memphis:
Sun Studio: Just a stone's throw away from Graceland is one of the most famous recording studios in the world, and where a young Elvis was discovered.
Blues Hall of Fame: Elvis was just one of many musicians who lived and worked in Memphis, come visit the bluesmen and women that changed the course of music history.
National Civil Rights Museum: Learn about the birth of America's civil rights movement and bear witness to five centuries of history by those that were there.
Nashville, Tennessee:
You think of things to do in Nashville and you think 'Country and Western'. This is a music lovers paradise: the Country Music Hall of Fame, the Johnny Cash Museum and who could forget the legendary Grand Ole Opry House.
And that fine southern food isn't going to eat itself you know!
Nashville Car Rental Branches: Nashville Airport (BNA), Downtown Nashville, Opryland, Nashville Southeast, Nashville East, Silver Park, Nashville North
3 MUST-DO Things In Nashville:
The Parthenon: Now functioning as an art museum this 1897 replica, built as part of the Tennessee Centennial Exposition, is more than just a carbon copy of the original.
Listening Rooms: Go and check out some of the contemporary musical talent by getting up close and personal with the songwriters and musicians at the beating heart of Music City.
Ryman Auditorium: This former home of the Grand Ole Opry (and before that a gospel church) is one of the best live music venues in Nashville with outstanding acoustics.
USA Car Rental FAQ's
What is the cheapest hire car agency in the USA?
Big car rental companies (such as Hertz, Avis, Budget and Alamo) will be well represented over the USA, but you might find smaller companies can challenge, match or even beat their prices. Shop around by inquiring in the search box, top right.
Which car hire agencies are at USA airports?
All the big names brands are represented across all US airports, but Enterprise and their two other brands, National Car Rental and Alamo, are the largest.
What is the cheapest car hire city in the USA?
According to Forbes, it's Orlando, with Miami and Tampa second and third respectively, making Florida the cheapest state to hire a car. The most expensive cities are Philadelphia, Seattle and, third, Boston.
What type of car is recommended for driving in the USA?
Most hire cars have automatic transmission which takes care of one aspect of the question, but the short answer to the longer question is to hire a car based on practical considerations. i.e. where you're going and with whom are you going with, but if all else fails, a sedan is the best all-rounder in terms of comfort and cost and you have a wide choice to choose from.
How are gas/petrol prices in the USA?
At the time of writing, Iran is the cheapest country for gas/petrol at US$0.09 a litre and Hong Kong is the most expensive at US$2.26. The USA comes in at a very reasonable US$0.73 making it one of the most inexpensive counties in the world for fuel.

Pump rices tend to be highest in Oregon, Califonia, Nevada, Utah, Illinois, Pennsylvania and New York; and cheapest in the Southern States from Texas to South Carolina. You can check out current prices in US$ per gallon with AAA Gas Prices.
What is the most popular hire car in the USA?
The Ford Mustang Convertible, or similar, is the most popular hire car in the USA, in so far as it's the most frequently booked hire car.
What is the best hire car agency in the USA?
This varies on who you ask, but the usual suspects crop up frequently: Alamo, Avis, Enterprise, Hertz and National. This doesn't mean to say you can't get a better bargain/deal elsewhere.
Which car hire companies will pick you up at the airport?
None of them. Due to the contractual concession agreements on airport rentals, only car rental companies with a license to operate at each airport are allowed.
How can I find hire car agencies near me in the USA?
Use the search box in the top right-hand corner to compare car rental rates in all cities and towns throughout the United States.
What's the speed limit in the USA?
70 mph (112 km) for rural freeways, note, there is a minimum speed limit of 45 mph (72 km) too. It's 65 mph (104 km) for other four-lane divided highways and 55 mph (88 km) for all other highways.
USA Tourism: FIVE Useful Links
Visit the USA
The official travel site for America, Visit the USA has general, up to date info about travel in the US.
US Bureau of Consular Affairs
All you need to know about passports, visas and safety can be found on the Travel.State.Gov website.
Travel by State
Find attractions, events and activities, state by stat. USA.gov has links to each state.
Driving in the USA
An essential guide for all overseas visitors that they need to know about before driving in the USA.
US National Parks Service
Discover the national parks, historic sites and national monuments in each state with the US National Parks Service.