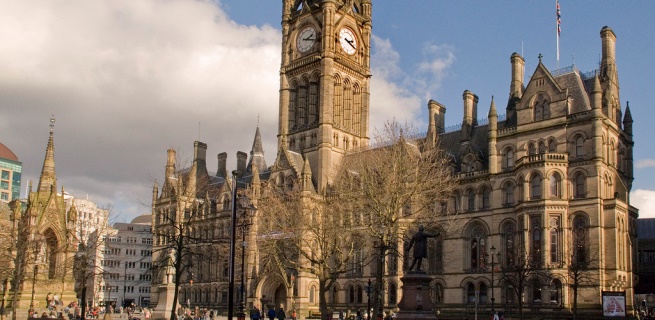 Car Rental in Manchester, UK
Before you arrive to this northern English city, go online and reserve the perfect, high quality and renting a cheap car hire in Manchester, UK, picking up the keys from your car hire in Manchester UK on arrival. You can select from leading world-wide car rental brands including Budget, Europcar, Alamo, Thrifty and National rental cars to find the best deal or cheapest car rental in Manchester, England. Then set out to explore the Great British Empire on your self-drive UK rental car adventure!
Manchester by Rental Car
Manchester played a central role in the Industrial Revolution and there are monuments to that great and progressive time in and around the city. In fact, the first intercity railways ran from nearby Liverpool to Manchester. Lovers of trains and steam-generated power will have a field day at places like the Abbotsfield Park Miniature Railway and Museum of Science and Industry. For something different try the Police Museum and Victoria Baths. Take a moment of quiet in the Manchester Buddhist Centre.
Car Rentals in Manchester, England:
Day Trips from Manchester
Stratford-Upon-Avon is the birthplace and hometown of the poet and playwright, William Shakespeare. The town has many preserved houses, theatres and centres of significance in Shakespeare's life, in the unique half-timbered black and white style. Stratford is not far from Birmingham city, which is also the home of the Cadburys Chocolate Factory. Plan an overnight in Birmingham and explore the area.
Blackpool, with its famous pleasure beach, pier and amusement park, is one of the UK's most popular destinations. Take a city break in nearby Liverpool or bring your rental car out on the open road through the Lake District. This stunning National Park caters for adventure and water-sport enthusiasts, as well as more relaxing fare in the form of rowboats and canoes on the lake. Explore the ruins and grounds of Lowther Castle, and check out the World Owl Centre at Muncaster Castle. Get a view from above in a gyroplane.
Car Hire from Manchester: Road Trip to London
From Manchester you can drive southwards towards Birmingham on the M5 motorway. You may choose to go via Liverpool, just slightly off the main route. Spend a couple of nights exploring the sights and sounds of these city stops, availing of local hospitality and cheer at local guesthouses or give yourself a spot of luxury at a hotel. Continue towards Bristol, stopping at towns and villages along the way; take time to step out of your Manchester rent a car and explore the laneways of the sublimely unique British countryside, known to be good for the soul.
From Bristol, turn westwards and pass through Stonehenge at Amesbury. Stonehenge is a prehistoric monument, the source of which is a matter of mystery to historians and a matter of the supernatural to conspiracy theorists. You might choose to veer your hire car south to Southampton and drive along the coast to Brighton, before turning north to arrive to London City. This is truly one of the oldest and most exciting cities in the world today, and has served as a mainstay in the shaping of modern Europe.
Luckily, most Manchester hire car agents will allow you to return your rental car to a different drop-off location in another major city.