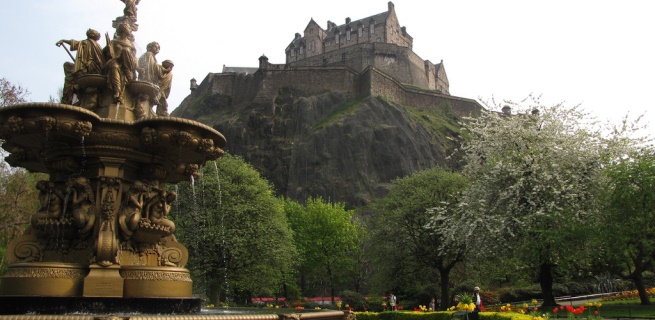 Car Hire in Edinburgh, Scotland
Edinburgh began its existence as a hill fort in prehistoric times. The Georgian old and new town are listed UNESCO World Heritage sites, and the entire city is the first recipient of the title UNESCO City of Literature. Edinburgh hosts an annual comedy festival, jazz and film festivals, and the Hogmanay Festival. Hogmanay is synonymous with the celebration of New Years and the tradition of singing "Auld Lang Syne" originated here; it has since been adopted by many other cultures across the world.
Car Rental In Edinburgh: Nature Routes
Not far from the city is Arthurs Seat, an extinct volcano from which you can gain panoramic views of the city and ocean beyond, on a clear day, that is. The name derives from the legends of King Arthur and is one of the earliest human settlements in the area, thousands ago. Nearby is Edinburgh Castle, a simply stunning construction and exactly what you imagine an old stone castle to be: portcullis, turrets, cobbled lanes, a great hall and castle vaults.
Continue into the highlands – the Scottish term for rolling hills and expansive countryside – towards Stirling. Exploring the highlands by self-drive car rental from Edinburgh is a challenge with great rewards. Strewn across the land are lakes, lochs, castles and hiking opportunities. Take a good map and be inspired by the wildness of the highlands! Not to miss are Ben Nevis Mountain and Loch Ness in the Orkney Archipelago, home of the mythical Loch Ness Monster.
Car Hire from Edinburgh: Celtic Explorations
The Scots and the Irish have a long history rooted in the Celts. From Edinburgh, make your way to Inverness, the Isle of Skye, arriving to Alloway, with plenty of sightseeing along the way. Take a ferry across a short expanse of the Irish Sea to Larne, in Northern Ireland. Though on the island of Ireland, this area is under the domain of the United Kingdom. Nonetheless, do check on any visa requirements and keep your passport to hand.
Drive through more stunning scenery to Belfast city. An industrial city, this is where the Titanic was constructed and set sail. Continue to Derry city and simply enjoy the green landscape rolling by; a particularly beautiful route is the scenic Nine Glens of Antrim, which will take you by the Giants Causeway. This unusual formation of basalt columns rising above the ocean is said in legend to have been built by the giant Fionn mac Cumhaill. Learn about the history of Irish emigration to the USA at the Ulster American Folk Park.
Most rental cars in Edinburgh car hire agents will allow you to return your hire car to a different drop off location, usually in a major city. To find the best selection of agents and deals to help you get the cheap car hire in Edinburgh, compare rates online to find the best deal. Popular rent-a-car in Edinburgh agents include Avis, Hertz, Budget and Europcar rental cars.