Best Road Trips in Italy
Abundant with natural beauty, grand cities and, of course, sublime cuisine, Italy is one of the finest countries in the world to visit, and it's one of the easiest to visit too. Most regions have an airport, serviced with glorious roads that complement the spectacular scenery, ensuring that travel by car or motorhome is the best way to discover this fascinating country.
If you've never explored this exquisite stretch of land that runs from the cool alps in the north to the warm Mediterranean in the south, you're in for an experience to savour for a lifetime. Explore natural attractions, including mountains, lakes, rivers, beaches, rolling hills and lush green valleys, as well picturesque villages and breathtaking cities in which to discover jaw-dropping art and architecture and sample some of the finest food in the world.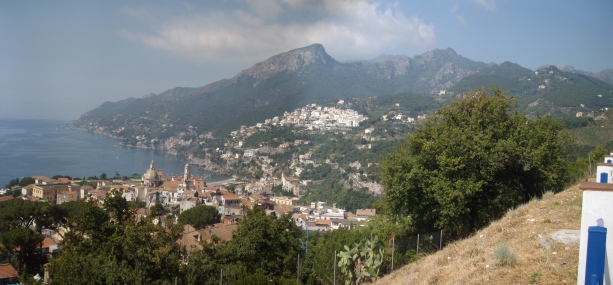 If you're planning a trip to enjoy one of the many scenic routes, coastal drives and iconic roads in Italy, this page will tell you everything you need to know about the various driving routes available, top tourist sights and attractions to visit along the way, as well as a cool map to give you a visual outline of the journey, before rounding off with a list of car rental companies operating out of each region to help you to get the vehicle you want and at the right price.
On the way we'll get you boy-scout/girl-guide prepared for your iconic road trip, even throwing in some top driving trips so you're confident to tackle challenging terrain, though by and large the roads in Italy are good (it's a driver's country) yet they don't seem to interfere with the thrilling views and raw aesthetic that Italy has to offer.
Whether you choose to book in at a hotel and use your rental car to venture out on shorter excursions or book a one way rental car and set out on an adventure, you are in for some of the ultimate driving experiences and best views in the world!
We'll help you with your road trip planning by providing you with itineraries for various trips you may want to take through Italy, we'll list the approximate driving distance for each journey in kilometres and miles, guide you through the different regions -their cities, towns, villages- and keep you up to speed with iconic roads, places of interest, local attractions, spectacular vistas and everything in between. Buonissimo!
Why Do a Driving Holiday in Italy?
Quite simply, it has everything. Before 1870, Italy consisted of a hotchpotch of different states and territories. The north leant more towards mainland Europe with the south influenced by a long history of Greek and Moorish visitations. The resulting architecture holds up a mirror to Italy's rich, vibrant and occasionally troubled, history.
Italy is surrounded by five seas, the Ligurian and Tyrrhenian in the West, the Adriatic to the East and the Mediterranean and Ionian in the South. Each offers a variety of beaches and seascapes, all with slightly different identities and always rich in locally-sourced food and drink.
Of her 1500 or so lakes, the five largest are Garda, Como, Maggiore, Trasimeno and Balsena, located in the northern part of the country and framed by countryside that redefines the criteria for picturesque scenery.
Italy's also the birthplace of western art, so it's hardly surprising her cities are so rich in art that they're virtually living museums and galleries: Rome, Venice, Florence, Siena etc. and outside of the cities, in the villages and towns, local church and chapels may contain a fresco or two from an old master.
Popular Tourist Sights and Attractions in Italy
The best way to explore Italy is via its twenty regions. Despite unification, these regions derive from ancient states and territories and vary widely: each region offers a unique take on Italy with different traditions, dishes and scenery. Seeing them in a fully immersive context -from city to sea, village to valley- makes it both easier to navigate and enjoy. Below we have a simple guide taking in some of Italy's best attractions. It's worth noting that it'd take several lifetimes to note all of Italy's attractions, so treat these as a starting point for further exploration, and always punctuate with Aperitivo!
We'll start at the northern most location and end at the most southern, joining the regions together as we go down. And to make it even easier, the regions have been split into North, Central and South Italy.
Northern Italy:
Attraction: Brescia, Lake Garda
Location: Lombardy (Central North Italy)
Description: Every May the pretty streets around Brescia's two city squares roar with the sound of antique cars revving up for the annual Mille Miglia, the oldest road race in the world. This underrated city provides a slice of Italy that is, largely, free of the tourists that pour into adjacent Milan or Verona. A short drive away and you're on Lake Garda, lose a day or two enjoying the delights of the tranquil villages and towns that nestle on her shores. It's where the Italians rest and play, once you've visited, you'll know why.
Attraction: Scrovgeni Chapel, Venice
Location: Veneto (North Eastern Coast)
Description: The Scrovgeni Chapel depicts the precise moment Renaissance art was born; Giotto quite literally etched his masterpieces directly into the plaster walls of this unassuming chapel, located to the East of Venice, a city that needs no introduction. Of course, Venice is a must-see destination, but plan your timings, go off-season or you're going to pay through the nose to be knee-deep in crowds of yelling tourists which isn't fun for anyone. If you do get a chance to get a clear view of the city, you'll never forget it. Outstanding.
Attraction: Bolognia and Bellaria
Location: Emilia-Romagna (South Central and East Coast)
Description: Bologna is certainly worth a visit if you're a foodie or wish to see one of its fantastic churches, but of all the places to visit on the list, this one isn't for serendipitous encounters. Belleria, however, is one of Italy's best-kept secrets, miles of sandy beaches that are shallow enough to paddle in yards from the shore, and it's as cheap as chips. Get there for Republic day early in June and you'll see an air display that puts NASA to shame, just don't tell anyone.
Central Italy:
Attraction: Uffizi Gallery (Florence) and Siena
Location: Toscana (Southern West Coast of Central Italy)
Description: You'll be heading to Florence anyway, when you're there, take a day to enjoy the Uffizi, one of, if not the best, art galleries in the world. Even if you don't think you like art you'll be awestruck, and somehow it brings you closer to the true spirit of the city. The surrounding Tuscany countryside is world-class, relish the drive to Siena, catch it off-season and you may be surprised how quiet it is; this is one of the finest walled cities in Italy with a town square that resonances with its past. Oh, if you like truffles, you'll probably never leave.
Attraction: Perugia, Assisi
Location: Umbria (Central Italy, south of Toscana, north of Lazio)
Description: Slap bang in the middle of Italy is the region of Umbria, the heart and soul of the country. The pace of life here is slow and considered, undoubtably its most famous city is the romantic Assisi, the birthplace of St. Francis, and despite being a popular tourist destination it somehow seems to retain a quintessential sense of peace and calm.
Similarly, Perugia, the capital of the region, is a walled, undulating city rich in frescos and paintings with a gothic cathedral and plenty of steps to sweep you through her beautiful buildings and vistas.
Southern Italy:
Attraction: Rome
Location: Lazia (North West Coast of Southern Italy)
Description: The Coliseum, Trevi Fountain, Spanish Steps, Roman Forum, St. Peter's Basilica, Patheon, Sistene Chapel… The list goes on and on. You could easily spend a decade exploring Rome and not see everything, so plan your sightseeing or you'll be rushing around like a, well, tourist.
Like Venice, Rome is best-visited off-season, and if you're intending to stay ensconced for a few days, book well in advance for the best deals. Don't forget to visit the Circus Maximus for a bit of P & Q.
Attraction: Civitacampomarano, Termoli
Location: Molise (North East Coast of Southern Italy)
Description: A quiet mountainous region, dipping a toe into the Adriatic, is just out of reach for most tourists (the region doesn't have an airport) so it's ripe for those seeking an authentic 'Italian' experience. Civitacampomarano has an almost magical appeal, it's dotted with castles and churches connected by twisty, winding roads seemingly lost in time. Termoli isn't just empty sandy beaches with some of the best seafood in Italy, its medieval backdrop gives this seaside town a poetic quality that has to be savoured.
Attraction: Naples, Pompeii
Location: Campania (Central West Coast of Southern Italy)
Description: If you're a fan of pizza then Naples is for you. Naples is, after all, the birthplace of pizza, probably the best food in the world, and this vibrant seaside town has over 800 pizzerias. A relatively short drive south and you'll hit Pompeii: magical, haunting and well worth a visit, but you may find it hard to tear your eyes off the picturesque land and seascapes that'll accompany you on your journey. And don't even get me started on the Amalfi Coast (more on that later)
Attraction: Lecce, Albarello
Location: Puglia (Central East Coast of Southern Italy)
Description: If you want to relax, unwind and take it slow for a week or two then this is the region for you. It'd be hard to find more spectacular seaside towns than Polignano a Mare or Gargano, and Lecce, aka 'the Florence of the South', is double-take pretty. But nothing will prepare for Alberobello, a UNESCO World Heritage town made of 1500 Trulli (conical stone huts) that turn this ancient town into a living fairytale. With rich food and sensational wine on tap, Puglia is a feast for the eyes, soul and stomach.
Attraction: Valley of the Temples, Palermo
Location: Sicilia (Southernmost tip of Italy)
Description: Arguably the jewel in Italy's crown. The Valley of the Temples are the most spectacular group of monuments of all of Magna Greece, and Palermo exists as a testament to the islands rich culture and colourful history which may explain why you could spend a week in the markets alone. If you have to visit one part of Italy and just want easy driving in achingly beautiful scenery, clear blue seas chewing at unspoilt beaches, stunning food and wine, all way under budget, then you've found your spot.
Scenic Drives Italy
Italy, you could argue, has more scenic roads than anywhere in the world, so whittling a list from literally hundreds of iconic drives, historic highways and romantic byways, to a mere ten will only ever act as a rough guide to what this fascinating country has to offer.
North Italy
Stelvio Pass
Scenic Driving Route: SS38. Spondigna to Bormio to across the Eastern Alps.
Total Distance: 48.8 km/30.3 miles
Duration: One Day
Sights Along the Way:
Forty-eight hairpin turns running up its north face
Stelvio National Park
Vantage points galore
This world-famous mountain drive has been cited numerous times at the 'best road ever' meaning that in summer/holidays it's best to set off early morning to get the best of it and travel from Spondigna to Bormio so you get to go up the north face of the mountain rather than down it.
The hairpins are as much fun as you can have if you love driving (note: they are not for the faint-hearted) and the eye-popping scenery that accompanies you on this fantastic trip will inspire you to reach the end and just turn around and do it again. But if you're not 100% sure about the hairpins, there are thousands of other mountain passes waiting for you.
Stelvio Pass FAQ
Can you drive the Stelvio pass?
Yes, it's the highest paved mountain pass in Italy at 2758m
How long is the Stelvio pass?
The famous hairpins or switchbacks (tornante) are between the 48.8 km/30.3 mi between Bormio and the village of Prato dello Stelvio.
How hard is the Stelvio pass to drive?
It's challenging for experienced drivers and pretty much off-limits if you're a complete novice or don't have a head for heights. But the rewards outweigh the peril of driving such a formidable stretch of road
How many switchbacks does the Stelvio Pass have?
48, all numbered by stone markers
When does the Stelvio pass open and close?
The main road SS38 of the Stelvio pass is closed in the winter months from November to May. It also closes for a couple of days late August or early September for a cycling event.
The Great Dolomite Road
Scenic Driving Route: Take the SR241at Bolzano and join the SR48 to Cortina d'Ampezzo
Total Distance: 110 km/68 miles
Duration: One day at least
Sights Along the Way:
Cable car to Rifugio Lagazuoi
Carezza Lake
Andraz castle
You could be forgiven you were in Germany at the start of this iconic road in South Tyrol, a destination popular with skiers and snowboarders, before heading deeper into the mountains on narrow, winding roads passing through windswept canyons and emerald pine trees.
Stopping at Carezza Lake is mandatory – the sight of crystal-clear water reflecting the dramatic scenery is a profound experience – as is the cable car ride from Passo Falzarego, if not a little more hair raising. The same can be said for the 75 hairpin turns that accompany you on the Great Dolomite Road to Arraba, but if you love driving this may be the best day of your life.
The Great Dolomite Road FAQ
How long is the Great Dolomite Road?
Bolzano to Cortina d'Ampezzo is 110 km/68 miles
Can I drive it in a day?
Yes, but you'd be doing yourself a huge disservice. The view needs savouring so regular stopping should be mandatory
How hard is the Great Dolomite road to drive?
It's fair to say that the novice driver won't enjoy as much as an experienced motorist -who doesn't suffer from vertigo.
How many switchbacks does the Great Dolomite Road have?
On the road to Arraba there are as many as 75 with plenty more along the way
When does the Great Dolomite Road open and close?
There is no set time, but if there are risks of an avalanche or rockfalls then the road will be closed on an ad hoc basis
Lake Garda
Scenic Driving Route: SS45. The Gardesana
Total Distance: 160 km/100 miles
Duration: Two days to two weeks
Sights Along the Way:
Twenty-five Picturesque villages
Three Italian regions in one
Grotte di Catulo
The Gardesana surrounds the one hundred miles of coastal road that takes you through Lombardy, Trentino Alto Adige and Veneto, while driving around Italy's largest lake on stunning roads – stunning enough for 007; the opening scene of Quantum of Solace was filmed near Navene on the east coast of the lake, close to Limone sul Garda, one of Garda's many gems.
Also noteworthy are Torri del Benaco, Nago-Torbole, Bardolino, Malcesine, Salo, Sirmione and a host of treats further inland, all seemingly connected by spectacular roads, waiting to be discovered.
Lake Garda FAQ
How long is the road around Lake Garda?
The Gardesana (Route: SS45) is 160 km/100 mi
How long does it take to drive around Lake Garda?
If you didn't stop you could do it in under four hours, but why wouldn't you stop? There are some beautiful villages on the way.
How hard is the Lake Garda road to drive?
It's not too challenging, you just have to be aware of roads suddenly narrowing, and take care when entering and exiting tunnels in bright sunshine.
What's the best town to stay in Lake Garda?
Bardolino, Sirmione, Malcesine, Riva del Garda…They're all good!
When is it best to go Lake Garda?
Lake Garda is known for its microclimate meaning that you can enjoy warm weather from March to October, meaning you don't have to go in the bustling summer months.
Lake Como
Scenic Driving Route: To go around the lake, take the SS340 from Como, join the SS36 at the north end of the lake and follow the SP583 back to Como
Total Distance: 78 km/48.5 miles
Duration: two days to a week
Sights Along the Way:
Como-Brunate funicular
Renaissance architecture
Como Cathedral
With a fond nod to Lake Iseo, nestling in between Lake Garda and Lake Como, the latter boasts some of the finest scenic drives anywhere in the country. The lake is surrounded by beautiful roads, gorgeous architecture offset by snow-capped Alpine peaks and lush hillside forests that favour the spring months -it's also less busy at this time of year too.
Whichever way you choose to circumnavigate the lake, ensure you visit Bellagio located between the crook of the two southern peninsulas, and don't forget to stare in wonderment when you spot one of the magnificent lakeside villas.
Lake Como FAQ
Can you drive around Lake Como?
Yes, but you'll need to join up the SS340 from Como the SS36 at the north end of the lake and follow the SP583 back to Como, or a variation on that theme.
How long does it take to drive around Lake Como?
In theory, you could do it in a couple of hours, but you'd miss out on the experience of being in such a beautiful place.
How hard is the Lake Como road to drive?
It's fairly straightforward, just be aware of other road users: tackling a combination of speedy locals and cautious tourists will require concentration.
What's the best town to stay in Lake Como?
Varenna, Bellagio and Lecco are arguably the most popular, there are dozens of villages that are equally as beautiful so choosing a 'best' one is almost impossible.
When is it best to go Lake Como?
Springtime, it's less crowded and there is this great sense of awakening as nature starts to bloom.
Via Aurelia
Scenic Driving Route: SS1 La Spezia and Bordighera
Total Distance: 263 km/163 miles
Duration: Two days at least
Sights Along the Way:
Portofino's spectacular views
Palazzo Bianco in Genoa
Noli (aka 'borghi più belli', one of Italy's most beautiful small towns)
The Via Aurelia was built in 241BC making it the oldest road on this list by miles. Running from Pisa to Rome, arguably the most beautiful section is the coastal road between La Spezia and Bordighera, crossing the Italian Riviera and offering spectacular views of the shoreline and Ligurian sea.
Bordighera is only a few kilometres from the French border though much less pricey than nearby Monaco and Nice making it an attractive option if you're on a budget. Heading East towards La Spezia and you'll be tempted to stop virtually every mile to look at the sea view or satisfy a craving for something delicious to eat.
Via Aurelia FAQ
Can you drive the Via Aurelia?
Yes, Route SS1 between La Spezia and Bordighera
How old is the Via Aurelia?
It was built in 241BC by Gaius Aurelius Cotta to connect up to other significant roads of the time, notably the Via Appia completed in 312BC
How long does it take to drive Via Aurelia?
It's 263 km/163 mi in length so you'll probably need to stop for at least one night
Where's the place to stay when driving the Via Aurelia?
Monterosso al Mare in the Cinque Terre national park is both sensational and popular, so plan your timings and accommodation well in advance
How hard is the Via Aurelia to drive?
It's manageable, even if you're not a particularly confident driver you'll give it a go just for the stunning views.
Central Italy
Strada Chiantigiana
Scenic Driving Route: SS22 Florence to Siena
Total Distance: 76 km/47 miles
Duration: One day at the very least
Sights Along The Way:
Radda (in Chianti)
Certaldo
Crystal Museum in Colle Val d'Elsa
One iconic road connecting two of Italy's greatest cities, and as the title and references may suggest, this is Chianti country, Tuscany's local tipple. For wine lovers (who aren't driving) this is paradise set in countryside: endless vineyards and olive groves punctuated by painterly Cypress trees, medieval hamlets, crumbling farmhouses all illuminated by burnished hues that seem to redefine the properties of natural light. Miguel de Cervantes Saavedra, poet, playwright and author of Don Quixote famously declared 'the journey is better than the inn', his words are epitomised by the beauty of the Strada Chiantigiana.
Strada Chiantigiana FAQ
Can you drive the Strada Chiantigiana?
Just take the SS22 from Florence to Siena, or vice-versa
How long does it take to drive?
It's only 76kms, a mere 47 miles, so it can be done in an hour or two. But you'd miss out on some fantastic food and wine, not to mention the scenery.
How hard is the Strada Chiantigiana road to drive?
It's not, though you might have to be reminded to tear your eyes off the countryside.
Where's the best place to stay when driving the Strada Chiantigiana?
Because it's a relatively short drive stop at Greve, Panzano, Castellina, Radda or Gaiole and spend the night enjoying the local hospitality at one or all.
When is it best to drive the Strada Chiantigiana?
Arguably the autumn, it's cooler, less touristy and the wine perfectly complements the landscape at this time of year
Sabina Foothills
Scenic Driving Route: Take the A1 from Terni then follow the E35 and E45 to Rome
Total Distance: 102 km/63 miles
Duration: One day at least
Sights Along The Way:
Lake Albano
Marcigliani Natural Reserve
Lake di Campotosto State Reserve
This great scenic drive might have all the ingredients for the perfect Italian road trip, vineyards, mountains, lakes and all in such a short distance, though obviously, you'll be wanting to stop regularly to enjoy the unspoilt countryside, detour around the odd lake and enjoy some of the local cuisine at every opportunity.
The mountain town of Leonessa is famous for its potatoes, for example, and this region is home to some of the best olives in the world. This iconic drive could also be the best way to gently ease you into the hustle and bustle of your destination, some quality drivetime before indulging in Rome's numerous delights.
Sabina Foothills FAQ
Can you drive the Sabina Hills?
Yes, the best way is the A1 from Terni then follow the E35 and E45 to Rome
How long does it take to drive the Sabina Hills?
It's only102 km/63 mi so in theory it can be done in a day, but you don't want to rush, especially if you're heading to Rome where it's all go, go, go
How hard are the Sabina Hills to drive?
This journey is open to drivers of virtually all skill levels.
What's the best town to stay in the Sabina Foothills?
How about a medieval town, the likes as Casperia, Roccantica and Roccasinibalda are enthralling and the local produce, especially the olives, will linger on the palate until you're back home.
When is it best to go to the Sabina Foothills?
Every season has its charm, even the winter months.
Authentic Abruzzo
Scenic Driving Route: SS17 L'Aquila to Sulmona
Total Distance: 68 km/42 miles
Duration: One day at the very least
Sights Along The Way:
Medieval Villages
Unspoilt countryside
Lake Monti Della
This region of Italy lying to the east of Rome is known for being unknown by tourists meaning that it's accessible most of the year. The whole region is unforgivingly stunning, and it offers the intrepid traveller an Italy unspoilt by commerce. Frankly, it's actually hard to choose the best scenic drive in Abuzzo but perhaps the short run from the walled city of L'Aquila, somewhat destroyed by 2009's earthquake, to Sulmina (birthplace of Roman poet Ovid) is the best. It may be a short iconic drive, but you'll probably wind up walking most of it, just to take in the fantastic views.
Abruzzo FAQ
What's the best way to drive through Abruzzo?
The SS17 L'Aquila to Sulmona is one of the best, but there are plenty more
How long does it take to drive through Abruzzo?
The total distance is only 68 km/42 mi but if you deviate through passing villages you could easily make this trip last a week or more.
How hard is the Abruzzo road to drive?
It's relatively simple for most drivers.
What's the best town to stay in Abruzzo?
Perhaps Civitella del Tronto, this is an impossible question to answer, though
When is it best to go in Abruzzo?
Because of its relatively light tourist footfall, you could even visit in the summer months, but like most of Italy, all seasons have traditions that are worth exploring
South Italy
Amalfi Coast
Scenic Driving Route: SS163 from Sorrento to Salerno
Total Distance: 60 km/37 miles
Duration: One day at least
Sights Along The Way:
Ravello's Duomo
Tiered Gardens
Cliff-clinging roads
Many parts of Italy are dry and sunny from March to October so take advantage of this favourable climate by visiting out-of-season as it's best to soak up this exquisite, challenging road at your own pace. The Amalfi Coastal Drives most famous towns – Amalfi, Positano, and Ravello – have inspired artists for centuries and in 1997 it was deemed an area of 'great physical beauty and natural diversity' by UNESCO.
At this point, it's worth noting that this sensational stretch of winding, narrow road (with the occasional sheer drop) isn't for inexperienced drivers or the faint-hearted, but fortune favours the brave! Get this one right and you'll be rewarded in perpetuity.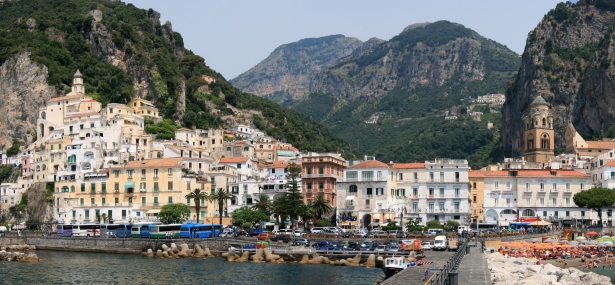 Amalfi Coast FAQ
Can you drive the Amalfi Coast?
Take the SS163 from Sorrento to Salerno
How long does it take to drive ?
The total distance is a mere 60 km/37 mi, but pick the wrong time of day to leave and you could be stuck in traffic for hours
How hard is the Amalfi Coast road to drive?
This isn't one for the faint-hearted, in addition to narrow roads and sheer drops to contend with, the local drivers aren't there to make your journey any easier.
What's the best town to stay in on the Amalfi Coast?
It's UNESCO world heritage site so take your pick, but Amalfi itself is stunning.
When is it best to go on the Amalfi Coast road?
Out of season, early in the morning
Sicily
Scenic Driving Route: Take the E90 from Agrigento then join the SS189 to Trapani
Total Distance: 232 km/144 miles
Duration: At least one day
Sights Along The Way:
Valley of the Temples
Trapanese seafood
Salina salt flats
Tough gig, this. Trying to find the best Scenic drive in Sicily is like trying to pick a favourite restaurant, so in the end you compromise with something that incorporates everything. I've chosen the west side of the island which may be controversial before we've even set off and it doesn't take in Palermo, one of the best capital cities in the world -though if you set off from Palermo you can drive down to Agrigento on the SS189 (142kms) and from there head off to Trapani, you can have that for free. Last but not least, in addition to being beautiful Sicily is easy on the wallet too, so go on, stay another few days.
Sicily FAQ
What are the speed limits in Sicily?
130 km/h on highways, 110 km/h on state and provincial roads, 90 km/h on secondary and local roads and 50 km/h in urban areas.
How do I drive the scenic route from Agrigento to Trapani
Take the E90 from Agrigento then join the SS189: total Distance: 232 km
How hard is the road to drive?
Simple and pleasurable, open to anyone.
What's the best town to stay in Sicily?
Very hard to call, start at Palermo and work your way around from there, it's the best way to see the island
When is it best to go to Sicily?
It's good all year round but the beaches can get crowded in the summer when it gets very hot
Major Events To Visit On Your Road Trip
If you'd like to time your road trip with a major event in Italy, then you're spoilt for choice. Italy has over 8000 cities and virtually everyone will take at least a day of holiday every year to celebrate their patron saint: if you're from Venice, for example, you'll honour the feast of St. Mark on the 25th of April with a procession, music, food fireworks etc., if you're from Puglia, you're down for the Feast of St. Nicholas on the 7th of May and the 9th of December for more of the same.
Saints aside, there are dozens of traditions unique to a particular city, how about The Game of Bridge in Pisa, last Sunday of June, when two teams compete to push a huge metal cart over the Ponte di Mezzo, or the incredibly violent Calcio Storio, 24th June, a sort of anything-goes game of football in which the winning team are presented with an ancient breed of cow… Factor in festivals, music, sport and the ubiquitous food, drink and craft fares it's a wonder how the Italian's have any time left to get a good night's sleep.
North Italy
Event: Battle of the Oranges
Date: Sunday to Tuesday proceeding Ash Wednesday
Location: Ivrea
Cost: Free to watch, about €120 to 'join' a team
Description: Citrus-based food fight
The origins of this all-in festival revolve around the attempted assault of a young peasant girl by, allegedly, the Marquis of Montferrato, around the 12th or 13th Century. The girl defeated the Marquis and the peasants rose up to overthrow his soldiers, and it's this battle that's commemorated with 'peasants' throwing oranges (about half a million kilos of them) at cartloads of 'soldiers' who enthusiastically return fire. There are nine teams of 4000 competitors and (for a fee) you could find yourself in the melee but you're pretty much guaranteed to sustain a bruise or two. A safer bet is to join one of the 100,000 red-hat wearing spectators -the red hat is supposed to protect you from attack. Crazy fun, especially if you like oranges.
Event: Mille Miglia
Date: Mid-May (varies annually)
Location: Brescia
Cost: Free
Description: The oldest road race in the world
The original Mille Miglia (meaning 'a thousand miles') was a round-trip car race from Brescia to Rome that took place on public roads, until 1957 when it was banned for being too dangerous. In 1977 it was revived as a time-speed-distance rally on the same route, and every year Brescia attracts thousands of spectators to celebrate the spectacle of hundreds of antique cars, manufactured between 1927 to 1957, roaring around the city's ancient streets before and after the two-day race event. Even if you're not interested in cars the glamorous atmosphere is one to be savoured, it's a great place to people-watch over aperitivo and there is a very good chance you'll see a celebratory or two.
Event: Venice Carnevale
Date: February: Ten days preceding Shrove Tuesday
Location: Venice
Cost: Free, but you'll have to pay for particular events and parties
Description: Historic Carnival
This world-famous event has its origins in the 12th Century, it ran annually until the end of the 18th Century until it was banned by order of the Holy Roman Emperor. At the end of the 70's it was tentatively revived, largely as a chance for Venetian artisans to showcase their skills, and these days it's visited by as many as three million people, every year. Despite a reputation for being expensive -largely because of the famous masquerade balls- there are plenty of smaller events scattered throughout the city, many free and much less busy, but if you really want to splash out there are still a few establishments handmaking genuine Venetian masks and indulgent costumes to (literally) treasure long after you're back home.
Central Italy
Event: La Quintana
Date: First Sunday in August
Location: Ascoli PicenoCost: Free
Description: Medieval jousting tournament
It's worth going to just to visit this gorgeous little village in the region of Le Marche, once there, this detailed re-enactment of a medieval joust features six knights, each representing district in the city, battling for supremacy in the Ponte Majore Horse Race Stadium by attempting to lance a puppet intriguingly named 'The Dark'.
The event itself is relatively new, devised in 1955 for no other reason than to celebrate the cities link to its history, but it's the accompanying pageantry that really kicks this little festival off, everyone in costume and, of course, a colourful parade make it one of the most attractive and least ostentatious events on the list, despite celebrations going on long into the night.
Event: Viareggio Carnevale
Date: Four weeks preceding Lent
Location: Viareggio
Cost: Free
Description: Family-friendly Carnival
The Viareggio Carnevale as we know it today didn't begin until 1931 as a means of promoting the city and its culture, and it hasn't looked back since. The major attraction are the huge mechanical papier-mâché floats that accompany the Mardi Gras, each take about five months to make -some of them are genuine feats of engineering- and all are made in a small bespoke village in the city (La Cittadella del Carnevale).
Despite drawing visitors in from across the globe -though not in 'Venice Carnevale' proportions- it's still very much a celebration of the city and its people, perfectly exemplified by the crackling atmosphere. So, if you're after fun for all the family, loads of colour, noise and warm smiles, then point your rental car towards Viareggio in springtime.
Event: Il Palio de Siena
Date: Race days are 2nd of July 16th August
Location: Piazza del Campo, Siena
Cost: Free, if you're lucky, $160.00 plus (seriously, plus) if you want five-star treatment
Description: Historic Horse Race
Probably the most famous horse race in the world, Il Palio de Siena was once a part of the medieval public games held to celebrate the Virgin Mary. Dating back to at least 1644, this race isn't for visitors or tourist and, despite perceived theatrics and pageantry, its a genuine event taken seriously by the ten Sienese districts that compete, each represented by a horse and a bareback rider.
Spectators can either gather for free in the middle of the Piazza del Campo where the race is run -you'll need to get there very early to find a space and the race is run at dusk- or pay for a grandstand seat, even a private balcony. Plan your visit well in advance and you will be rewarded with a thrilling, perilous glimpse into the past very much made present.
Event: Explosion of the Cart
Date: Easter Sunday
Location: Florence
Cost: Free
Description: As above
This event, one of the most important in the Florentine calendar, has its origins in 1099 when a young Florentine named Pazzino returned from the crusades with three flints from the holy sepulchre. Allegedly this same flint is used to light the Easter candle, the flame from the candle is transferred to an ornate 'cart' and taken by a vibrant procession in contemporary costume through the streets of Florence to the Duomo.
At 11 am, the same flame is used by the priest to light the 'columina', a dove-shaped rocket, which flies by wire out of the cathedral, striking the cart outside and setting off an impressive firework display. It may be one of the more eccentric events on an Easter Sunday morning but that's what makes it unique.
Event: Umbria Jazz Festival
Date: Nine days in the middle of July -dates vary annually
Location: Perugia
Cost: Free to ticketed events
Description: Best jazz festival in Italy?
One of the best jazz festivals in the world is closer to the mark, and that may have something to do with the glorious town of Perugia -the people, food and climate- as much as the considered range of music and artists.
Some of the biggest acts in the world have performed here since its inception 1973, jazz legends such as Charles Mingus, Chet Baker and Sonny Rollins (to name but a few) play alongside more poppy acts, the likes of Elton John, David Byrne and Lady Gaga, ensuring that every year buzzes with fresh energy. With jazz at its heart, the music spills out of the venues and on to the street, so you're guaranteed a fantastic time in a wonderful setting whatever your budget. Sublime in every respect.
South Italy
Event: Snake Handler's Procession
Date: First Thursday in May
Location: Cocullo
Cost: Free
Description: As above
A pagan and Catholic festival in one incarnation: the latter tells us it's to celebrate San Domenico ridding the town of snakes in the 11th century whereas its origins are much more likely tied to the ancient worship of Angitia, the ancient goddess of snakes, for the same reason.
The procession involves snake charmers (Serpari) handing out four harmless species of snake to worshippers who place them on San Domenico's statue, which is then stoically carried through the streets. The event is a relativity sombre affair which only adds to the remarkable atmosphere and sheer spectacle of a wooden statue almost consumed by hundreds of writhing snakes, attracting huge crowds -not to mention ophidiophiles- from over the world.
Event: Festa della Madonna Bruna
Date: 2nd July
Location: Matera
Cost: Free
Description: A lively celebration of the city's sacred protector
The climax of the festival is on the 2nd of July, but like so many of the events on this list, the preceding few days can be just as exciting. Dating back to 1389, following an alleged visitation to Matera by the Madonna, the festival begins with an audacious procession in the morning, before statues of the Madonna and child are escorted around the city by knights on the spectacular papier-mâché triumphal cart. Later to be ritually destroyed by a jostling crowd – alongside the entire population of the city and thousands of fireworks.
Festa della Madonna Bruna is as noisy and exhausting as it is colourful and surreal, but it's also free from the trappings of commerce and offers the curious visitor a chance to be a part of an authentic, Italian experience.
Car Rental Companies Italy
With a wide choice of operators there are some familiar names here, plus a few Italian-only operators, that complete the list of the largest car rental companies in Italy.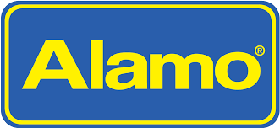 Alamo Car Hire
With around 20 locations, Alamo car hire, on the surface, have a modest representation in Italy. However, since 2007 they've been owned by Enterprise holdings (who also own Enterprise Rent-a-Car and National) so in reality, they're at the tip of a car-rental iceberg.

Auto Europe Car Rentals
Currently boasting the best rates in Europe ("guaranteed") Auto Europe car rentals has 25 sites spread over Italy. They've won numerous travel awards including Europe's Leading Car Rental Company and Europe's Leading Business Car Rental Company multiple times.
Avis Car Rental
Well established American car rental firm founded at the end of the 1940s, Avis Budget Group (the parent company of Avis) acquired Avis Europe plc -a separate corporation licensing the Avis Budget Group brand- in 2011. Now with over 170 sites right across Italy, they're the largest players in the country.
Budget Car Rental
With over 120 locations dotted throughout Italy, Budget rent-a-car was founded in the States in 1958 and sold to Team Rental group in 1997, then to Avis owners Cendant Corporation who formed the Avis Budget Group in 2006.

Enterprise Rent-a-Car
With over 40 locations all over Italy, the largest rental company in the world were founded in the US in 1957. The parent company of both National Car rental and Alamo, they're surprisingly underrepresented in Italy.
Europcar
One of the oldest car rental firms in Europe, founded in France in 1949 with just over 20 locations throughout Italy, with a preference for the north. Since May 2006, Europcar has been owned by Eurazeo, a private equity firm based in Paris.
Goldcar
According to their literature, Goldcar has 16 offices in airports connecting to cities considered to be of touristic interest. They were bought out by Europcar in June 2017.
Green Motion
Very cheap UK-founded car rental outfit with a keen eye for low-emission vehicles and a limited number of offices in Italy.
Hertz
With almost 70 locations in Italy, this well-established car rental firm is one of the oldest (founded in 1918) and the second-largest globally. In Italy, Hertz car rental are doing a good job showing up their biggest rivals, Enterprise.
InterRent
The new kids on the block? In practice a budget version of overlords Europcar with almost 20 sites across Italy, now offering a novel way of collecting your keys without having to visit one of their offices.
Locauto Rent
Currently celebrating forty years of car rental, this Italian based company have 20 sites located all over Italy. They're presently rolling out their 'Elefast' app which makes hiring a car even easier, according to their website.
Maggiore Car Rental
Founded in 1947, Maggiore is the oldest car-hire company in Italy and, until recently, the largest. In 2015 Avis Budget Group bought them out adding another 146 sites to their already impressive portfolio.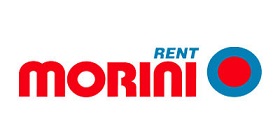 Morini Rent
Another Italian-based unit with 20 sites, this is very much a 'local' car rental firm that also specialises in small commercial vehicles.
National Car Rental
With 38 locations in Italy, National started trading in 1947 as a collective of car rental agents, from 1987 they were owned by several companies until 2007 when they became a member of the Enterprise family.
Rhodium Car Hire
A part of Goldcar (and therefore Europcar, themselves owned by private equity firm Eurazeo), Rhodium has almost 20 offices over Italy.

Sicily by Car
A little misleading as they have almost 40 offices all over Italy, not just in Sicily, with a few in Albania. According to their blurb, this is their 55th anniversary so Sicily by Car must be doing something right.
Sixt Car Rental
It may come as a surprise that Sixt is the oldest car rental firm in the world. Founded in 1912 by Martin Sixt with just three rental cars to his name, this family-owned business has nearly 100 rental sites spanning Italy.