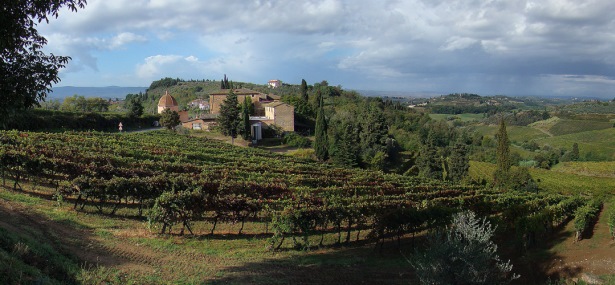 Scenic Drives in Tuscany, Italy
Tuscany is one of the most popular tourist areas in Italy. While main cities like Florence are located in this region, Italy is known for its abundance of hidden gems and attractions around every corner. There are a number of routes to choose from and you can even plan your own personalised road trip to include all your favourite stops. If you want to really explore and drive without worried about racking up too many miles, you can always consider a one way car rental to get you from A to B and everywhere in between.
Scenic drives in the Tuscany area
One popular route in Tuscany is to drive from Florence to Arezzo. You can take a direct route but, instead, why not head towards Diacceto via Frescobaldi dynasty's Nipozzano castle? From here you will make your way to Vallombrosa. Here you will come across a stunningly famous abbey-palace and, if you wish, this is a great place to stop and take a break while looking around.
On your way to Poppi, you will come across a road that leads to the beautiful San Pietro di Romena chapel. Your next stop is Pratovecchio where you are sure to be enchanted by the wonderful medieval streets and style. When you reach Poppi, you simply have to visit the famous 13th century castle, the Museo e Arboreto Carlo Siemoni and the Church of Madonna del Morbo before moving on to Bibbiena. You have the option of returning to Florence from here or you can continue on to Arezzo and enjoy the scenic surroundings, the ancient bridge of Ponte a Buriano and more along the way.
Another great trip is from Siena to Grosseto. A short drive from Siena to the sea will only take you a few hours and you will have plenty to see including the roofless church and the lovely wine town of Montalcino. From here you can then make your way to San Galgano which is home to a gorgeous Gothic abbey. A visit to Cappella di Monte Siepi should also be on the cards if you would like to see the legendary real life sword in the stone! Montepescali is the next great place to make a stop and, from here, you can decide whether you want to travel directly to Grosseto or take a little detour via Vetulonia.
Driving tips in Italy
Driving in Italy can take some getting used to. If you driving along a dual-carriage road and you want to play it safe, then stick to the slow lane. If you are on a single-carriage road and somebody would like to overtake, try your best to pull slightly to the side of the road to help them pass.
You will probably only experience a high volume of traffics in the actual towns and main cities. Other than that, the open road is pretty much like any other.
When planning a long distance drive, make sure that you have a GPS unit in your rental car and plan your route with fuel stops in mind.
Take plenty of snacks and drinks for the road. There are a number of towns scattered throughout the Tuscany region but you might not always be near one when you get hungry.
With so much to see in various parts of Tuscany, it's easy to see why tourists choose to drive around the area and explore as many sights and towns as possible. Remember that you can save both time and money by planning your trip and booking your Italian rental car and accommodation online.