Scenic Drives USA
The country of scenic mountain roads and six-lane interstates, legendary highways and amazingly different landscapes, the USA is arguably the number one road trip country in the world.
It's a nation connected by highways, its cities built to cater to car traffic and boasting a plethora of facilities for motorists.
If you're planning a trip to enjoy one of the many scenic drives in the USA, this page reveals everything you need to know about the various driving routes available, top tourist sights and attractions to visit along the way, and fun events you might want to attend.
We've also listed the approximate driving distance for each trip in both kilometers and miles and the states you'll be visiting during your road trip too!
Whether you're looking for coastal drives, mountain passes or country roads, we've got you covered.
This list of driving trips cover natural attractions including mountains, lakes, rivers, beaches, waterfalls and canyons, as well as exciting man-made wonders that are perfect for a selfie or an all-in family pic!
With these road trip itineraries you'll be able to visit all of the top natural destinations in the USA, from the Grand Canyon and Death Valley to the Rocky Mountains and the Everglades.
We've included numerous historic and urban landmarks, too, to round off the ultimate USA scenic drives.
At the end of this page, you'll also find some USA road trip planning tips to make sure you're ready to explore and experience one of the most diverse countries on Earth in the best prepared way.
To whet your appetite, let's get started with some of the most popular tourist sights and attractions you can visit on scenic drives in the USA.
Popular Tourist Sights And Attractions In USA
The USA is one of the largest and most varied countries on the planet. It encompasses virtually all possible Earthly landscapes, from Alaskan tundra and Hawaiian volcanoes to California deserts, from the Midwest plains and Great Lakes to the Florida wetlands.
In between, the mighty Rocky Mountains split the continent in half, while other notable mountain ranges include the Sierra Nevada, Cascade Range and Appalachian Mountains.
The USA is also home to some of the world's greatest cities. Many of those are located on either the East or West Coast, while a few inland metropolises are definitely worth exploring as well.
Just a few examples of America's awesome cities are New York City, Boston, Chicago, Denver, Miami, Los Angeles, Seattle and San Francisco.
Conveniently, these urban centers are excellent starting points for road trips in the USA, featuring major international airports and often situated surprisingly close to breathtaking natural attractions and national parks.
Attraction: Statue of Liberty
Location: New York City, New York
The symbol of freedom in America, the enormous Statue of Liberty is one of the world's most famous landmarks. Officially called "Liberty Enlightening the World", it stands on Liberty Island in New York Harbor and is one of the most visited urban attractions in New York City (and the USA as a whole).
Visitors can go on paid tours to the island and statue or pass by for free on the commuter ferry between Manhattan and Staten Island.
Attraction: Fall in New England
Location: Vermont, New Hampshire, Maine, Massachusetts, Rhode Island and Connecticut
The coloring of the leaves in New England has been a world-renowned phenomenon for decades, attracting thousands of so-called leaf-peepers to the Northeast.
From late-September through early-November, the region's millions of sugar maples, birches, oaks and many other deciduous trees take on a vibrant palette of orange, red, purple and yellow.
It's one of the greatest natural spectacles in the USA, one that's best experienced on scenic drives through the rolling mountains and farmlands.
Attraction: The White House
Location: Washington, D.C.
Quite possibly the most famous residence in the USA, the White House in Washington, D.C. has been the seat of every U.S. President since 1800.
Located at 1600 Pennsylvania Avenue, it's one of the main attractions on the National Mall, which also encompasses various Smithsonian Museums, the Lincoln Memorial, Washington Monument and U.S. Capitol.
Attraction: Going-to-the-Sun Road
Location: Glacier National Park, Montana
As far as scenic drives in the USA go, very few can match the spectacular landscapes of Montana's Going-to-the-Sun Road.
This 50-mile (80-kilometer) mountain road crosses the Continental Divide at Logan Pass in Glacier National Park, running past imposing glaciers, roaring waterfalls, wildflower meadows and towering mountain peaks.
It's unquestionably one of the best one-day mountain drives in the USA.
Attraction: Las Vegas Strip
Location: Las Vegas, Nevada
One of the most visited cities in the world, Las Vegas is a global leader in the entertainment and hospitality industries.
The self-proclaimed "Entertainment Capital of the World", Vegas is (in)famous for its mega-large casino-hotels and resorts, as well as its round-the-clock nightlife.
The heart of the action is the Las Vegas Strip, which technically lies just south of the Las Vegas city limits. This is where you'll find those enormous casino-hotel-resort properties, shopping malls, amusement parks, and numerous theaters and nightclubs.
Most of the Las Vegas Strip is designated as an All-American Road, one of very few that are within a city. It's also remarkable because it's regarded as a scenic drive at night, too.
Attraction: Golden Gate Bridge
Location: San Francisco, California
Spanning the Golden Gate, a narrow strait that connects San Francisco Bay to the Pacific Ocean, the Golden Gate Bridge is easily one of America's greatest landmarks.
It's one of the absolute symbols of California and even the entire USA, one of the world's most scenic and most photographed bridges.
You can drive across this 1-mile-long (1.6 kilometers) bridge, but there are also pathways for cyclists and pedestrians.
Of particular interest to road trippers is the fact that the Golden Gate Bridge carries U.S. Route 101 across the strait, one of the greatest highways in the USA.
Attraction: Grand Canyon National Park
Location: Arizona
The ultimate natural attraction in the USA is the Grand Canyon. This immense and majestic river gorge was carved by the mighty Colorado River, which looks as thin as a hair from the rim, and is one of Mother Nature's greatest artworks.
The Grand Canyon's dimensions are staggering—it's 277 miles (446 kilometers) long, up to a mile (1.6 kilometers) deep, and 18 miles (29 kilometers) wide at its widest point.
You can visit both the North and South Rim on your USA road trip, but the South Rim is the most popular of the two. That's where you'll find facilities like lodges and a campground, restaurants, shops, paved trails, a shuttle bus service and so on.
Attraction: Hollywood Sign
Location: Los Angeles, California
One of America's main cultural icons, the Hollywood Sign dominates the flank of Mount Lee in the Hollywood Mountains, Los Angeles.
Originally a 1923 real estate advertisement meant to be only temporary, it was left up after it gained national and international fame.
Access to the Hollywood Sign is via trails from Griffith Observatory, the Bronson Canyon entrance and the Lake Hollywood Reservoir. For a great view of the sign, head to the Lake Hollywood Park vista point.
Attraction: Waikiki Beach
Location: Honolulu, Hawaii
Although there are countless of epic beaches in the USA, few of them are as well-known as Waikiki Beach. Its name by itself evokes images of paradise, palm trees swaying in a warm sea breeze, lazing in a hammock with a coconut drink in hand.
Waikiki Beach is one of the main tourist areas in Honolulu, the capital of Hawaii. In addition to the soft sands of the beach, there are numerous beach-side cocktail bars, hotels, fine-dining restaurants and fashion stores.
Attraction: Mount Rushmore National Memorial
Location: Keystone, South Dakota
Another cultural symbol of the USA, Mount Rushmore hosts an enormous sculpture carved in granite Black Hills of South Dakota.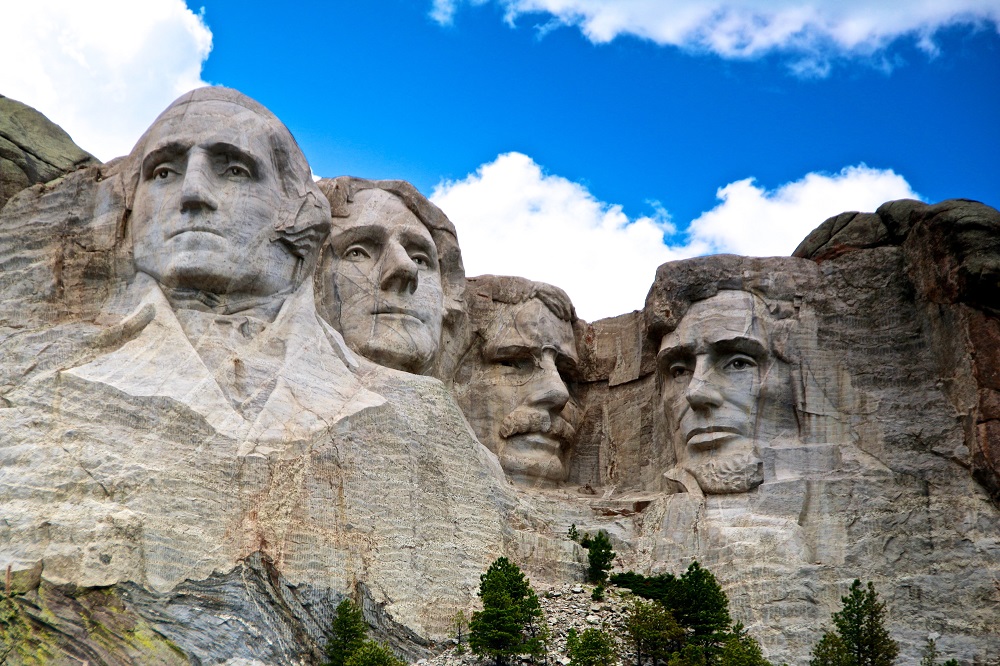 The sculpture features the 60-foot (18-meter) heads of four iconic U.S. Presidents: George Washington, Thomas Jefferson, Theodore Roosevelt and Abraham Lincoln.
They were chosen intentionally to represent four critical stages in the nation's history, respectively its birth, growth, development and preservation.
Attraction: Bourbon Street
Location: New Orleans, Louisiana
A historic street in the French Quarter of New Orleans, Bourbon Street is the primary tourist attractions in the city. It extends for no fewer than thirteen blocks between Esplanade Avenue and Canal Street and is famous for its never-ending nightlife.
Along Bourbon Street, you'll find a myriad of bars, restaurants, holes-in-the-wall, strip clubs, and live music venues. Although bustline all year round, it's particularly busy during the annual Mardi Gras celebrations, which attract thousands of people.
Attraction: Yellowstone National Park
Location: Wyoming
The oldest national park in America (and the world!), Yellowstone National Park was established in 1872 to preserve the area's amazing variety of natural resources.
It's still one of the most popular and greatest national parks in the USA, located mainly in Wyoming, but also partially in Idaho and Montana.
Yellowstone is known best for its wealth of geothermal features, such as the renowned Old Faithful geyser and Grand Prismatic Spring. Half of the world's geysers are found in this park alone, while other natural features include mountain ranges, large lakes, wide valleys and river canyons.
In addition to those many different landscapes, you'll also find lots of wildlife in Yellowstone. It's often considered the best wildlife viewing destination in the contiguous United States, home to American bison, elk, wolves, and black and grizzly bears.
For those many reasons, this magnificent national park belongs on any nature lover's road trip itinerary in the USA.
Attraction: Walt Disney World Resort
Location: Orlando, Florida
There are many things the USA is pretty good at and entertaining people is definitely one of them. One of the country's top entertainment and amusement destinations is Walt Disney World Resort. Situated near Orlando, Florida, it is visited by an incredible 50+ million people each year, which makes it the world's most popular vacation resort.
Walt Disney World Resort really is its own city, comprising of various theme parks, water parks, golf courses and other attractions.
There are no fewer than four separate theme parks—Magic Kingdom, Epcot, Disney's Animal Kingdom and Disney's Hollywood Studios—and three water parks—Disney's River Country, Disney's Blizzard Beach and Disney's Typhoon Lagoon.
Attraction: Times Square
Location: New York City, New York
Situated in the heart of Manhattan, Times Square is one of New York City's most famous and popular destinations. It lies at the intersection of Broadway and 7th Avenue, boasting a plethora of flagship stores, restaurants, quirky museums and those famous, huge, lit-up billboards.
The flashing billboard lights are an especially overwhelming experience at night.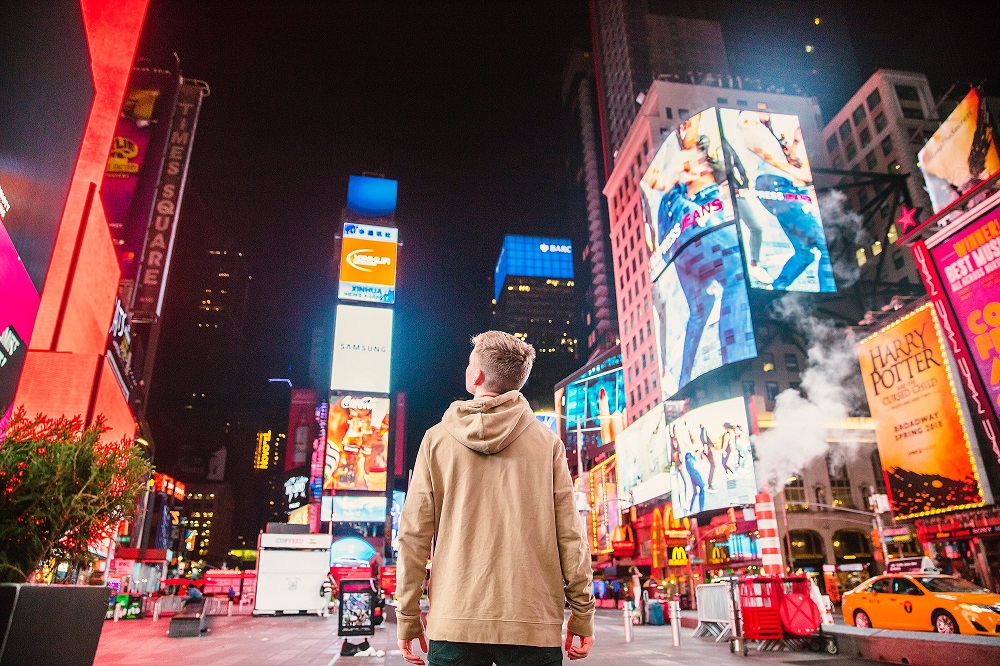 Attraction: Yosemite National Park
Location: California
A breathtaking national park in the Sierra Nevada Mountains of Central California, Yosemite National Park is a testimony to the benefits of nature preservation.
Established in 1890, it's one of the world's oldest national parks, protecting an area of superb beauty and invaluable natural resources.
Due to its accessibility from major cities like Sacramento and San Francisco, Yosemite receives more than five million visitors each year, people who come to admire its sensational landscapes.
The centerpiece of Yosemite National Park is the Yosemite Valley, with its granite walls, cliffs and domes, thundering waterfalls and mountain streams.
Elsewhere in the park, you can explore wildflower-covered meadows, ancient groves of towering sequoias and alpine lakes. The park itself is home to some short scenic drives, while it's also an essential part of longer road trips in the USA.
Best USA Driving Routes (1-5 Days)
The USA provides endless road tripping opportunities, from short scenic drives to extended multi-state road trips. In this section, we'll feature some of the best shorter driving routes in the USA.
Although they're relatively short, from 1 to 5 days, most of them could easily qualify as some of the world's great scenic drives.
Scenic Driving Route: Pacific Coast Highway, California
Start / End: Los Angeles to San Francisco
Total Distance: 465 miles (748 kilometers)
Duration: 4 Days
State(s) Visited: California
Sights Along The Way:
Los Angeles and Malibu
Santa Barbara
Solvang and San Luis Obispo
Morro Bay State Park
Piedras Blancas Friends of the Elephant Seal Rookery
Big Sur
Carmel-by-the-Sea
San Francisco and the Golden Gate Bridge
The section of the scenic Pacific Coast Highway in California that runs between Los Angeles and San Francisco is about 465 miles long.
It's arguably the most beautiful part of the entire route, taking in famous places like Malibu, Santa Barbara, Big Sur and Carmel-by-the-Sea.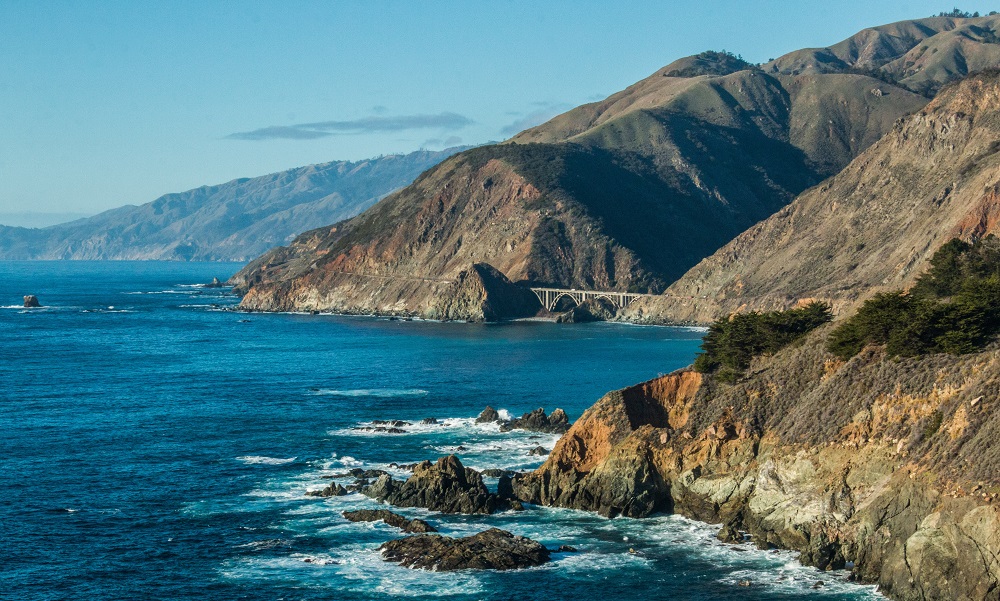 It's without question the best way to get from L.A. to San Francisco (or vice versa), one of the greatest scenic drives in the USA.
Scenic Driving Route: Overseas Highway, Florida
Start / End: Miami to Key West
Total Distance: 160 miles (257 kilometers)
Duration: 1 Day
State(s) Visited: Florida
Sights Along The Way:
Beach life and Art Deco architecture in Miami
Biscayne National Park
Key Largo
Islamorada
Marathon
Big Pine Key
Key West
The Overseas Highway is one of America's many engineering wonders, carrying US Route 1 for 113 miles (182 kilometers) across the Florida Keys. The best place to start this amazing drive is Miami, located just north of Key Largo.
You'll drive above the shallow Florida waters much of the time, as you hop-skip from tiny island to tiny island. This is truly extraordinary road, offering access to one of the world's largest coral reefs as well as great wildlife watching opportunities.
Scenic Driving Route: Olympic Peninsula Loop, Washington
Start / End: Seattle
Total Distance: 350 miles (563 kilometers)
Duration: 5 Days
State(s) Visited: Washington
Sights Along The Way:
Hurricane Ridge Road
Lake Crescent
Sol Duc Falls
Ruby and Rialto Beaches
Hoh Rain Forest
Lake Quinault
Encompassing the northwestern most corner of the contiguous United States, the Olympic Peninsula lies just west of Seattle, across the Puget Sound.
At the heart of this large peninsula, and along part of its western coastline, is Olympic National Park, a UNESCO World Heritage Site and an impenetrable wilderness of mountain ranges and rain forests.
Route 101, coming all the way from California and Oregon to the south, loops halfway around the peninsula, offering access to some of the national park's main attractions.
Driving the Olympic Peninsula loop is, in fact, the only way to see all Olympic National Park has to offer. It's a long and sometimes slow drive, though, so count on about 5 days to complete it.
Scenic Driving Route: Road to Hana & Haleakala National Park
Start / End: Kahului
Total Distance: 145 miles (233 kilometers)
Duration: 4 Days
State(s) Visited: Hawaii
Sights Along The Way:
Twin Falls
Garden of Eden Arboretum
Wai'anapanapa State Park
Town of Hana
Hamoa Beach
'Ohe'o Gulch Pools
Kipahulu Bamboo Forest
Haleakala Crater sunrise and/or sunset
One of the most exhilarating drives you'll ever do is the Road to Hana in eastern Maui, Hawaii. This narrow sliver of asphalt high up in the island's coastal hills is certain to test your nerves and driving skills.
There are over 600 hairpin turns, many of which are blind, and almost 60 one-lane bridges. This is one of those roads where the journey is more important than the destination—a must-do activity when visiting Maui.
You're also encouraged to extend your drive after returning from Hana (it's a there-and-back kind of drive) and head up to the summit of the Haleakala Volcano.
After exploring the humid coastal rain forests of eastern Maui, the multi-colored otherworldly looking Haleakala Crater will offer you an entirely different experience. Don't miss sunrise or sunset!
Scenic Driving Route: Skyline Drive, Virginia
Start / End: Fort Royal to Rockfish Gap
Total Distance: 105 miles (169 kilometers)
Duration: 2 Days
State(s) Visited: Virginia
Sights Along The Way:
75 scenic overlooks
Stony Man
Skyland Resort
Dark Hollow Falls
Big Meadows and Byrd Visitor Center
Running the entire length of Shenandoah National Park in central Virginia, Skyline Drive is the only public road in the park. It parallels the crest of the endlessly rolling Blue Ridge Mountains, featuring no fewer than 75 overlooks, wonderful waterfalls and dozens of hiking trails.
There are four different entrances to Skyline Drive, one of the most accessible scenic mountain drives in the USA, located at intervals along the way.
It may only be about 1.5 hours from the hustle and bustle of Washington, D.C., but Shenandoah National Park is all about peaceful nature, panoramic views, sunsets and abundant wildlife, such as black bears and white-tailed deer.
You could easily drive Skyline Drive in one afternoon, but we recommend allowing two days and one night. You can camp at several campgrounds, rent a rustic cabin or splurge at Big Meadows Lodge or Skyland Resort.
Scenic Driving Route: White Mountains Loop, New Hampshire
Start / End: Conway or Lincoln, New Hampshire
Total Distance: 98 miles (158 kilometers)
Duration: 1 Day
State(s) Visited: New Hampshire
Sights Along The Way:
Kancamagus Highway
Franconia Notch State Park
Cannon Mountain Aerial Tramway
Mount Washington Hotel
Mount Washington Auto Road
Mount Washington Cog Railway
Crawford Notch
This loop drive in the northern White Mountains of New Hampshire takes you to some of the Northeast's most spectacular landscapes and historic sites.
You can start it at either Conway or Lincoln, at either end of the scenic Kancamagus Highway, which runs through pristine forests and along trails, campgrounds and viewpoints.
This one-day loop also includes Franconia Notch State Park with its Cannon Mountain Aerial Tramway, lush The Flume Gorge and Cannon Mountain Ski Resort.
Another highlight is the Mount Washington Hotel in Bretton Woods, located at the foot of towering Mount Washington and an important historic site.
Scenic Driving Route: South Dakota Badlands Loop
Start / End: Rapid City, South Dakota
Total Distance: 230 miles (370 kilometers)
Duration: 3 Days
State(s) Visited: South Dakota
Sights Along The Way:
Badlands National Park
Wind Cave National Park
Custer State Park
Mount Rushmore National Memorial
Without question one of the best driving routes in the northern Midwest, the South Dakota Badlands Loop takes you to four amazing parks.
The convenient starting and ending point of this scenic drive is Rapid City, which offers easy access to all those parks.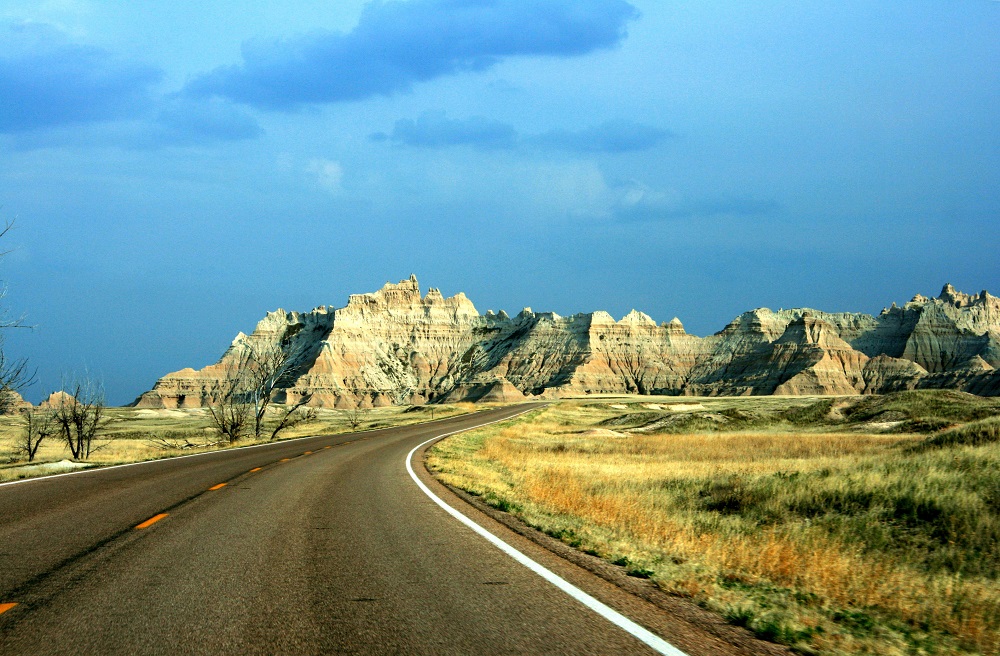 When driving this route in a clockwise direction, you'll visit Badlands National Park first, followed by Wind Cave National Park, which is home to a large herd of American bison.
Further down the road, you can see even more bison in famous Custer State Park. Your last destination is Mount Rushmore, one of the most renowned cultural icons of the United States.
Scenic Driving Route: Seward Highway, Alaska
Start / End: Anchorage to Seward
Total Distance: 125 miles (201 kilometers)
Duration: 1 Day
State(s) Visited: Alaska
Sights Along The Way:
Turnagain Arm
Chugach State Park
Sixmile Creek Viewpoint
Moose Pass
Exit Glacier
The 125-mile Seward Highway runs from Anchorage to Seward, along some of Alaska's most spectacular and accessible wilderness landscapes.
Even though this is a day drive, there are plenty of highlight along the way, from the glorious shores of the Turnagain Arm to the peaks of the Chugach Mountains and the marine life of Resurrection Bay.
A worthy detour just before you arrive in Seward is the majestic Exit Glacier in Kenai Fjords National Park, one of Alaska's most reachable valley glaciers.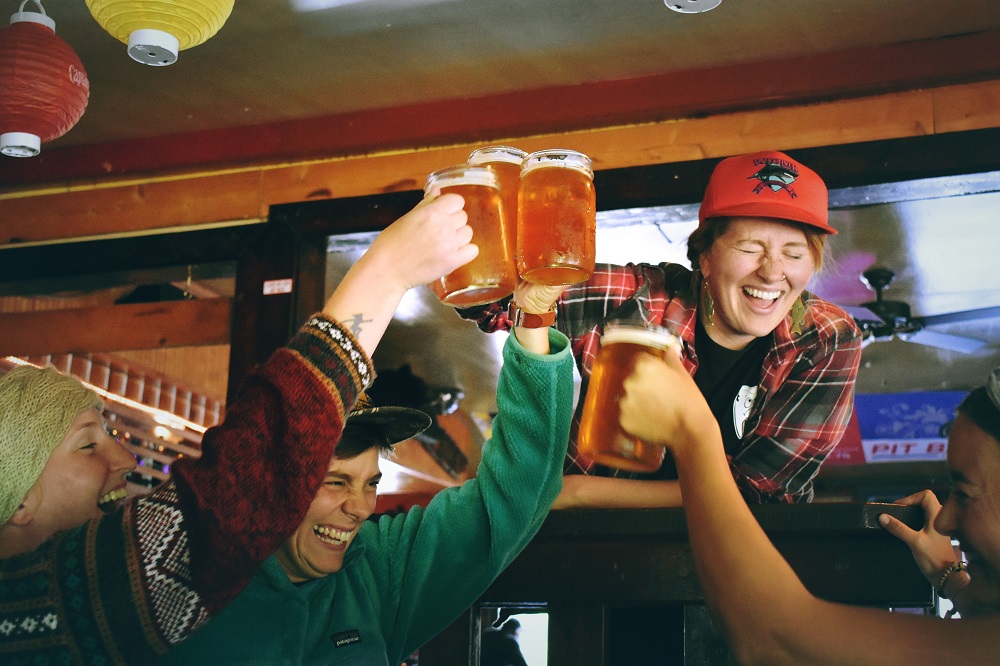 Scenic Driving Route: Columbia River Gorge & Mt. Hood Scenic Byways
Start / End: Portland, Oregon
Total Distance: 167 miles (269 kilometers)
Duration: 2 Days
State(s) Visited: Oregon
Sights Along The Way:
Columbia River Gorge
Multnomah Falls and many other waterfalls
Hood River
Mt. Hood
Trillium Lake
Historic Timberline Lodge
One of the absolute best scenic drives in the USA if you only have a weekend is the Columbia River Gorge and Mt. Hood loop from Portland, Oregon.
This amazing drive will take you through the magnificent Columbia River Gorge, which is home to literally dozens of waterfalls and hiking trails.
The adventure-focused tourist town of Hood River anchors the Historic Columbia River Highway and the Mt. Hood Scenic Byway, and is the perfect place to spend the night.
On day two, swing back to Portland via Mt. Hood while taking in some of Oregon's most beautiful scenery, including pristine forests, reflecting lakes and superb hiking trails.
Long Road Trips In USA (6-30 Days)
While many major cities in the USA will offer you the opportunity to go for a scenic drive, there are also numerous longer, extended road trips you can go on.
Oftentimes, these longer road trips in the USA are between different cities, yet there are also a few multi-day loops than can conveniently be done from one city.
Road Trip: Blue Ridge Parkway
Start / End: Rockfish Gap, Virginia to Cherokee, North Carolina
Total Distance: 469 miles (755 kilometers)
Duration: 7 Days
State(s) Visited: Virginia and North Carolina
Sights Along The Way:
Shenandoah National Park (just north of the start of the parkway)
Humpback Rock
Ravens Roost Overlook
Peaks of Otter
Mabry Mill
Blue Ridge Music Center
Linn Cove Viaduct
Mount Mitchell State Park
Mount Pisgah
Balsam Knob
Great Smoky Mountains National Park (just beyond the end of the parkway)
One of America's most popular and greatest scenic drives, the Blue Ridge Parkway snakes its way along the crest of the Blue Ridge Mountains.
From the southern entrance of Virginia's Shenandoah National Park to North Carolina's Great Smoky Mountains National Park, it runs for 469 miles past scenic lookout points, countless hiking trails, various waterfalls and numerous historic sites.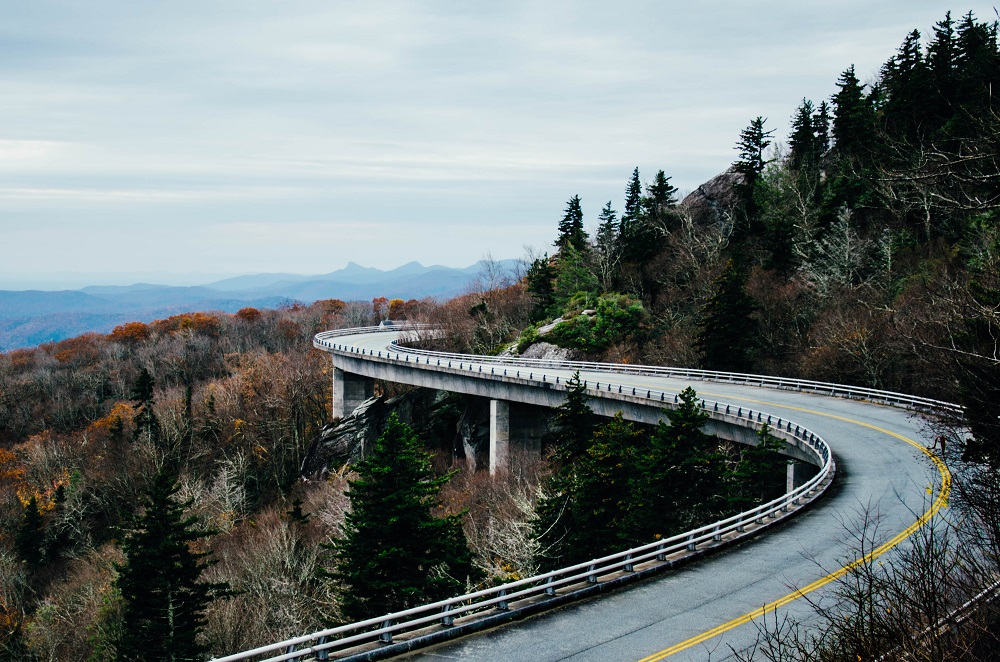 Managed by the National Park Service, this free road is void of any traffic lights and advertisements, offering you the perfect, distraction-free Blue Ridge Mountains experience.
Road Trip: Great River Road
Start / End: Lake Itasca, Minnesota to the Gulf of Mexico, Louisiana
Total Distance: 2,250 miles (3,620 kilometers)
Duration: 10-14 Days
State(s) Visited: Minnesota, Wisconsin, Iowa, Illinois, Missouri, Kentucky, Tennessee, Arkansas, Mississippi and Louisiana
Sights Along The Way:
Lake Itasca, Minnesota
Minneapolis and St. Paul, Minnesota
Potosi, Wisconsin
Buffalo Bill Museum in LeClaire, Iowa
Mark Twain Museum in Hannibal, Missouri
St. Louis, Missouri
Memphis, Tennessee
Antebellum Southern mansions in Natchez, Mississippi
New Orleans, Louisiana
This phenomenal extended road trip takes you north to south through the very heart of America. The Great River Road follows the mighty Mississippi River from its headwaters in northern Minnesota all the way to its mouth in the Gulf of Mexico.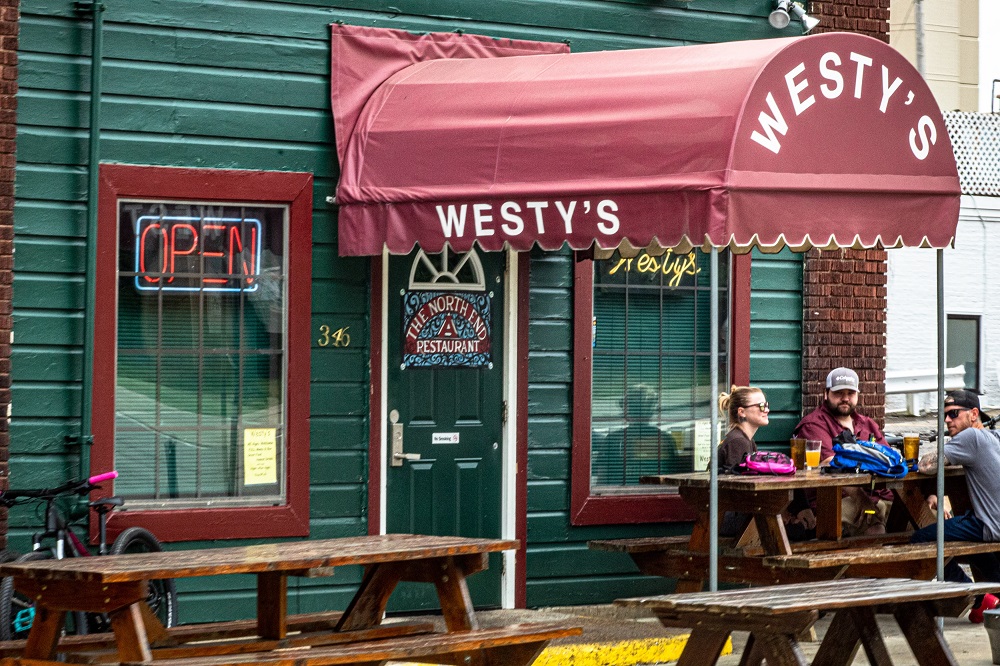 On the way, it passes through no fewer than ten U.S. states and literally hundreds of towns.
It's one of the longest and most important scenic byways in the country, following the continent's greatest river and offering road trippers to experience the Midwest and Deep South, and all their characteristics, from historic battlefields to authentic cuisine.
Road Trip: Utah & Arizona National Parks Loop
Start / End: Las Vegas, Nevada or Flagstaff, Arizona
Total Distance: 1,243 miles (2000 kilometers)
Duration: 12 Days
State(s) Visited: Utah and Arizona
Sights Along The Way:
Zion National Park, Utah
Bryce Canyon National Park, Utah
Capitol Reef National Park, Utah
Canyonlands National Park, Utah
Arches National Park, Utah
Monument Valley, Utah and Arizona
Glen Canyon National Recreation Area, Arizona
Horseshoe Bend, Arizona
Grand Canyon South Rim, Arizona
Lake Mead National Recreation Area, Arizona and Nevada
The Grand Circle scenic drive takes adventurers to half a dozen national parks, a Navajo Tribal park and a couple of other National Park Service sites. It's one of the greatest national parks road trips anywhere in the USA, and that says something!
You can start this spectacular loop from most major cities in the area, including Flagstaff, Phoenix and even Salt Lake City. The most convenient starting point, however, is Las Vegas, which often has cheap flights and car rentals.
On the way, you explore world-renowned parks like Zion, Bryce Canyon, Arches and the Grand Canyon, as well as iconic locales like Monument Valley, Lake Mead and Lake Powell.
This is a road trip of a lifetime, so don't rush it and take you time. Twelve days to two weeks are ideal.
Road Trip: Route 66
Start / End: Chicago, Illinois to Santa Monica, California
Total Distance: 2,448 miles (3,940 kilometers)
Duration: 14 Days
State(s) Visited: Illinois, Missouri, Kansas, Oklahoma, Texas, New Mexico, Arizona and California
Sights Along The Way:
Route 66 Hall of Fame in Chicago, Illinois
Chain of Rocks Bridge, St. Louis, Missouri
Trail of Tears, Waynesville, Missouri
Cars on the Route, Galena, Kansas
Woody Guthrie Center, Tulsa, Oklahoma
Cadillac Ranch, Texas
MidPoint Café, Adrian, Texas
Acoma Pueblo, New Mexico
66 Diner in Albuquerque, New Mexico
Petrified Forest National Park, Arizona
"Standing on the Corner" Park in Winslow, Arizona
Meteor Crater, Arizona
Roadside eateries and shops in Seligman, Arizona
Elmer's Bottle Tree Ranch, Oro Grande, California
Santa Monica Pier, California
Arguably the most famous highway in the world, historic Route 66 has evoked images of the open road, roadside attractions and fun adventures for decades.
Although originally, a regular U.S. highway like any other, it gained fame as a westward migration route during the 1930s Dust Bowl. Its popularity created an economic boom in towns along the way.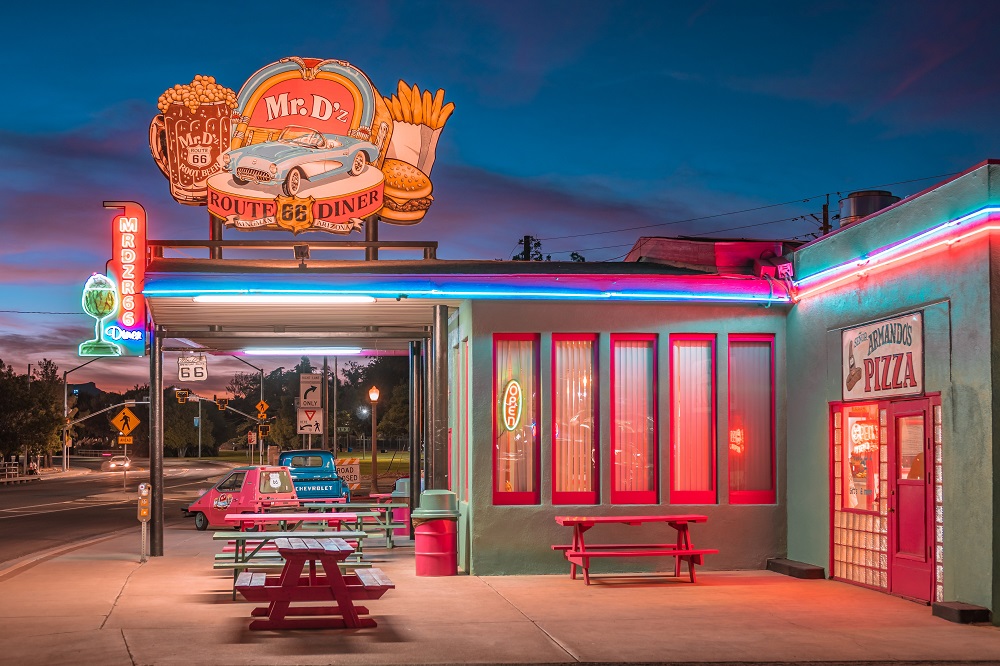 Nowadays, many sections of the original Route 66 are gone, but you can still retrace its route from Chicago to the Pacific Ocean in Los Angeles County, California.
Nicknamed the "Mother Road", it's still one of the world's greatest drives, a once-in-a-lifetime experience across the United States, eight states and three time zones.
Road Trip: Washington's National Parks
Start / End: Seattle, Washington
Total Distance: 900 miles (1,450 kilometers)
Duration: 12 Days
State(s) Visited: Washington
Sights Along The Way:
Seattle
North Cascades National Park
Lake Chelan National Recreation Area
Mount Rainier National Park
Mount St. Helens National Volcanic Monument
Olympic National Park
Washington is home to three outstanding national parks, as well as countless other parks and monuments.
On this Washington national parks road trip, you'll visit the cream of the crop—some of the most spectacular and extraordinary landscapes in the northwestern USA.
Seattle, the region's main transportation hub, lies convenient in the middle of those three parks, which makes this a convenient starting point.
You can spend as much time in each park as you'd like, but remember that an overnight is often the best way to truly get a feel for it.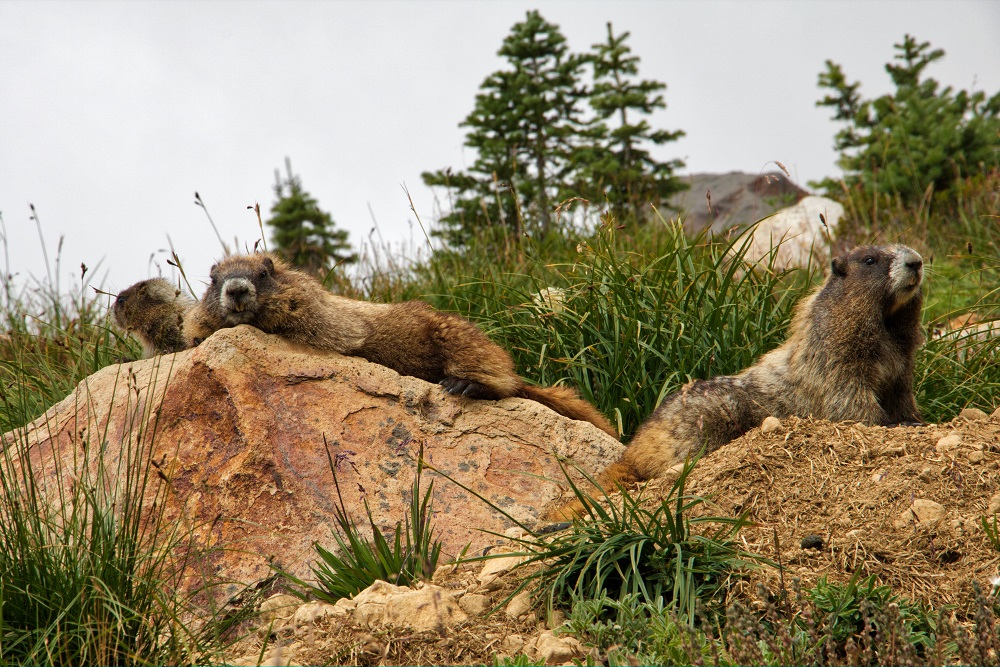 Olympic National Park alone requires 4-5 days. North Cascades National Park can seen in 1 or 2 days, while Mount Rainier is another 2 to 3 days.
Including a detour to spectacular Mount St. Helens, this epic scenic drive in the USA's northwest takes about 12 days.
Road Trip: Oregon's Pacific Coast Scenic Byway
Start / End: Astoria to Brookings, Oregon
Total Distance: 363 miles (584 kilometers)
Duration: 7 Days
State(s) Visited: Oregon
Sights Along The Way:
Astoria
Fort Stevens State Park
Cannon Beach and Ecola State Park
Three Capes Scenic Loop
Heceta Head Lighthouse
Oregon Dunes National Recreation Area
Bandon Beach
Samuel H. Boardman State Scenic Corridor
One of the most spectacular coastlines of any state in America, the Oregon Coast stretches for 363 miles between the Washington and California borders.
The Pacific Coast Scenic Byway parallels all of it, on the way passing by spectacular sea stacks, amazing sand beaches, quaint fishing towns and historic sites.
The beauty of the Oregon Coast, and the reason why we recommend taking a week to do this scenic drive in the USA, is that there are literally dozens of state parks to visit and the entire coast is accessible to the public.
Known as the "People's Coast" thanks to a landmark law, the coast of Oregon remains virtually undeveloped and, therefore, retains its pristine character.
Road Trip: Delta Blues Highway
Start / End: Nashville, Tennessee to New Orleans, Louisiana
Total Distance: 1,011 miles (1,627 kilometers)
Duration: 7 Days
State(s) Visited: Tennessee, Mississippi and Louisiana
Sights Along The Way:
Grand Ole Opry, Nashville, Tennessee
Stax Museum of American Soul Music, Memphis, Tennessee
Sun Studio, Memphis, Tennessee
Blues Visitors Center & Museum, Tunica, Mississippi
Delta Blues Museum, Clarksdale, Mississippi
Riverside Hotel, Clarksdale, Mississippi
Ground Zero Blues Club, Clarksdale, Mississippi
Bourbon Street, New Orleans
Following Highway 61 for several hundreds of miles, the Delta Blues Highway is one of the greatest scenic road trips in the USA.
Anyone who likes American music, including blues, jazz and country, should do this drive at least once. It's phenomenal.
The journey starts in Nashville, Tennessee, nicknamed "Music City" for its homegrown artists and 100+ music venues.
More music history awaits in Memphis, Tennessee, where you should definitely stop by the Stax Museum of American Soul Music and Sun Studio, a world-renowned studio where legendary artists like Elvis Presley, Johnny Cash and Jerry Lee Lewis recorded their first hits.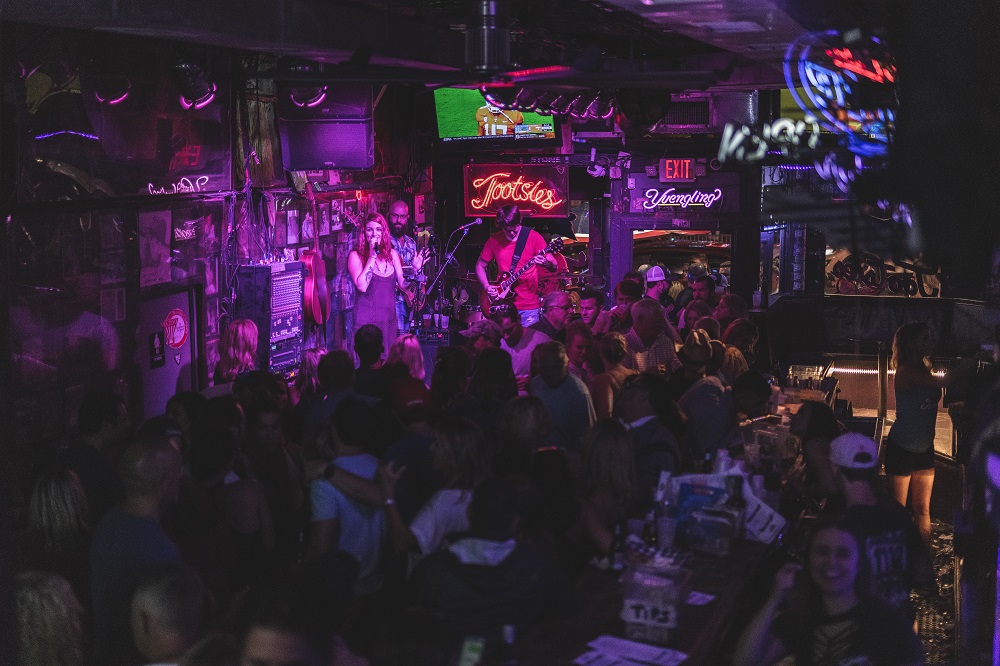 Across the border in Mississippi, the next stop is Tunica, also known as the "Gateway to the Blues".
Another worthy stop is Clarksdale, Mississippi, home to the Delta Blues Museum and the iconic Riverside Hotel, an accommodation that host several of the world's greatest blues musicians.
The final destination of this epic American road trip is New Orleans. There, the French Quarter's Bourbon Street features numerous bars, nightclubs, music venues, jazz clubs and other establishments.
Road Trip: New England Coast
Start / End: New York City, New York to Bar Harbor, Maine
Total Distance: 495 miles (797 kilometers)
Duration: 7 Days
State(s) Visited: New York, Connecticut, Massachusetts, Maine
Sights Along The Way:
Times Square, Central Park, Statue of Liberty and other New York City attractions
Yale University
Freedom Trail in Boston
Portsmouth, New Hampshire
Portland, Maine
Acadia National Park
Starting in New York City, you can visit some of the world's most famous landmarks, such as the Statue of Liberty and Central Park, before heading north toward the spectacular New England coastline.
On the way, you'll visit Yale University in New Haven and Harvard in Boston, along with many other Boston attractions.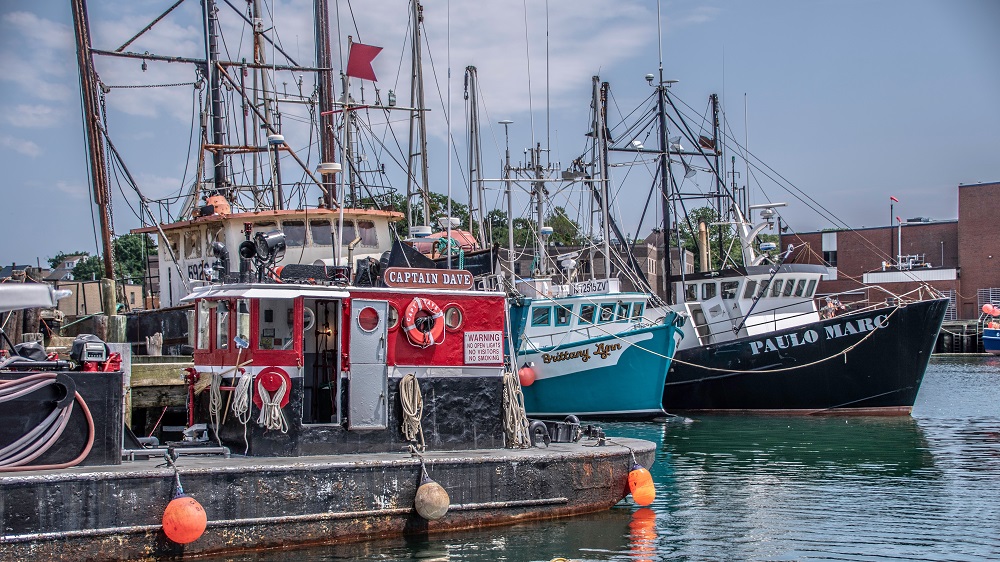 Further down the road await places like charming Portsmouth, New Hampshire and its Strawbery Banke Historic District, as well as the wonderful harbor and waterfront of Portland, Maine.
The final destination of this awesome road trip in America's Northeast is Bar Harbor and Acadia National Park, one of the East Coast's greatest natural destinations.
Road Trip: Southern California Deserts Loop
Start / End: Los Angeles, California (or San Diego)
Total Distance: 850 miles (1,368 kilometers)
Duration: 12 Days
State(s) Visited: California
Sights Along The Way:
Anza-Borrego Desert State Park
Joshua Tree National Park
Death Valley National Park
California's varied landscapes provide endless road trip opportunities. There are scenic driving routes through the Sierra Nevada mountains, along the Pacific Coast and through the towering coastal redwood forests.
But perhaps the greatest two-week road trip in California is this loop around the Southern California deserts.
You can start this USA road trip itinerary in either Los Angeles or San Diego. We'd suggest L.A. simply because this spreads out driving distances between destinations more evenly.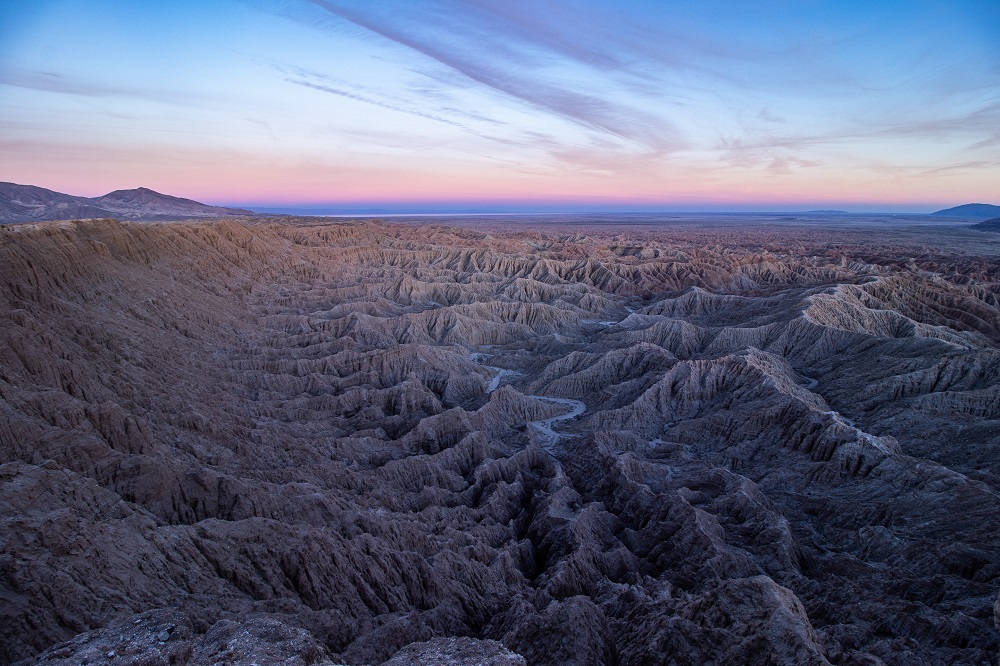 From L.A., head southeast toward Anza-Borrego State Park, one of America's largest state parks.
Here, you'll find beautiful palm oases, barren hills, vast desert flats and Borrego Springs' famous desert sculptures. In spring, this park burst into a wildflower display unlike any other.
Continue your California road trip northwards to Joshua Tree National Park.
The meeting point of the Sonoran and Mojave deserts, this gorgeous national park is home to the iconic Joshua trees, but also to massive boulders, desert oases, rocky hills, and abandoned gold mines and ranches.
The third main destination on this scenic loop is Death Valley National Park, the contiguous United States' largest national park.
This is where you can walk at the lowest point in North America—Badwater Basin—, see snow-capped mountain ranges, hike through badlands, play in sand dunes and enjoy a phenomenal night sky.
Head back to Los Angeles after two weeks of fun in the magnificent, and surprisingly varied, deserts of Southern California.
Road Trip: Northern Rockies National Parks
Start / End: Jackson Hole, Wyoming to Kalispell, Montana
Total Distance: 800 miles (1,287 kilometers)
Duration: 12 Days
State(s) Visited: Wyoming and Montana
Sights Along The Way:
Grand Teton National Park, Wyoming
Yellowstone National Park, Wyoming
Glacier National Park, Montana
Taking in three of America's most spectacular and famous national parks, this Northern Rockies National Parks road trip is a once-in-a-lifetime kind of driving adventure.
Running from Jackson Hole in Wyoming all the way to the "Crown of the Continent" in Montana's Glacier National Park, it offers majestic scenery, world-class wildlife watching opportunities, great hiking and backpacking.
The first park you'll visit is Grand Teton National Park, which encompasses part of the sawtooth-like Teton Mountains as well as plains and lakes.
Adjacent to Grand Teton to the north lies Yellowstone National Park, the world's first national park, a UNESCO World Heritage Site and one of America's greatest natural wonders.
You could (should!) spend five days exploring Yellowstone. It's a vast park with exceptional diversity in landscapes and wildlife.
From Old Faithful and countless other geysers to Grand Prismatic Spring, the Grand Canyon of the Yellowstone and Yellowstone Lake, there's plenty to see here.
Additionally, Yellowstone is also the best place to see megafauna in the contiguous USA. The park's home to bison, wolves, elk, black bears and grizzly bears.
A scenic drive across the border into Montana brings you to Glacier National Park. Part of the Waterton-Glacier International Peace Park, which is also a UNESCO World Heritage Site, it borders Canada and boasts some of America's most majestic mountain scenery.
The star attraction, especially for road trippers, is the sensational Going-to-the-Sun Road, which cuts through the southern part of the park.
Major Events To Visit On Your Road Trip
The USA is a fiercely proud and music-loving nation with lots of traditional holidays, as well as huge annual festivals.
So, if you'd like to time your road trip with a major event in the USA, here is a list of some the top annual events happening throughout the year.
Event: 4th of July (Independence Day)
Date: July 4
Location: All over the USA
Cost: Free
Commemorating the Declaration of Independence of the USA, which occurred on the 4th of July 1776, Independence Day is America's most important national holiday.
Celebrations take place all over the country, from backyards and neighborhood parks to cities and beaches.
As a summer holiday, Independence Day, which is commonly called simply the 4th of July, is associated with various outdoor activities.
These range from barbecues, picnics, fairs, carnivals and parades to official ceremonies, political speeches, baseball games and fireworks.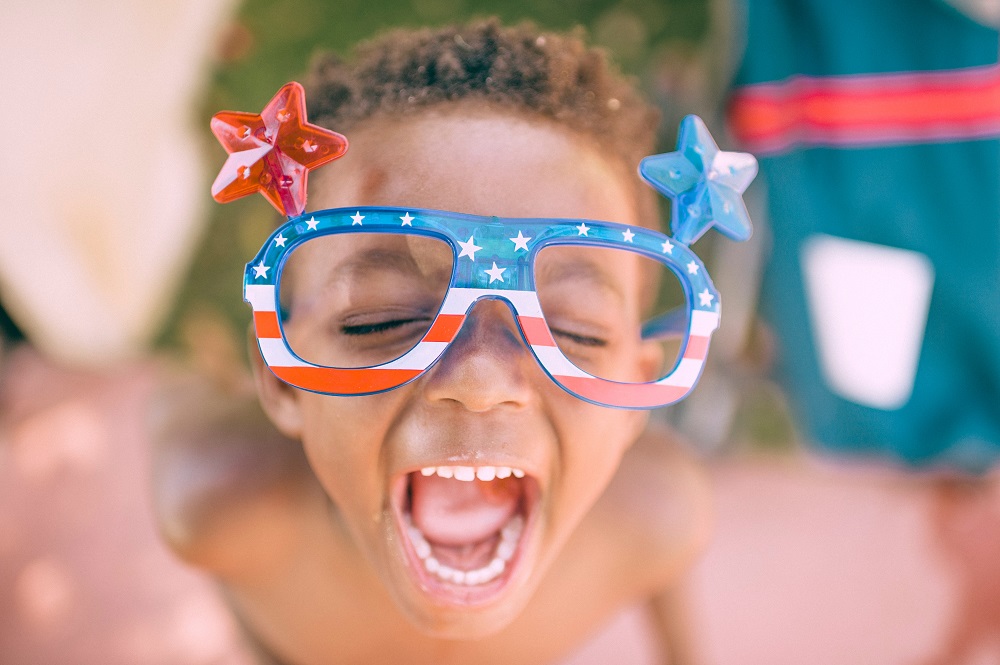 It's worth planning your USA road trip around this extremely popular and fascinating national holiday. Especially in the big cities, you can expect huge crowds, lots of flag-waving, elaborate parades and spectacular fireworks.
Event: Burning Man
Date: late-August through early-September
Location: Black Rock Desert, northern Nevada
Cost: $425+
One of the most iconic annual festivals in the USA, Burning Man takes place every August in the Black Rock Desert of northern Nevada.
It's held in Black Rock City, a temporary planned city in the desert that's constructed specifically for this massive event.
Attending Burning Man is a sensory experience unlike many others, a festival whose dedicated global community explores all kinds of self-expression.
It's the ultimate creativity experiment, influenced by ten main guiding principles: radical self-reliance, radical self-expression, radical inclusion, civic responsibility, leave no trace, communal effort, decommodification, immediacy, participation and gifting.
There's music, song, theater, dancing, various other performing arts, cultural events, and so on.
To many people, Burning Man is often a destination in itself, but you could also combine it with a road trip in the American West. Both northern California and southern Oregon are a within easy driving distance.
Event: Mardi Gras
Date: February (or some years in early-March)
Location: New Orleans, Louisiana
Cost: Packages start from $5
It's no secret that Americans love their parades. From 4th of July parades to Thanksgiving parades, they'll take any excuse to organize one. The most famous parade of all, however, is arguably the Mardi Gras parade in New Orleans.
The Mardi Gras celebrations take place for about two weeks before and through Shrove Tuesday, which is the day before Ash Wednesday, the start of lent. This is why the dates are different every year.
Its name literally means "Fat Tuesday" in French, referring to the last opportunity to indulge in food before the traditional fasting during lent.
The beauty of Mardi Gras in New Orleans is that there are parades on multiple days. The heart of the action is Bourbon Street in the French Quarter, where thousands of people gather to celebrate this carnival, all dressed up and wearing the traditional beads.
When timed well, Mardi Gras in New Orleans could be the ultimate end to a classic American road trip, such as the Delta Blues Highway described above.
Event: Thanksgiving
Date: fourth Thursday of November
Location: All over the country
Cost: Free (plus possible food expenses)
Originally a regional harvest festival, Thanksgiving was first celebrated nationally in 1789, but remained an on and off holiday until Abraham Lincoln proclaimed it an annual national holiday in 1863.
At Thanksgiving, Americans "give thanks" for various things, from good health to abundance of food. Traditionally, this is also a time of year when food is collected to be distributed among the poor.
Thanksgiving is mainly associated with the traditional Thanksgiving dinner, in which the turkey plays a central role. In fact, many Americans colloquially call Thanksgiving "Turkey Day".
Other typical Thanksgiving foods include mashed potatoes, gravy, cranberry sauce, fall vegetables and pumpkin pie.
This important USA holiday also comes with numerous parades, the most famous of which is the Macy's Thanksgiving Day Parade in New York City.
Another important part of Thanksgiving is American football, with several NFL games taking place during the day.
Thanksgiving is often the main family holiday in the USA, a time when families get together and express their thankfulness and gratitude.
It's also the unofficial start of the winter holiday season, followed by the Black Friday shopping deals.
Event: Coachella Valley Music and Arts Festival
Date: April
Location: Empire Polo Club in Indio, California
Cost: $429+
Commonly called Coachella, the Coachella Valley Music and Arts Festival takes place every year in the Colorado Desert's Coachella Valley, in southern California.
It's one of the largest festivals in the world, attracting 250,000 visitors over two three-day weekends in April.
Across the grounds, several stages host dozens of artists and performers in genres as varied as rock, indie, hip hop and electronic dance music. Besides music, Coachella is also famous for its focus on the visual arts.
There are numerous sculptures and installations across the grounds, may of which are interactive.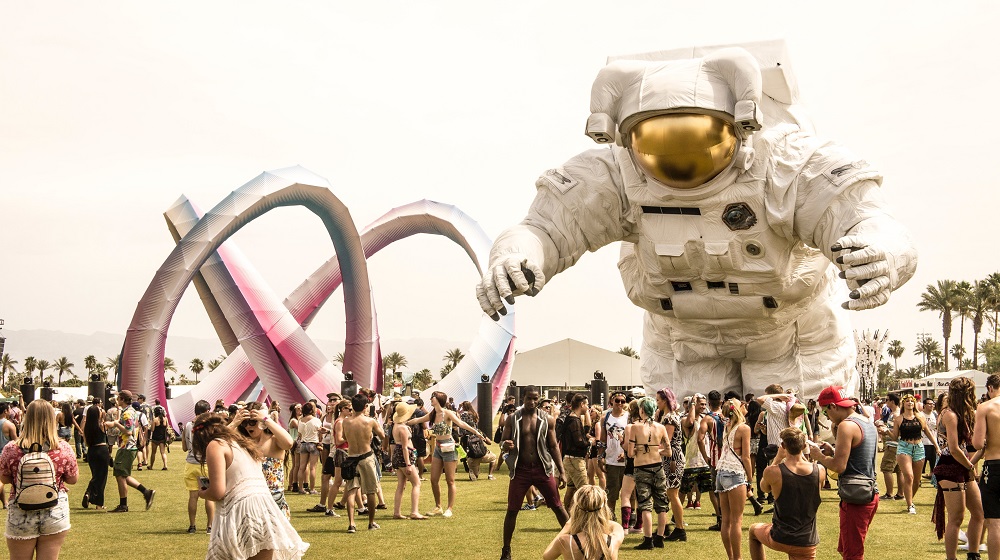 Thanks to its location in southern California, near major cities like Los Angeles and San Diego, Coachella can perfectly be combined with an extended road trip in the region.
It lies just down the road from Joshua Tree National Park, while Utah's and Arizona's epic natural scenery is just a scenic drive away.
USA Road Trip Driving Tips
The road rules and customs in the USA are basically the same as in other (Western) countries, so you shouldn't have too much trouble adapting to driving in the USA.
There are, however, a few small differences you should be aware of:
In the USA, you drive on the right side of the road.
Unless there's a specific sign telling you not to, you may turn right on a red stop light. Note, however, that traffic that has the green light always has the right of way. Only turn right if you're sure the road is clear.
White lines on the road separate traffic going in the same direction.
Yellow lines on the road separate traffic going in opposite directions.
You must have a valid driver's license to drive in the USA. Some, but not all, states require you to have an International Driving Permit. We recommend that you get one, just to be on the safe side.
You always have to yield to pedestrians.
If you see a school bus with flashing red lights, you are never allowed to pass it. Always wait until the lights have stopped flashing.
If you see or hear an emergency vehicle, you must stop or, ideally, pull over to let it pass.
Some intersections have four stop signs—"Stop All Way"—which means that vehicles coming from every direction have to stop. The vehicle that arrived at the intersection first has the right of way.
When parking in towns or cities, a yellow line on the curb typically means you cannot park there.
At an intersection with lights, a flashing yellow light means you may proceed with caution.
At an intersection with lights, a flashing red light means you have to stop completely and yield before continuing.
When pulled over by a police officer, you have to stay in your car. Never get out unless you're asked to do that by the officer.
Fuel is measured in gallons. One gallon equal 3.785 liters.
There are two states where you're not legally allowed to pump your own fuel: New Jersey and Oregon. When road tripping through those states, always wait until the attendee comes over to do that for you.
Rental Car Companies USA

Enterprise
Headquarters: St. Louis, Missouri
Often included in lists of the best car rental companies in the USA, Enterprise Rent-A-Car has more than 5,000 locations all over the country. Although its prices for multi-day rentals are in the higher end of the spectrum, single-day rentals can actually be cheaper than many other companies.
Additionally, its surcharge for young drivers is about half of what its competitors usually charge. Another nice benefit is that the longer you rent a car with Enterprise, the bigger your savings will be. This makes it a great option for longer road trips in the USA.
Hertz
Headquarters: Estero, Florida
With more than 90 years of experience in renting out cars and vans, Hertz is one of the world's largest rental car companies. It has thousands of branches around the world, including no fewer than 1,600 airport locations in the USA.
With its clear and vibrant yellow logo, it's arguably also one of the most well-known car rental companies in the USA. It's not one of the cheapest, though, but remember that a higher price comes with better customer service, more benefits and, ultimately, a nicer overall USA road trip experience.
Hertz sets itself apart with its wide range of cars you can rent, from business cars to large family cars, compact budget vehicles, hybrid cars and even luxury cars. Want to spend a day cruising down a coastal highway in California in a custom sports car? You might be able to rent one from Hertz!
Additionally, customers will have the chance to choose fun add-ons, too. An especially noteworthy one is the Hertz NeverLost GPS, which is a GPS device loaded with features, including local restaurant guides and even national park guides.
National
Headquarters: St. Louis, Missouri
If you're looking for excellent customer service, National Car Rental is your one of your best USA car rental options. Previous customers praise both its friendly service and smooth reservation and pickup process. In terms of vehicle availability, too, National excels. That's mainly thanks to its great Emerald Club loyalty program, which lets members skip the check-in lines and pick their own car.
A sister company of Enterprise and Alamo, National also offers customers the chance to use rewards points from other companies toward renting a car. This includes hotel programs from chains like Hilton and even air miles from American Airlines, Delta and Southwest.
Avis
Headquarters: Parsippany, New Jersey
Although it's one of the most expensive car rental companies in America, Avis also the one that offers the best discounts and has customer service that's consistently rated highly. It's an especially good options for people who don't mind—maybe even love—browsing the web for deals and doing some extra research.
It's a leading rental car company in the USA because of its numerous locations at airports, both small and large, which makes it a good option for road trips in the USA. In fact, Avis was the very first rental car company to open a branch at an airport!
Avis is part of the Avis Budget Group, which also includes Budget Rent A Car, Budget Truck Rental and Zipcar.
Thrifty
Headquarters: Estero, Florida
When looking for value for money, Thrifty might just be what you're after. A subsidiary of the Hertz Corporation, Thrifty has some of the lowest car rental rates in the USA, as well as over 300 locations, many of which are at or near an airport.
Keep in mind, though, that since this is a budget car rental company, customer satisfaction isn't as high as it is with more expensive rental car companies. When compared to other USA car rental companies, Thrifty's prices are consistently below average for all vehicle classes, so this is a great option if you'd like to save some money while road tripping in the USA.
Budget
Headquarters: Parsippany, New Jersey
Honoring its name, Budget Rent A Car is among the cheapest car rental companies in the USA. It's renowned for its impressively low prices, making it quite a popular choice among both business and leisure travelers. Their network of offices stretches across the entire country, with its most popular locations being Orlando, Las Vegas, Los Angeles and New York City.
A major perk of booking your USA rental car with Budget is that you can earn discounts and rewards from its affiliate hotels and airlines, which include JetBlue, Southwest and American Airlines
Dollar
Headquarters: Estero, Florida
While its one-day prices are neither high nor low, Dollar distinguishes itself from its competition with its super-affordable week-long rentals and its wide variety of vehicle options, from economy cars to vans and pick-up trucks. When you compare prices for multi-day trips between different companies, you'll notice that Dollar often ends up being one of the cheapest car rental companies in the USA.
So, if saving money during your USA road trip is one of your main concerns, Dollar—what's in a name?—is a seriously good option to have. On top of that, this is also one of the cheapest companies if you'd like to add an additional driver.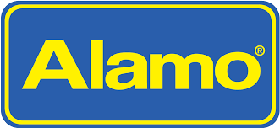 Alamo
Headquarters: Clayton, Missouri
Based in Missouri and part of Enterprise Holdings, which also owns Enterprise and National, Alamo Rent A Car has offices all over the USA. Its car hire prices are just below or at average compared with other rental car companies in America, but the company sets itself apart with its added benefits.
Alamo rental cars come standard with unlimited mileage, which makes it a popular choice among road trippers. Additionally, the cost of an additional driver is lower than most of its competition as well.
Sixt
Headquarters: Fort Lauderdale, Florida
Lastly, Sixt is the European car rental company on this list. Sixt is headquartered in Germany, but has recently also expanded into the U.S. market, where it offers a wide range of vehicles classes at below-average prices. The USA headquarters are in Fort Lauderdale, Florida.
Over a 100 years old, they've always been—and continue to be—at the forefront of the rental car industry. For instance, they were the first car rental company that had an online presence (aka a website) and the first one where guests could make mobile reservations.
Visa Requirements And Flights For USA
Visa Requirements For USA
Depending on your nationality, you might need a visa to enter the USA. Citizens from 39 eligible countries, however, can enter the USA without a visa through the Visa Waiver Program.
Note that those travelers will still need to have valid Electronic System for Travel Authorization (commonly known as ESTA) approval. If you're eligible, you can apply for this online.
You can find all necessary information about the Visa Waiver Program here.
Where To Book Flights To USA
The most popular airlines that fly to USA are United Airlines, Delta Air Lines and American Airlines.
Car rentals are available in all major cities and towns so don't forget to consider opting for a one way car rental in the USA to get you from A to B without having to drive back to your original pickup location to return your hire car.
Popular airports for tourists to fly into to start their USA road trip are the following:
New York City – John F. Kennedy International Airport (JFK)
Boston – Boston Logan International Airport (BOS)
Washington, D.C. – Dulles International Airport (IAD)
Atlanta – Hartsfield-Jackson Atlanta International Airport (ATL)
Chicago – Chicago O'Hare International Airport (ORD)
Seattle – Seattle-Tacoma International Airport (SEA)
Las Vegas – McCarran International Airport (LAS)
San Francisco – San Francisco International Airport (SFO)
Los Angeles – Los Angeles International Airport (LAX)
San Diego – San Diego International Airport (SAN)