Scenic Drives USA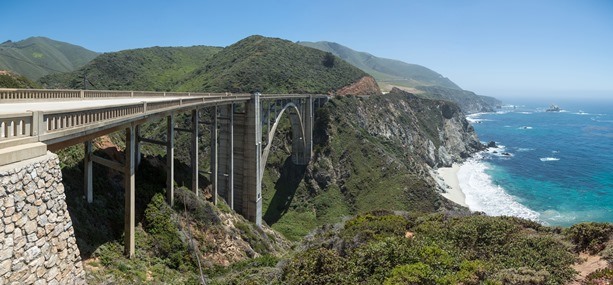 Best United States Road Trips
The United States has everything to offer its residents and visitors from all over the world.
Its sheer size allows for some of the most entertaining, adventurous and enjoyable road trip experiences.
From densely populated cities and high profile beaches to tall mountain ranges and natural wonders, you can take your pick!
Car rentals are available in all major cities and towns so don't forget to consider opting for a one way car rental in the USA to get you from A to B without having to drive back to your original pickup location to return your hire car.
Inland US road trips
One of the most popular and well-known driving routes in the United States is the historic Route 66.
If you start in Chicago, Illinois, you will travel through Missouri, Kansas, Oklahoma, Texas, New Mexico, Arizona and finally California.
This is one of the best roads to travel across country and get to see as much of the US as possible.
Another great inland trip is the 107 mile long route from Torrey to Bryce Canyon National Park in Utah.
Make your way through Red Canyon, Bryce Canyon National Park and all the way to the entrance to Capitol Reef National Park.
Cheap Car Hire in the USA
While costs can add up during a road trip, your car hire doesn't have to!
Search our site to find the best deals on USA rental cars and lock in a discount on a reliable Chevrolet, Toyota, Hyundai, Nissan and others.
Choose from a range of vehicle sizes from compact to economy to intermediate up to larger options such as SUVs and family mover mini vans from one of the trusted auto hire brands like Avis, Alamo, National, Hertz and Thrifty.
Coastal drives in the USA
Florida is famous for its hot and humid weather which makes a trip to the beach a must for all visitors.
Whether you are a foreigner enjoying the warm climate or a northerner looking to enjoy a warmer to mild winter, the great beaches and buzzing Florida cities await!
When in Florida, there is one trip you simply cannot miss out on. A trip from Miami to Key West on the Overseas Highway takes you across the waters and all the way to your destination.
You are bound to fall in love with the Keys and make sure that you book in at a hotel for at least one or two nights so that you can enjoy some scenic sights, water sports and fun in the sun!
A trip from Annapolis, Maryland to Virginia Beach, Virginia is the best route for those who want to enjoy something different.
This 210 mile stretch takes you away from the usual busy city life and allows you to get in touch with nature on your way.
There are plenty of bays and coastal sights to enjoy on your way.
Depending on where you find yourself in the US, there are so many coastal routes to choose from.
Traveling from San Francisco to Santa Barbara on the Pacific Coast Highway is a popular option if you are in California and there are many more similar routes on the west and east coasts.
While a trip from Massachusetts to Florida can take as little as three days on the road, there is no reason to stick to the main highways all the way and there is certainly no reason to rush.
The point of a road trip is to really embrace the spirit of adventure and take your time to enjoy as many sights and attractions along the way.
There are plenty of hotels, motels, inns and other types of accommodation all over the country so you won't have any trouble finding a place to rest your head.
If you plan your trip properly, you can map out your route and make necessary car rental and accommodation reservations online in advance and make the most of some of the best savings and deals.