Denali Highway AK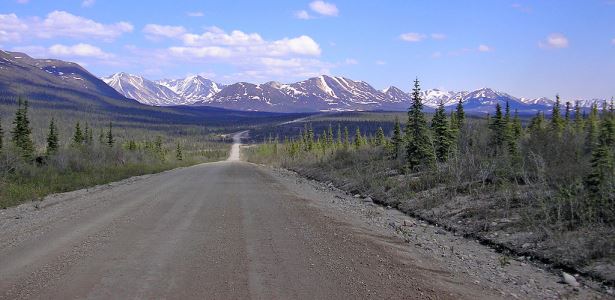 The Denali Highway in Alaska takes travelers from Paxson to Cantwell over an adventurous road that stretches over a distance of approximately 135 miles.
This route is ideal for anyone who really wants to explore Alaska and enjoy as much natural beauty as possible.
When booking your rental car, remember that you should choose a vehicle that can accommodate all of your luggage and supplies for such a trip.
Driving route and attractions
The first part of your drive from Paxson to Cantwell will take you to the Tangle Lakes. In ideal weather conditions, you will be able to enjoy quite an amazing view of the central Alaska Range.
Be on the look-out for Mount Hayes, Mount Hess and Mount Deborah. You will also notice some beautiful glaciers along the way.
Enjoy the view as the winding road takes you through the Amphitheater Mountains and towards the Maclaren River Valley where you will be able to see the Maclaren Glacier.
Other sights include the Denali Clearwater Mountains, the Susitna River and the Nenana River.
Top activities along this route include canoeing at the Tangle Lakes, bird watching, fishing and hiking.
For the best fishing spots, make sure that you cast your line in clear water (or non-glaciated) streams.
Bird watchers should take some information with them regarding the various bird life in the area.
If you are lucky, you could spot an Arctic Warbler, Long-tailed Jaeger, Whimbrel, Surfbird, Smith's Longspur, Lapland Longspur and many more.
Hunting has led to a relative scarcity of larger wildlife but you can still see caribou, moose and grizzly bears.
The best part of all is that there are plenty of trails and paths for you to explore.
For the most part, they are easy to navigate and, even if you aren't all that fit, you can still handle it with relative ease.
Driving advice
It's important to note that this road is not a popular route for travelers. For the most part, it is a scenic drive enjoyed by tourists and visitors.
Due to the lack of demand, the road is not very well maintained and is also closed from late Autumn to early Spring because the weather makes for dangerous driving conditions.
Only a small portion of the road is paved. The rest is gravel and, as a result, it can get pretty bumpy and dusty. You will probably want to keep your windows closed and drive fairly slowly along this road.
Of course, a slow drive isn't all bad. It will give the driver and passengers the chance to look around properly along the way.
You may also want to consider another popular Alaskan road trip such as the Dalton Highway to see even more spectacular sights in the stunning state (it's still part of the USA remember?).
Due to the condition of the road, it is usually advised that drivers choose the right rental car. A 4×4 or large SUV is ideal.
Any kind of vehicle designed for off road conditions is your best bet. There are some camping facilities along the route if you wish to spend at least one night in this area.
This will really allow you to enjoy your surroundings and take your time.