Finger Lakes NY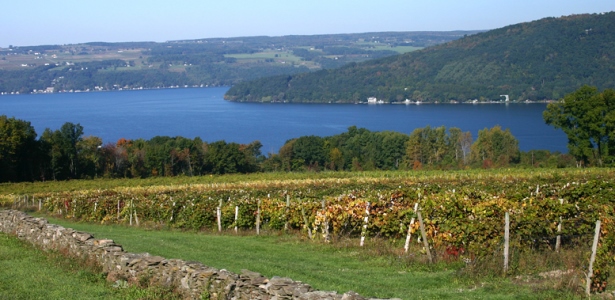 Finger Lakes, New York, USA
Scenic Wine Trail from Ithaca to Syracuse and Rochester
This fantastic scenic drive is not just great for wine tasting enthusiasts but it also boasts some of the most spectacular natural sights and attractions.
Many tourists and locals make their way through this area as an alternative, and more enjoyable, means of traveling between Rochester and Syracuse.
Located in New York State, the Finger Lakes Trail can easily be reached from the main airports at New York, Boston, Philadelphia, Toronto, Ottawa and Montreal.
Attractions around Finger Lakes
If you start in Ithaca, you can visit sights like the local university and science centre as well as the Taughannock Falls State Park which is just north of the city.
Cayuga became famous for its wine in the 1980s thanks to the Lucas family so make sure that you stop in this area and get a taste of their world class wines.
If you are looking to make some reasonable or perhaps even cheap purchases, you should plan to stop in at the popular Traders Village.
The local Amish community manufactures a number of hand crafted goods like rugs, toys and quilts.  The prices are really low and these make for great souvenirs and gifts.
Seneca Falls is another great place to stop as is the Smith Opera House in Geneva which isn't too far away and well-worth the trip.
Other places worth visiting in the area include the Finger Lakes National Forest, Watkins Glen State Park and the Fillmore Glen State Park.
It all really depends on the distance you are traveling and the route you choose.
There are so many different roads and routes to choose from.
Cheap Car Hire in New York
Pickup a cheap rental car in NYC at JFK airport to head up to the Finger Lakes.
Browse our site to find and compare car hire deals from all the big brands such as Alamo, Thrifty, Hertz, National and Avis.
Lock in a low rate on a Chevrolet, Toyota, Accura, Hyundai, Kia and others in sizes ranging from compact to mid-size to intermediate and larger options like SUVs and family mover mini vans.
Syracuse and Rochester attractions
The reason why so many people choose to extend their drive to include both Rochester and Syracuse is because both cities have so much to see and do.
Being so close to both of them gives you the perfect excuse to prolong your trip.
Fun places to visit in Rochester include the unique National Museum of Play at The Strong, George Eastman House, the Highland Botanical Park and Lamberton Conservatory and a number of local theatres as well.
As for Syracuse, the main attractions here are the Erie Canal Museum, the Rosamond Gifford Zoo, the Museum of Science & Technology and various theatres and entertainment centres which are perfect for the whole family.
No matter where you start your trip, as you can see, it's certainly worth your while to explore additional cities and towns along the way.
Pick up a few of your favourite wines along the way to enjoy during your vacation or take them back home with you.