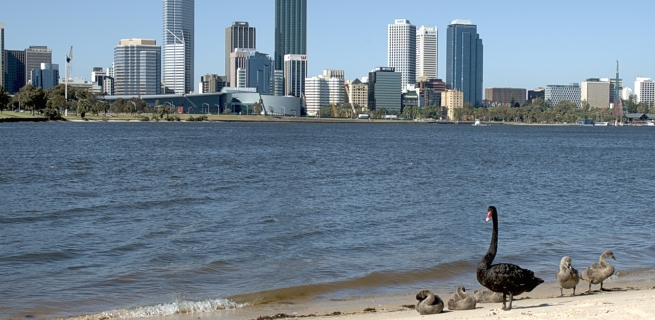 Car Rental at Perth International Airport Car Hire
As the capital of Western Australia and the country's fourth largest city, Perth offers a classic but truly unique Australian experience. Less touristy and more laid back than its eastern counterparts, Perth, WA which sits beside the tranquil waters of the Swan River, boasts over 300 days of sunshine a year, one of the largest inner-city parks in the world and 19 gorgeous beaches, as well as a wealth of historical, cultural and shopping attractions to rival any of Australia's capitals. The freedom and ease of a car rental at Perth International Airport Car Hire will allow you to live like a local, relax and soak up everything that this city has to offer. With a huge range of rental cars to choose from you will be sure to find a model to suit your needs and ensure you discover the wonders of this fabulous city and its surroundings.
Perth City by Hire Car
Upon arrival pick up your rental car directly from the airport and waste no getting to your hotel and settling in. After this a great way to start your trip to Perth is to drive down to the Central Business District. Here you can visit the Cultural Centre and learn about the rich history and culture of the region in the Western Australia Museum, Art Gallery and State Library. From there it is a short hop to the enormous Kings Park, where you can marvel at some of Australia's unique plant life in the Botanic Garden, go on a treetop walk and enjoy some of that endless Perth sunshine with a picnic overlooking the Swan River and CBD. If picnics are not your thing, head back into town to sample some of Perth's flourishing culinary delights in one of the many cafes and restaurants around town. Another way to discover some of Western Australia's rich cultural history is with a guided walking tour of Kings Park and a visit to the Aboriginal Art and Craft Gallery, located in the park
The staggering thing about Perth is that just 20 minutes drive from the CBD, in your rental car, are the stunning, iconic beaches of Cottesloe and Scarborough. So, when you are done with the CBD, head out to one of these, relax on the powdery, white sands, take to the water for a dip or a surf and, later on, watch the sun set over the Indian Ocean with a bag full of golden fish and chips.
Beyond the city in your rental car
Magnificent beaches are not all the surrounding area has to offer and the real beauty of a car rental at Perth International Airport Rental Cars is the ease with which you can access everything this fascinating region has to offer. Just 20 minutes away, the cultural and historic port city of Fremantle makes a great excursion from the city. Here you can explore the old prison, poke around the fantastic markets and indulge in some of Australia's best beer at the Little Creatures Brewery.
Other great trips out of the city include a boat ride to the breathtaking Rottnest Island, for a chance to experience some of Australia's majestic scenery and unique wildlife; a 45 minute drive in your hire car down to Rockingham, for the opportunity to swim with dolphins; or a day coasting through Swan Valley, sampling delicious Australian wines and beautiful Australian landscape along the way.
Whatever you choose to do with your time in Perth, Western Australia it is always hard to say goodbye but, to make leaving no more difficult than it need be, you can drive your car rental at Perth International Airport Car Hire all the way to the airport, giving you the opportunity to savour every last moment in this incredible region.