Car Rental Chiang Mai Airport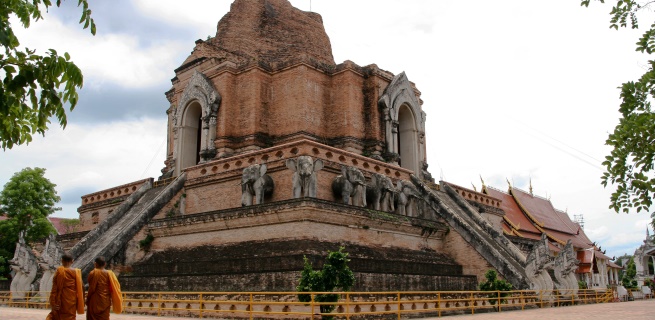 Compare Chiang Mai, Thailand Auto Hire & Book
If you're heading to stunning Thailand and would like to explore out-of-the-way places, grab a deal on car hire at Chiang Mai Airport and you'll have the freedom to explore at your own pace and see what you want to see.
See special offers on our site now to secure a discount on hatches, sedans and mini vans with 5 – 9 seats to suit any style of travel.
Top car rental companies that can be found at Chiang Mai Airport include Avis, Budget, Hertz and Sixt. Book online and save big today.
Chiang Mai Airport is the third busiest airport in Thailand and is the main gateway to the northern parts.
Explore Chiang Mai by car
Once you pick up your hire car, it's time to get out there and experience Thailand by car for the ultimate holiday!
Chiang Mai is known for its many elephant parks. You can get in touch with nature and enjoy a surreal experience with these gentle giants by visiting the Patara Elephant Farm, the Elephant Nature Park, the Thai Elephant Home and many more.
Feel like getting some much needed exercise? Sign up for some boot camp sessions or yoga classes to get that blood flowing!
With the added luxury of stunning natural surroundings, working out has never felt so good!
The area is also rich in religious sites so make the most of your hire car by visiting such picturesque places as Wat Phra That Doi Suthep, Wat Chedi Luang and Wat Sri Suphan.
Deciding between Chiang Mai car rentals
There are a few tips to consider when choosing your rental car in Chiang Mai Airport.
The whole point of you being on vacation is so that you can relax.
The traffic and driving style might not be what you are used to so, as a little word of advice, consider renting a vehicle with an automatic transmission.
It will allow you to really focus on the road that much more and, if you are caught in bumper to bumper traffic, you won't get a tired or sore clutch foot.
In addition to this, a smaller car is easier to manoeuvre. Especially in the more congested areas.
Single travelers or couples can do with a smaller car.
Compare the vehicle types, features and prices while keeping an eye out for any promotions.