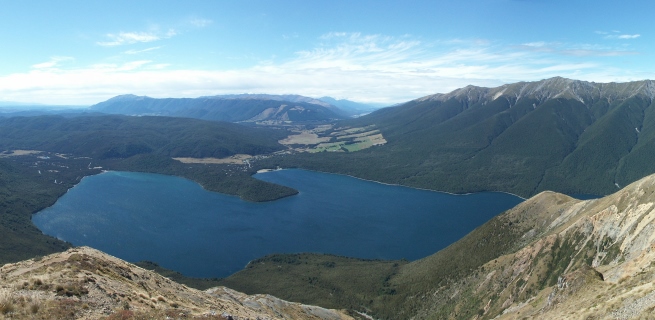 Car Rental in Nelson Airport, New Zealand
Nelson is, literally, the centre of it all. The oldest settlement in South Island is also the geographical centre of New Zealand. You can get to this marker on rental cars in Nelson after a leisurely stroll at the Botanic Gardens close to the city centre.
Nelson's airport is surprisingly busy for an area of small population. Nelson's city centre is rather compact and very walkable, but Nelson's geography which spans five distinct categories can only be best enjoyed on a car hire in Nelson New Zealand. Book online and compare car rentals in Nelson with Avis, Budget, Hertz, Europcar and Thrifty rental cars to get the best deals for your holiday on the road and a cheap car hire in Nelson Airport, New Zealand.
Rent a Car in Nelson Airport
Follow the Scent of Seafood and Wine
Sunny and warm, in fact almost tropical, for 200 days a year, and surrounded by some of the most stunning and inspiring natural beauty, Nelson is an artist's haven, and in fact the centre of every imaginable creative pursuit in New Zealand.
A great first stop on your Nelson car hire would be its seafood bars. Nelson's fish port is the largest in Australasia, and the bays and waters beyond Nelson's golden sand beaches are some of the most abundant.
Follow Nelson's wine circuit on your Nelson Airport rental car and pair up the famous Nelson Bay scallops with Sauvignon Blanc and Chardonnay (or Riesling with crabs), just a few varieties that are grown in Nelson's boutique wineries. You will not only be enveloped with that glow of satisfaction from exquisite food and great wine, you will also be moved to artistic inclinations with postcard-worthy hills and verdant plains that characterize the wine trails.
Places to go by car hire in Nelson, New Zealand
You can burn all those calories with a walk in the park – Nelson has some of the best nature trails in the South Island – or a kayak out in Nelson Bay. Abel Tasman National Park, also great for kayaking, is both a playground for the adrenaline and solace seeker, with the colony of seals and blue penguins close by.
Leave the coast and head inland in your Nelson car rental to Takaka's unbelievably crystal clear freshwater springs. Pass by Takaka's museum before you explore Murchison's and Motueka's. Roll down the window and admire the rolling terrain of Motueka and get out of your car rental in Nelson to swim in the alpine rivers and lakes of Murchison.
Don't miss out Nelson's reputation for everything creative and artsy. The World of Wearable Art is a great first start, then seize the opportunity to join Nelson's Creative Tourism workshops. If you are heading to Tahuna Beach anyway, drop by at their centre in Green Street.
If you are there on Saturdays, take time to browse Nelson Market in Montgomery Square car park. You will find an overload of Maori crafts and works of art alongside organic produce and Nelson's creative bunch having brunch. Hunt down their studios on a Nelson car rental for some of the most eclectic collections you could find in New Zealand.