Knock Airport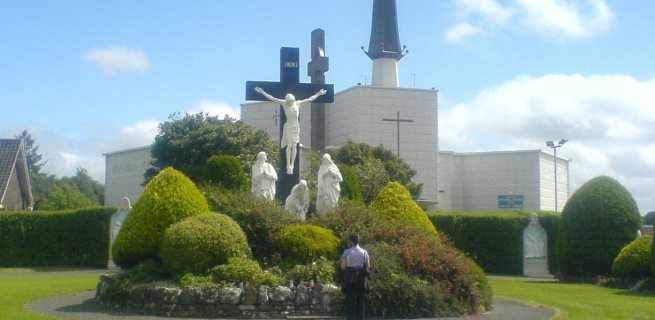 Cheap Car Hire from Knock Airport, Ireland
To get the best deal or cheap car hire from Knock Airport, book online and compare rates and quotes from the top rental car agents including Avis, Budget, Europcar and Hertz rental cars.
Explore the west coast of Ireland starting in Knock and add some historic sights to your day trip list to experience the beauty this special place has to offer.
Save on popular hire cars such as Hyundai, VW, Toyota and more in all sizes from compact to mid-size to large vehicles such as mini vans and 4WDs.
Though officially an international airport, most people don't know they can fly directly into Knock, a small airport outside of Mayo City, in the west of Ireland.
The roads in this region can be narrow and windy, with locals familiar with the twists and turns taking them at high speeds, so do take care and keep your headlights on.
Bog Land and the Knock Shrine
The Shrine at Knock is a site of Christian significance, where the Virgin Mary, St Joseph, St John the Evangelist, an altar, a cross and a lamb appeared to villagers in 1879.
Following this apparition, a series of miraculous cures were reported, including a spontaneous cure from deafness in a young girl; pilgrims seeking cures and miracles have since come to the shrine on pilgrimage.
Pope John Paul II and Mother Teresa of Calcutta have both paid visits to Knock, increasing its status amongst devotees.
The shrine is set in 100 acres of gardens, with several chapels and monuments throughout.
Exploring the back-roads and out of the way places in County Mayo by car, you will find warm Irish hospitality in Bed and Breakfasts and cosy pubs.
Turn inland towards bog land Natural Heritage Areas, spanning several individual bogs such as Cornaveagh, Moorfield and Derrycanan.
Aim to arrive in Athlone town near to Lough Ree (Lake Ree).
The lake is popular for boating and fishing (especially eel fishing), and its small islands are home to monasteries and ancient churches; it is also the site of an old Viking ring fort and shrouded in Irish mythological history.
Galway for Literary Lovers
From Athlone, make your way Galway city via a day in Coole Park, near to Gort village.
This beautiful house and gardens was the home of Lady Gregory, who created a haven for writers and poets during the Irish literary revival in the late 19th century.
Greats such as George Bernard Shaw and W.B. Yeats carved their names in the preserved copper beach tree.
Yeats' poem, The Wild Swans at Coole, was inspired by the swans on the lake in the park;
The trees are in their Autumn beauty,
The woodland paths are dry,
Under the October Twilight the water,
Mirrors a still sky;
Upon the brimming water among the stones
Are nine-and-fifty swans.
Galway features in the writings of James Joyce and Walter Macken, among other greats.
It remains a centre of arts and music, hosting annual festivals in comedy, literature, traditional Irish music, visual arts, horse festivals, an ocean race and the Spirit of the Voice Festival, to name but a few!
Stroll the historical streets, the rugged, Atlantic beaten coastline, and take a day trip to the breathtaking Cliffs of Moher, towering 700ft above the ocean.