Car Hire JFK Airport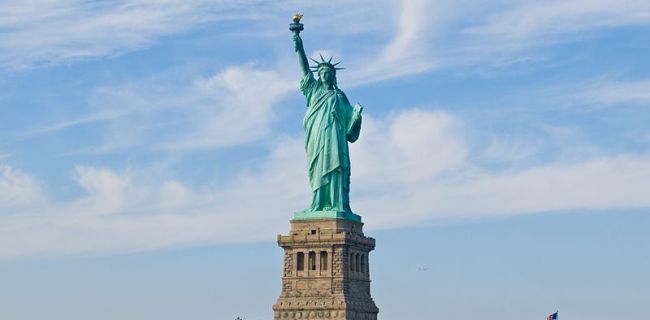 Book & Compare Car Rental at New York JFK Airport
John F. Kennedy International Airport is the busiest of the three airports that service the metropolitan New York City and also handles more International passengers than any other airport in the United States. Between the three New York airports (which include La Guardia and Newark Liberty of New Jersey), they handle 112 million passengers annually, over 50 million of them via JFK. Located just 12 miles southeast of Manhattan, a New York JFK Airport car rental is the ideal choice for any visitor to the Big Apple as it gives them the freedom to visit the multitude of attractions at their leisure.
Brooklyn and the Bronx
New York City has five boroughs – Brooklyn, Queens, The Bronx, Staten Island, and the most recognizable skyline of New York, Manhattan. Brooklyn, a short drive to the west by car rental from New York JFK Airport, is known for its beaches, music scene and artists, while north of Manhattan is the Bronx, home to the zoo of the same name and the New York Botanical Gardens.
Queens and Staten Island
Queens is to the north of JFK and is a melting pot of at least 170 languages and the culture and cuisine that the speakers bring with them. Staten Island, which is connected to Manhattan by ferry, is suburban in character and provides great views of the Statue of Liberty. You can use the ferry to bring your car hire from New York JFK Airport and drive around the island at a relaxed pace.
Manhattan
Manhattan, the oft-portrayed skyline of New York, is more compact in comparison to other boroughs, but packs a lot of attractions that tourists around the world easily recognize. While you can drive your rental car in New York JFK Airport around Manhattan, the traffic and scarcity of parking spaces make exploring this part of New York easier on foot.
If you decide to drive around Manhattan using your car hire at New York JFK Airport, understand that the major avenues run north to south, while the numbered streets, with a few exceptions, run east to west.
In Lower Manhattan, there is Wall Street, while Midtown Manhattan bristles with skyscrapers such as the Empire State Building, the Rockefeller Center, the United Nations Headquarters, and the Chrysler Building, among others. Broadway and Times Square are also a close driving distance within each other so if traffic is particularly heavy, walking to them is much faster than using rental cars from New York JFK Airport. Uptown is home to the Museum Mile and the haute couture hub of Madison Avenue.
Jersey Shore
About an hour and a half out of Manhattan using your New York JFK Airport car hire is Sandy Hook, the northern tip of the 127-mile oceanfront known as Jersey Shore that extends far into Cape May to the south. While you can take the boardwalks to take in the view, you can cover
far more ground using your rental car from New York JFK Airport around the main tourist areas that brim with arcades, water parks and amusement parks for all ages.
Finger Lakes Wine Route
You can opt to drive your car rental in New York JFK Airport to central New York where vintners of the Finger Lakes region produce wines that compare with California's best. From Manhattan, it's a four-hour drive by car rentals in New York JFK Airport to Ithaca where you can start your journey to the Finger Lakes amidst a pleasing patchwork of farmlands, small towns and 19th century homes. From Ithaca, it's another 75-mile journey from vineyard to vineyard at the foot of the lakes until you reach Hammondsport at the westernmost lake.
Hudson Valley
The National Heritage Area of Hudson Valley extends 150 miles above Manhattan, but you can already be at Westchester on its south-eastern end in an hour using car hire in New York JFK Airport. The valley is renowned for its natural beauty, culture and history, as well as some of the oldest wines produced in the United States, so you may want to plan for a day trip or two to experience this mellow side of New York.