Fallwater House
Fallingwater House Day trip from Pittsburgh
A visit to Pittsburgh is not quite complete without a side trip to Frank Lloyd Wright's masterpiece, Fallingwater House in rural Pennsylvania, USA.
The house, built on top of a waterfall, is one of the world's architectural achievements and is a mere 43 miles away from downtown Pittsburgh.
The house is located in the picturesque Laurel Highlands in the Allegheny Mountains.
Its remote location makes it inaccessible to public transport so if you're planning on a Fallingwater House day trip from Pittsburgh, take a rental car to maximize your time there.
What is Fallingwater?
The Kaufmann Residence, also known as Fallingwater, is a house in rural southwest Pennsylvania, designed by the famous architect Frank Lloyd Wright.
It is the weekend home of Liliane Kaufmann and her husband, Edgar J. Kaufmann who owns the Kaufmann department store.
What makes this house unique is the way it harmonizes with nature.
Built atop a waterfall, in an architectural design known as a cantilever, Wright used the surrounding forest and rock ledges to build what he called "organic" creation.
He also incorporated the natural surroundings when he designed the interiors of the house.
From the staircase design to the texture and hue of the walls, Wright wanted the Kaufmanns to live not just by nature, but also with it.
Often referred to as America's most ingenious house, Fallingwater attracts over 4.5 million visitors a year despite its remote location.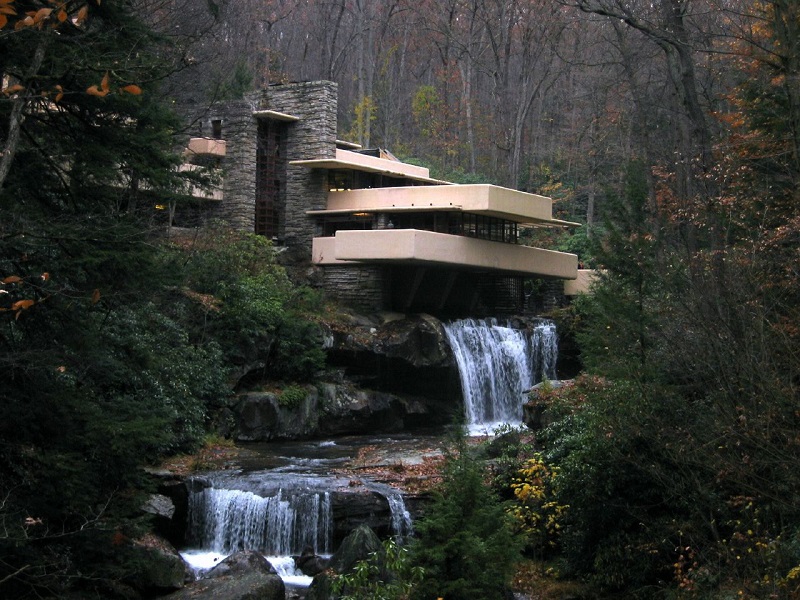 How to Get There?
Fallingwater's physical address is 1491 Mill Run Road, Mill Run, PA 15464.
It is highly recommended that when inputting Fallingwater's address on your car rental GPS, that you include the zip code.
When coming from Pittsburgh, take the Pennsylvania Turnpike (I-76). Factor in at least two hours travel from Pittsburgh because of traffic and potential road closures.
The Fallingwater official website provides visitors with a more detailed driving directions that avoids backside and unpaved roads.
Cheap Car Hire in Pittsburgh
Getting to Fallingwater is easiest with your own vehicle. You can search our site to find cheap car rental in Pittsburgh which is only 1 hr 15 mins away.
Find a range of deals on all models from Ford to Chevrolet to Toyota, Kia and a whole lot more.
Lock in a discount rate from one of the big auto hire companies like Thrifty, Alamo, Hertz, Avis and National ahead of time to save big.
Highlights of Fallingwater House
From the Visitor's Center, you'll enter through a boardwalk called Bear Run. It runs adjacent to a stream and is lined with rhododendron bushes.
After Bear Run, you'll come across the section called "People" before reaching the area that contains "Water", "Rocks" and "Trees."
The "Overlook" is where you'll get the iconic view of the house and hear the gentle waterfall that is the house's namesake.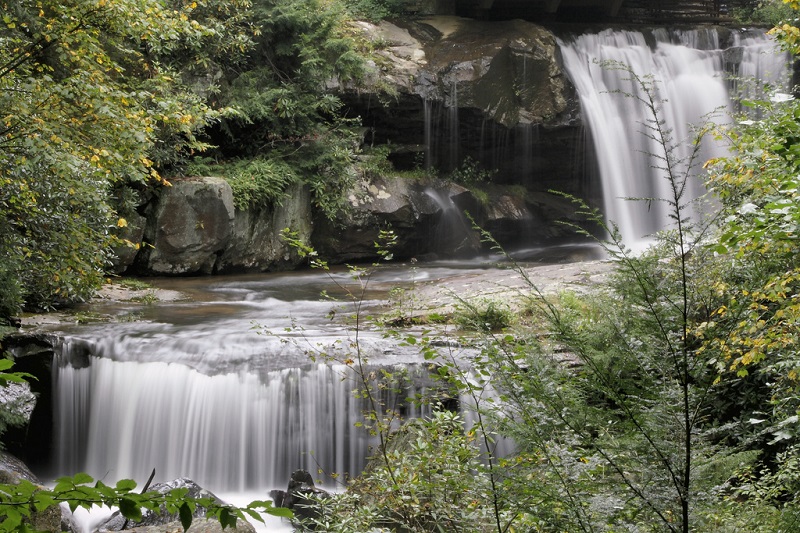 There are also a couple of optional hiking trails available for those who have more time to spare: Paradise Overlook and Lower Bear Run.
The Paradise Overlook hike is the shorter of the two at approximately 20 minutes round trip.