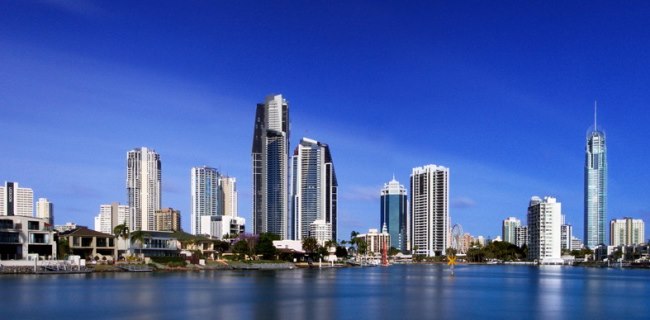 Car Rentals at Gold Coast Airport Car Hire
Just over an hour south of Brisbane, the Gold Coast occupies over 50 km of southeast Queensland's stunning coastline. With a wealth of fantastic beaches, wonderful surfing opportunities, some of Australia's grandest shopping centres, the southern hemisphere's biggest and best theme parks, and a couple of gorgeous national parks to boot, it is no wonder that this city sees millions of visitors flocking here each year. With car rentals from Gold Coast Airport Car Hire you can take your pick from the endless range of activities and attractions on offer and, with a huge variety of rental cars to choose from, you will be sure to find a model to suit your needs and allow you to get the most from your time in this spectacular region.
Gold Coast by hire car
Once you have dropped your bags off at your hotel, the best way to start a trip to the Gold Coast is to drive your rental car down to one of the iconic strips of golden sand which give this city its name. If you want to be at the heart of the action, Surfers Paradise is the place to go, otherwise you might want to head a few kilometres further up to the more relaxed and spacious, Broadbeach. You will find no end of sun, sea, sand, excellent cuisine and unrivaled nightlife to enjoy.
If you are here for the surf, the world famous breaks at Duranbah and Snapper Rocks are within easy striking distance, in your rental car. If you would rather something more low-key head to Pacific Pines, one of Australia's best-known shopping centres, or any of the city's other top shopping spots.
Beyond the city in your rental car
If and when you decide to pull yourself away from those marvelous beaches, you might want to spend a day or more, in your hire car, delving into the wonderful array of theme parks on offer in the Gold Coast area: take on the thrilling rides of Dreamworld, check out the magnificent marine life in the pools at Sea World, or take a splash and cool down at WhiteWater World or Wet 'n' Wild. About two hours' drive from the city itself, you can also visit Steve Irwin's Australia Zoo, set up by one of Australia's most famous and best loved wildlife conservationists.
Another must-see spot, made easily accessible with your car rentals from Gold Coast Airport Car Hire, is the breathtaking Gold Coast Hinterland, particularly the national parks of Lamington and Springbrook. Here you can hike along magical bushwalk trails, wander through lush, thick-forested valleys and marvel at some of that truly magnificent Australian landscape. Also be sure to pay a visit Mount Tamborine, where, other than enjoying more of the Hinterland's dramatic scenery, you can soak up some Queensland culture in one of the intriguing art gallery, drink delicious Australian wine in a boutique winery or treat yourself to a day in a luxurious spa.
Whatever you decide to do with your time here, your car rentals from Gold Coast Airport Car Hire in Queensland will give you the freedom to do it with the least amount of stress possible. This will be no different when it is time to leave, as you can drive your rental car all the way back to the airport, and you can focus on making the most of your time in one of the most fun-filled regions of Queensland, Australia.
Major Australia Car Rental Locations