Car Hire Pittsburgh Airport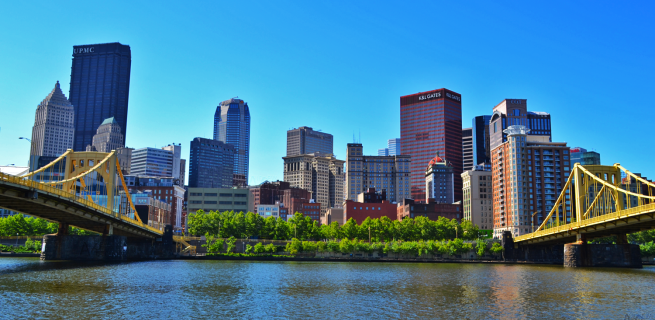 Compare Pittsburgh, Pennsylvania, Car Hire
If you're planning a trip for business or pleasure to Pittsburgh, search our site for special offers on car hire at Pittsburgh Aiport today.
Find low rates on quality rentals such as hatches, sedans, SUVs and mini vans easily.
Drive away with savings on Hyundai, Chevrolet, Toyota, Nissan, Ford and other reliable rental cars today.
Pittsburgh International Airport is a civil-military airport serving the Greater Pittsburgh Area and the 'Golden Triangle,' Pittsburgh's central business district located 20 miles to the east.
Arrival at Pittsburgh International opens up the traveler to a heap of attractions surrounding Pittsburgh that they can comfortably get to by car.
The Golden Triangle
Rent a car in Pittsburgh Airport and head straight to Downtown located at the confluence of Allegheny River to the north and the Monongahela River to the south.
The rivers' meeting create the 'Golden Triangle' with one of the pointy ends marking the beginning of the Ohio River.
Constrained by its natural landscape, Pittsburgh was forced to grow upwards, and this vertical growth makes it ideal for appreciating Pittsburgh architecture which contains some of the most remarkable engineering structures in the 19th and early 20th century that were funded by the fortunes of Mellon, Carnegie, Westinghouse and Heinz.
While readily accessible by car, Downtown Pittsburgh, with an impressive clutch of skyscrapers packed in a mere 0.7 square miles, is better explored on foot, especially that downtown Pittsburgh roads go every which way, as they were laid out in the days of horse-and-buggy transportation.
Hersheypark – Chocolatetown, USA
Book a rental car in Pittsburgh Airport and make your way to Chocolatetown.
There's more to "The Sweetest Place on Earth" than just Hershey's Kisses, although that's what most tourists come here for.
After the kids have had their fill of chocolates and rides at Hershey's Chocolate World and Hersheypark, it's time for the Civil War buffs to head down to Gettysburg, just an hour south of Hershey by car.
Brandywine Valley
The Brandywine Valley is at the Kennett Square, just an hour to the east of Lancaster by car.
The Brandywine trail stretches for only 12 miles down to Wilmington, Delaware, but the narrow, twisting roads that trace the river will bring you to the well-manicured estates of the American 'old rich' with their scenic chateaus and pastoral views.
Journey through the Hallowed Ground
Western Pennsylvania, where Pittsburgh is located, didn't get to see much of the action during the Civil War although it used its industrial might to build steamboats, train cars and weapon supplies for the government.
To retrace the state's Civil War Trails, you need to drive to Gettysburg, about four hours east by car and embark on a "Journey Through the Hallowed Ground" which will take you from the site of the greatest battle of the Civil War and down into Charlottesville where early American presidents established their estates.
Passing through Maryland from Gettysburg, you will encounter Jefferson's Monticello, Madison's Montpelier and Monroe's Ash Lawn-Highland amidst rolling pastures.
You can drop off one way rental cars from Pittsburgh Airport at Washington International Airport in Maryland, or Detroit Metro Airport in Michigan.