Amalfi Drive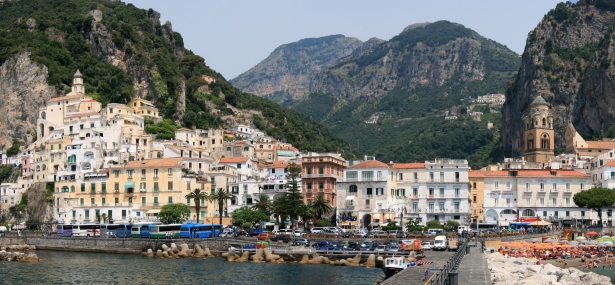 The Amalfi Drive, Italy
This famous scenic route in Italy certainly lives up to its reputation and, in 1997, was added to the World Heritage list.
It continues for a total of 80km and was originally built by the Romans in order for them to make their way from Salerno and Positano.
Most of the way is carved from the cliffs which makes for a superbly scenic adventure.
This is certainly a drive that can be done in one day and you can either make your way back again or take a different coastal route back in the direction of Castellammare di Stabia and further on to Naples.
This is when one way car rental in Italy will come in handy, as you can simply head in one direction then drop off your vehicle at an airport or car hire depot, instead of having to drive all the way back to your original pickup location.
Things to see on the Amalfi Drive
Starting in Salerno, you will need to make your way to the famous village Vietri sul Mare.
This village is famous for its fabulous ceramics and offers some of the most amazing coastal views.
There are a number of viewpoints where you can stop and make the most of your surroundings.
Many tourists highly recommend the Capo d'Orso viewpoint and a stop at the Minori which are villa ruins dating back to the first century A.D.
Then it is on to Ravello which is thought of as one of the most romantic and scenic of all the southern towns in Italy.
This town rests at a grand height of 365 meters which makes for even better views and lookout points.
It you take the time to do some further exploring of the town, you will come across the 11th century cathedral as well as the Villa Rufolo and Villa Cimbrone.
Other attractions include the Atrani Walk, the Auditorium Oscar Niemeyer, the historic site of La Rondinaia and Duomo di Ravello.
Returning to the coast, you will reach Amalfi which was once a very powerful maritime republic.
You can wonder around here as well and even take a hike to the old watermills once used to make paper.
Take the time to visit top religious sites like Duomo di Sant'Andrea Apostolo, Cloister of Paradise (Chiostro del Paradiso) and the Sanctuary of Our Lady of Sorrow (Sancturio Maria Santissima Addolorata).
Top museums include Museo della Carta, Arsenale della Repubblica and Municipal Museum of Amalfi (Museo Civico).
Driving information
This is a scenic drive and with more than enough places to stop and enjoy the view, the whole point is to take it easy and enjoy a relaxing trip.
Pack your picnic lunch and enjoy it while you take a break at one of the fabulous viewpoints.
If you want to avoid the congestion of traffic and abundance of tour buses, then it is best to plan your trip off season.
Check with the local tourist centre to establish the best dates for your trip and book your hotel accommodation and car rental accordingly.
While making your hotel and rental car reservations during an off peak period will save you a fair amount of money, you can save even more by booking them together.
There are a number of great hotel deals online with the added incentive of discounted rental car rates!  Keep this all in mind