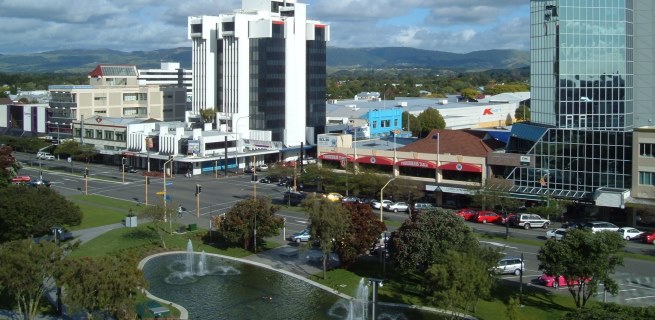 Car Rental in Palmerston North Airport
Palmerston North in New Zealand is a major city in the heartland of lower North Island, home to 18,000 college students out of the city's 75,000. The city is also known for its deep devotion to rugby which was introduced to New Zealand by one of its residents.
Located 140 kilometres north of New Zealand's capital, Wellington, Palmerston North's airport backs up Wellington's when flights need to be diverted; hence, the strong presence of global car rentals companies Avis, Budget, Hertz, Europcar and Thrifty rental cars. Getting the best deal for a Palmerston North car rental is as easy as booking online and comparing rental cars in Palmerston North Airport to obtain the best rate or a cheap car hire in Palmerston North Airport.
Where to go by rent a car in Palmerston North
"Palmy" had its start as a small forest clearing which evolved into what is known today as The Square, a seven-hectare park that forms the oasis of the central business district. Getting around the CBD by Palmerston North car hire will be made much easier if you follow the grid – the very centre of which is aptly named Main Street – arranged around its perimeter.
Downtown is located outside the 'bigger square' that contains The Square. It is on Broadway Avenue which parallels Main Street, home to boutique shops, a smattering of restaurants and a cinema.
Not to be confused with either two, The Plaza, on the bottom side of The Square, is the shopping hub of Palmerston North the greater Manawatu-Wanganui region, recently upgraded from its original 1970s construction.
For an in-depth look into the history of rugby, drive your car rental in Palmerston North Airport to the New Zealand Rugby Museum which safe-keeps more than 40,000 relics of the sport since it was first introduced to New Zealand in 1870.
Then there is Te Manawa, a combo-museum that houses science, Manawatu art and Maori heritage under one roof. When you have had enough of indoor attractions, head south to get a pleasant whiff of Dugald MacKenzie Rose Garden, and enjoy a serene walk among native bush at The Esplanade, an expansive park hugging the northern banks of the Manawatu River which winds through the city.
For wilder and thicker vegetation, scenic biking trails and a view of Manawatu River cutting though a narrow passage, rent a car in Palmerston North Airport and take a 30-minute trip to Manawatu Gorge northeast of CBD. If you continue along State Highway 2 further northeast, you will arrive at New Zealand's second-largest wine-producing region, Hawkes Bay. 'Wellywood', New Zealand's capital and answer to Hollywood, is roughly the same distance by rental cars in Palmerston North Airport in the opposite direction. Take State Highway 1 all the way down south, and sneak into behind-the-scenes production of The Lord of the Rings prequel, The Hobbit trilogy.