Auckland Domestic Airport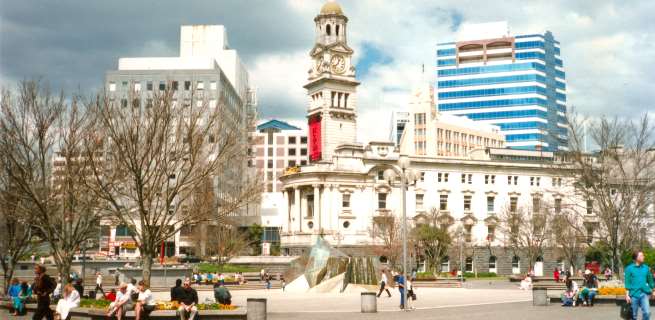 Car Hire at Auckland Domestic Airport, New Zealand
If you're planning a trip NZ's North Island for business or holiday and would like to get around to appointments or to see sights and attractions by car at your own pace, grab a bargain on a rental car at Auckland Domestic Airport to save big on small, mid-size or large vehicles.
Use our car rental comparison site to search and find the best deals from top auto hire companies like Hertz, Avis, Thrifty, Budget and Europcar.
Drive away with a special on a reliable rental vehicle such as a Kia, Hyundai, Toyota, VW, Nissan and others, in all sizes from hatches to sedans to 4WDs and mini vans.
Called Tamaki Makaurau by Maori, Auckland is New Zealand's largest city.
Out and about in Auckland
Head to Auckland's west coast where you will find beaches, vineyards and forests.
Head over the Auckland Harbour Bridge and discover the seaside village of Davenport where you can grab a coffee at anyone of the many cafes, and enjoy a stroll around the shops.
There are some beautiful scenic drives in Auckland that you can enjoy in any direction, north, south, east or west.
One drive is along the Pohutukawa Coast from Whitford to Duner Regional Park.
This drives offers stunning views of Waiheke, Ponui and Pakihi islands in the Hauraki Gulf.
Explore the North Island
Rent a car from Auckland Domestic Airport and you have the perfect launch pad from which to explore New Zealand's North Island.
Head north of Auckland, via the Twin Coast Discovery Highway and discover the beautiful Northland region.
As the name of this route suggests you'll enjoy a road trip where you'll experience the delightful contrasts of the two coasts of Northland.
The west coast offers travelers lush rainforest and rugged beaches, and the east coast of Northland with its golden sandy bays and islands to explore.
Explore the heart of the North Island by driving to the thermal wonderland of Rotorua is only a three hour drive from Auckland.
Here you can see geysers; bubbling mud pools and take a dip in thermally heated baths.
Drive another hour south and you're in Taupo.
Hire a canoe or paddle board and explore the lake or take the opportunity to fish for trout in the lake.
Wine and food lovers should head east from Taupo to Napier and Hawke's Bay to discover stunning vineyards and unforgettable foodie hotspots.
Many days could be spent tasting wine and eating amazing meals in one of New Zealand's most famous wine regions.
Napier is also known for its art deco architecture and design, and visitors in February may find themselves in the area for the annual Art Deco Festival.