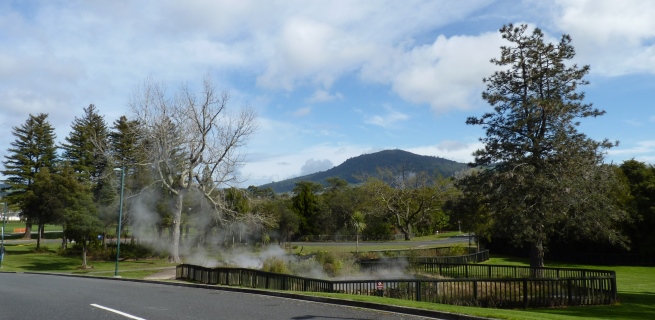 Rotorua Airport Car Rental, New Zealand
Centrally located on the North Island in New Zealand; the Geothermal Wonderland of Rotorua is the perfect place to begin your holiday. From here you can travel north to the City of Sails, or take the drive south to beautiful Lake Taupo and Tongariro National Park. No matter what you desire to experience, you can see it all with our Rotorua Airport car hire.
Conveniently located right inside the airport, our Rotorua car rental allows you to go straight from your flight to your rental car with no hassle and no worries. With options ranging from compact sedans to minibuses and 4WD vehicles, there is sure to be a rental car for you.
Discover NZ with your Rotorua Airport Rental Car
Known as the heartland of Maori culture, Rotorua is the place to learn the history of New Zealand's original people. One such experience is the Tamaki Maori Village. Just a short drive from the city, this is a truly immersive Maori experience. Here you can explore a real village, enjoy lively entertainment and even sample their delicious cuisine. After a night out, having a rental car makes it easy to travel right back to the city.
For a truly spectacular experience, drive your rental car just 70 km north of Rotorua to Hobbiton. This beautiful area is the actual site where Lord of the Rings was filmed. You too can see the Shire and walk through sets like the Hobbit holes and Green Dragon Inn. You can even continue west to the glowworm caves of Waitomo. With your personal car hire, anything is possible
A visit to Rotorua would never be complete without seeing the areas natural beauty. A short drive north in your rental car will take you to one of the area's most spectacular sites, Waimangu Volcanic Valley. Here visitors can see mud pools, geysers and crater lakes just bursting with geothermic activity. For a day of fun, you can also drive your rental car to one of the 16 beautiful lakes that surround the city. Many offer swimming, fishing and boating opportunities.
Whatever you decide to do, a rental car makes exploring this vast land much easier. When your holiday is over and it is time to head home, we make things simple with drop off right at the airport. From start to finish, our Rotorua Airport car rentals are sure to save you precious time and money.
Major New Zealand Car Rental Locations