Car Hire Kansas City Airport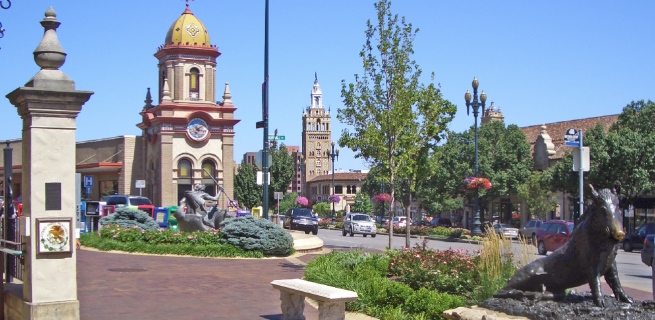 Book & Compare Kansas City Car Rental Online
If you're planning a trip to central United States, and like the idea of a middle America road trip, grab a deal on car hire at Kansas City Airport for a quick pickup when you land.
Search our site to find specials on rental cars from big brands like Avis, Hertz, Europcar and Alamo.
Secure a low rate on a sedan, mid-size or large vehicle online today and start your holiday with savings!
Missouri's Kansas City International Airport is a medium-sized airport serving 'the Heart of America.'
It is 15 miles northwest of the downtown area, and a hub for Midwest states Kansas, Iowa and Nebraska.
Despite its smaller size and passenger traffic compared to other major airports in the Midwest such as Lambert-St. Louis or Chicago's O'Hare, Kansas City International Airport ranks well in terms of desirability as a transport hub.
A rental car at Kansas City Airport will take you around the city via I-43, and farther west to Denver, Colorado, and east to St. Louis, Missouri, via I-70.
Drop off for one-way car rentals in Kansas City Airport can be done at either Denver International Airport or Lambert-St. Louis International Airport.
Explore 'KC'
'KC' is more than just a fly over 'cow town' right in the middle of the Great Plains.
It was here during the Prohibition Era that drinks flowed freely, a tradition that goes on in the Flying Monkey Brewery where free tours and beer are given daily.
With your hire car, you can visit KC's Harley-Davidson manufacturing plant which offers factory tours as well and should not be missed.
If you are into Caravaggio, Monet or van Gogh, you can spend the better part of the day at the Nelson-Atkins Museum of Art.
Jazz Music
Another distinctively KC attraction is jazz music, said to have been "born in New Orleans but grew up in Kansas City."
As the vice and entertainment capital of the United States during the Great Depression, KC offered home to jazz musicians in search of a broader audience.
You can start your trip around the Historic Jazz District at 18th and Vine Street and make your way to the American Jazz Museum where you can also hear live jazz in their Blue Room or in the halls of Mutual Musicians Foundation where drinks are served as jazz musicians play until dawn.
George Brett Superhighway
George Brett Superhighway is the name of Interstate 70 as it passes through Missouri east to west.
This highway will bring you to Denver Colorado if you drive from Kansas City Airport west, or to St. Louis, Missouri to the east.
Great River Road
If you have more time, you can drive from St. Louis via the Great River Road about 600 miles north to Minnesota where the Mississippi River headwaters are located.
You can drop off your one way hire car at Minneapolis-Saint Paul International Airport after a day trip to Lake Itasca or the Twin Cities.
Alternately, you can drive south for about 700 miles to New Orleans to where the Mississippi River empties into the Gulf of Mexico.
There are plenty of delights here for the first-time visitor and the highlights include Creole culture, Cajun cuisines, New Orleans' French Quarter, and placid bayous.
The nearby Louis Armstrong New Orleans International Airport is the closest drop off point for a one way car hire trip too.

Barbecue Byways
Kansas City, Missouri, is highly regarded as the melting pot of barbecue which many residents consider not just as a method of cooking but as a way of life.
Sample servings of beef or pork barbecues in the more than 100 barbecue restaurants in the city alone.
So important is this culinary tradition that you can practically eat your way around the Barbecue Byways of the West, starting from Missouri and on to Kentucky to the east and Texas to the South.