30 Best Road Trips Worldwide
The best road trips in the world have a few things in common.
Three essential ingredients to any road trip are outstanding scenic beauty, a compelling sense of place and roads which provide as much of a thrill for the driver as the landscape through which they pass.
The world's best road trips are as diverse as they are spectacular. Across the globe, these great drives remind us that there is no better way to spend a vacation than behind the wheel on the open road.
Free to go as we please and stop where we like, the best road trip destinations offer great sightseeing, great food and great places to stay.
From the glacial landscapes of Canada in the north to the geothermal wonders of New Zealand in the south, no matter where in the world you travel there's a road trip that will be just perfect for your needs.
These are our picks for the world's best road trips.
Richard Wolskel
Go4 owner, travel expert, blogger, "ten pound pom" and passionate traveler!
The best road trips in the USA
1) Route 66
Let's begin with the all-American road trip: Route 66 – no round up of the USA's best road trips would be complete without it.
The ingredients are simple: your Route 66 road trip will include a dash of the romance of yesteryear, a road that's everything the Interstates are not and a liberal smattering of motels, diners and eclectic attractions sure to inspire anyone with a passion for Americana.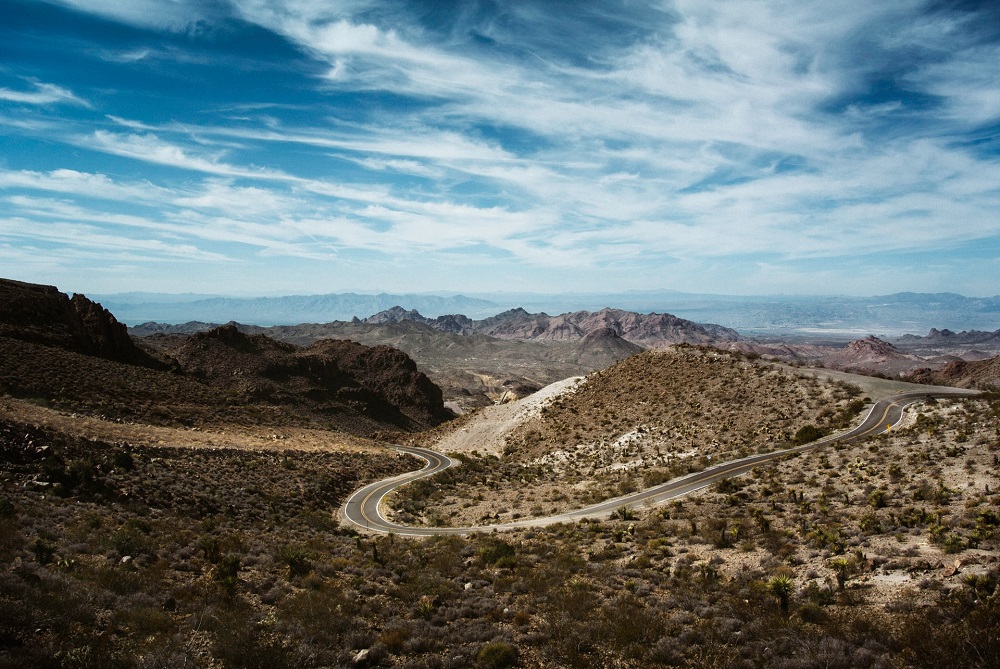 This iconic route stretches across 8 states and 3 time zones. Rent yourself a classic convertible in the USA and hit the road.
Distance/Duration: 3,940 kms/2,500 miles in about 3 weeks
Start & Finish Locations: Chicago, Illinois to Santa Monica, California
Highlights: St Louis' arch, Route 66 Museum in Clinton, the Painted Desert, Cadillac Ranch, Santa Fe and Santa Monica pier
Travel Tips/Best time to go: build in time to make side trips to Las Vegas and the Grand Canyon to add the wow factor to this epic drive
2) California's Highway 1
Another of the USA's best road trips snakes up its western jewel, California. The Golden State boasts over 800 miles of dazzling coastline and California Highway 1 hugs much of it in a tight embrace.
Made up of 3 sections – Pacific Coast Highway, Cabrillo Highway and Coast Highway – there's much to see: from the serene charm of Carmel and its lone tree to the grunts of the Piedras Blancas elephant seal rookery, nature is a big draw.
Only historic attractions equal it, the centuries-old Spanish missions and Steinbeck's Cannery Row to name but two.
Distance/Duration: 1,055 kms/655 miles in at least 4 days with stops, preferably more
Start & Finish Locations: Leggett in the north to Capistrano Beach in the south
Highlights: San Francisco, Big Sur, Monterey's Cannery Row & aquarium, Santa Barbara, the Spanish missions and those magnificent Pacific Ocean beaches
Travel Tips/Best time to go: begin in the north and enjoy ocean views from your side of the road as you wend your way south.
3) Blue Ridge Parkway
They say that the Blue Ridge Parkway has been the most visited place in the US National Park System almost every year since World War Two.
On a fine day, it's not hard to see the attraction. The scenery is breathtaking, with vertiginous overlooks promising waterfalls, lush forest and perhaps even a glimpse of a bear or a bobcat.
Blue Ridge Parkway was built to boost the American economy and local spirits during the Great Depression, the country's longest scenic highway is still delivering.
Distance/Duration: 755 kms/469 miles in 3-6 days
Start & Finish Locations: From Charlottesville, Virginia and Shenandoah National Park; to Great Smoky Mountains National Park and Asheville, North Carolina
Highlights: the panoramic view from the road's highest point near Mount Pisgah at 6053 feet above sea level and views in fall when the leaves put on a spectacular show
Travel Tips/Best time to go: assume your mobile phone won't work; coverage is patchy along the route
4) Going-to-the-Sun Road
This relatively short stretch of road is one of the most beautiful in the USA. Opening for a brief spell in the warmer months, this route crosses Glacier National Park in northerly Montana.
Climate change is wreaking havoc on the glaciers themselves, but the landscape that surrounds these receding tongues of ice is as devastatingly handsome as it's ever been.
Break your journey on the Going-to-the-Sun Road with plenty of photo stops and at least one decent hike.
Distance/Duration: 80 kms/50 miles in 1 day including stops and a hike
Start & Finish Locations: West Glacier to St Mary, Montana
Highlights: Hidden Lake Overlook trail, Wild Goose Island lookout, Jackson Glacier and crossing the Continental Divide at Logan Pass
Travel Tips/Best time to go: summer; much of the road is closed the rest of the year
5) Overseas Highway
The Overseas Highway is the perfect road trip to do in a convertible. Peer down to the sea below as you island hop along the Florida Keys to Key West. In places the sea's so shallow you could almost drive through it. The most famous bridge along the Overseas Highway is Seven Mile Bridge, connecting Knight's Key to Little Duck Key.
Beside the present road is what remains of Flagler's railroad, destroyed by the 1935 hurricane. Pigeon Key, once home to the railway work camp, makes an interesting pit stop before you continue to Key West where the road runs out.
Distance/Duration: 182 kms/113 miles in 1 day including stops
Start & Finish Locations: US1 near Florida City to Key West
Highlights: Pigeon Key, Big Pine Key's deer, the turtle hospital at Marathon and countless fishing spots along the way, but particularly Islamorada
Travel Tips/Best time to go: spring's best; avoid hurricane season
6) New England: from Boston to Bar Harbor
New England tourism is synonymous with fall trips thanks to the spectacular colours of its foliage. If you plan to venture as far north as Maine, it's worth arriving a little earlier when the sun's out and the weather's warm enough to enjoy the great outdoors.
Marry the history of Boston and Salem with the outstanding natural beauty of the Maine coast and stunning Acadia National Park.
Distance/Duration: 450 kms/280 miles in 3 days
Start & Finish Locations: Boston to Bar Harbor
Highlights: historic Boston, Salem Witch Museum, Kennebunkport, Bar Harbor, Acadia National Park
Travel Tips/Best time to go: in summer, when the water's calm enough to go out on a boat
The best road trips in Canada
1) Icefields Parkway
Ice sculpted this corner of the Canadian landscape into craggy peaks, tumbling waterfalls and forested hillsides.
The many lakes get their bright colours from the glacial rock flour that washes into the lakes as the ice melts in spring. As a result, the Icefields Parkway is one of the most spectacular road trips in North America.
Distance/Duration: 230 kms/144 miles in at least 1 day
Start & Finish Locations: Jasper to Lake Louise
Highlights: crossing the Continental Divide, Jasper Dark Sky Preserve, Stutfield Glacier, Peyto Lake, Lake Louise
Travel Tips/Best time to go: early summer or autumn
2) Cabot Trail
Lovers of the great outdoors, listen up: this awesome Canadian road trip is yours for the taking. Weaving its way through the Cape Breton Highlands National Park, the Cabot Trail road offers incredible views of the coast.
Make a pit stop along the way to join a whale watching tour, go sea kayaking, hike one of the park's trails or play a round of golf at the Highland Links course.
Distance/Duration: 298 kms/186 miles in 2 days (413 kms/257 miles from Sydney NS)
Start & Finish Locations: the drive loops around the northern part of Cape Breton Island. Sydney, Nova Scotia would be the best airport to fly into.
Highlights: Ingonish Beach, Skyline Trail, Meat Cove (the most northerly settlement in Nova Scotia) and Margaree Harbour
Travel Tips/Best time to go: time your visit to coincide with one of the many festivals which take place, such as the Cabot Trail Writers Festival, the Celtic Colours International Festival and the Huckle Buckle Festival during harvest season
3) Cowboy Trail
Ranching country never looked as good as it does from the Cowboy Trail in Alberta. This scenic route squeezes between the Rocky Mountains and the Canadian prairies.
It's almost obligatory to pull off the road to enjoy horseback trail rides, ranch stays and some of the area's many historic attractions.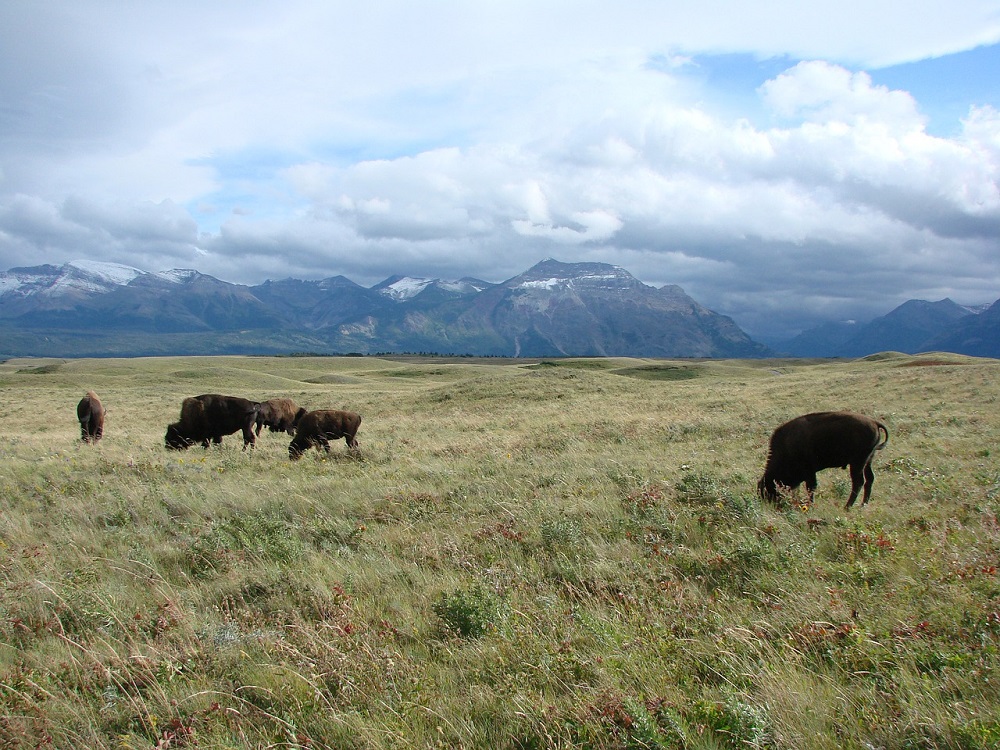 Distance/Duration: 690 kms/430 miles in 2-3 days (1,060 kms/659 miles Edmonton to Calgary)
Start & Finish Locations: Mayerthorpe (near Edmonton) to Cardston (south of Calgary)
Highlights: Head-Smashed-In Buffalo Jump interpretive centre, Rocky Mountain House National Historic Site, western art in Calgary, the horse and rider statue at Cochrane, hiking and riding at Bragg Creek, Black Diamond with its coal mining history and Bar U Ranch National Historic Site, visited by the Sundance Kid
Travel Tips/Best time to go: during rodeo season; the Calgary Stampede takes place in July
4) Dempster Highway, Yukon
Following the old dog sled route, the Dempster Highway is the gateway to the Canadian Arctic. The drama of the tundra and abundant wildlife against a mountain backdrop are part of what makes the Dempster special.
Early summer brings the chance to spot young animals, while mid-summer heralds the arrival of the midnight sun.
Late summer visitors are treated to gorgeous autumnal vegetation as fall arrives early in this northerly locale.
Distance/Duration: 773 kms/480 miles in about 5 days
Start & Finish Locations: Dawson City to Inuvit
Highlights: Klondike Gold Rush stories, the imposing granite peak of Tombstone Mountain, crossing the Arctic Circle, cute marmots and soaring eagles at North Fork Pass Summit, twilight attempts to spot shy moose at Two Moose Lake
Travel Tips/Best time to go: carry supplies and check your spare tyre is in good condition before setting out as this is a remote route with relatively few services; pull over to give large trucks right of way
5) Sea to Sky Highway
BC Highway 99, or the Sea to Sky Highway as it's more commonly known, is one of Canada's best road trips. Beginning beside the ocean on the shore of Howe Sound, the road climbs as it meanders through dense rainforest.
It can take as little as two hours to reach Whistler, one of the country's top mountain ski resorts. But why hurry something as wonderful as this when you can make a weekend of it?
Distance/Duration: 121 kms/75 miles in 1-2 days (251 kms/156 miles to Lillooet)
Start & Finish Locations: Vancouver to Whistler; with an option to drive on to Lillooet
Highlights: Britannia Mine Museum, Shannon Falls, overnighting in a cabin in Squamish, Garibaldi Provincial Park, Whistler
Travel Tips/Best time to go: adventurous types are catered for year-round – skiing in winter, rafting in summer
The best road trips in Australia
1) Great Ocean Road
The Great Ocean Road is, without question, one of the world's best road trips, famous the world over for the sight of the Twelve Apostles sea stacks along the way. But this epic drive is more than that.
Waterfalls hidden in the rainforest of Great Otway National Park and mile upon mile of sandy beaches are just two of the great draws.
If you just can't bear for it to end, continue on to charming Port Fairy, just beyond Allansford, to explore its many historic homes.
Distance/Duration: 243 kms/150 miles in 2 days
Start & Finish Locations: Torquay (near Geelong, Melbourne) to Allansford (near Warrnambool VIC)
Highlights: Twelve Apostles, Great Otway National Park, the ocean
Travel Tips/Best time to go: if you plan to drive it in one direction only, start in Torquay so you will be able to pull off the road oceanside
2) The Explorer's Highway: through the Red Centre
Another of Australia's best road trips, the Explorer's Highway roughly traces the route taken by intrepid Scot John McDouall Stuart back in the 1860s.
From the lush forests of Litchfield and the beautiful Katherine Gorge to the baked earth of the Red Centre, this is Australia at its most iconic.
Duck underground at Coober Pedy to explore the subterranean attractions of this unique mining town before driving on to Port Augusta and journey's end.
Distance/Duration: 2,720 kms/1,690 miles in 2 weeks
Start & Finish Locations: Darwin in the Northern Territory to Port Augusta, South Australia
Highlights: Litchfield National Park, Katherine, Devil's Marbles, Alice Springs, Kings Canyon, Uluru, Coober Pedy and Kanku-Breakaway Conservation Park
Travel Tips/Best time to go: driving after dark (and especially at dawn or dusk) is hazardous because wildlife stray onto the road
3) The Great Eastern Drive
Many tourists overlook Tasmania, thanks to its isolation from mainland Australia. That's a pity as it has much to reward a curious visitor.
Follow the glorious Great Eastern Drive from Orford to the Bay of Fires, though many follow a longer route from Hobart to Launceston and hop over to Maria Island as well.
Along the way enjoy wine, cheese and fresh seafood, great hikes, ocean views and quaint little towns packed with art galleries and cafés.
Distance/Duration: 200 kms/125 miles in 2 or more days (469 kms/292 Miles from Hobart to Launceston)
Start & Finish Locations: Orford (north of Hobart) to Bay of Fires (East of Launceston)
Highlights: Freycinet National Park, Maria Island, convict heritage, beautiful beaches
Travel Tips/Best time to go: the autumn months of March and April are usually the driest
4) Across the Nullarbor via the Eyre Highway
Crossing the Nullarbor might not be the most scenic road trip you'll ever take, but it's impressive nevertheless.
In fact, the Eyre Highway, the flat treeless road that connects Western Australia to Southern Australia via the Nullarbor Plain, is Australia's longest stretch of straight road.
Parts of it double as an emergency airstrip for the Royal Flying Doctor Service in this remote part of the country.
Distance/Duration: 1,666 kms/1,035 miles in 4-7 days (2,695 kms/1,675 miles from Adelaide, SA to Perth, WA)
Start & Finish Locations: Port Augusta, SA to Norseman, WA
Highlights: road trains, wild camels, Murrawijinie Caves, Bunda Cliffs
Travel Tips/Best time to go: carry plenty of food, water and spare fuel (roadhouses can be found every 125 miles or so but aren't open 24 hours)
5) The Savannah Way
It's advisable to rent a 4WD for this epic Antipodean road trip, the Savannah Way is nicknamed Australia's Adventure Drive. Along the way you'll pass grassy plains, remote cattle stations, gorges, waterfalls, abundant wildlife and plenty of rock art.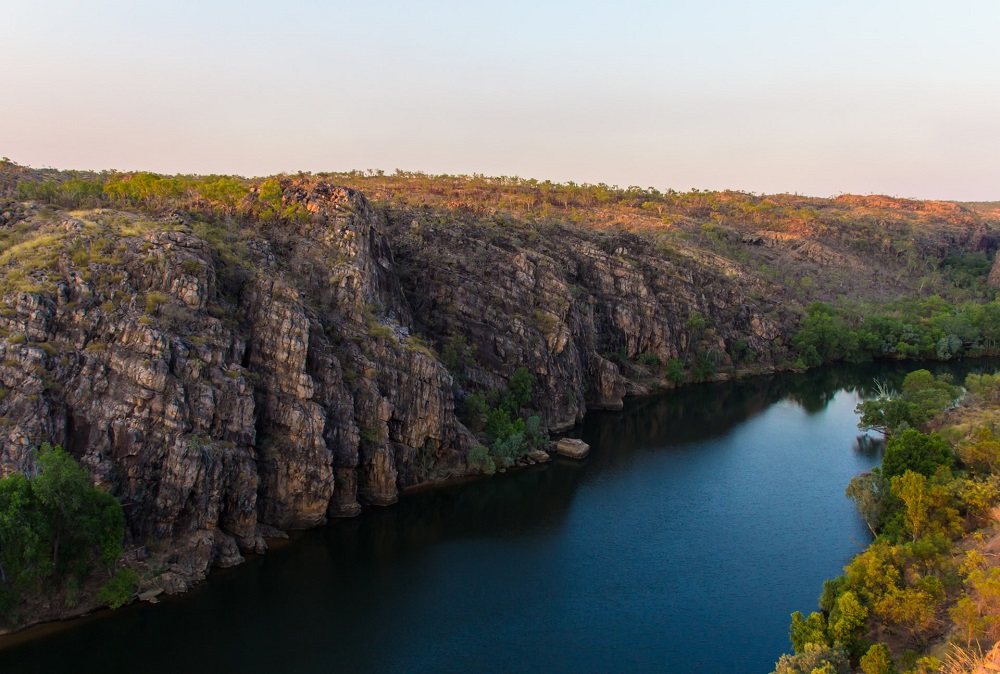 Drive the unsealed Gibb River Road from Broome to Katherine before picking up the challenging remote Roper Bar route headed to Normanton. Sealed bitumen roads provide a safer alternative for those with 2WD vehicles.
Distance/Duration: 3,500 kms/2,175 miles in 2 weeks
Start & Finish Locations: Broome, WA to Cairns, QLD
Highlights: 15 national parks including the hidden gem Boodjamulla and five World Heritage areas
Travel Tips/Best time to go: dry season, broadly speaking from May to October
6) Cairns to Cape Tribulation
No list of Australia's best road trips could be complete without a mention of the route between Cairns and Cape Tribulation.
The drive is short, but packs a huge amount into those few kilometres – the ancient ferns, emerald green vines and lush canopy of the Daintree rainforest, the granite boulders and cool swimming holes of Mossman Gorge and mile upon mile of glorious beaches.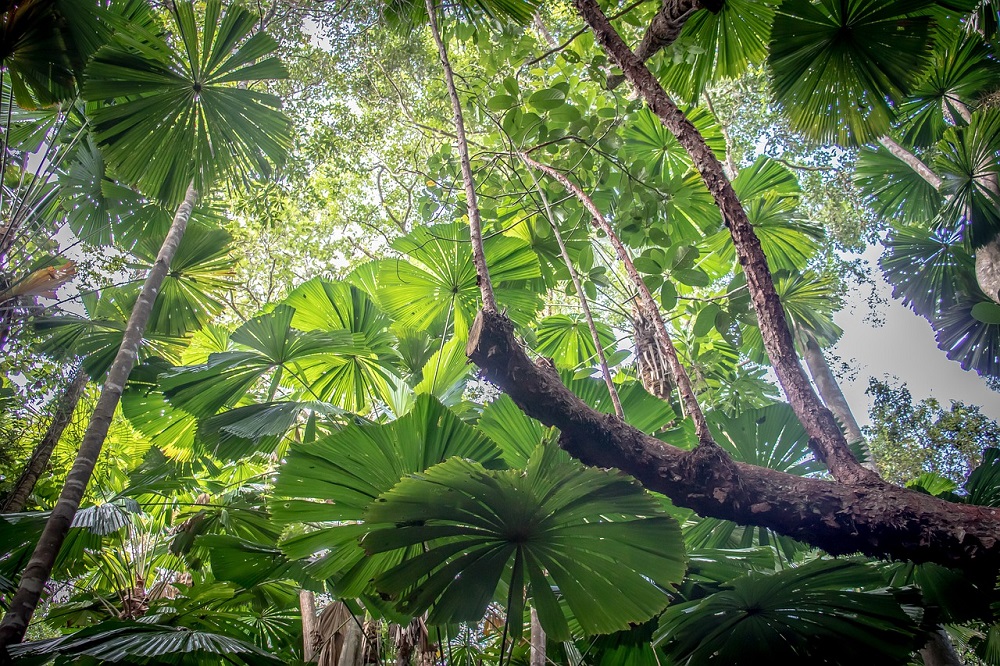 The Great Barrier Reef is easily accessible as a day excursion from Port Douglas.
Distance/Duration: 140 kms/87 miles in 2 days
Start & Finish Locations: Cairns to Cape Tribulation
Highlights: the Daintree rainforest, Kuranda scenic railway, pretty Port Douglas, Mossman Gorge
Travel Tips/Best time to go: you'll need a 4WD vehicle to continue on to Cape York, the pointy tip of the continent
The best road trips in New Zealand
1) South Island Explorer
All the drama of New Zealand's South Island is condensed into this epic road trip which begins in Christchurch before climbing to cross Arthur's Pass.
Heading south, the road leads to Franz Josef, where the glacier promises ice adventures and heli-hikes.
Next up, savour the beauty of Lake Wanaka with its famously Instagrammable lone tree and enjoy the adrenaline rush of Queenstown, home of the bungee jump.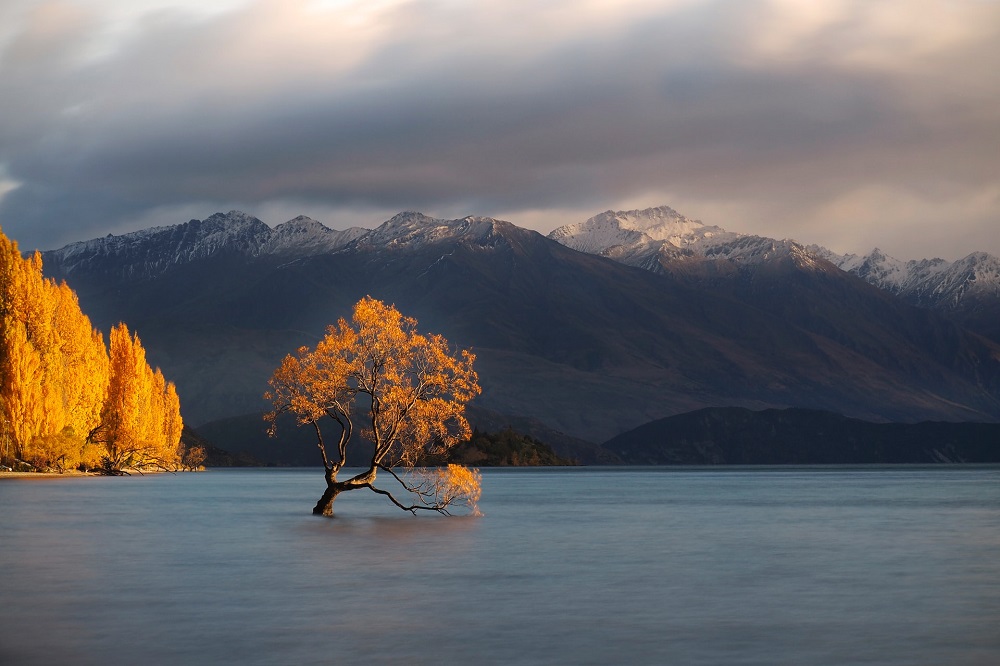 Overnight in Te Anau, the gateway to Fiordland National Park. Journey's end is serene, breathtaking Milford Sound, before returning back to Queenstown.
Distance/Duration: 1,306 kms/812 miles in 4-6 days
Start & Finish Locations: Christchurch to Queenstown via Franz Josef and Milford Sound
Highlights: Arthur's Pass, Franz Josef and Fox Glaciers, Lake Wanaka, Queenstown, Milford Sound
Travel Tips/Best time to go: if you're blessed with a clear day, park up and take to the sky for a jaunt in a light plane across the Southern Alps
2) The Pacific Coast Highway
This North Island Pacific Coast Highway itinerary combines all the main ingredients of a perfect New Zealand road trip: light traffic, ocean views, broad swathes of sand and characterful towns with great restaurants.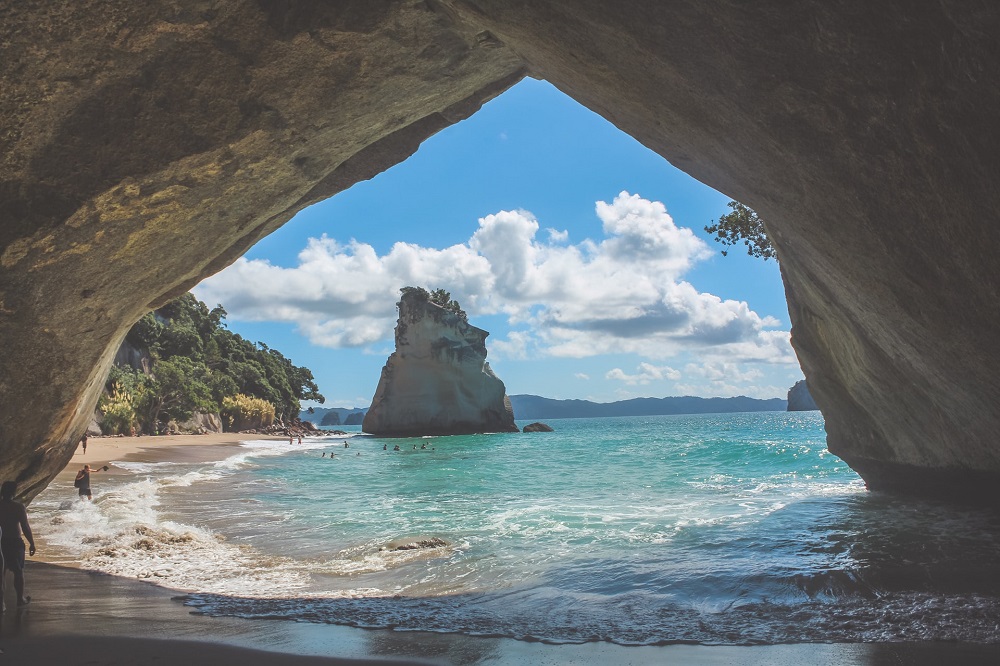 Add in the remnants of a mining industry, some Maori pā sites and a liberal dose of geothermal energy and you've got yourself the perfect route.
Distance/Duration: 1,104 kms/686 miles in 4-6 days
Start & Finish Locations: Auckland to Napier
Highlights: dig your own spa at Hot Water Beach, Cathedral Cove, the mining heritage of Waihi, Mount Maunganui, Gisborne for Chardonnay and Maori heritage, Art Deco Napier
Travel Tips/Best time to go: take a detour inland to Rotorua, where Pohutu, the southern hemisphere's largest geyser erupts at regular intervals
The best road trips in Europe
1) Italy's Amalfi Coast
Without a doubt the Amalfi Coast drive is one of the world's best coastal road trips and its no wonder that UNESCO inscribed the Amalfi Coast region on its World Heritage List. Cruise the winding cliff-top road that hugs what's surely one of Europe's finest coastlines.
Impossibly quaint villages, their multicoloured homes piled high on top of one another, vie with the glittering Tyrrhenian Sea in the beauty stakes. Just keeping your eye on the road will be a challenge.
Distance/Duration: 58 kms/36 miles in 1 day
Start & Finish Locations: Salerno to Sorrento
Highlights: Amalfi, Positano, Ravello
Travel Tips/Best time to go: in spring, when the scent of lemons hangs in the air
2) Scotland's North Coast 500
Follow Scotland's North Coast 500 route, which some dub the Scottish Route 66, from Inverness along the shoreline of the highlands. You'll squeeze past lochs and unspoilt beaches, and pass fairytale castles and charming villages accessed by single track country lanes.
The place names are a challenge – Bealach na Bà, Inchnadamph and Achmelvich – but who needs to pronounce them when you can simply enjoy the warm welcome you'll receive from those who call them home.
Distance/Duration: 830 kms/516 miles in 1 week
Start & Finish Locations: Inverness to Inverness
Highlights: John O'Groats, Rogie Falls, Ullapool, Cape Wrath, Dunrobin Castle, 8th Century Nigg Old Church
Travel Tips/Best time to go: pack bug spray if touring in summer; though the weather is warmer, the midges can make a nuisance of themselves
3) Iceland's Ring Road
Iceland's ring road is increasingly popular with European road trippers. Though the stretch of road along the south coast is busiest, allow time to loop the whole country if you can.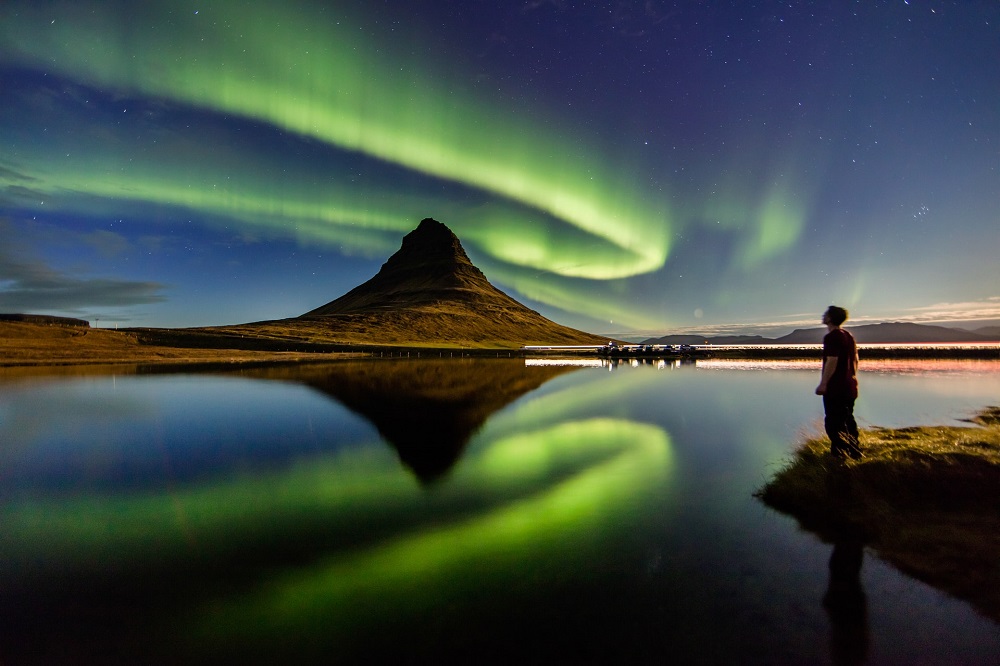 Many of the country's most impressive waterfalls, canyons, moss-covered lava fields and beaches lie on or very close to Route 1, but allow extra time in your schedule to detour to the famed Golden Circle and the delightful Snæfellsnes peninsula.
Distance/Duration: 1336 kms/830 miles in 10-14 days
Start & Finish Locations: loop the entire country, beginning and ending in Reykjavik
Highlights: Seljalandsfoss, Skógafoss, Jökulsárlón glacial lagoon, Lake Mývatn, the unspoilt east region
Travel Tips/Best time to go: spring or autumn, when the roads are quieter than summer but there's sufficient daylight to allow for unhurried sightseeing
4) Germany's Romantic Road
Unlock a world of fairytale castles, dreamy spires and Baroque palaces as you drive along one of the world's best road trips for couples, Germany's Romantic Road. Ditch the autobahn and instead pootle along at a more leisurely pace.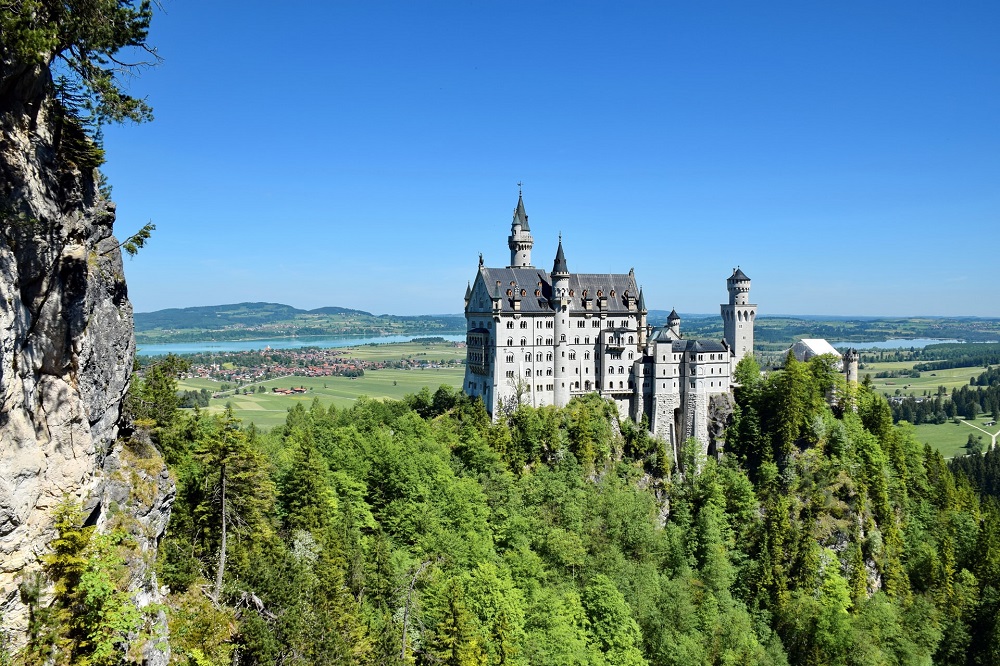 Stop in villages crammed full of half-timbered houses painted in pretty colours. Beyond, lush meadows and forested hillsides fill rural valleys. Toast each day's achievements with a glass of the local white wine.
Distance/Duration: 413 kms/257 miles in 3-4 days
Start & Finish Locations: Würzburg (near Frankfurt) to Füssen on the Austrian border, near Munich.
Highlights: the walled town of Rothenburg ob der Tauber and quaint Neuschwanstein Castle
Travel Tips/Best time to go: early autumn for the wine festivals, so long as you have a designated driver who's willing to abstain
5) The Norwegian coast
Take the slow road and island hop along Norway's spectacular fjord coastline using the many car ferries that link the region's settlements.
Don't miss Bryggen, Bergen's characterful waterfront, the Art Nouveau architecture in Ålesund and the striking natural beauty of UNESCO-listed Geirangerfjord.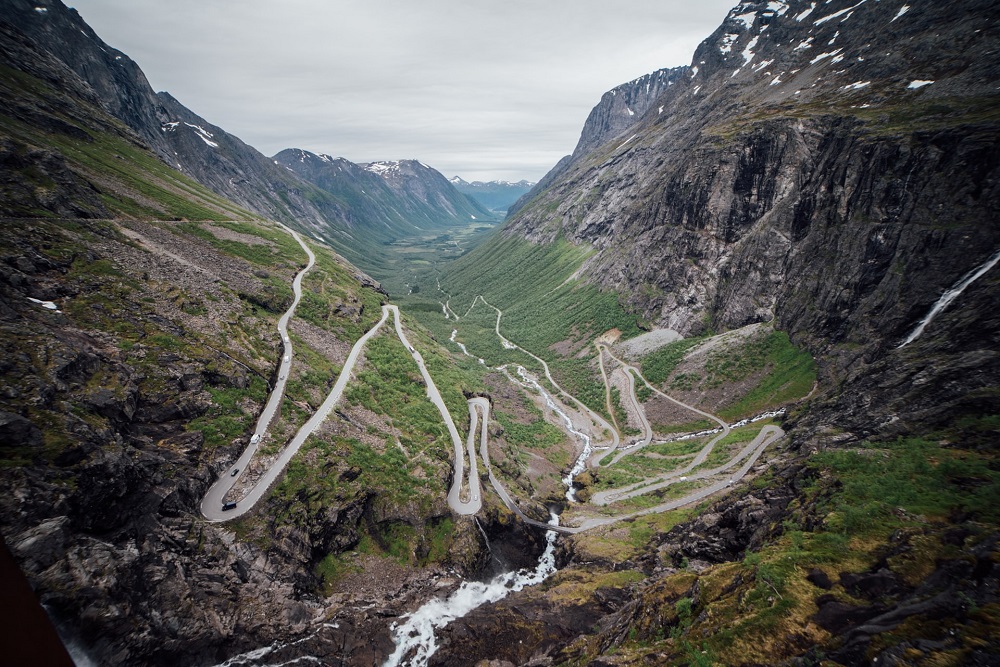 Driver highlights include the hairpin bends of Trollstigen and the Atlantic Road which connects Bud to Kristiansund via eight extraordinary bridges.
Distance/Duration: 660 kms/410 miles in 3-6 days
Start & Finish Locations: Bergen to Trondheim
Highlights: dazzling fjords and impressive feats of engineering
Travel Tips/Best time to go: in the summertime when the days are long and the weather's fine
6) The Transfăgărășan Road
Traversing the Făgăraș Mountains, the southern section of the Carpathians, the Transfăgărășan Road is one of the most challenging though also the best road trip routes in Europe.
Ceausescu built it in the early 1970s as a strategic military highway – he feared an invasion by the Soviet Union.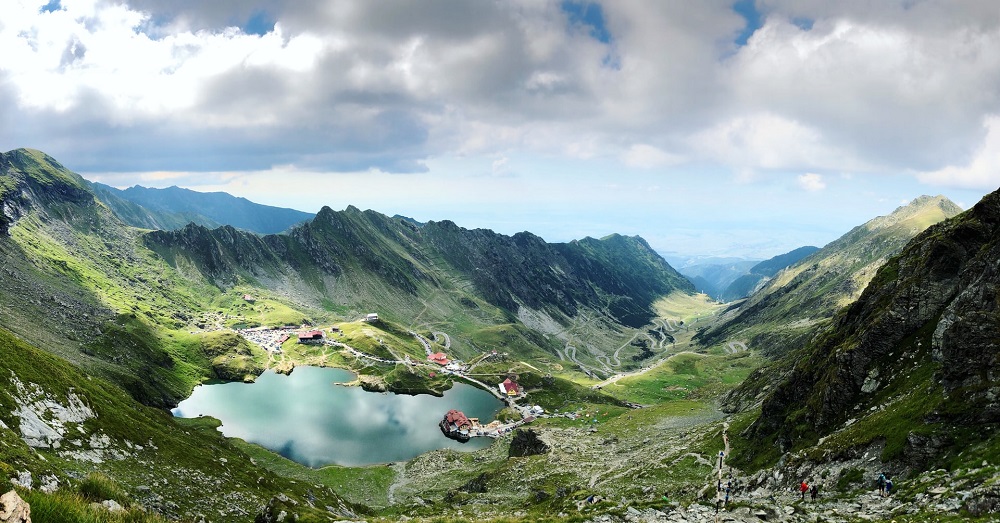 Today you're more likely to have to wait for local shepherds to move their flocks than for passing traffic of any kind.
Distance/Duration: 90 kms/56 miles in 1 day
Start & Finish Locations: Bascov to Cartisoara
Highlights: remote mountain scenery, sleepy rural villages, Poienari Castle, Balea Waterfall, the statue of Prometheus above the Vidraru Dam
Travel Tips/Best time to go: June to October – this is a seasonal road
The best road trips in the rest of the world
1) Trans-Andean Highway
Crossing one of the world's highest mountain ranges, this South American road trip is one for intrepid travellers. Leave Mendoza's wineries behind and set off west for the border.
The road passes south of Mt Aconcagua, South America's highest peak at 6960m and the highest outside Asia.
Over into Chile, a series of switchbacks creates a hair-raising descent from the Andes to the coast.
Distance/Duration: 412 kms/256 miles in at least 1 day
Start & Finish Locations: Mendoza, Argentina to Valparaiso, Chile
Highlights: Mendoza's wineries, snow-capped Aconcagua, colourful Valparaiso
Travel Tips/Best time to go: make sure your car rental agency is happy for you to cross the border and that your insurance is valid when you do so
2) Sri Lanka Loop
One of Asia's best road trips tackles the southern highlights of Sri Lanka, the Pearl of the Indian Ocean. Leave the hectic traffic of Colombo behind and set your sights on historic Kandy.
After a detour to climb Sigiriya (Lion Rock), follow the twisting road up into the hills to Nuwara Eliya and Ella where the pink, orange and blue saris of the tea pickers stand out in a sea of green.
Drive on to the beaches of the south coast. Spend at least a day or two in charming Galle Fort before completing the loop and returning to the capital.
Distance/Duration: 692 kms/430 miles in 7 days
Start & Finish Locations: Colombo to Colombo via the highland tea country and south coast
Highlights: historic Kandy, hill country, Uda Walawe National Park's elephants, stilt fishermen, Galle Fort
Travel Tips/Best time to go: avoid the monsoon by travelling in dry season – December to March
3) South Africa's Garden Route
Though many tourists extend the drive to Cape Town in the west and Port Elizabeth to the east, the official Garden Route links Mossel Bay and Storms River. Between the two you'll find South Africa's best road trip.
The route opens up a paradise of beaches and coves, forests and flowers, vineyards and museums.
The coastline promises sightings of whales, dolphins and sharks, not to mention penguins, while inland a detour to Oudtshoorn, the centre of the ostrich industry, is a must.
Distance/Duration: 200 kms/124 miles in 2-4 days
Start & Finish Locations: Mossel Bay to Storms River
Highlights: whale watching, beachcombing, forest hikes and plenty of padkos
Travel Tips/Best time to go: time your trip for late June and join in with the Knysna oyster festival
4) Muscat to Dubai
See a little bit of the Arabian desert with this Muscat to Dubai inland road trip linking the Omani capital Muscat with the glittering skyscrapers of Dubai in neighbouring UAE. This route takes you inland via the ancient city of Nizwa in the foothills of Jebel Shams.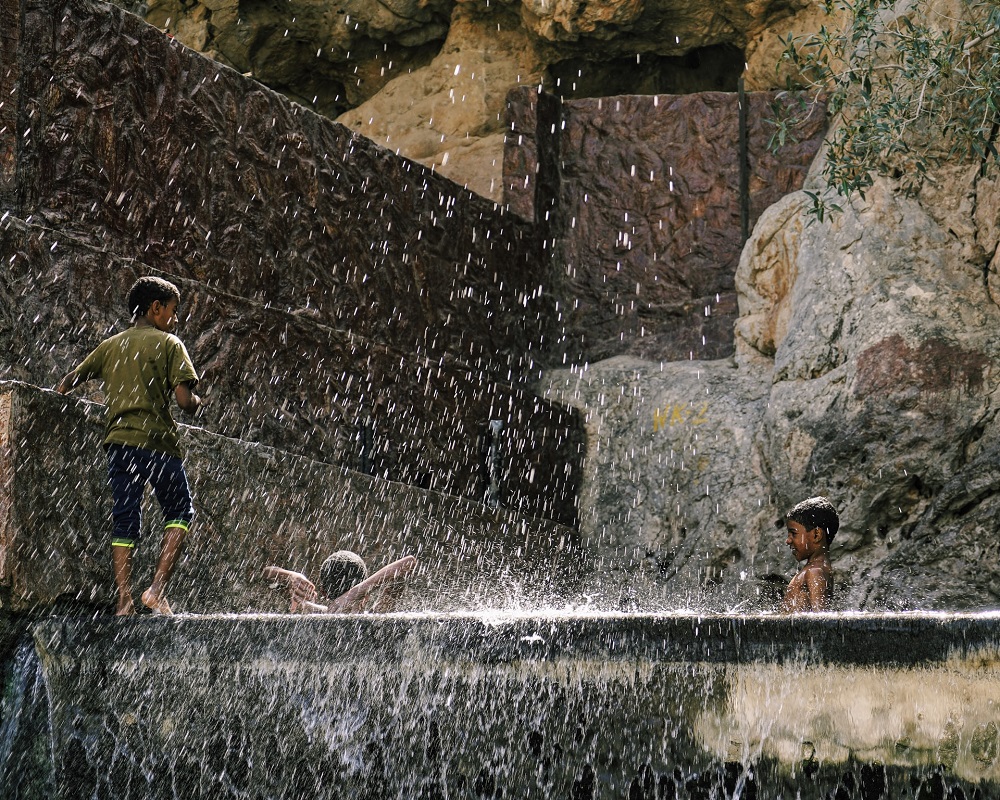 From there, head for the border and take a breather in the date palm oasis of Al-Ain blessed with a 3,000-year-old falaj irrigation system and popular camel market. Ninety minutes away is Dubai with its skyscrapers and shopping malls.
Distance/Duration: 350 miles/2-3 days
Start & Finish Locations: Muscat, Oman to Dubai, UAE
Highlights: Mutrah Corniche in Muscat, Nizwa Fort, Al Ain, Burj Khalifa in Dubai
Travel Tips/Best time to go: as this is an international road trip, make sure your paperwork covers you to drive in both countries and also for which border crossings it's valid
4) Kyrgyzstan's lakes and mountains
Begin in Bishkek, the Kyrgyzstan capital, but make the first stop nearby Ala-Archa National Park, where you should park up and hike along the riverbank in the company of inquisitive red squirrels. Head west to loop Issyk Kul, the country's largest lake, breaking the journey in historic Karakol.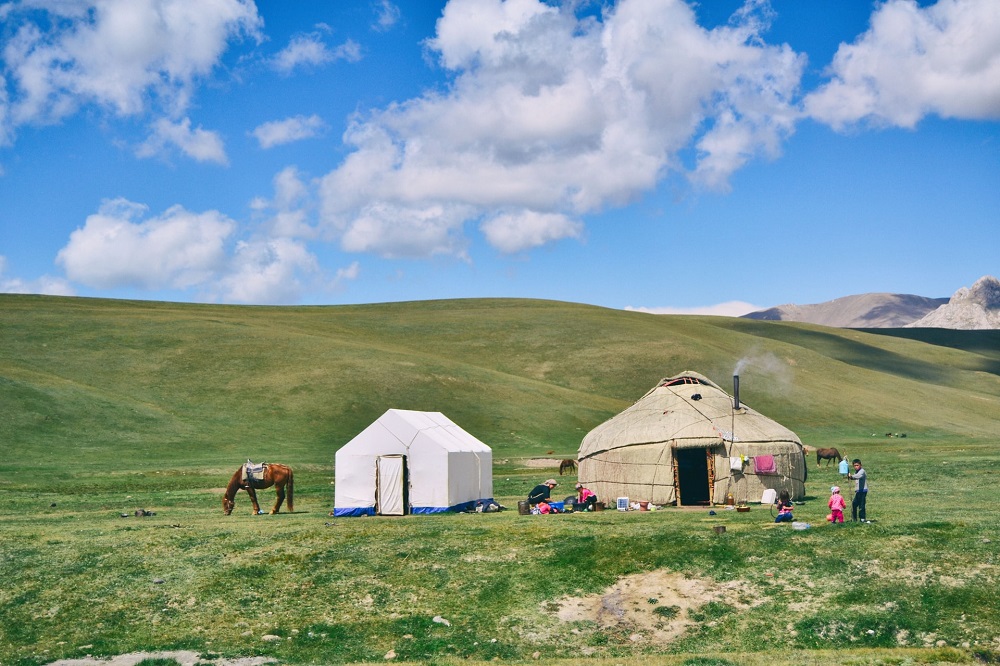 Detour to remote Son Kul and drive the phenomenal Thirty Three Parrots pass in the Kyrgyz mountains. Travel south to the ancient caravanserai (roadside inn) of Tash Rabat before returning to the capital.
Distance/Duration: 564 kms/880 miles in 8 days
Start & Finish Locations: Bishkek to Bishkek
Highlights: remote mountain passes grazed by yaks, yurt stays, marmots in meadows, learning about the ancient traditions of eagle hunting and felt making
Travel Tips/Best time to go: late spring to early autumn so the mountain passes will be open
Road trip tips
Choose your travelling companions carefully. Being cooped up in a confined space for days on end can make or break a relationship or friendship.
Give some thought to the vehicle you eventually rent. Work out how much space you'll need to be comfortable and whether there's enough room for your bags. For some journeys a 4WD will be essential.
Consider renting an automatic car, particularly if you are driving on the "wrong" side of the road, so gear changes are one less thing to think about.
If you're planning a long distance road trip into a remote region, ensure you have plenty of spare fuel. Never pass a gas station without filling up.
Take lots of water and snacks with you. A cooler is useful if you are travelling somewhere warm. Stop at diners, cafés and restaurants along the way to try local dishes.
Don't rely on having mobile phone coverage if you're travelling out in the countryside, even in developed and relatively built-up countries.
Consider whether it's worth buying a GPS, or whether you'll be able to use Google maps on your phone instead. A paper map makes a fabulous souvenir afterwards but make sure whoever's navigating can read one.
Take the pretty route. Road trips should be all about scenic overlooks and off the beaten track discoveries, not motorways and faceless service stations.
Plan more stops than you think you'll need and allow time in your schedule for unforeseen hold-ups and delays. Rushing to reach a visitor attraction before it closes or make it to a viewpoint in time for sunset isn't the recipe for a fun trip.
Pay attention to the rules of the road. Make sure you're well versed in speed limits, common road signs and other local driving conventions so you don't fall foul of the law.
Decide whether it's safe to drive at night. Find out if caution is advised because of challenging mountain passes or wildlife straying into the road ahead of you.
Take into account seasonal closures, particularly if you are planning to drive a high altitude road trip. Have a plan B if the road opens later than normal and you need to change your itinerary at the last minute.
Do your homework regarding the weather. It's no fun driving if the rain is belting down so hard you can't see out of the windscreen, so make sure you don't time your trip for wet season.
Create a playlist on your phone to ensure you have the music you'll need for the journey. Pack a USB cable to connect to the car's audio system.
Summary
Worldwide, the best road trip destinations are as varied as they are exciting. There's nothing to match hitting the open road, with all the freedom that brings, whether you're driving along a busy stretch of the Italian coast or a vast expanse of empty wilderness without a car in sight.
These road trips represent the best road trips the world has to offer. Which would your picks be?