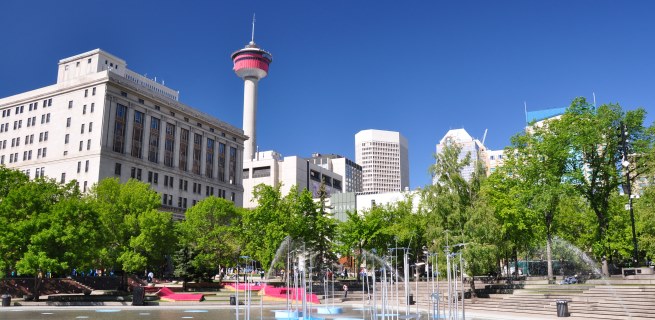 Calgary Airport Car Rental, Alberta
As Alberta's largest city, Calgary is the perfect place for a holiday, and there is no better way to get around Alberta, Canada than with our Calgary Airport car hire. Located within the Calgary Airport, you can immediately pick up your rental cars and begin your holiday as soon as you land. Our Calgary Airport rental car services are easy to use and are the best way to maximize your time in this beautiful city.
As the central hub of the city, downtown is the place for dining, shopping, museums and more. Here you will find Calgary Tower, the tallest observation point in Canada, offering stunning views of the city and countryside below. For quaint cafes and excellent dining, Stephen Avenue is the place to be. Numerous boutique shops and art galleries line the streets, and it is all within easy reach when you have a Calgary car hire.
Drive your Calgary Airport hire car to the Rockies
Considered the eastern gateway to the Rockies, Calgary is surrounded by beautiful terrain, and your rental car is the way to explore all of it. A 60 minute drive to the west will take you to Canmore for white-water rafting, hiking and skiing in a peaceful atmosphere. Another must visit, is the beautiful Lake Louise and Banff. This unspoiled mountain paradise offers every outdoor adventure imaginable, from skiing, snowshoeing and sleigh rides in winter to hiking, camping and biking in the summer months. A world of adventure awaits with your Calgary rental car.
When you have a rental car, there is no limit to the places you can visit. Just minutes from downtown, you will find Fort Calgary, a 40 acre park filled with historical buildings that highlight Calgary's past. No Calgary holiday would be complete without a visit to the Alberta, Canada Olympic Park. Here you can enjoy winter sports such as skiing or snowboarding. Whatever your desire, your rental car means you can experience it all.
When you are done enjoying everything that Calgary in Alberta, Canada has to offer, we make it easy for you to return your rental car. Simply drive to the airport, leave your car at our Calgary Airport car rental location and transfer straight to your flight. Nothing could be easier.
Major Canada Car Rental Locations