Sea to Sky Highway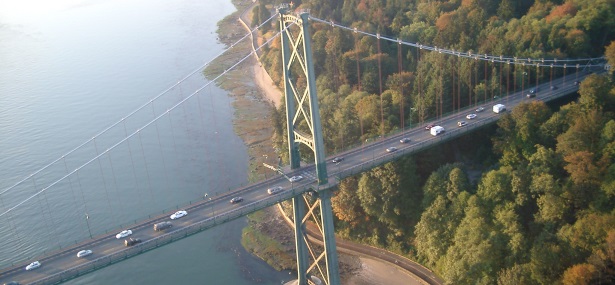 Sea to Sky Highway, BC
British Columbia's Highway 99, or Sea to Sky Highway, was built back in 1942 and extends over a distance of just over 400km.
Over the years, only a few alterations and modifications were made to the route.
The most recent of which was the addition of the Duffey Lake Road between Pemberton and Lillooet in 1992.
For anyone with a desire for adventure and one of the most scenic road trips ever, this highway is calling your name!
Bargain Car Hire
Reserve a reliable rental vehicle ahead of time to get your choice of vehicle, from compact or economy through to SUV or mini van.
Compare low rate hire cars on our site from all the big brand companies like Alamo, Hertz, Avis, Thrifty and Budget.
Drive away with a deal on a Ford, Hyundai, Toyota, Chevrolet, Nissan and a wide range of other popular rentals.
Perhaps pick up your rental car at Vancouver Airport, hit the road and embrace all the fun and amazing sights that come your way.
What to see along the Sea to Sky Highway
The normal main route from North Vancouver is pleasant but, as an alternative, you could just as easily enjoy a coastal drive along the parallel running Marine Drive and Horseshoe Bay Drive.
This route is slower but far more scenic and eventually joins up with Highway 99 before you reach Sunset Beach.
By taking this route, you will also have easier access to the Lighthouse Park where you can see Vancouver's buildings in the distance while relaxing by the water.
If you stop off at Brittannia Beach, you can visit the BC Mining Museum and the Murrin Provincial Park is the ideal spot for a dip to cool off.  Further ahead, you will reach the Shannon Falls Provincial Park.
The walk to the base of the falls will only take you about 10 minutes.  It is fairly steep but it's paved which makes for a moderate level walk.
The town of Squamish is also home to the West Coast Heritage Railway Park, Brackendale Eagle Viewing and the Tantalus Viewpoint is on the way too.
Porteau Cove is another great spot to stop in this area and enjoy a walk out along the pier that stretches out over the ocean.
The rest of the mountainous route offers spectacular views and you will eventually reach the Brandywine Falls in Whistler.
Yet another perfect spot to stop and enjoy a break and breathe of fresh air.
Road trip planning advice
While some travelers love to just get in a car and go, if you are a foreign visitor, you may want to do just a little bit of research and planning in advance.
For example, knowing what attractions and sights are ahead will help you decide exactly where you would like to stop and how long your trip will take.
Unlike the old days of paper maps, these days you can ask your car rental company to include a GPS unit to make navigation that much easier, or even use your smartphone if you buy a Canadian SIM card at the airport.
You can also monitor your distance traveled so that you know when an attraction or pit stop is around the corner.
If you are considering a one way trip along this route, why not look into a one way car rental too?
Make your way from one major town or city to the next without having to double your mileage on the way back.
Pack plenty of refreshments, snacks and light meal options for the trip as well as a change of clothes.
The weather has a funny way of surprising you when you least expect it!
With so much nature and breath taking views, this drive is not just worth doing once.
It's the kind of driving route that you can enjoy again and again with something new to see and enjoy every time.
Make the most of your Canadian holiday by visiting one of the most beautifully unspoilt parts of BC.