The Best 26 Road Trip Movies EVER!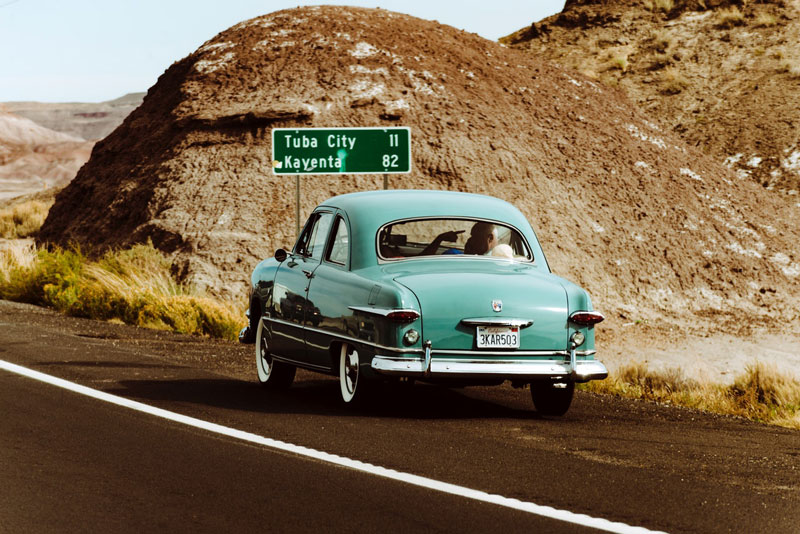 Compiling a list of the best 26 road trip movies is easier than it sounds, there is a sort of domino effect when you think of one then a whole bunch run into the mind's eye.
With the exception of a privileged few, the USA is the undisputed champion of the genre, in the right hands the vast, empty highway is more than just a location, it acts as a metaphor of an ever-changing cultural landscape in perpetual motion.
There are notable absences in the list below but what we've got here represents the epitome of the road trip genre, good and bad, starting with its beating existentialist heart before exploring the road as a backdrop for action, drama and crime with a few laughs thrown in along the way.
And checkout our list of the 30 best road trips worldwide to get more specific routes in the USA, Canada, UK, Europe, Australia and New Zealand.
Let's ride…
Richard Wolskel
Go4 owner, travel expert, blogger, "ten pound pom" and passionate traveler!
Easy Rider
Release Date: July 1969 (USA)
Director: Dennis Hopper
Arguably the definitive cult movie? Two friends, Peter Fonda and Dennis Hopper, head out on the Highway on the most famous motorcycles in cinema history to discover America, picking up an alcoholic lawyer -Jack Nicholson, making his breakthrough performance- along the way.
Easy Rider isn't just a testament to US counterculture in the late '60s, it's an intrinsic part of it, taking us on a trip and leaving us reeling by the side of the highway following the shocking conclusion from the vapid hand of loathing.
With a great soundtrack and compelling performances from our protagonists, the real star of the show could just be those beautiful Harleys.
Vanishing Point
Release Date: March 1971 (USA)
Director: Richard C. Sarafian
This early Seventies offering stars Barry Newman (better known to readers of a certain age as Petrocelli) as a former cop, Kowalski, who is charged with transporting a supercharged Dodge Challenger from Denver to San Francisco across the USA, but he's also made a bet that he can do it in fifteen hours, a feat that attracts the attention of supporters and authorities alike.
Very much a product of its time, Vanishing Point is packed full of car chases and maybe a bit of cheesy dialogue along the way, but it's a true cult classic for a very good reason.
Two-Lane Blacktop
Release Date: July 1971 (USA)
Director: Monte Hellman
A driver (Dennis Wilson) and his friend, a mechanic (James Taylor, yes that James Taylor) live to race their 1955 Chevy.
On a trip from California, they pick up a girl (Laurie Bird) with whom they both have an affair, causing a rift between our two pals.
But there is another challenge that awaits our duo in form of GTO (Warren Oates) and a race across Washington DC for what appears to be the showdown on the track in Memphis, or is it?
Esquire magazine declared Two-Lane Blacktop its movie of the year in 1971 and a pre-interstate Route 66 has never looked better.
Electra Glide in Blue
Release Date: August 1973 (USA)
Director: James William Guercio
The 'Electra Glide' in question is a brand of Harley-Davidson Motorcycle, the 'Blue' represents the US Police to whom the bike was issued in the '70s.
Electra Glide in Blue stars Robert Blake as a diminutive policeman investigating a murder while becoming increasingly disillusioned at the way authority figures, such as himself, are treating the remaining members of the counterculture revolution, itself on the brink of extinction in 1973.
Electra Glide in Blue is arguably the last of the four great existentialist road movies from the counter-culture era and certainly the most underrated. You've just read about the other three.
Five Easy Pieces
Release date: March 1971 (USA)
Director: Bob Rafelson
A year after Easy Rider, Nicholson once again steps out onto the road in this melancholic offering about a pianist (Nicholson) cum oil rig worker, Bobby Dupea and his girlfriend, Rayette (Karen Black) travelling up the coast to the Pacific Northwest to visiting his dying father.
At once introvert and extrovert, Five Easy Pieces is punctuated with oddballs, motels and an infamous scene in a diner, but perhaps the real kicker is the meaning behind the title of the film.
The film was nominated for four Academy Awards and five Golden Globe Awards and assured Jack Nicolson's career. It may even be his best movie.
Action and Drama Road Trip Movies
Duel
Release date: November 1971 (USA)
Director: Steven Spielberg
Dennis Weaver plays a mild-mannered salesman driving through the Mojave desert when he finds himself inexplicably under attack from a faceless madman driving an oil tanker on an empty two-lane highway.
As the attempts to take out the hapless salesman intensify, it's down to our anti-hero to take matters into his hands and bring the fight to the trucker.
In Duel, Steven Spielberg's feature-film-debut is like road version of Jaws released three years later, slowly ratcheting up the tension and culminating in an explosive climax.
Scarecrow
Release Date: April 1973 (USA)
Director: Jerry Schatzburg
Directed by ex-fashion photographer Jerry Schatzburg and starring Al Pacino and Gene Hackman, won the Palme d'Or but flopped in the US box office.
Scarecrow has now being rediscovered by a new generation following its restoration and, for fans of 70's road movies, it's an essential addition to the collection.
The story revolves around two hobos, Max (Hackman) an ex-con and a former sailor, Lionel (Pacino) as a pair of hitchers who meet on the opposite of a road, buddy up and head East.
Of its time, the plot is slow and sparse, it's all about the two characters and their attitude to life (this is where the Scarecrow comes into play) played to perfection by Hackman and Pacino and the troubled journey they take together. Both consider Scarecrow as the highlight of their respective careers. Enough said, we think
Mad Max
Release Date: November 1979 (Australia)
Director: George Miller
We may be (as I write) into the third incarnation of George Miller's dystopian future franchise but the first Mad Max movie remains the best.
A fresh-faced Mel Gibson takes on a gang of lunatic bikers in an arid, empty landscape where fuel is a commodity to die for.
For petrol heads, this is two glorious hours of screaming motorcycles and supercharged muscle cars built for the business of speed and survival, for everyone else, it's a compelling tale of loss and revenge wrapped in black leather.
Worth watching alone for the 30-second scene of Jim Goose (Steve Bisley) starting his immaculate copped-up Kawasaki Z1000 and burning off down the road.
Rain Man
Release Date: December 1988 (USA)
Director: Barry Levinson
Despite not having quite the same cultural impact when viewed in a road-trip context, we're rolling with wheeler-dealer Charlie Bobbit (Tom Cruise) and his estranged older brother, Raymond (Dustin Hoffman, who clinched the Oscar for best actor) as an autistic savant with a brilliant mind for numbers.
The two have been thrown together following the death of their father, but Raymond has benefited from a large share of their late father's estate and Charlie is attempting to gain custody of his brother to get the inheritance.
Most of the action in Rain Man takes place on the 2210-mile trip from Cincinnati to LA, a notably, a stop off in Las Vegas where Charlie uses Raymond's talents to amass enough money to pay off a few pressing debts.
Barry Levison's touching and occasionally funny drama won four Oscars and a Golden Bear, making this the most successful road trip movie on the list.
River of Grass
Release Date: October 1995 (USA)
Director: Kelly Reichardt
Kelly Reichardt's debut didn't get much of a look in (despite being nominated for the Grand Jury Prize at Sundance) when it was released (the same year as the media-saturated Natural Born Killers, irony anyone?) but now it's beginning to get the overdue recognition it deserves.
The river of grass in question are the Everglades, 1.5 million acres of wetlands in southern Florida and our couple, Cozy, a bored housewife with dreams of being a dancer (Lisa Bowman) and her accomplice, Lee (Larry Fessenden) a jobless loser, go on the run after believing they committed a murder.
This is an old school road movie, River of Grass is slow, ethereal and considered, it's as much about the passing landscape watching on as it about Cozy and Lee's quiet, unremarkable relationship.
The Straight Story
Release Date: December 1999 (USA)
Director: David Lynch
David Lynch's relatively reticent tale of an old man's journey from Iowa to Wisconsin to put things right with his brother (Harry Dean Stanton, himself no stranger to the odd road-movie, including the exceptional Paris, Texas) before it's too late is a slow-burning masterpiece.
Alvin Straight (Academy-nominated Richard Farnsworth) without a driver's license or a car, jumps on his lawnmower and gently heads off into the unknown, at about five miles per hour.
Lynch allows his characters space to breath as The Straight Story overcomes the various obstacles that accompany him on his sanguine journey.
The finished picture is constrained, offbeat and moving, made all the more so by the fact that Richard Farnsworth died a year after its release and, incredibly, it's a true story.
Crime Road Trip Movies
They Live by Night
Release Date: August 1948 (USA)
Director: Nicholas Ray
Best known for making a star of James Dean, 'Rebel Without a Cause' director Nicholas Ray cut his teeth on film noir in the form of 'They Live by Night'.
It's widely regarded as being the first story based on the story of Bonnie Parker and Clyde Barrow (though it's probably Louis King's 1939 'Persons in Hiding') and follows the tale of prison breaker, Bowie (Farley Granger) who goes on the run with his accomplice's niece, Keechie (Cathy O' Donnell) following a series of robberies and desperate attempts to escape justice and Keechie's family.
It's a familiar tale to our modern imaginations but in the 40's this was intoxicating stuff and it's not hard to see how the story has been remade in perpetuity ever since.
Bonnie and Clyde
Release Date: August 1967 (USA)
Director: Arthur Penn
Arthur Penn's classic tale of two love struck robbers cum murderers is more than just a road trip movie, it's a movie that marked the beginning of a new wave of American cinema: Quintin Tarantino said, '[that] when they did Bonnie and Clyde, they started the era now known as the silver age of Hollywood."
It's now a well-known tale that follows the story a bored, impressionable waitress, Bonnie (Faye Dunaway) being lured into a life of crime by her partner, Clyde (Warren Beaty).
The crimes themselves start off as petty robberies before getting increasingly more violent as they flee from the law, the road always clear for escape, until the bloody brutal climax.
The film earned Estelle Parsons (playing Clyde's sister-in-law, Blanche) an Academy Awards for best supporting actress, but it's the on-screen chemistry between Dunaway and Beatty that endures.
Bonnie and Clyde continue to inspire filmmakers, right to the present day.
Badlands (1973)
Release Date: October 1973 (USA)
Director: Terence Malick
Starring Charlie Sheen and Sissy Spacek, most of us will instantly recall the haunting, uplifting theme music.
Very loosely based on 19-year-old Charlie Starkweather's killing spree with his 15-year-old girlfriend, Caril Anne Fugate, Sheen and Spacek present a pair of killers who, despite casually murdering innocent people, invite a sort of misplaced sympathy as they travel through the states, so beautifully realised by director (making his debut) and producer Terence Malik.
Typical of its genre, the character-driven plot is draped over the backdrop of the endless road which offers so much potential but, ultimately, only leads in one direction.
Badlands is recognised these days as a 70's classic, road movie or otherwise, and its arguably Charlie Sheen's career highlight outside of Apocalypse Now.
Thieves Like Us
Release Date: February 1974 (USA)
Director: Robert Altman
Altman had already made a name for himself for MASH when he remade, They Live by Night, and by remake, we're not implying that Thieves Like Us is somehow a poor man's version of the above, far from it.
Keith Carradine took on the role of Bowie and Shelley Duvall (who famously went on to play Wendy in The Shining) Keechie.
Both had already worked with Altman on 'McCabe and Mrs Miller'(1971) and there's an easy chemistry between the cast (that includes a pre-Cuckoo's Nest Louise Fletcher and Tom Skerrit who'd already worked with Altman in MASH) despite the frequently violent, on-screen action. An underrated classic.
Natural Born Killers
Release Date: August 1994 (USA)
Director: Oliver Stone
Oliver Stone took a break from his war/politics oeuvre to have a pop at the media after collaborating with Quentin Tarantino to preside over one of the most controversial films ever made.
The almost unpalatable violence is present from the beginning to the end, though somewhat mitigated by a sense of (very) dark humour and the movies' attempt to question at which point that the media stops being objective and starts to become complicit.
At its heart Natural Born Killers is a love story between our murderous protagonists, Mickey and Mallory Knox (Woody Harrelson and Juliette Lewis respectively) but it's a legitimate road movie too, following the much-loved 'Bonnie and Clyde' narrative, but the road in Natural Born Killers pretty much leads to death in every possible direction it goes.
Thelma and Louise
Release date: July 1991 (USA)
Director: Ridley Scott
On the way to a fishing trip, Thelma (Geena Davis) and her friend Louise (Susan Sarandon) stop at a bar, shortly the duo are fleeing the authorities after Louise shoots the man who attacked Thelma.
While being treated to a thrilling ride across the USA and Mexico, we learn more about the lives of our alluring characters as they fall prey to the charms of a thief (Brad Pitt) rob stores to pay their way and win sympathy from a world-weary cop in one of Harvey Keitel's finest roles.
The action culminates on the edge of the Grand Canyon resulting in one of the most memorable finales in modern cinema, confirming the status of Thelma and Louise as a stone-cold classic, modern or otherwise.
Ain't Them Bodies Saints
Release Date: January 2013 (USA)
Director: David Lowery
Lowery wrote and directed this critically acclaimed, box-office underachiever. It stars Casy Affleck and Rooney Mara as Bob and Ruth, a couple with a criminal past who get divided when Bob gets sent to prison.
After escaping he sets out across Missouri to Texas to find his estranged wife and meet his daughter for the first time where things don't quite go according to plan.
Ain't Them Bodies Saints is a familiar plot, the open road offers a pathway for redemption and new beginnings but, typically, things don't always work out.
Either way, Lowery's film is simply beautiful to look at, to the point that the characters act as virtual catalysts for the painterly backdrop.
Queen and Slim
Release Date: November 2019 (USA)
Director: Melina Matsoukas
"Well, if it ain't the black Bonnie and Clyde". This quote from Uncle Earl, one of the characters we meet along the way as we run with Queen (Jodie Turner-Smith) and Slim (Daniel Kaluuya) from the misanthropic hand of the law, sums up Melina Matsoukas' debut quite nicely.
Despite its nod to Bonnie and Clyde, Queen and Slim aren't criminals, they're victims of injustice who are forced to take back the power, revealing a poignant subtext exposing the prejudices and preconceptions of an authoritarian, and ultimately discriminatory, society.
But don't let that fool you into thinking that the sharp sentiments contained somehow dictate the hand of its creative agenda, Emmy-Award winning-writer Lena Waithe's thrilling, moving -at times humorous- ride with a show-stealing Jodie Turner-Smith and Oscar nominee Daniel Kaluuya, breathes fresh life into the road-trip genre. More please.
Comedy Road Trip Movies
Cannonball Run
Release Date: June 1981 (USA)
Director: Hal Needham
Needham has already directed the equally noteworthy (but superior) Smokey and the Bandit four years earlier, also starring Burt Reynolds, but unlike its older sibling, wasn't inspired by an actual event, the Cannonball Baker Sea-To-Shining-Sea Memorial Trophy Dash, nor was it jampacked with some of the biggest stars of the day.
It's a daft but thoroughly entertaining romp as partners JJ (Reynolds) and sidekick, Victor (Don DeLuise) fend off the likes of Dean Martin and Sammy David Jr. (dressed as priests, driving a Ferrari, as one does) in a Dodge Ambulance.
Other contenders include Roger Moore (doing a great job of parodying his James Bond alter-ego) Jackie Chan and Farrah Fawcett as they dash and crash to the finish line.
A quick acknowledgement to Charles Bail's 1976 movie, The Gumball Rally, which did the opposite of the Cannonball Run and inspired a race of its very own.
Vacation
Release Date: October 1983 (USA)
Director: Harold Ramis
John Candy also pops up in Vacation, alongside Chevy Chase playing Clark Griswold, Beverly D'Angelo his loving wife Ellen and their two kids (Dana Barron and Anthony Michael Hall) as they travel from Chicago to Los Angeles to visit a theme park, Wally World.
The disastrous trip is fraught with hilarious mishaps including car trouble, pet disasters and Cousin Eddie featuring a deadpan Randy Quaid.
The movie kicked off a franchise following a similar road-trip theme including European Vacation and Christmas Vacation, both written by Planes Trains and Automobiles director/polymath John Hughes, but the original, directed by Harold 'Ghostbuster' Ramis, is, like Mad Max, the very best of the lot.
Planes Trains and Automobiles
Release Date: November 1987 (USA)
Director: John Hughes
One of Americas finest directors took two giants of comedy and tried to get them home in time for Thanksgiving.
Neal Page plays an uptight sales executive and Del Griffiths an easy-going shower curtain salesman -Steve Martin and John Candy respectively- are thrown together when Neal accepts Del's offer to share his motel room after their plane is diverted to Wichita.
The following saga is almost unparalleled in the road trip genre and Planes Trains and Automobiles is one of those movies that, if you happen to catch the beginning by accident, that's you done for the next hour and thirty-three minutes.
A bona fide comedy classic with a finale that would move the Statue of Liberty. We're going to watch it right now.
Dumb & Dumber
Release Date: December 1994 (USA)
Director: Peter Farrelly
The Farrelly Brothers made their movie debut on this crazy trip from Rhode Island to Colorado with a couple of brain-challenged buddies, Lloyd Christmas (Jim Carrey) and Bennett Yellin (Jeff Daniels) to return a suitcase of cash to its owner (Lauren Holly), who had left deliberately left the money to pay a ransom fee for her husband's release.
The road trip aspect of Dumb and Dumber serves the plot well as it allows the movie to play on a series of non-sequential chance encounters that keep the movie fresh and funny.
At its heart, though, is a rather sweet buddy movie that relies on the unintelligent shenanigans between Carrey and Daniels, better known for more serious roles.
Indeed, Daniels' agent and the movies' producers, New Line Cinema, didn't want him in the movie so they only offered him $50,000 for the part, which he accepted. Carrey was paid 7 million.
Road Trip
Release Date: May 2000 (USA)
Director: Todd Phillips
It was inevitable this would wind up on the list, mainly because it's called 'Road Trip' and it's hard to ignore it exists, even if we wished it didn't.
Okay, it has some funny moments but this is, essentially, a poorly realised re-visit to the (arguably superior) gross-out college movies of the late '70s and early '80s, but on tour.
The plot revolves around a frantic journey from New York to Austin to intercept (what is believed to be) a raunchy videotape that's been accidentally mailed to Tiffany (Rachel Blanchard) the girlfriend of Josh (Breckin Meyer) featuring Josh and another girl, Beth (Amy Smart).
Expect the usual concoction of smut, crude humour with a few -isms thrown in for good measure.
Hard to believe that the director Todd Phillips debuted with an insightful (shall we say) movie/doc about punk-legend GG Allin, which had a very usual source of funding in the salubrious form of mass murderer, John Wayne Gacy.
Little Miss Sunshine
Release Date: July 2006 (USA)
Director: Jonathan Dayton and Valerie Faris
One of the most innovative movies in years, and certainly the freshest take on the (problematic) road trip/comedy genre since Train, Planes and Automobiles.
Made on a relatively minuscule budget for $8 million Little Miss Sunshine went on to gross over $100 million, was nominated for four Academy Awards, winning two for the screenplay and best supporting actor for Alan Arkin, playing a curmudgeonly grandad.
On paper it shouldn't have worked, it was written by a screenwriter making his debut (Michael Arndt) along with directors, a husband and wife team, making theirs, but it positively crackles with energy whilst being tempered with the kind of pathos that could have easily become mawkish or trite.
The dream cast helps too, Greg Kinnear, Steve Carell, Toni Collette, Paul Dano and Abigail Breslin -she was nominated for an Academy Award aged 10- and a simple plot that allows the characters space to breathe, despite spending a large proportion of it bickering in the back of a yellow VW Microbus which becomes a character in its own right.
We're the Millers
Release Date: August 2013 (USA)
Director: Rawson M Thurber
This cheery offing from Rawson M Thurber, better known for 2004's smash, Dodgeball, revolves around a ridiculous plot that sees small-time dope dealer, David Clarke (Jason Sudeikis) forced to pay back a debt after being robbed of his dealer's money.
He enlists the help of a stripper (Jennifer Aniston) and a couple of socially inept kids (Will Poulter and Emma Roberts) to help disguise running drugs from Mexico back into the States by having them pose as his family on vacation.
It doesn't exactly break new ground but there are some laugh out loud moments that make it worth a look if nothing else is on.
We're the Millers was nominated for four E! People's Choice Awards and won two MTV Movie Awards, which sort of sums the whole thing up.
And Finally…
The road movie is unparalleled in its versatility, it can (and has) taken on every single genre of story.
Apply the bones of a tale to the open road and you have a plot, even if you don't have a tale: Easy Rider, for example, only works because it's a road movie.
More often than not the journey's end is cut short or determined by factors that exist outside of any intention, forcing characters to confront a change of path and take on new, unseen challenges.
A road intrinsically links us with the start of the journey and the final destination.
It always heads in one direction and it's always impossible to return to the beginning of the journey, as one was, and start over; all the while the landscape exists in a constant state of flux, ever changing, even if the road remains straight and narrow.