Classic Wine Trail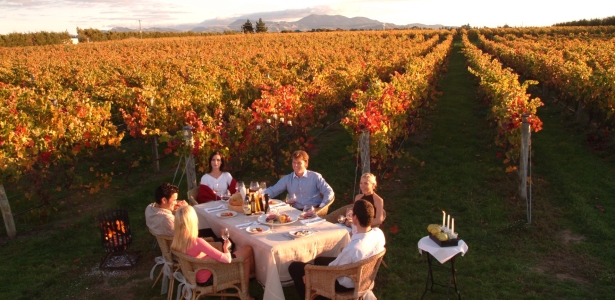 Classic Wine Trail, New Zealand
Hawkes Bay, Wairarapa and Marlborough Wine Regions
As the name suggests, the Classic Wine Trail in New Zealand will allow you to indulge your senses in the best wines that the country has to offer.
That being said, you don't have to be a wine lover in order to enjoy this drive.
There are plenty of fantastic sites along the way for everyone to enjoy.
You will start in Napier and make your way to Blenheim, or vice versa, and the total distance is approximately 380km.
No matter which way you decide to travel, when choosing your rental car in Napier, consider the option of a one way car rental so that you don't have to drive all the way back again.
About the Classic Wine Trail
This route takes you through three major wine regions. Cabernet Sauvignon and Merlo are the main products of the Hawke's Bay region while Pinot Noir is produced in Wairarapa and Sauvignon Blanc in Marlborough.
It is also important to note that the route is very well signed and this will make it that much easier to follow.
Most of the route and vineyards are located on the north island but you will make your way across to the south island via the Picton Ferry Terminal.
Things to do on the Classic Wine Trail
There are over 120 different cellars that you can visit along the way.
So, depending on your wine preference, you should do some quick research in order to find out where to find your favourites.
You can either visit the wineries in your rental car, or take one of the excellent half or full day wine tours.
In Napier and Hastings, the most interesting feature is the Art Deco and Spanish Mission architecture.
These sister cities have plenty to offer in the line of sights, museums and historical sights so do consider spending a day or two here to do some real exploring.
The Central Hawke's Bay Settlers Museum is located in the nearby town of Waipawa and, in Waipukurau, activities like gliding, hot air ballooning, golf and fishing are very popular.
The Victorian colonial architecture, local museum and Papawai Marae are all popular sights in Greytown while the close proximity of Featherston to Lake Wairarapa makes it another great place to stop.
The Martinborough Colonial Museum and local wineries attract people to take a slight detour along the way and make the most of everything this town has to offer before heading to the capital, Wellington.
This busy city has plenty to offer in the line of hotels, restaurants, sights and activities.
Top attractions here include the Museum of New Zealand, Old St Paul's Cathedral, the glorious Mount Victoria and the Wellington Botanic Garden as well as other nature and wildlife facilities.
From here, you can book yourself and your rental car for a trip on the ferry from Wellington to Picton.
If you have time to spare in Picton, make sure you visit the nearby Marlborough Sounds and Queen Charlotte Sound in particular.
Other attractions here include the Edwin Fox Maritime Museum and the local aquarium.
Once you reach Blenheim, make sure you allocate some time to spare here so that you can visit the Omaka Aviation Heritage Centre, Pollard Park and other local sights and beaches.