Cairns Airport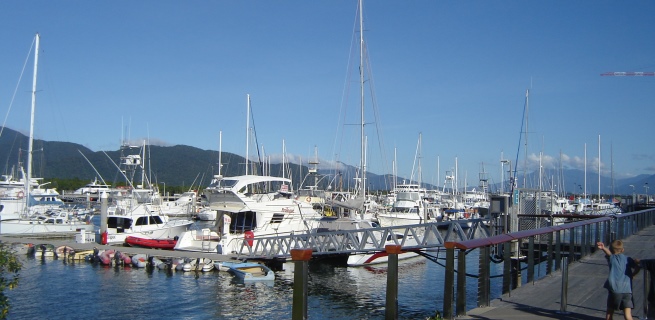 Car Rental at Cairns Airport
If you're heading to sunny North Queensland and are planning several day trips to see the many natural wonders this area has to offer, pickup a discount hire car at Cairns Airport and drive off with savings!
With great deals on all rental cars from hatches to sedans to 4x4s and mini vans, you can book online ahead of time to lock in a low rate today.
Search our site now to compare prices from all the top auto hire companies like Hertz, Avis, Budget and more and reserve a Kia, Toyota, Holden, Ford, Hyundai or other popular rentals.
The city of Cairns in North Queensland is the gateway to one of the seven natural wonders of the world, the Great Barrier Reef.
It is also a city surrounded by tropical rainforest, so opportunities for sightseeing are abundant.
In and around Cairns by car
Having a rental car gives you easy access to the CBD and surrounding sights in Cairns.
As Cairns does not have any beaches, the fantastic alternative is the lagoon on the promenade near the pier.
Shallow in depth it is perfect for families with children and a happy way to avoid the dangers that can lurk in the water at certain times of the year.
The mountainous rainforests surrounding Cairns provides plenty of opportunities for walking, with over 200 tracks in this World Heritage Area.
The information centre should be able to provide you with information about tracks and how to get there.
The Cairns wildlife dome offers opportunities to see many of the local wildlife up close, with birds, reptiles and marsupials on display.
Cairns is a thrill-seekers paradise. You could skydive, snorkel or scuba-dive, or try your hand at sailing or white water rafting, and take a trip up in a hot air balloon.
Explore North Queensland
Port Douglas is one of the loveliest towns in Australia and the drive one of the most pleasant.
Port Douglas also serves as a gateway to the Great Barrier Reef and plenty of tours leave from the town.
Mareeba is a one hour drive inland from Cairns. Caffeine addicts may be interested to know that 80% of Australia's coffee is grown in the town.
If it is raining in Cairns, then chances are it is sunny in Mareeba, where the sun shines 300 days a year.
An hour and a half north of Cairns is the oldest rainforest in the world, The Daintree Forest.
The forest is home to a huge variety of native flora and fauna and you can even try jungle surfing.
You may also have considered a road trip south from Cairns to Brisbane which is a popular drive for tourists wishing to explore the beautiful Queensland coastline.
The drive between the two cities is an interesting one and a great way to see more of Australia.
The total driving time between the two cities is 19 hours (1,600km) direct, so you will probably want to take at least three days for the trip, more if you want to stop at all the beautiful coastal towns along the way.