Cape Point via Simons Town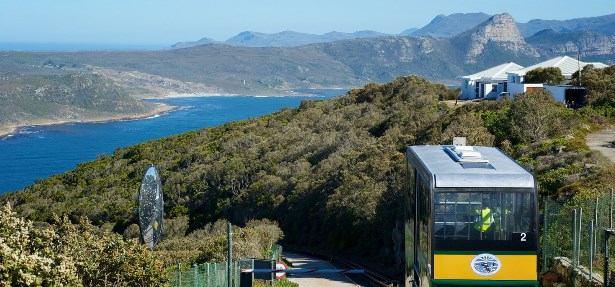 Cape Town to Cape Point via Simon's Town
The only thing better than a trip from the Cape Town city centre to Africa's south westernmost tip is if this trip includes a stop in Simon's Town along the way.
The added advantage is that there are a number of scenic routes that you can take in order to reach Simon's Town which makes for an amazing trip there and back with something new to see around every corner.
No matter which road you take, you'll enjoy beautiful scenery and visit interesting places along the way.
You can also find some lovely accommodation options in Simon's Town and closer to Cape Point should you wish to spend a night or two before venturing home.
Cape Town to Simon's Town, South Africa
There are a number of ways to make your way from Cape Town to Simon's Town.
If you travel through Hout Bay, can take the superbly scenic Chapman's Peak Drive.
Stopping in Hout Bay is also a great idea if you are a fish fan.  Restaurants in this area have a wide variety of seafood to choose from and it's always fresh!
As you reach the end of Chapman's Peak, you will reach Noordhoek Main Road.
Horse lovers can enjoy a long beach ride along these fine white sands.
At this point, you can travel towards the cosy town of Kommetjie before driving to Cape Point.
Alternatively, you can choose to visit the culturally and historically rich Simon's Town.
This route will take you past Fish Hoek which is another great place to stop and grab a bite to eat at one of the local restaurants or a cafe.
It's also a lovely swimming spot and, if you visit during the winter months, you could do some whale watching.
Simon's Town is the famous local naval base and there are a number of navy monuments around town as well as the South African Naval Museum.
Take your time to enjoy some boat tours and have a good stroll around before you continue your journey.
An alternative route to drive instead of Chapman's Peak Drive (which is a toll road) is Ou Kaapse Weg.
This scenic road has a few twists and turns and takes you through the Silver Mine Nature Reserve until you reach Sunnydale.
You can double back and head for Noordhoek or travel on to Kommetjie or Simon's Town from here.
Low Rate Rental Cars in Cape Town
Before you even reach South Africa though, pick up a deal on car hire in Cape Town and make the most of the Cape driving experience in a reliable rental.
Checkout discount offers on our site now from trusted auto hire companies like Thrifty, Avis, Hertz and Europcar.
Enjoy your road trip in a Toyota, Hyundai, Nissan, VW and other popular rentals in sizes ranging from small to mid-size to large vehicles like mini vans and 4x4s.
Simon's Town to Cape Point
The drive from Simon's Town to Cape Point isn't a long one at all which is great if you plan on spending extra time near the ocean.
In the interests of conservation and preservation, there is a fee to enter the Cape Point area.
It is also important to remember that, while this is the south western most tip of Africa, it is not in fact the point at which the two oceans actually meet.
It is at Cape Agulhas, further along the east coast is the point at which the Indian and Atlantic Oceans meet and it is also the southernmost point.
There really is nothing quite like a trip to this memorable part of the Cape.
The ocean views, natural fauna and flora and fresh air is unlike any other.
This part of the world enjoys some of the most spectacular sunsets so do try to spend the night rather than navigating your way back to the city during the evening.