25 Awesome Road Trip Planner Apps!
A few years ago, you'd pick up a car from your preferred rental company, wave them goodbye and head out with no more than a crinkled map and a crackling radio.
With the advent of GPS, navigation has consigned the humble map to near extinction, and technology has been working hard to give you power over any given circumstance and place it, literally, into the palm of your hand.
These days, there's so many road trip planner Apps that pretty much all aspects of planning and enjoying the quintessential road trip experience can be handled quickly and easily.
Enough already, here's twenty-five apps you need to have; if one or two appear to be similar or the same each one is designed to do a specific job, meaning you could download the lot and never have the same experience with one, twice.
Below, in alphabetical order, you'll find road trip planner apps for campsites for any type of rental vehicle, nearby hotels if you don't do outside, along with places to park, areas to rest, cool tunes, gripping drama, dash cams, cheap fuel, and ways of avoiding traffic jams.
Some of the apps only work with IOS, others are only available in the USA or Europe, some are free, some require up-front fees, others work with in-app purchases, some operate offline, others need a signal, in short, we've covered every conceivable aspect of your road-trip in twelve concise apps whether you've planned your road-trip or left it to the last conceivable minute.
Finally, where possible, the website link will take you the part of the website where you can download the app onto your smartphone.
If this has been segmented, I've just linked to the main page from where you'll find the app download links (usually at the top or bottom of the page) best suited to your device.
Also checkout our list of the best road trip blogs from full time travelers and adventurers living the dream!
I hope you enjoy reading about, downloading and using these top apps for your next epic road trip!
Richard Wolskel
Go4 owner, travel expert, blogger, "ten pound pom" and passionate traveler!
#1: Airbnb
San Francisco, 2007, and two friends are struggling to pay their rent, they have an idea to hire out three spare airbeds in their apartment to accommodate visitors during a popular design conference and make their guests breakfast the following day. Realising they may be on to something they set up a website, more guests start arriving and the rest, as they say, is history.
These days Airbnb is a billion-dollar business and currently lists 800,000 properties in 34,000 cities across 90 different countries.
No longer do you have to pay through the nose for an anonymous hotel with random guests when you can have a private home that perfectly matches your criteria, but its genius lies in that you, the traveller, can 'Airbnb' your property while you're away, which may actually pay for your trip.
The only caveat to Airbnb is that, on the whole, last-minute decisions will limit choice (this applies to travellers renting out their property, too) so it's best to book your property as part of your road-trip planning, though you can book last-minute accommodation on the fly. The app works on all devices for free and is simple and easy to use.
#2: Allstays
Allstays caters to the needs of travellers requiring a place to rest in the USA after a long day on the highway, and they've no less than eight apps tailored to match any given road trip route plan by providing accommodation-based apps to perfectly sync in with your trip-strategy, timings and budget.
So, whether you're enjoying a self-drive holiday, a motorhome adventure, even backpacking with a hire car, Allstays could be the app for you.
The Camp and RV App is by far and away Allstays most popular application. It allows the motorist a selection of Campgrounds and motorhome Parks with related services; you can tailor the app to suit your specific road trip and it'll only display the information you need, without having to scroll through a bunch of irrelevant stuff.
Perhaps the neatest aspect is that it works with or without an internet/Wi-Fi connection. The remaining Allstays apps are designed to further simplify the information you need, so you're not having to constantly switch between apps.
Their Camp and Tent app cater purely for non-motorhome/RV camping, just you, your car and a tent, if you've no intention of camping, or just want a night without having to put up a tent or cook beans in a field, the Hotels by Chain app has your back.
The Truck and Travel app caters for accommodating larger vehicles, right up to rigs, and works in conjunction with Overnight Parking Walmart and Military Camp and RV apps which detail places to stay for little or no money -they've even got an RV Dump app to ensure you dispose of your black water responsibly.
But arguably their best app out of this bunch is Rest Stops Plus, this incongruously titled bit of kit also serves to remind the traveller that frequent stops can be a life-saving exercise, especially on those days when the horizon is never-ending.
The only downside to all this is that Allstays app's only work with IOS devices (iPhone/iPad) not Android, so before you set off, make sure your device is compatible.
#3: CastBox
This award-winning app has about one million podcasts available with over 95,000,000 volumes of audio content, you could circumnavigate the globe a dozen times and still not hear everything in the extensive CastBox library.
It's currently available in 135 countries, has 15,000,000 users happily accessing podcasts, on-demand radio and audiobooks.
It's free to use on both IOS and Android though with obligatory adverts, but the premium version eliminates the commercials and allows users to download content offline, which could come in handy if you're in the middle of who-knows-where without a signal on your smartphone.
The range of content is as diverse as you'd expect with so many available volumes of audio, for pedants this might make choosing a single show problematic, but the best show/top search links and a useful blog will help guide you to a decision.
If you just want to listen to something random you can opt to listen live, for something more specific there are a variety of categories to choose from: comedy, news, music etc., or you can choose for a specific keyword or phrase (all the shows have transcripts) to find exactly what you're looking for.
Finally, for budding broadcasters, there is even a simple feature for you to upload your content, should you wish to offer your thoughts on your road-trip for posterity.
#4: CoPilot

Boasting over 150 mapped-out countries around the world and a database that comprises over one million miles of road, when it comes to navigation CoPilot seemingly has it all.
According to their website, accuracy is achieved by working closely with the world's leading providers of maps and if the reviews are anything to go by, they're doing a great job.
The app is split into three distinct categories, car, caravan and truck, each work in conjunction with a system called ActiveTraffic, alerting the driver to any potential delays on the designated route and automatically re-routing the driver around congestion in a fashion appropriate to the vehicle in question, which makes for more accurate estimated times of arrival.
A Safety Camera feature warns drivers if they're going too quickly in an area populated by cameras and the app is compatible with both IOS and Android smartphones, but all of this comes at a cost.
It is free to try but the good stuff starts at £8.99/€ 9.99, for one month only, and world maps are £25.99/€29.99 but they can be downloaded so it works offline.
The app is worth looking at if you're planning on a lot of city driving in areas with heavy congestion, but if you're planning a week driving in rural France there's probably something more suitable, and far cheaper, for your requirements.
#5: Dark Sky Weather
There are plenty of weather apps out there so why pay for one? Especially a pessimistic sounding one that wasn't known for being that accurate. Times have changed, Dark Sky Weather was given a ground-up makeover in 2018 and now ranks as one of the most accurate weather forecasting apps you can upload to your smartphone.
Dark Sky Weather allows users to report the weather at their location which helps improve the app's hyperlocal forecasts, and all of this information is delivered in a single view, so there's no need to click about to get the critical information you need, allowing you to better visualise the weather over the hours ahead at a glance.
Aside from its accuracy and ease-of-use, the app itself looks great; before 2018 a simple bar graph would show you rainfall predictions for the day with the chance of rainfall percentage to the right of the hour blocks.
That graph has been replaced with an animated chart that displays a map of your location and areas of rain/storms etc., and the direction of their travel plus detailed next-hour information and what's happening over the day ahead and the forthcoming week.
It works on both IOS and Android and (unlike virtually every other weather app!) it won't sell your data to third parties. That's worth paying for.
#6: Drivermatics Blackbox Dash Cam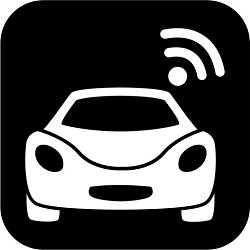 You've hired a rental car, you even prepared for the event in advance by bringing your GPS because you've been reading Go4 Car Rental's excellent car hire tips, but you didn't think to bring a dashcam, maybe you don't use one at home or perhaps you just didn't think of it as an option. And now you're about to do one of the best scenic drives in the world.
Okay, you'll have to figure out a way of supporting your device on the dashboard if you've not brought one, but the Drivermatics Blackbox Dash Cam is an ideal solution to filling the gap left by a standard dashcam.
The app uses your smartphone to record your road trip and provide you with relevant information as you roll down the highway, including travel time, distance travelled, average and top speeds, plus a driving score for 'a bit of fun'.
Drivermatics uses the GPS, accelerometer and gyroscope sensors in your smartphone to record your telematics (the technology of using telecommunication devices to send, receive or store information) which can even be linked to a telematics based insurance policy.
It's a great way of preserving a road-trip experience and an invaluable bit of kit if you were to be involved in a road traffic incident or to record any other unexpected or surprising phenomena.
It works on all smartphones and it's free to download, it does eat battery life though so make sure you've got a secure charging connection when in use.
#7: Emergency +
Australia is rather large, meaning that the smallest of mishaps have the potential to escalate into something far more serious: you run out of fuel in the city, you walk to the nearest gas station, run out of fuel in the outback on a road that maybe sees one vehicle a month… You get the picture.
The app was developed by Australia's emergency services who know a thing or two about expecting the unexpected, and without sounding too dramatic, could save your life.
Available for free on both IOS and Android, Emergency + uses your smartphones GPS function to determine your precise location, so even if you don't have a clue where you are, your rescuers do.
The App also includes SES and Police Assistance Line numbers as options, so non-emergency calls are made to the most appropriate numbers, freeing up the lines for genuine emergencies.
With an intuitive display making it a doddle to find just what you need, very handy when you're in a tight spot, the Emergency + app is a great example of a nations' emergency services using contemporary technology to offer assistance to those in need.
If you're planning on a road to trip to Australia, you need this app.
#8: GasBuddy
This isn't just an app for the US market, it also works in Canada and Australia and might just save you more than a couple of bucks.
Its primary function is to find the cheapest place to fill-up in any given city or state, you can even search by brand, either as you're rolling down the highway or as part of a pre-planned road trip, but its true benefit exists as a road-trip planner for those working to a budget.
GasBuddy allows you to plan your route via the cheapest, or preferred, fuelling stations, providing the motorist with the precise fuel-spend of their journey, way before they've even packed-up for the trip ahead.
Simply add the details of your vehicle, year, make, model etc., and the details of your journey and the app calculates the rest.
You can save even more money using GasBuddy to pay for your fuel, it acts as a loyalty card allowing the customer to get 'gasback' when they shop at specific retails stores such as Walmart of Petco.
GasBuddy works on both IOS and Android smartphones and it's free to use, though you will have to pay more to get the best out of it and take advantage of more advanced features such as Wex (GasBuddy's payment system) and ParkWhiz which is pretty self-explanatory. Just a shame it doesn't work in Europe.
#9: Google Maps
Hardly a surprise that the biggest search engine in the world wouldn't have some sort of a say in how we navigate our way around the world.
With over 220 countries and territories mapped and millions of businesses catering for your every whim, this is the app for the intrepid traveller keen to discover new places, restaurant, bars, exhibitions, events etc., allowing users to be 'locals' in a place they've never set foot in.
But don't be fooled by its fun-time exterior, Google Maps is great for planning your journey and managing it in real-time.
It features automatic re-routing around traffic jams and congestion, provides up to date ETA's and will navigate you with arrows and directions 'placed right on top of your world' making it virtually impossible to miss a turn. And how much does all this cost?
The good news is that it's free but be aware that the businesses the app recommends will probably have paid for by the business in question, so unless you're searching for something specific, you'll be offered 'recommendations' by, essentially, advertisers.
Having said that it's a free navigation system that is as good as any you'll pay for so that can't be a bad thing.
#10: Hotel Tonight
Not all road trips are planned, maybe there wasn't enough time, perhaps there was a last-minute change of schedule or you simply enjoy the thrill of getting into a rental car and heading out, either way, Hotel Tonight could be your saviour.
It's dead simple to use, tell the app where you are and when you want a room and you'll be instantly provided with a range of last-minute rooms, categorised as either 'basic' 'solid' 'hip' 'lux' or 'highroller' with accompanying prices and a handy locations map.
According to the blurb you can book a room in under ten seconds for that night, or the next and beyond, and if you're feeling particularly adventurous, you can take advantage of the Daily Drop, allowing users to get as much as 30% off an already discounted room in a city of their choice.
Over the past few months, Hotel Tonight has begun operating in further-flung parts of the world, so if your destination isn't already on their books it's worth checking in the future as they seem to be expanding exponentially.
The app is available on both IOS and Android systems, but you do need to have some sort of a signal to use it.
#11: iExit interstate
We've all done it, it could be something as simple as a minor distraction, a momentary lack of attention or just one of those places with dozens of signs and you're not sure which one applies to you, before you know it, you've missed your turn or gone passed the place you wanted to be at.
Sometimes it's simply a matter of just turning around and going back, other times, you have to drive for mile and miles to just get back to where you were which can have deviating consequences on your schedule.
iExit interstate could be the answer, it's primary function is to tell you what's coming up the road so you'll never pass by what you were looking out for, to paraphrase its marketing, GPS will tell you how to get there, iExit will tell you where to stop along the way.
The only issue with the app is that it only works in the USA and the information it provides, while clear, is somewhat sullied by 'exit sponsorship', a scheme that allows one business to become a specific sponsor of a given exit.
However, the sponsorship scheme ensures the app is completely free (without any of those in-app purchases) and it's available on both IOS and Android smartphones. Just a pity it's unavailable outside of the states.
#12: iOverlander
If you believe there's no such thing as a free lunch, iOverlander might just be about to change your mind. Claiming to be a non-profit organisation run by volunteers, the app survives on donations from its users; if you don't want to donate money you can donate your time instead.
This means it can be uploaded onto both IOS and Android smartphones for free and used completely free of charge – though, as said, you are expected to donate.
Don't judge it by the fact it's free and run by volunteers in terms of its capability either, it's simple to use, works globally and offers three different ways of exploring facilities for your road trip: by country, city or GPS.
Once selected it displays a map (the only feature that can't be used offline) and from there you can tailor your search from no less than 24 options -campsites to hotels, tourist attraction to medical services- and further refine the search by ensuring it has just the right amenities for your needs.
What makes this app especially desirable is that all the reviews of the various places are made by users of the app, iOverlander gives them a voice and enables them, and you, to submit and amend information, express opinions about the places they're visiting and generally be a part of a not-for-profit community of like-minded thinkers. Very clever stuff.
#13: Off-Exploring
Pre, during and post-trip blogging site for those keen to share experiences for ideas and inspiration, this chirpy corner of the internet began in 2003 as a way for Andrew Ace, an Australian gap-year student, to keep in touch with friends and family by documenting his travels, way before we were all seduced by social media.
It's free to use and, believe it not, free from advertising -though it politely asks users to donate to its upkeep, ensuring bloggers and budding photographers/moviemakers have a permanent space in which to showcase their respective journeys.
Upload a profile and you can plan a journey from scratch, map out your entire route and itinerary and share everything with an audience of thousands.
At the heart of the site is the ability to document your trip as it happens, so the home page leads with a travel blog of the day followed by the latest updates from its users, but what really sets Off-Exploring apart from its peers is that you can get your whole travel blog professionally printed into a book, complete with all your blog entries, photo albums and messages.
Unfortunately, at this stage, the App is only available on the iPhone, so unless you're carrying a laptop or such-like on your travels, Android users will need to find somewhere else to play.
#14: OpenTable
Believe it or not, OpenTable has been online for over 20 years and remains the world's leading provider of online restaurant bookings. Never one to stand still, with already over 52,000 restaurants on its books, it now offers delivery and pick-up options on its newly updated app.
It's as easy as pie to use too, the app uses GPS to discover your location, so all you have to do is tell it when you want to eat, how many of you are eating and it'll instantly recommend places for you.
Users can refine the search result by budget, food preferences and book a table there and then or arrange for a delivery or collection. In short, you can tailor your results to be as specific or as broad as you want, making it ideal for discovering great places to eat all over the world, all on your precise terms.
There is no doubt about it, for a certain type of traveller, OpenTable is the last word in finding and booking a place perfectly suited for their needs.
For others, travelling is about serendipity, the chance encounter of finding something no-one else knows about, such as a small eatery down a backstreet in or market that doesn't appear on any reviews or recommendations, but just makes your day, maybe even your whole trip.
#15: PackPoint
Never forget anything ever again, or at least, that's the idea behind this packing-planning app available on both IOS and Android as a free download, or as a premium version for about three bucks.
Tell the app where and when you're going, what you plan to do there (i.e. beach or sightsee) and the app checks the weather for you and provides a list of imperatives to pack for your excursion (i.e. shorts or umbrella).
It further allows you to share your list with fellow travellers, presumably to help others with the tricky aspect of packing, rather than for curious generations to come.
There are quite a few of these sorts of apps on the market and they're all very similar, whether PackPoint is any better or worse than any of its competitors is hard to say, but as they seem to feature prominently in 'essential app' guides it'd be remiss to not mention at list one on this page.
A word of caution, however, in this instance relying too much on technology over and above the use of common sense could have repercussions. Put it another way, we all take weather forecasts with a pinch of salt,
ParkPoint suggests stuff to pack based on what the weather might be like in a couple of days, a week, month etc., meaning you might find yourself pointlessly unpacking/repacking as the app forecast updates.
#16: Park4Night
A Europe-only app does exactly as it says. Available in English, French, German, Italian, Spanish and Dutch, and available on IOS and Android, it's impossible to not find a place to stay in Europe in any given language or device. It's free to download, though there are in-app purchase, the big question is, what advantages does it have over the other camper/parking apps on this list?
Firstly, if you're a non-English speaker in Europe this app is far more user-friendly than many of its peers, especially as travellers can accurately review their experience in their native tongue, rather than having to compromise by using various forms of English.
It's also very simple to use as the types of parking site are broken into subcategories, for example, you can choose between parking 'on the farm' or in an area 'surrounded by nature' whereas lesser credible apps would just give you the one option of 'off-road', say.
Choose between picnic or rest areas, homestays or camping plus a host of other options pre-tailored to your exacting requirements; once you're happy with your choice the app works out the best route via your smartphone or GPS and when you're settled you can share your thoughts with the Park4Night community.
A bit like iOverlander, it has a sort of 'community' feel to it which gives it an air of trustworthiness, quite a rare attribute for functional road-trip software.
#17: ParkMe
This 'award-winning' app, available on both IOS and Android, claims to be 'the best parking app available' with the world's largest, most accurate parking database. It has some attractive features that make it a solid option for car rental travellers, especially those who will be spending time in busy cities.
Choose an area that you want to visit and the map pulls up all the neighbouring parking places and flags them up on a map, each marker displays a real-time capacity-full percentage on parking lots, parking meters and garage spaces, in addition to the cost of each space, so you can compare prices with preferred locations.
If this sounds like something your existing app already does ParkMe has another couple of tricks up its sleeve, when you book a parking space it'll reserve your space in certain lots and garages, and all of this can be paid for in advance, so when you do arrive at your designated space you can just park up and get on with your day.
Another neat little trick is the parking timer which helps to avoid you overstaying your visit to the meter and paying additional fees, and all of this for free without any in-app purchases.
#18: PhotoPills
If you're planning on dusting off that Canon EOS that's been sat in the hallway for the past decade to take some 'proper' photographs on your road trip, or maybe you're just happy to take better pictures with your smartphone (works on both IOS, Android and, for that matter, supports over 2000 camera models) PhotoPills could be about to save your day.
Photopills works in two basic ways, either for organising pre-planned photo opportunities or providing on-the-spot photo assistance and is designed to help its users take better pictures on any photographic device, whatever their level of skill.
It does this by offering a range of tools, or pills, to apply to your photographic know-how, so wherever you are or wherever you're headed, you'll be in the right spot at the right time to take the perfect photograph.
However, this isn't a plug-in-and-go type of app, to get the very best out of PhotoPills each pill needs thorough research (there are dozens of helpful tutorials on youtube) so this is one App that needs to be purchased well in advance of your trip.
It's by far and away the most expensive app on this list for good reason, pricing starts at $9.99, but its fans -amateurs and pros alike- say this is cheap at double that. If you're serious about photography or just want to take better shots, PhotoPills is the answer.
#19: Roadtrippers
Roadtrippers is not just another US-centric mapping tool, though it's only currently available for the US market, this is more of a celebration of the American outdoors, bursting with ideas for places to go and things to see in every corner of the USA.
The magazine, seemingly updated 24/7, contains literally hundreds of articles cheerfully extolling the virtues of its subject, breathlessly infused with superlatives, to the point you just want to grab a bag and hit the highway!
In fact, there is so much stuff here the magazine section alone is subdivided into no less than five different categories, and we're not even in the Trip Guides section of the app where regularly updated features pre-plan your road trip for you, your family, friends, anyone.
In many respects this app is much more than just a means of planning a trip, you can do that here too, of course – with the obligatory 'in app purchases – it's more of an all-in-one travel guide for all-things American to the point you can just have fun reading it without having to go anywhere at all.
I'd imagine more cynical readers would find the whole exploring the American Dream ethic a bit much after a while, but that's okay, the sheer volume of ideas and suggestions contained in such a small space make it a must-have for anyone planning on driving through the USA.
#20: Splitwise
This is a neat little offing, especially for those travelling in a group who just want to enjoy the vacation without having to endure perpetual conversations about who owes what after a bill has been paid; we've all been there in some form or another.
Splitwise allows you to monitor expenses in several ways, most obviously, use it to tally-up purchased items and record the time and/or date of transactions.
This can be further segmented by creating a group account where individuals from the group can add their own expenses for items brought for themselves or other members, automatically outlining who spent what and who owes what to whom and so on.
It even allows you to pay group members back, so you're always up to speed with where you stand. You can run the standard app on both IOS and Android, or you can go Pro allowing you to scan receipts, convert currency and have the whole lot presented with some trick charts and graphs.
This app may be way down your list of priorities when planning your dream vacation through California with your besties, but a fortnight into the trip, this app may be up for saving a whole lot more than a couple of bucks. If you're travelling in a group, you need this.
#21: Spotify
Well-established music app facing serious competition from Apple Music, Google Play, TIDAL and newbee Youtube music, Spotify had humble origins as an independent Swedish music sharing platform and is over a decade old already, but it's not spent any time resting on its laurels.
They may not have the biggest music library, Apple boasts over 50 million songs compared to Spotify's hardly meagre 35, but it's a far more personalised experience because it leverages your mobile app data, analyses your listening habits so it customises playlists and music suggestions based on what you're listening to.
It's pièce de résistance is the incredibly popular 'Discover Weekly' that uses the former technology to provide a personalised list of the top 30 tunes you've never heard based on what you have been listening to, and it's refreshed every single Monday.
A good example of the Spotify mindset is that they capitalised on this success with 'Release Radar' which comes out every Friday. In addition to recommending songs based on your preferred listening habits, it also introduces new songs released that week that you might like and, if that's not enough, you can hit the 'Discover' tab anytime for suggestions based on your listening choices.
Of course, all of this comes at a price, basically, 10 bucks a month, but you can listen to an economy version for free.
#22: Waze
Another offing from Google, Waze is, on the surface at least, a sort of community-spirited minded app that helps drivers get to their destination with the help of fellow motorists. It would appear to be aimed at teenagers/people in their early 20's with its cartoon styling and cool phrasing aka, 'Traffic Sucks' but more likely to be used by commuters trying to beat the daily rush hour.
For car rental users, however, it has some serious benefits going for it, especially if you're trying to navigate your way around an unfamiliar, busy city.
Open the Waze app and it shows you a map of your current location, where there are 'standstill' traffic jams, roadworks, road closures etc., and if you tap in a destination it automatically provides the user with an optimal route by using yours and other 'wazers' data to determine the traffic conditions – how fast you're travelling, how long your stopped for and so on- so the app is permanently updated.
More details are supplied by fellow motorists who can actively report on their surroundings making it a pretty trick bit of kit.
The app works with both IOS and Android smartphones and is available globally, it's completely free too, though you may get a hefty bull for data usage so do check with your network provider before you decide to leave it on all day.
#23: Wikicamps Australia
'Wiki' is Hawaiian for 'fast', it became synonymous with computers in 1995 when Ward Cunningham created collaborative software, specifically, wikiwikiweb, so seeing it here applied to camping, possibly in the absolute middle of nowhere, may seem rather strange.
However, as a noun, 'wiki' means 'a website or database developed collaboratively by a community of users, allowing any user to add and edit content' and that's what we have with WikiCamps. Think iOverlander or Park4Night, but made specifically for the vast landmass that is Australia, then add on a fee.
Search by location or facility, modify it for any mode of transportation, fine-tune it for specific requirements for kids, pets, elderly relatives etc., every result displays a photo of the campsite and all its available services and amenities, plus address, contact details, price and handy user ratings/reviews, there's even a seven-day weather forecast.
A built-in road trip planner makes navigating from one camp to the next a cinch and you can download everything onto your IOS or Android smartphone for use off-line. With over 40,000 site listings this is arguably the best campsite finder (in Australia) you can get your hands on, and it's so easy to use with simple, handy icons that tell you just what you need to know at a glance.
#24: Wunderlist
The ultimate to-do list and one of the few here that comes from outside of the US, Berlin to be precise, hence the 'wunder' aspect one would imagine.
This canny task management app could be the last word in planning pedantry and it's compatible, for free, with any device you care to mention, though you can go pro for a few bucks if you're completely hooked and want even more space to plan even more stuff.
In terms of road-trip planning, access Wunderlist on your mac/PC before setting off on your vacation, collate all the information at home (without the pressure of having to do it while trying to admire a scenic view) and then share your to-do list from your mac/PC on to the Wunderlist app you've downloaded onto your smartphone. Hey presto, all your hard work is in the palm of your hand and you can update it whenever you want you.
These lists can be shared with friends, family, fellow travellers -with whom you can converse in real-time via the app- and tweaked to your heart's desire as you go on your way.
Perhaps its real advantage is that you can plan a variety of plan b options if schedules change or need to be adjusted, so there is always something up your sleeve to fall back on. This could especially useful if you're travelling with easily bored children.
#25: Youtube music
While away the hours listening to your favourite music on a road trip. YouTube Music, is still quite fresh and Google-powered -like it or not they're a safe pair of hands when it comes to delivering what you expect- and it's free to use for the first three months.
The interface is simple, select an artist then choose to hear an album of theirs, a 'best of' playlist or even watch a bunch of their videos, each artist comes with a 'radio' option so in addition to hearing random tracks from your favourite act, you'll be introduced to music by similar bands which makes checking out new stuff in your chosen genre as simple as American Pie.
If you're not keen on using up a load of data streaming the music to your device (it works on both IOS and Android-powered smartphones/devices) or if you're headed to a location with no connectivity, you can go premium and download music to your device so you can play it offline; it'll also rid you of those constant adverts that do grate after a while -it's worth noting that you're ad-free during the free trial making it the perfect budget option if you don't want to commit to Spotify.
Though before you do that, before you even install the app, don't forget that virtually all vehicles come with an old fashioned thing called 'a radio', stations local to you may even enhance your road-trip experience as they'll bring you relevant news and information, putting your journey into context with your surroundings.
Wrap Up…
Depending on personal preferences, with regard to how you travel and plan your trip, not all the apps listed above are going to be applicable to you, and in some instances could even be detrimental: age, experience and travel companions, if at all, play a significant role in our perception of travelling.
There are no fundamental rules or regulations that govern the way a person sees the world, which pretty much guarantees a new experience every time said person leaves the comforts of home behind, which is sort of the point of doing it.
There is a thin line between advice and being dictated to, between following a route on an app or being led to a fast food joint because it told you to.
That said, these apps offer a vast resource of knowledge and help in a given instant, if used with a bit of common sense, they are undoubtedly useful and, for the most part, will help you discover what you're seeking in your adventures.
Bon Voyage!