Barcelona Airport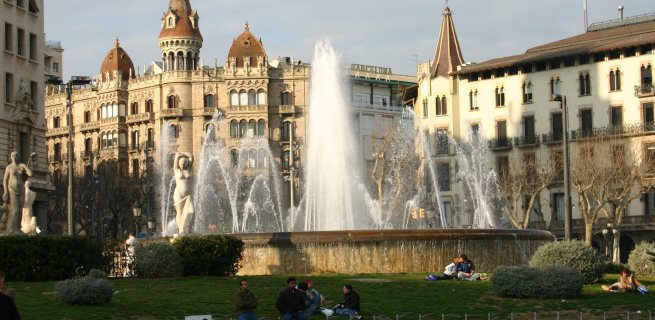 Car Rental in Barcelona Airport, Spain
Barcelona airport, formally known as Barcelona-El Prat International Airport, is the second largest airport in Spain (after Madrid-Barajas) and handles more than 30 million passengers a year. With this many passengers landing in the capital of the Catalonia region, car hire at Barcelona airport, Spain is easy to arrange with the presence of well-known international car rental companies like Hertz, Sixt, Avis, Europcar, Budget and Thrifty rental cars. You can book online to get the best deal or a cheap rental car in Barcelona Airport; and pick up your keys when you arrive. Downtown Barcelona is less than 10 miles away.
Like any city with a 2,000-year history, Barcelona is built upon old city streets that happen to be very narrow and at times confusing. While walking and biking are viable options when you want to explore the city, in-city driving is perfectly doable as long as you know where to park (because Barcelona parking rules can also be complicated). Just be aware that in Barcelona, flat tyre scams are more common, and the usual targets are drivers of rental cars or cars with foreign license plates.
You can efficiently group together attractions you want to see within walking distance if you know where to park cheaply or even free (as parking your Barcelona airport car hire anywhere in the city can also be expensive). Some of the more accessible and free parking areas are near Guell Park, Font Magica in Placa Espanya and Moll de Sant Bertran.
Where to Go on a Barcelona Airport Car Rental
Drive your car rental from Barcelona airport to Ciutat Vella, Barcelona's Old Town, and park at Placa Espanya which will put you within 30 minutes' walking distance to some of the oldest buildings in the city and other attractions. The Gothic Quarter, so named for the number of Gothic architecture found in the heart of old Barcelona, features several churches, palaces and temple remains that bring you to that era when Barcelona was occupied by the Romans.
Then ramble along Barcelona's main thoroughfare, appropriately named Las Ramblas, where street performers and buskers wait in turn to perform before enthusiastic audiences, locals and visitors alike. Another 15 minute walk north and you will chance upon the yet-unfinished but famous Antoni Gaudi masterpiece, the ornate La Sagrada Familia.
When you want to hit the beaches, drive your car hire from Barcelona airport to Moll de Sant Bertran where you can park and walk to the beaches, 15 minutes in any direction. Barceloneta, in particular, is popular for excellent "tapas" and "paella."
If you choose to drive your car rental at Barcelona airport to Parc Guell, you would not only find ample parking space there, but also a handful of Gaudi architecture that have been listed in the UNESCO World Heritage Site. You can also approach La Sagrada Familia from a parking space here in Parc Guell, as well as other modernist buildings that make up most of L'Eixample or New Town.
A great way to cap off your Barcelona tour would be to drive your Barcelona airport car rental to Montjuic Hill, a mere 15 minutes from New Town. Montjuic Hill is popular with tourists who are eager to see Barcelona spread out, or just simply want to ride the old tram from the hill down to Barceloneta.