Atlantic Highway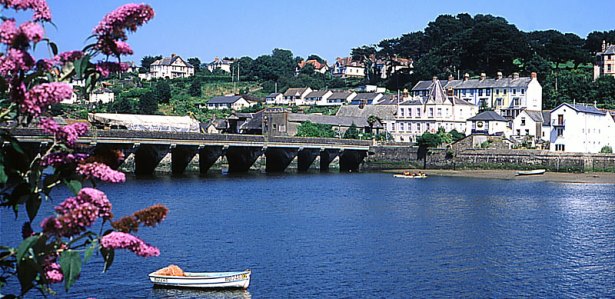 The Atlantic Highway in Devon and Cornwall
The Atlantic Highway, or A39, is a scenic road that takes you all the way from Barnstaple in Devon to Falmouth in Cornwall, England.
It's a slightly longer drive and time spent behind the wheel is approximately 2 hours and 30 minutes.
Given the distance and the sights to see along the way, hiring your own rental car is the best option for sightseeing.
Barnstaple to the Hartland Peninsula in Devon
If Barnstaple is your starting point in Devon, have a good look around before you make your way down to Falmouth.
Animal enthusiasts can visit the Exmoor Zoo and, if you are looking for a place to relax before heading out, then make sure you visit Marwood Hill Gardens or the Broomhill Sculpture Garden.
The Museum of Barnstaple and North Devon is a great place to learn more about the local life as is the Arlington Court and the National Trust Carriage Museum.
Your next main stop will be in Bideford.  If you have time to spare for a wonderful detour, go ahead and take a trip to Lundy Island for an exceptional getaway for a few days and nights.
If not, at least spend a few hours in Bideford and visit the Hartland Abbey & Gardens, the North Devon Maritime Museum or take a walk along Westward Ho Beach.
As you continue driving, you will come across a number of side roads that lead to various beaches.
Some of these are private roads and, if you do wish to make a stop, simply take a little detour and visit Clovelly Bay before continuing along the Hartland Peninsula.
If you wish to stop and spend the night, this is a great place to spend a few extra hours before exiting Devon County and continuing into Cornwall.
Low Rate Car Hire in the UK
When it comes to doing a road trip in the UK, it doesn't need to cost a fortune.
You can search our site to find and compare deals from the top rental car companies in the UK such as Europcar, Avis, Thrifty, Hertz and Budget.
Pickup a low rate rental in any size from compact to economy to intermediate, all the way through to 4WDs and mini vans.
Kilkhampton to Falmouth in Cornwall
The first main town you will probably want to stop in after crossing over into Cornwall is Kilkhampton.  This part of the country is known for its holiday parks and fishing facilities.
Even if you don't stay overnight, there are other sights like the 12th century parish dedicated to St James the Great.
Not too far down the road, you will reach Bude.  The main attractions here are the Bude Sea Pool, the Gildhouse and the local beaches.
Next up is Stratton and you can take a little detour here to get closer to the ocean and visit Burn Park or Efford Down Park if you need a break from driving.
The nearby Whalesborough Wood is also a great place to fill up on fresh air and stretch your legs.
The next part of your journey will take you through Poundstock and on to Davidstow where you can visit the local war museum and then make your way to Bodmin.
The main sights here are the Lanhydrock House and Garden, the Camel Valley Vineyard and the Cardinham Woods.
Before you reach Goss Moor, you will also come across a lovely Screech Owl Sanctuary.
Feel free to stop here before driving on to Chapel Town, Mitchell and Truro where you will find the Truro Cathedral, the Penrose Water Gardens and the Royal Cornwall Museum to name a few.
Perranarworthal and Penryn are next on the itinerary before you reach Falmouth.
Falmouth as a whole host of sights and activities such as the Pendennis Castle, the National Maritime Museum Cornwall and the Queen Mary Gardens.
So take your time here, reserve a room at a hotel and enjoy as many of these attractions as possible.
From Cornwall, you may want to consider an extended road trip across to visit Southampton which is on the southwest of London, on the coast.
Along the way you'll be able to visit quaint UK coastal towns and take in stunning ocean views of the English Channel with an array of local attractions and sightseeing to do along the way.