Sani Pass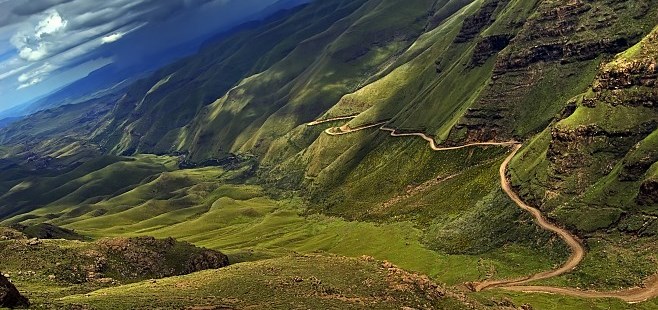 Sani Pass, South Africa Scenic Drive
The Sani Pass is a wonderfully scenic driving route in Kwa-Zulu Natal, South Africa.
The road is approximately 9km in length and was initially a dirt road that was later upgraded.  It is a famous route that connects Kwa-Zulu Natal with Lesotho.
Take your time when exploring this area and hire a 4WD in Durban for a couple of days at least.  That way, you can explore the Natal area and Lesotho all in one trip.
What to see on the Sani Pass
The drive itself is stunning scenic as you make your way up the famous Drakensberg Mountains.
Make sure that you stop off and enjoy a refreshment at the highest pub in Africa!
Popular activities in the area include hiking, nature walks and angling.  There are also camping facilities if you are up for a real nature adventure.
Just another reason why this is an ideal summer trip – you would not want to spend the night in the mountains during the winter since it can get pretty cold and experience snowfall.
Make sure that you pick up a map before you make your way and keep an eye open for any possible viewpoints.
Stopping along the way is a great way for the driver to be able to take in the views and stunning natural sights.
Once you enter Lesotho, you will be in for an amazing African experience.
The authentic African huts, traditionally clothed locals and hearing the local language makes this an entertaining and educational experience suitable for the entire family.
Make sure that you pick up a few traditional souvenirs to remember your trip
It is also important to note that, when paying for something in Lesotho, the local currency (Maloti) is fixed to remain equal to the South African currency (the Rand).
The locals usually accept payment in ZAR (South African Rand) but will give you your change in their local currency.  The currency itself, for collectors, also make for great souvenirs as well.
Driving advice
When planning this trip, it is important that you remember to rent an off road vehicle.
You can search our site to find and compare discount offers on 4WD vehicles to hire for your trip.
Due to the nature of the road and the skill required, make sure that the driver has had sufficient rest and that you have a suitable vehicle to tackle the tricky parts.
The route is generally open throughout the summer season but has been known to be closed in the winter and whenever the weather makes for extra dangerous driving conditions.
Since Lesotho is a separate country within the borders of South Africa, it is important to know and understand that you will need to cross an official border upon entry and exit.
The border closes at 1800 (6pm) every day so make sure that you plan your trip accordingly.
An early trip out will mean that you have plenty of time to look around and drive back if you don't plan on staying in Lesotho for an extended period of time.
The local taxis might travel up and down the pass at relatively fast speeds and with music blaring but it is strongly discouraged that visitors follow this example.