Col de Turini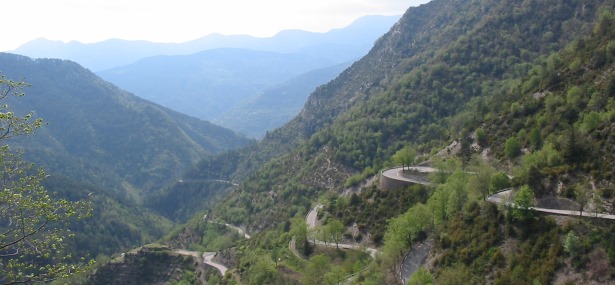 Col de Turini, France
If you're traveling through France and would like to explore in and around Cannes, Nice, Monaco or other towns near the famous Col de Turini mountain pass, then this is one route you simply cannot miss out on.
Get yourself an appropriate rental car and take your time navigating these twisty roads from one end to the other.
Although this is a fairly short route, it requires slow driving so allow for extra time and you will surely need a good break when you are done.
Interesting facts
This stretch of road forms part of the Monte Carlo Rally and was included in the Tour de France in 1948, 1950 and 1975.
It was also feature on Top Gear when they went on search for the greatest driving road in the world.
While rally champs might reach speeds of over 100mph on these roads, you may want to hold back and leave the racing to the professionals.
The main sights along the way include some of the best views of the Alps, a stunning gorge and river.
Apart from this road, the landscape is relatively undisturbed and left to grow and flourish naturally.
Once you get to the highest point, you will have reached a height of 1,607m above sea level.
It is a popular route both during the summer and winter months. Although, during the winter you will want to exercise additional caution due to snow blocked sections and ice.
The road is the main attraction in itself but, if you want to make the most of this trip, then you should definitely stop off at Notre Dame De La Menour along the way. Make sure you program it into your GPS so you don't miss the turn off.
Cheap Car Hire In France
Holidaying in France for an extended period can become expensive.
However, if you'd like to save on a rental car for your road trip, pickup a discount rate today on a compact, economy, or larger vehicle such as a mini van or 4WD.
Checkout low rates on all hire cars from top brands like Avis, Europcar, Hertz, Thrifty or Budget by searching our site.
Driving the Col de Turini
This road is as famous as it is infamous. The views are spectacular as you ascend and descend. That being said, drivers need to pay very close attention to the road.
There are countless sharp and steep hairpin turns to negotiate and the roads are narrow and bumpy.
There are also no real opportunities for overtaking so there's no point in tailgating the poor driver in front of you who might just be overly cautious.
Use your common sense and don't risk overtaking around a blind corner and so on.
There are some private driveways that you can possible stop at if you need a break or wish to enjoy the sights.
Make sure that you are well rested, wide awake and ready for this drive before you take it on. It's not a long piece of road but you should be at your best.
Make sure that you take some snacks and drinks along for the ride since you won't find a restaurant or cafe carved into the rock face.
You should also only take on this road during the day and when visibility is ideal. Besides, there won't be much of a view at night or if the roads are engulfed in fog.
The twists and turns of this route might make for slower driving but that's all the better for travelers looking for a truly scenic treat.
Instead of thinking about how slow you are going, make the most of every mile by capturing the natural beauty with your camera.
There will be plenty of time for you to stretch your legs once you have made your way over the mountain pass and you will certainly benefit from booking in at one of the local hotels for the rest of the day and night before continuing your journey.