Alsace Wine Route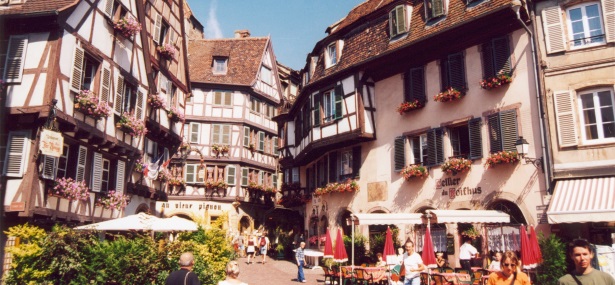 The Alsace Wine Route, France
The Route des Vin dÁlsace, or Alsace Wine Route, was constructed in 1953 and stretches over a distance of 170km in eastern France.
Starting near Strasbourg, it follows a route south to Thann near Mulhouse, which is located close to Basel on the French, German and Swiss border.
It is this route that has helped the local Alsace wines gain such international acclaim.
Even if you aren't the biggest of wine enthusiasts, however, don't let the name of this route discourage you.
The route itself is an extremely scenic one and quite an easy drive for most travelers.
If you find yourself touring France from north to south or vice versa, you might want to consider the option of a one way car rental which allows you to just drop off your vehicle at any airport or car hire depot anywhere in France, rather than having to drive back to your original pickup location to return the car.
This can save you a lot of money as you won't have the extra expense of accommodation and fuel costs on a trip back.
Affordable Car Hire In France
Traveling through France can get expensive, especially when it comes to good accommodation.
One easy way to save is with cheap car hire by picking up a deal from one of the big auto hire companies like Avis, Budget, Hertz, Thrifty or Europcar.
Use our site to search and compare low rate rentals and lock in a discount online today on a hatch, sedans, 4WD or mini van.
Interesting sights along the Alsace Wine Route
This route has everything to offer from fascinating old buildings, culturally rich neighbourhoods and even galleries and museums.
The Chateau du Haut Koeningsbourg is slightly off the main track but certainly worth the detour.
If you want to get a real feel for the local culture, all you need to do is pay the Place du Marché a visit.
This market is buzzing with life and the atmosphere is incredible.
Important cultural stops include the Biliotheque Humaniste, the Maison de Hansi and the Musee Albert Schweitzer while a visit to the Vieille Ville and Vieux Selestat neighbourhoods is always a refreshing change as well an adventure.
The Centre de Reintroduction Cigognes & Loutres is a wonderful wildlife centre and home to storks, penguins, otters, sea lions and plenty of other interesting animals.
If you particularly enjoy a stroll in the park, then you should definitely include a visit to Montagne des Singes on your list of things to do.
Main towns and cities to visit along the way include Colmar, Obernai, Riquewihr and Barr (the wine capital of Bas-Rhin).
All of these locations have their fair share of monuments, museums and fascinating sights.
Ribeauville is another town you simply have to stop and visit. It's one of the oldest medieval towns in this area.
Just around the corner you will find the wine growing community of Hunawihr.
It has earned its place as one of the most beautiful villages in the country and, with views like this, it's no wonder why!
Tips for your France road trip
You cannot miss all the local vineyards and wineries in the area, of course, and you will most likely visit at least one or two of them along the way.
Make sure that you leave with a full tank of fuel and monitor your usage along the way just in case you need to top up. Playing it safe when it comes to fuel is always a good idea.
Take plenty of refreshments and snacks along for the ride. You can't always plan every single meal when out on an adventure.
The most important aspect of every road trip is to have fun and keep planning and rules to a minimum. Accommodation and car rental are two things that do need to be properly planned and these can be done together online in order to help you save time and money.