New Plymouth Airport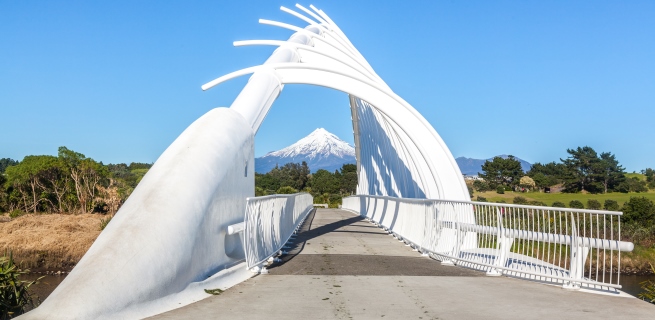 Car Rental New Plymouth Airport, New Zealand
If you're planning a trip to NZ and would like to explore the beautiful west coast and get to all the out-of-the-way sights, grab a deal on car hire in New Plymouth Airport and drive off with savings on a small, mid-size or larger vehicle.
Search our site now and compare prices on rentals from all the big brands such as Avis, Hertz, Thrifty, Europcar, Budget and more.
Pickup a low rate hire car such as a reliable Mazda, Kia, Hyundai, Toyota, Nissan and a host of other vehicles from hatches to sedans to mini vans and 4x4s.
New Plymouth, the petrochemical and tourist hub of the Taranaki region, exudes the confidence of a rich oil town and charm of a beautiful city by the sea.
Being located on the western coast of New Zealand's North Island, it is a hands-down favourite of big-wave surfers and beach goers, and its location within an hour's drive of snow-capped Mount Taranaki makes it a veritable playground for skiers of all skill levels, or mountain climbers.
Exploring New Plymouth
You will be pleasantly surprised to walk into rhododendron parks in full bloom – especially during the Rhododendron Festival in late October to early November – or 52 hectares of exotic and indigenous plants framed by lakes and dotted with (man-made) waterfalls five minutes south.
Pukekura Park even comes more alive as dusk falls when you come between mid-December to early February for the free-admission Festival of Lights.
The rugged New Plymouth coast is scenic in equal measure.
Drive to the Coastal Walkway, a 10-kilometre promenade that overlooks the Tasman Sea.
Then score a spot at Lee Breakwater just down the road and cast your fishing rod while ship-watching or catching sight of an odd seal.
Puke Ariki Museum is also along the route; make sure to drop by and feast your eyes before evocative works of local Maori artists, or browse documents that speak volumes of Taranaki's indigenous and early European settler history.
When you want to break serious sweat, bring sturdy footwear and a sturdier upper body to climb Paritutu Rock.
Head to Centennial Drive, scramble to the top of this volcanic outcrop, and enjoy panoramic views of New Plymouth and the symmetrical Mount Taranaki in the background.
Cap off your uphill adventure with a "dam dropping" ride at Normanby Dam on Waingongoro River, an hour south by car.
Egmont National Park and Mount Taranaki
Egmont National Park is less than one hour inland, to the south.
The national park roughly corresponds to the circular area that defines the slopes of Mount Taranaki, so skiing – from June to October – is just one of the many ways to enjoy the perfectly formed slopes.
Reaching the summit of this 2,500-metre volcano is an achievable feat, even for non-mountaineers.
A milder but no less enjoyable way to witness the progression of plant species – from swathes of moss to gnarled trees of the Goblin Forest to sub-alpine shrubs – is to walk the 300-kilometre trail, or just parts of it.
Wherever you approach Mount Taranaki, you will be rewarded with a slice of the park's compelling beauty, one of the many reasons that made it New Zealand's most climbed mountain. 
If you're heading further afield on your NZ road trip, head up to the cosmopolitan city of Auckland to climb Sky Tower and a host of other popular tourist hotspots in NZ's largest city.