Basel Airport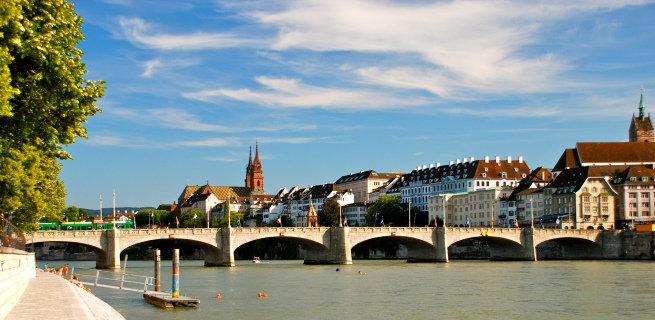 Basel Airport Car Rental
If you're heading to the beautiful northern part of Switzerland and plan to explore the country in-depth from the comfort of your own car, grab a deal on car hire at Basel Airport and start your holiday with savings.
Search and compare low rate rentals on our site from trusted auto hire companies like Europcar, Hertz, Avis and Thrifty.
Pickup a discount rental of a Hyundai, Kia, VW, Toyota and other reliable vehicles from compacts to economy to larger vehicles like vans and 4WDs.
The metropolitan area of Basel city is tri-national, as it sits right on the border meeting of Switzerland, France and Germany.
Basel was once a walled city, and part of it survives including the Spalentor (city gate).
Things to see and do in Basel
Set on the River Rhine, Basel is Switzerland's cultural capital.
There are several spectacular fountains in the city, most notably the Tinguely-Brunnen.
Several bridges span the Rhine, arguably the most beautiful being the Middle Bridge – right in the middle of the city it provides ever changing views day and night.
Spend a day enjoying the shopping in the south/west bank, lunch in the German Marketplace, finally enjoy a relaxing dinner cruise.
Explore the nightlife on the north bank.
A day in the medieval Old Town will show you many heritage sites of significant to the city and country.
The Puppenhausen is a fascinating museum filled with dolls, teddy bears and other miniatures.
For art lovers, wear yourself out visiting the multitude museums modern art, art design and classic art – including a public collection of some of the the oldest art in the world at the Museum of Fine Arts.
Not to mention the cultural and historical museums, including the unique Pharmaceutical History Museum.
A trip to the city is not complete without a visit to the red-bricked Rathaus (Town Hall).
Surrounds of Basel by car
Take your rental car out of the city into the Swiss Jura Mountains.
You can make numerous day trips to this area, or take a couple of nights outside the city to soak up the stunning countryside.
Basel is also the gateway to the Black Forest region.
Ask at the Tourist Information Office in the city to find the best trip to suit your needs, depending of course on weather conditions in the time of year.
At the end of your holiday, return your hire car to your Basel airport car rental company depot and go directly to your flight check-in.